With gas prices skyrocketing you might be tempted to think electric. After all, electric vehicles aren't just being sold by Tesla anymore. There are a lot of variations available on the market. Depending on your needs, you may prefer one over another. But how do you know which one is the best? We have come up with the best electric cars of 2023. Read the blog to know more.
Best electric cars 2023
There are numerous electric cars launched in 2022. Volkswagen ID.4, Hyundai Kona Electric, Hyundai Ioniq Electric, MINI Hardtop 2 Door, Mazda MX-30 are some worthy EVs we considered for our list of best electric cars of 2022. But we have our own list of the best electric cars for 2022. Third in the row are Nissan LEAF and Kia Niro EV. And yes, it's a tie. The runner-up is Chevrolet Bolt EV. And obviously, Tesla Model 3 is the winner. Like, EVs are never complete without a Tesla. 
2022 Nissan LEAF
2022 Leaf Plus is powered by an electric motor that generates 214 horsepower and 250 pounds-feet of torque from its lithium-ion battery pack. In terms of range, it goes from 215 miles on the Leaf SV Plus to 226 miles on the S Plus. There are no differences between FWD and RWD Leaf models. 
Automatic high-beam headlights, LED taillights, and keyless entry comes standard on the base 2022 Leaf S and S Plus models. Digital instrument cluster, push-button start, 8.0-inch displays, four speakers, and Apple CarPlay/Android Auto compatibility are included in the infotainment systems. All Leaf and Leaf Plus models will be CHAdeMO quick-charging compatible in 2022. 
Source: Nissan
Fog lights and heated front seats are standard on the Leaf SV and SV Plus. The infotainment system's speaker count rises to six, and navigation is included. A standard 360-degree camera system is also included with the Leaf SV. As part of the model year 2022 updates, this trim level now comes standard with an eight-way power driver's seat, an auto-dimming rearview mirror, LED low-beam headlights and daytime running lights, and Pro Pilot Assist. This model's seven-speaker Bose premium audio system is standard equipment on the Leaf SL Plus. 
The Leaf is a strong contender in the electric vehicle market. It can run for 237 miles on a single charge, which is a respectable amount of distance for an electric vehicle.  
Read: How far can an electric car go on one charge?
2022 Kia Niro EV
The Kia Niro is a small hatchback that offers plenty of rear head and legroom, even for passengers who are taller than average. As a bonus, it has a comprehensive set of driver-assist features that are easy to use. Even when the adaptive cruise control is activated, the lane-following and lane-keeping assist systems do an excellent job keeping the vehicle in its lane. 
The Niro EV has a 201-horsepower, 291-pound-foot electric motor. With a time of 6.2 seconds for 0-60 mph, the little hatchback beats the Nissan Leaf Plus (6.5 seconds). On a full charge, the EPA estimates the range to be 239 miles. 
Source: KIA
Standard safety features include blind-spot monitoring with rear cross-traffic alert and rear cross-traffic alert, lane keep assist and lane departure warning; lane following assist; automatic high-beams; and adaptive cruise control with stop-and-go. Wireless Apple CarPlay and Android Auto are included as standard equipment in the Niro EV.  
A wired setup replaces wireless smartphone connectivity in exchange for a 10.3-inch touchscreen with navigation. It's worth checking out the Niro EV, which is one of the best new electric cars out there. It is fun to drive, roomy inside, and capable of 285 miles of range, which is more than enough for most people. 
Read: All you need to know about batteries for electric cars
2022 Chevrolet Bolt EV
As of now, the Chevrolet Bolt is powered by the aging electric architecture of General Motors. While the torque is strong and the car is a blast to drive, the track's tight turns can put a lot of stress on the tires and brakes. The large 10.2-inch touchscreen has crisp graphics, thanks to this year's updates, and the seats themselves have been improved. However, the interior of the Bolt could use some improvement.   
With the new Dual Level Charge Cord, which is available as an option on the hatchback and comes standard on the Bolt EUV, 222 gets a lot of attention. For those who don't want to buy a home charger, Chevy claims that the cord can be used with a standard 120-volt outlet and a 240-volt outlet to charge at 7.2 kilowatts. A new Chevrolet electric car could be more accessible to potential buyers if this experiment is successful.
Source: Chevrolet
The 10.2-inch touchscreen and 8.0-inch digital instrument cluster are both back in the Bolt EV. Cars equipped with Apple CarPlay and Android Auto are expected to come standard. Wireless charging and phone-mirroring features will be available in wireless form. Automatic emergency braking, lane-keeping assistance, and automatic high beams will be standard on all 2022 Chevrolet Bolt EVs.  
Adaptive cruise control, rear cross-traffic alert, and a 360-degree camera system will all be included in the vehicle. The Bolt EUV offers a panoramic sunroof, 3 inches of additional rear legroom, roof rails, and GM's advanced Super Cruise semi-autonomous highway driving technology over the standard Bolt EV hatchback. The Chevrolet Bolt has a range of 278 miles and a top speed of 186 mph. Even though there are now more EVs on the market, the Bolt is still worth a try. 
Read: The search for affordable electric cars ends here!
2022 Tesla Model 3
As an all-electric vehicle as well as a compact luxury sedan, the Tesla Model 3 is a standout. In addition to a wide range and reasonable price, this car's exceptional performance and minimalist interior make it even more appealing.
If you're looking for a car with a lot of interior space, the Model 3 is still a decent option. The Tesla Model 3 has more legroom in the front and back seats. The 15.0-inch touchscreen in the center of the car's cabin is the centerpiece of the car's otherwise sparse interior.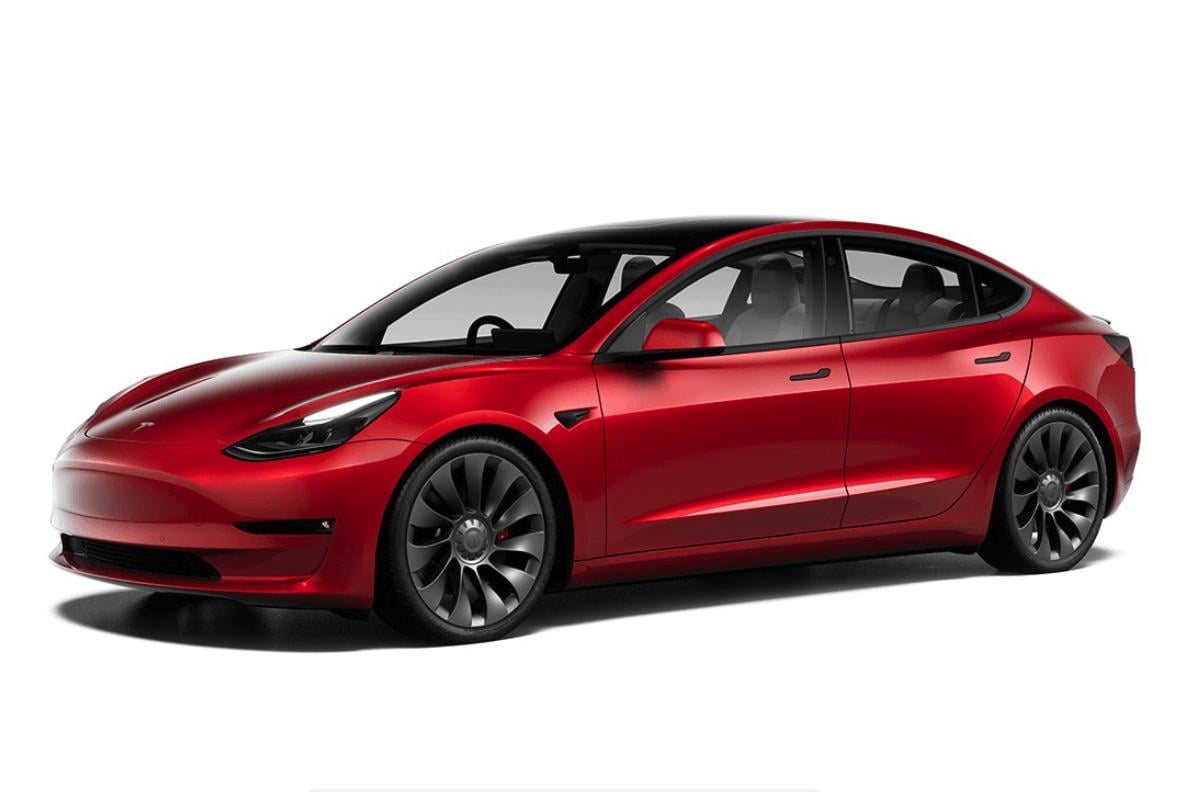 Source: Tesla
Everything from the climate control to the trip odometer to the mirror adjustments goes through Tesla's system. Granted, this may take some time to get used to. Additionally, you'll need to update over the air, so buyers can expect new features in the future. However, Tesla does not support Apple CarPlay or Android Auto. So drivers will need to get used to using Tesla's media and navigation interfaces instead. 
In almost every way, the Model 3 is superior to its competition. It's both fun to drive and practical. In spite of the 3's touchscreen interface and lack of smartphone integration, it's an excellent choice for an electric vehicle. 
Read: Tesla battery replacement cost: How much to pay for it
---
Here's more info on top-rated airport parking, the best parking spots in your city, the most affordable insurance for your car, and top-rated car washes near you.
---