Truth be told, there are far too many things to do in Charlotte. That's why staying at one of the 10 best hotels near Charlotte Airport will allow you to make the most of your time in the city. These hotels are ideal whether you need to stay for a week or just have a few hours to kill before your flight. 
Charlotte is in the Piedmont region of North Carolina. It is not only a major city but also an important commercial center in the region. The city is also known for its wealth of historical landmarks and museums. The city's eclectic art and food culture, also contribute to the city's popularity as a destination for leisure travelers.  
Not just that, Charlotte is the third-largest banking center in the country. Its central business district is bustling with plenty of business people. That's why you'll notice plenty of business travelers grabbing meals after work and indulging in business dinners at various restaurants. 
Hotels near Charlotte Douglas International Airport in North Carolina are extremely popular. It is a no-brainer for travelers to book a hotel room near the airport. Charlotte's airport hotels are not your typical chain establishments. These hotels provide the red-carpet treatment to all their guests, whether they are on a budget or want to indulge and pamper themselves. So here are the 10 best hotels near Charlotte Douglas Airport. 
Top 10 hotels near Charlotte Airport
Courtyard by Marriott Charlotte (CLT) Airport
The Courtyard by Marriott is one of the top hotels near Charlotte airport for several reasons. To begin with, it is just minutes from the airport and provides a free 24-hour shuttle service. Furthermore, its facilities are among the most upmarket in an airport hotel.  
A leisurely swim in their heated indoor pool is a wonderful way to refresh yourself before or after a long journey. In the hotel's Bistro, guests can indulge in well-balanced dishes, specialty Starbucks coffee, and hand-crafted cocktails. Guests also have the option to dine at neighboring restaurants such as Noble Smoke, Sunflour Baking Company, and Cracker Barrel.  
From here, you can travel 10 minutes to the U.S.U.S. National Whitewater Center for some outdoor fun. During your stay, you can easily access some of the most well-known sites in the surrounding area. These include the Bank of America Stadium, Spectrum Center, and Charlotte Premium Outlets. In addition, Charlotte Motor Speedway is not far away. 
Enjoy affordable and safe parking at the Courtyard by Marriott Charlotte Airport by booking a spot with us today. 
Hyatt Place Charlotte Airport/Tyvola Road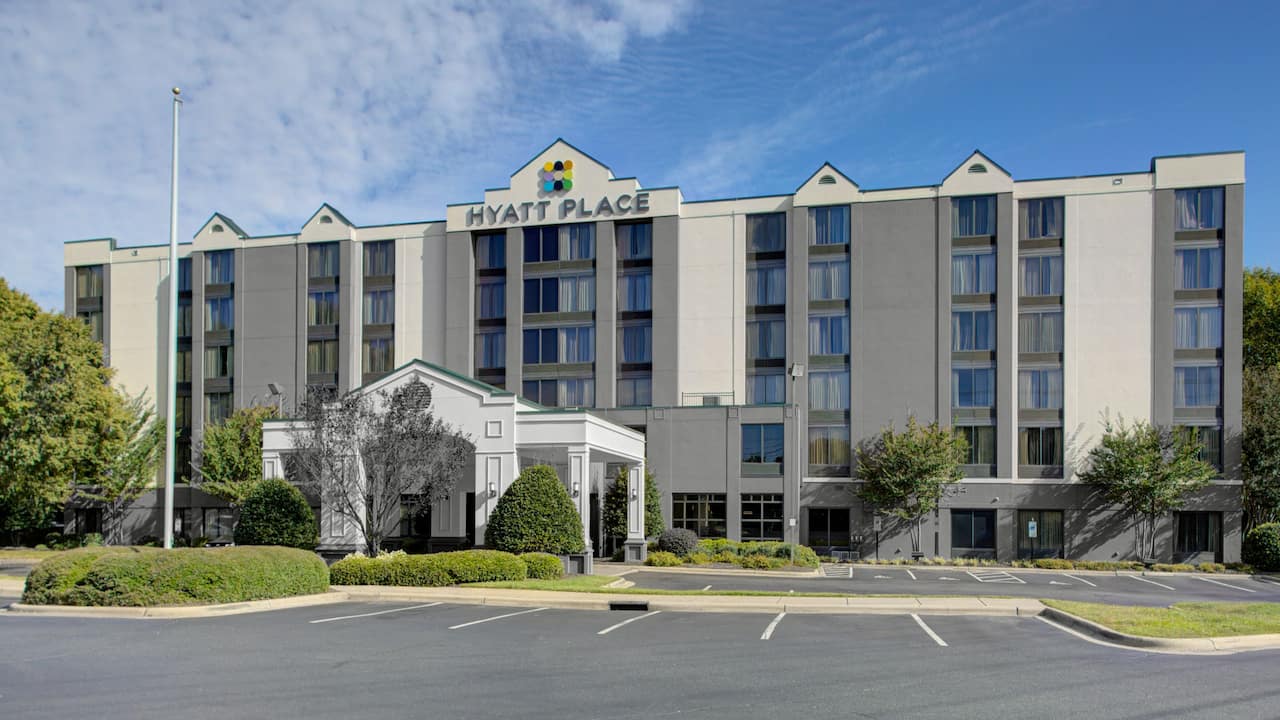 At this hotel near Charlotte Airport, you'll find yourself at home away from home for either business or leisure travel. The Hyatt Place Charlotte Airport Tyvola Road is situated near a number of popular attractions. These include the Bank of America Stadium, the Spectrum Center, Carowinds, and the U.S.U.S. National White Water Center. You'll also be just a few minutes away from upscale and casual eating options. Shopping malls and outlet stores are also nearby. 
Travelers can unwind in the comfort of the large rooms, which have distinct living and sleeping spaces. Other conveniences available in the room are 42-inch T.V.sT.V.s equipped with Chromecast and complimentary Wi-Fi. Amenities such as an outdoor pool, a fitness facility that is open 24 hours a day, complimentary shuttle service, and onsite restaurants are also available. 
Book parking at Hyatt Place Charlotte Airport on Way.com to get the best Charlotte Airport parking rates.   
Microtel Inn & Suites by Wyndham CLT Airport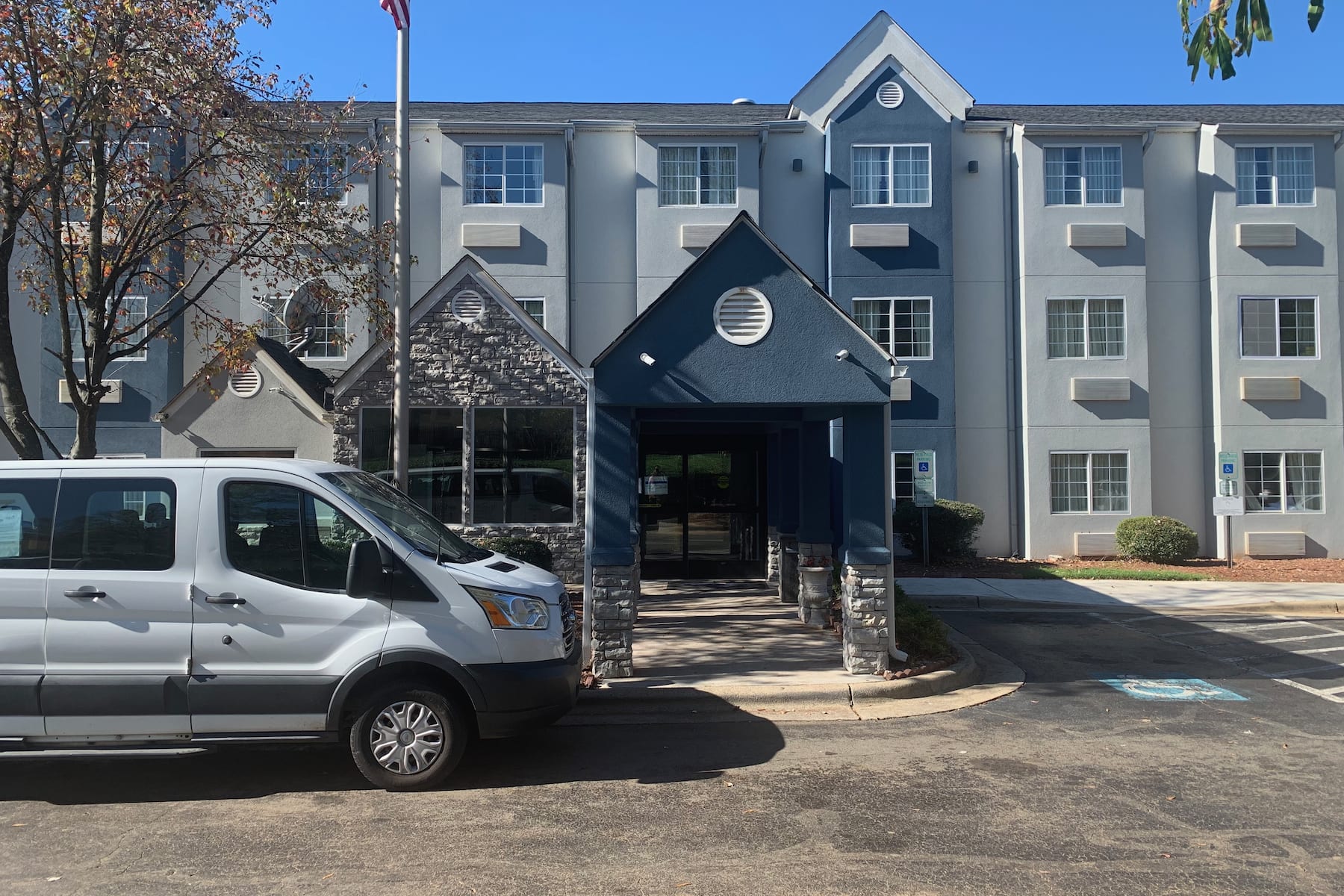 Free parking and WiFi are some of the perks at Microtel. This hotel is conveniently located in the Charlotte Douglas Airport Area section of Charlotte (N.C.N.C.). It is also close to local attractions and eateries. Wake up stress-free at the Microtel Inn & Suites, where breakfast is available onsite. Choose from a range of tasty eating options at the hotel throughout your stay.  
Once here, stop by the bar for some in-house midnight entertainment. Vending machines operate around the clock so that you can get a snack at any time of day or night. Whether you want to go on an adventure or just relax after a long day, Microtel Inn & Suites by Wyndham Charlotte Airport provides a variety of activities to suit your requirements. After supper, there's no need to travel somewhere; instead, spend time at the library with friends or family. 
Book parking at the Microtel Inn & Suites by Wyndham CLT Airport to snag the most affordable Charlotte Airport parking spots.
Days Inn by Wyndham Charlotte Airport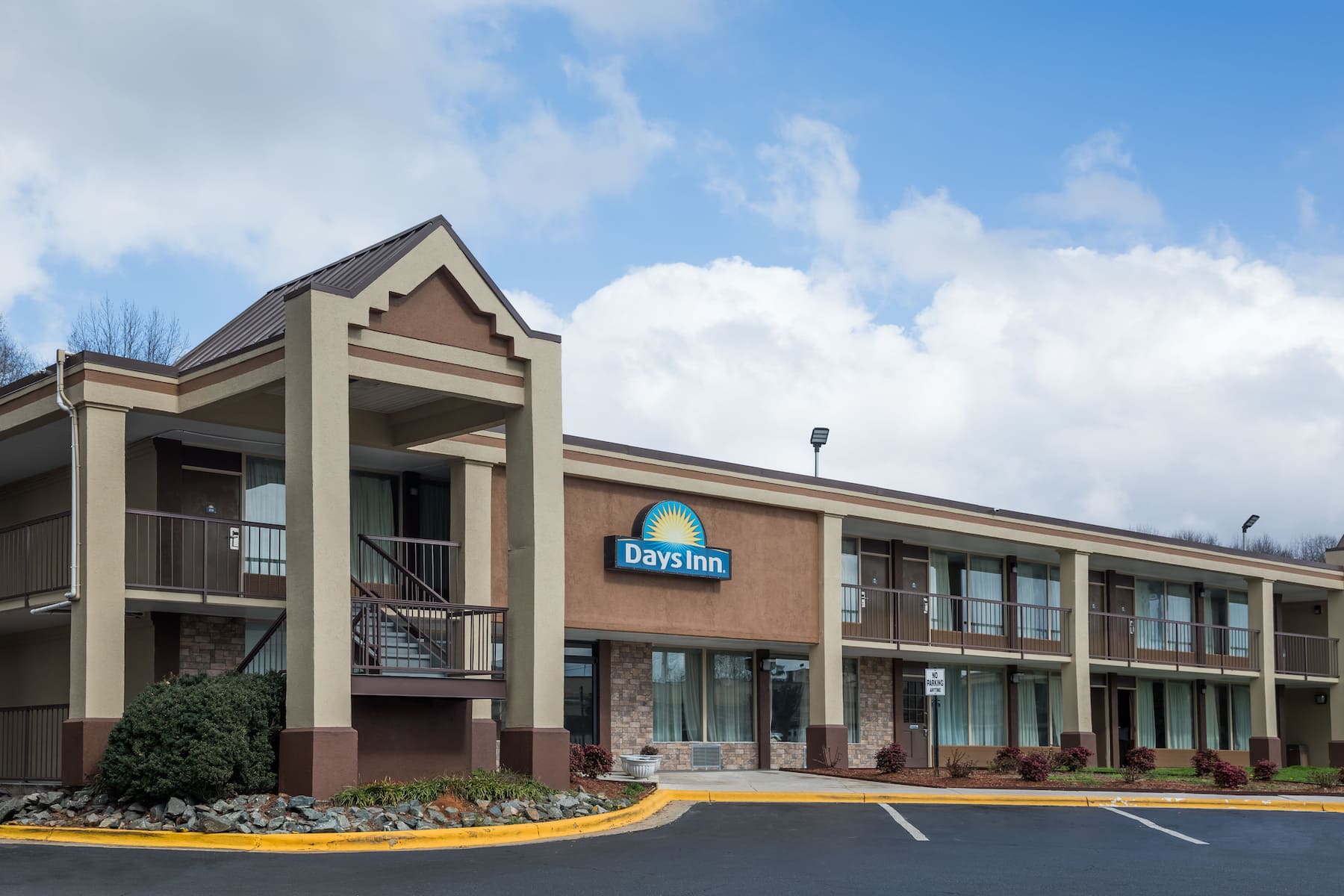 The Days Inn by Wyndham Charlotte Airport North is located in Charlotte and provides free WiFi to guests staying at the property. It also has a library and a reception desk that is open round-the-clock. Guests staying at the hotel have access to various facilities, including a business center, conference rooms, and a fitness center, among other things. Additionally, it has a wake-up service and a vending machine for your convenience.  
At the Days Inn by Wyndham Charlotte Airport North, all rooms have a heating system, a private bathroom, and a refrigerator. They also have a radio, ironing facilities, and a telephone. Hotel guests can also use the motel's onsite restaurant, which provides a convenient location for those who like to remain in the immediate vicinity during mealtimes.  
Days Inn by Wyndham Carowinds is an easy drive from Charlotte Airport North, which is only minutes away from Charlotte Douglas International Airport. The Mint Museum Randolph, Charlotte Center City, and Independence Boulevard are all reasonably accessible by vehicle. 
You can book cheap Charlotte Airport parking at Days Inn by Wyndham Charlotte Airport on Way.com!
Hampton Inn & Suites Charlotte Airport
The Hampton Inn & Suites, which is only a short drive from the airport, is the most convenient place to stay for those who need to be close to the terminals. The Hampton Inn is one of the top hotels close to the airport in Charlotte, North Carolina, and they provide a complimentary cooked breakfast every morning. After you have finished your filling breakfast, you can go for a swim in the indoor pool or get in a workout in the fitness center. The 24-hour business center and the shuttle to the airport, accessible on-demand and arrive within ten minutes, are the final two highlights of the hotel's collection of services.  
You won't be let down in the least by the hotel's accommodation, which includes standard rooms and suites. Each one is cozy and features a television with a flat-screen, complimentary wireless internet access, and a private bathroom. Although it is quite affordable, the Hampton Inn & Suites provides every convenience you would want for a brief stay while you wait for your flight. 
Sonesta Charlotte Executive Park
Look no further than the Sonesta Charlotte Executive Park if you're searching for a hotel that will let your dog stay in your room with you. The Sonesta Charlotte Executive Park is in the heart of Charlotte's popular Uptown and South End districts. It is also only five minutes from Charlotte Douglas Airport, making it a popular tourist choice.  
This hotel has a fitness facility, an indoor-outdoor heated pool, a sauna, a sand volleyball court, free parking, and a business center. Rooms provide modern conveniences like complimentary WiFi, yet some customers have claimed that the lodgings and facilities are outdated. Breakfast, lunch, and dinner are available at the onsite restaurant. There are also two bars, one by the pool and one near the lobby, which are great places to unwind with a few drinks. 
Hilton Garden Inn Hotel Charlotte Airport
Another great option for a hotel near Charlotte Douglas International Airport is the Hilton Garden Inn, near the gorgeous Lake Pointe, just to the north of Eagle Lake. The hotel meets all expectations in terms of facilities and services. The onsite restaurant offers a delicious breakfast buffet in an American style that guests can customize to their liking.  
In addition to offering breakfast, lunch, and supper, they also provide room service. You can get your workout in whenever you want, thanks to the 24-hour fitness facility. You can also catch up on work in the business center whenever it's convenient. The rooftop pool, which is almost unheard of in airport hotels, is undoubtedly the most appealing feature of this airport hotel.  
The hotel has quite pleasant rooms and suites, with plenty of space, huge plush mattresses, and plenty of closet and drawer space. In addition to that, they provide amenities like coffee machines, microwaves, mini-fridges, high-definition televisions, and even complimentary WiFi. The most exciting part is free accommodation for children younger than 17 years of age!  
Tru by Hilton Charlotte Airport Lake Pointe
If you stay at a Tru by Hilton during your brief visit, you'll have plenty of time to see a Panthers game and make it to the airport on time. Because the hotel is located less than five miles (eight kilometers) from Bank of America Stadium, you can enjoy a leisurely complimentary breakfast at the hotel before making your way directly to the field. Moreover, you won't have to pray for a miracle to make it to the airport on time. All you have to do is take advantage of the complimentary shuttle service. 
At the Tru by Hilton Charlotte Airport Lake Pointe, you'll have a complimentary, delectable breakfast every morning. If you feel hungry during your stay, you can choose from many convenient and delicious restaurants within the hotel. At the hotel's bar, you and your fellow travelers can have an evening to remember without having to venture very far. The vending machines at the hotel are open 24 hours a day. So you can have a snack at any time you want!  
The Tru by Hilton Charlotte Airport Lake Pointe's recreational amenities are ideal for getting away from it all and unwinding.  The beach can be reached easily from the hotel if you want to spend some time there. Take some time to unwind and swim in the pool at the hotel. Also, visit the hotel's fitness center to maintain your usual physical health while away. 
Hyatt Place Hotel Charlotte NC Airport/Lake Pointe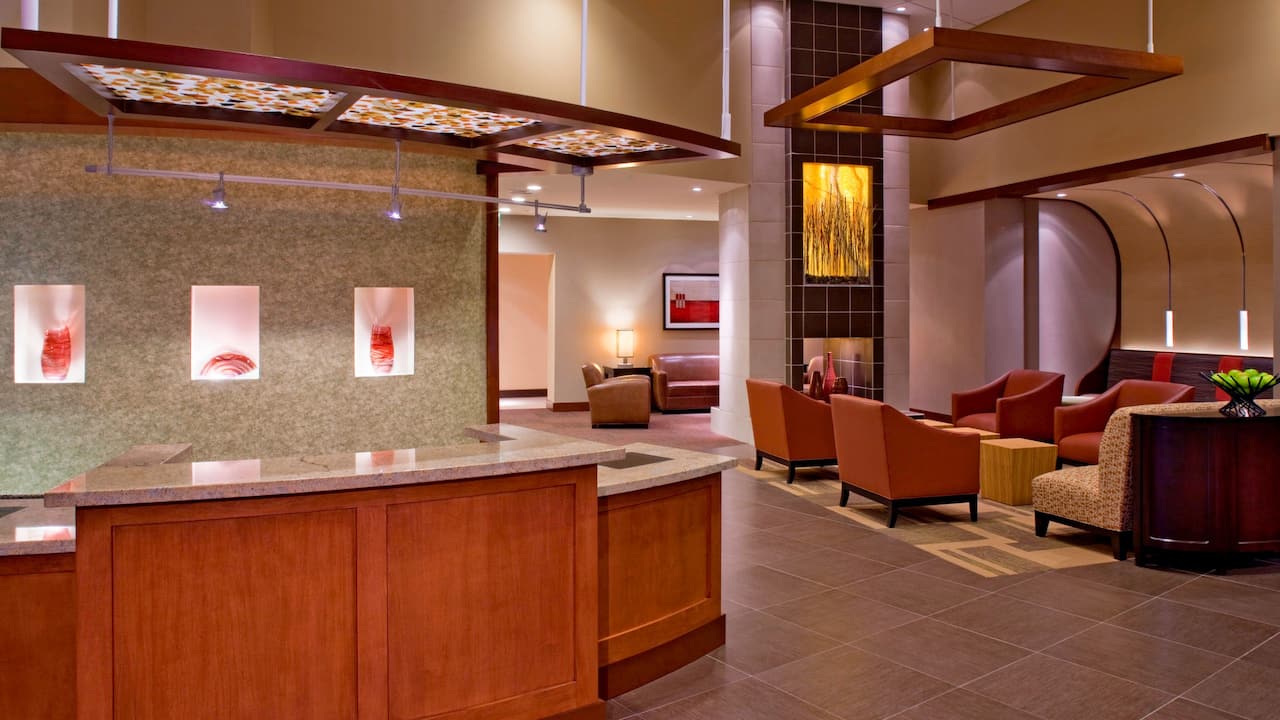 Not only is the Hyatt Place at Lake Pointe one of the top hotels near Charlotte Airport, but it is also one of the most pet-friendly hotels in Charlotte! So if your four-legged companion is with you on your trip, then you can be assured that this hotel will offer an exceptional yet reasonably priced pet-friendly experience while you wait for your flight.  
You'll need to pay a one-time cost of $75 that allows you to bring up to two canines with a maximum combined weight of 75 kg. In addition, well-mannered canines can stay in the room. This is a boon for pet parents. You can use both the outdoor pool and the fitness facility while staying at the hotel. The hotel provides guests with a delicious free breakfast each morning and offers onsite dining at both the restaurant and the bar. A Starbucks ensures that excellent coffee can be had in a couple of minutes. 
The quiet and comfortable rooms at Hyatt Place are exactly what you'd want before or after a tiring trip. You can expect to find comfy mattresses, a big flat-screen television, and even a refrigerator in your room. Also, because there are coffeemakers and seating places, the mornings are perfect for having a cup of coffee while taking in the scenery outside the window. 
Aloft Charlotte Airport
One of the best hotels near Charlotte Airport is Aloft, especially if you want to stay somewhere colorful and quirky. The stylish hotel is nothing like a typical airport hotel. Its stylish and colorful decor is perfect for cheering up spirits that have become weary. All the hotel's amenities are created with the intention of uplifting and revitalizing guests, beginning with one of the most magnificent outdoor pool areas you have ever seen. It is ideal for swimming and then lounging on the bright orange daybeds and chairs on the side of the pool.  
You can pick up some quick-eat food items from the Re: fuel lounge, that's open around the clock. Or you can enjoy a drink at the similarly hip W X.Y.Z. Bar, which is a terrific place to hang out. The hotel even offers a big American breakfast, even though it does not have a restaurant on the premises. Last but not least, the hotel provides complimentary WiFi and a modern fitness facility for its guests. 
---
Here's more info on top-rated airport parking, the best parking spots in your city, affordable auto insurance, easy auto refinance, and high-quality car washes near you.
---