The Denver International Airport or DIA is about 25 miles east of downtown Denver. So if you have an early flight back or only a short stay, you'll want to stay close to the airport. Our list has the 10 best hotels near Denver Airport that make getting to and from the airport easy peasy. Most offer onsite parking and airport shuttle service to the airport. Furthermore, Denver and its tourist attractions are a short drive or rideshare away.
Why would you want to stay at an airport hotel in Denver? Staying at a hotel near Denver Airport is all about comfort and convenience. Denver airport hotels range from luxury resorts to casual franchises to low-cost choices. Here are the top hotels in Denver- luxury and budget options.  
Best hotels near Denver Airport
Best hotels near Denver Airport – Westin Denver International Airport Hotel
Westin Hotel Denver Airport is the only hotel connected to Denver International Airport. It is located in the airport terminal and connects visitors to the commuter train line. It also provides convenient access to local area attractions in Denver.  
The Westin's incredible design has garnered honors and changed the way tourists perceive airport hotels. The hotel offers guests quick access to downtown Denver via the A-line train, exquisite amenities such as an indoor heated pool, a high-end fitness center, onsite eateries, and wall-to-wall windows with iconic Colorado mountain vistas.  
Each of the 519 rooms is entirely soundproof and has been created for comfort and elegance. Each room has a huge workspace, high-speed internet, comfortable bedding, a contemporary bath, and large windows with panoramic views of the surrounding region. 
Best hotels near Denver Airport –
Gaylord Rockies Resort & Convention Center
The Gaylord Rockies is more of a township than a hotel, located next to Denver International Airport. The hotel has five-star facilities like high-thread-count bedding and personalized room service. Views from the rooms typically include both mountains and departing planes, making it a fun way to take in the sheer grandeur of the majestic Rockies and the airport.  
The resort has an excellent spa. In reality, the complex is reminiscent of a Las Vegas resort, complete with a lazy river, waterside cabanas, a heated pool, and four onsite restaurants and bars. The convention center, which features exhibitions and entertainment even if you aren't in town for a conference, is another option. Gaylord Rockies is the place to go if you're looking for a rustic charm in a hotel near Denver International Airport. 
Once you reach the SpringHill Suites, you can unwind and relax at the in-house bar at the Springhill Suites Denver Airport. The rooms are immaculate and inviting, and they also offer suite bookings. Guests may watch the sun down over the Rockies from the hotel's patio area. Fitness enthusiasts can work out in the hotel's fully-equipped fitness facility. This location's quick Internet access and comfortable common areas make it excellent for business travelers. 
You can book DIA parking at the SpringHill Suites by Marriott Denver Airport via Way.com. You don't even need to reserve a room! 
You can travel without stress when you stay at the Denver Airport Marriott. This hotel near Denver International Airport (DEN) offers excellent service and large accommodations, some with breathtaking Rocky Mountain views.  
This ideally located Denver Airport hotel connects to the airport via complimentary airport shuttle or only a mile from the A-Line commuter rail Train to the Plane. This gives travelers easy access to nearby companies, great restaurants, and popular local attractions. With soft beds, Wi-Fi, and HDTVs, these hotel rooms near Denver Airport will make you feel at home. Our onsite restaurant, Fire + Spice, serves robust Southwestern fare and local craft brews when hunger strikes.  
Enjoy affordable and safe DIA parking at the Marriott Denver (DEN) Airport by booking a spot with us today. 
Fairfield Inn & Suites Denver Airport was designed with travelers' requirements. It gives convenient access to Aurora Sports Park and Coors Field. Guests will also appreciate this hotel's facilities, including free onsite parking, a business center, and Wi-Fi.  
Visitors to the Mile High City may experience the vibrant cultural scene and different communities. After a full day of sightseeing, we offer our guests the chance to relax in comfort. Other features include an outdoor area, conference spaces, and spacious guest rooms.  
Business travelers will appreciate the ergonomic offices or find enjoyment and unwind with their premium movie channels. Then, after a good night's sleep, they can work out at our indoor pool and fitness facility.  
Book Fairfield Inn and Suites by Marriott DIA Airport on Way.com to get the best Denver International Airport parking rates. 
The AmericInn by Wyndham Denver Airport is a 10-minute drive from Denver International Airport and features an indoor pool. It also has a 24-hour reception desk, a business center, and an airport shuttle. 
The hotel offers many services to visitors, including a dry-cleaning service, laundry service, and a gym. In addition, guests can use the internet connection to stay in touch with pals while on the road.  
The AmericInn by Wyndham Denver Airport provides 82 rooms, each with various facilities to guarantee a comfortable stay. 
You'll have easy access to downtown Denver and the University of Colorado Denver, the Denver Museum of Nature and Science, Coors Field, and the Pepsi Center.   
Enjoy affordable and safe parking at the AmericInn Hotel Inn Suites DEN Airport by booking a spot with us today. 
Best hotels near Denver Airport –
Courtyard by Marriott DEN Airport
The Marriott hotel, located just one exit from the airport, makes for a peaceful home base, whether you're visiting for business or pleasure.  
The reasonably priced hotel has a variety of services to make your stay as enjoyable as possible, including an indoor pool, a fitness center, and complimentary high-speed Wi-Fi. The hotel also provides a 24-hour shuttle service to and from the airport for quick and simple access.  
Guests also appreciate the full-service, onsite restaurant, ideal for grabbing a morning coffee and fueling up for the day with freshly prepared breakfast. In addition, the hotel rooms are thoughtfully built to maximize space and comfort. Each accommodation has ergonomic workstations, contemporary furniture, and sumptuous bedding, with some rooms also having expansive sitting spaces and outside balconies. 
Staybridge Suites offers comfortable and convenient rooms and easy access to neighboring attractions. Enjoy daily breakfast and a workout center, an indoor pool, an outdoor grilling area, and complimentary laundry facilities. 
For business travelers or those with a layover, the hotel provides an airport shuttle service to/from the airport. If you drive there, parking is free during your visit, but you must purchase a Park and Fly package if you need long-term parking. 
Best hotels near Denver Airport –
Hyatt House Denver Airport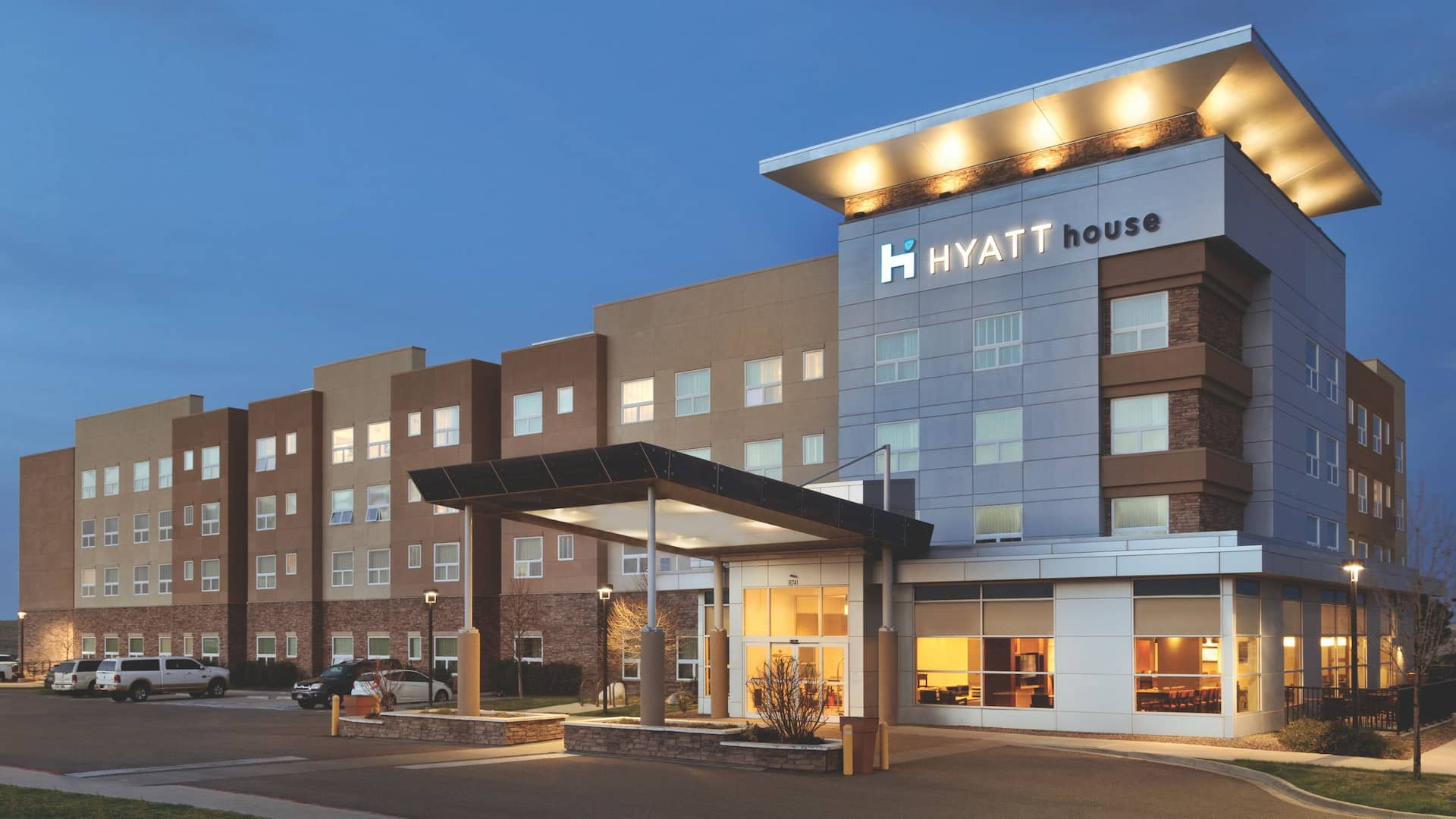 Guests visiting the Hyatt House Denver Airport can expect an efficient, contemporary, clean stay. This Denver airport hotel's bright rooms are decorated in an apartment-style, giving it the feel of an Airbnb while yet providing hotel facilities and services.  
When it comes to hotels near Denver Airport, Hyatt House is the ideal option for the business traveler who needs homely accommodation for an extended period of time. 
Travelers won't really go wrong with the Comfort Suites Airport Denver, less than 10 minutes from the airport. This mid-priced hotel provides the essentials and superior comfort for all of your vacation needs.  
Begin your day with their free breakfast, including their famous freshly prepared waffles. Other hotel features include free Wi-Fi, a cutting-edge fitness facility, a free airport shuttle, a corporate conference room, etc.
---
Here's more info on top-rated airport parking, the best parking spots in your city, affordable auto insurance, easy auto refinance, and high-quality car washes near you.
---