Detroit Metropolitan Airport, also called DTW Airport, is one of the busiest airports in the country. That's because plenty of travelers fly into and out of the city. But there's literally nowhere to sleep in the airport if you're on a long layover.  Unless you're okay with sleeping stiffly on the uncomfortable airport chairs, you'll need to book a hotel room. Luckily there are several hotels near Detroit Airport. To help you choose, here's a list of the 10 best hotels near Detroit Airport. 
There is a good chance that you don't have Detroit on their bucket lists. Nevertheless, each neighborhood provides a warm ambiance and a one-of-a-kind experience for visitors. Detroit is also called the "Motor City," owing to its important role in the automotive industry. It is home to a wide variety of attractions, including museums, historic buildings, restaurants, and numerous retail establishments. It doesn't matter if you're an art enthusiast, a shopper, a sports fan, or a foodie. Detroit has something to offer everyone who wants to explore it. However, the distance between the airport and downtown Detroit is approximately 20 miles! So if you don't have to spend a lot of time downtown, you might want to consider staying in one of the hotels near DTW airport. 
Top Hotels near DTW Airport
Westin at McNamara Terminal Detroit Metropolitan Airport
You can't get any closer to Detroit Airport than The Westin hotel. That's because the Westin is located inside the terminal! The hotel is located within the famed Mcnamara Terminal. The Westin hotel is suitable for guests that have an early morning flight. You don't need to get up extra early to get to the airport because you're already there! The hotel's cuisine is likewise rated excellent. While it is not the cheapest hotel in the area, it does have the greatest facilities of any hotel.  
Westin is nine miles from the Taylor Conservatory & Botanical Garden and 21 miles from the Fillmore Concert Hall in downtown Detroit. The hotel offers simple rooms with modern decor, flat-screen TVs, and coffeemakers. The 1 & 2-bedroom suites have a living room or dining area. Superior rooms will give you views of the asphalt. Wi-Fi and 24-hour room service are also available. The airport shuttle service is free. The atrium has a restaurant and a lounge. There's also a gym, an indoor pool, and soundproofed conference spaces. 
Hampton Inn Detroit/Belleville DTW Airport
The Hampton Inn is another one of the best hotels near Detroit Airport. Because the airport is less than two kilometers away, many passengers who have an early flight opt to stay at this hotel. Hampton Inn also provides a variety of amenities to its guests. These include high-speed wireless internet access, an indoor pool, a fitness center, a business center, and complimentary shuttle services. 
Another excellent hotel choice for families is the Hampton Inn. They offer suites that are rather big and come with couch beds. Even better, they serve complimentary breakfast to all of their visitors. In addition, if you're in a rush, you may take advantage of the complimentary Hampton On the Run Breakfast Bag, a takeout breakfast designed specifically for you.  
Since the hotel is only 20 minutes from the city center, the Hampton Inn is an excellent option for you to consider if you want to remain in Detroit for an extended period. Inquire at the front desk for ideas on local restaurants and other helpful information that will assist you in navigating the city. 
Book parking at the Hampton Inn Belleville DTW Airport to snag the most affordable DTW Airport parking spots.
Baymont by Wyndham Belleville Detroit Airport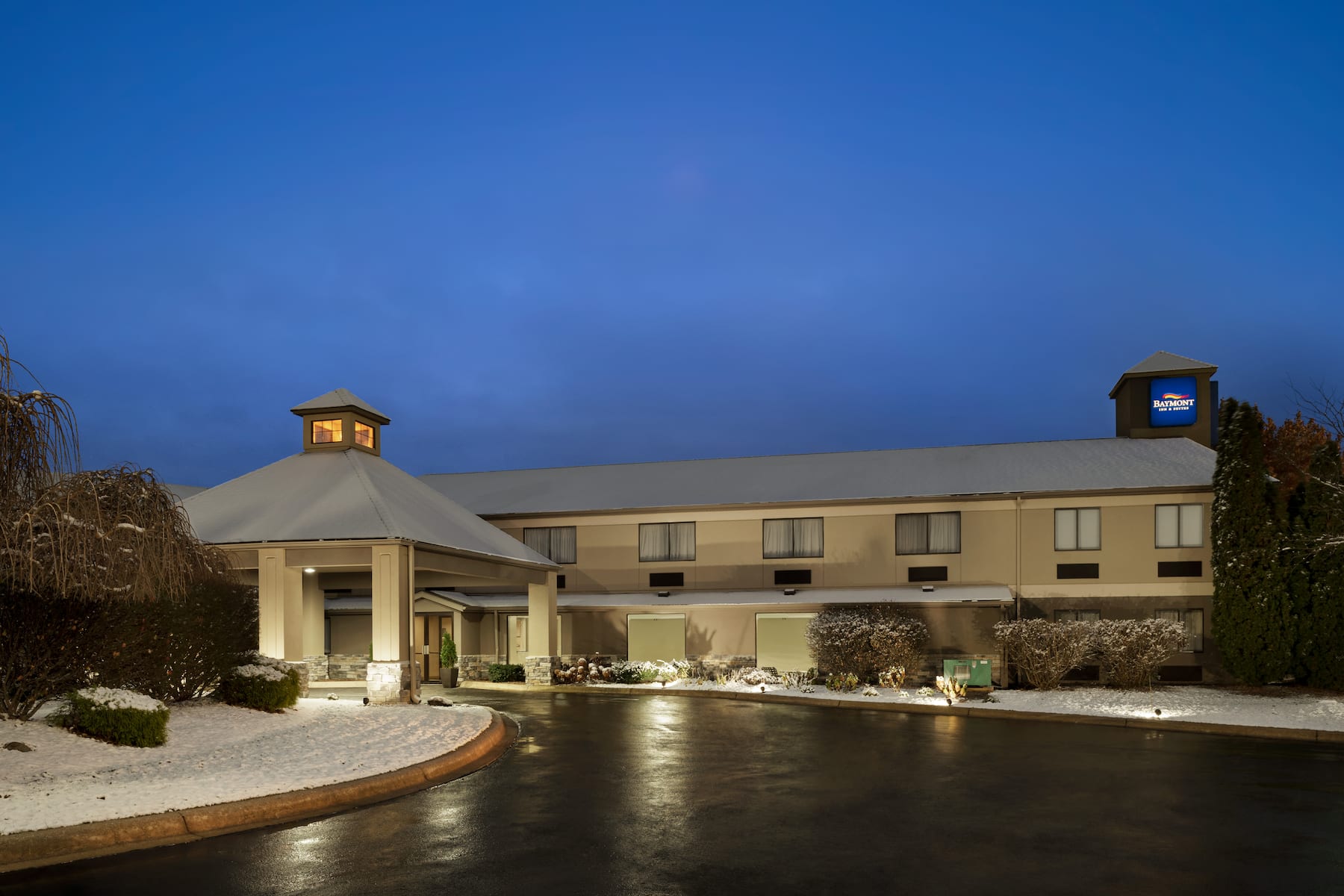 The façade of the building may appear plain and tiny. But don't be taken in by it. Inside, the Baymont by Wyndham has all you need for transportation and more. Business travelers will like the hotel's PC area, where they can catch up on work. If you bring your laptop, you will enjoy the pleasure of a decent work desk and chair in each room. Whichever option you select, you will have free access to the hotel's Wi-Fi. 
Travel lighter than since the on-site laundromat allows you to wash your clothes. You can also ask for assistance at the 24-hour front desk. There's also a vending machine nearby if you get a midnight hunger. Alternatively, you may satisfy your appetite by eating the complimentary warm continental breakfast in the morning. What's more, you may have this filling supper in the privacy of your own home! 
Baymont not only caters to business travelers but also those traveling with children. Buffets and dinners for children are available. Moreover, some bedrooms offer two double beds so your children can have their own space. 
Enjoy affordable and safe parking at the Baymont by Wyndham Belleville Detroit Airport by booking a spot with us today. 
DoubleTree by Hilton Dearborn DTW Airport
This motel is five minutes from Fairlane Town Center, just off Route 153/39. The Henry Ford Museum and Greenfield Village are less than four miles apart, and downtown Detroit is 12 miles away. Guests will experience a stress-free stay at the DoubleTree by Hilton Detroit – Dearborn. With the hotel's complimentary Wi-Fi, you can effortlessly keep up with your communications. Concierge service, speedy check-in or check-out, baggage storage, and safety deposit boxes are available at the front desk to meet your needs. Getting tickets for the top entertainment in town is simple with the hotel's ticket service and excursions.
In-room amenities like room service and daily housekeeping allow you to make the most of your stay. In addition, convenience shops can meet your last-minute requirements, saving you time and trouble. Some rooms provide in-room entertainment options such as a daily newspaper, television, in-room video streaming, and cable TV.
Every day begins with a wonderful in-house breakfast at DoubleTree by Hilton Detroit – Dearborn. Enjoy the morning delight with a taste of delicious coffee from the hotel's café. The hotel offers a choice of easy and good eating alternatives for anytime you become hungry. There's also a bar for those looking to unwind without leaving the hotel. Vending machines are accessible 24 hours a day, seven days a week at the DoubleTree by Hilton Detroit – Dearborn.
Get the best prices on parking at DoubleTree by Hilton Dearborn DTW Airport when you book with Way.com
Fairfield Inn & Suites by Marriott Detroit Metro Airport
This stylish and contemporary hotel is 1.4 miles from the Wayne County Metropolitan Airport in Detroit and 9.4 miles from the Henry Ford Museum Complex. In addition to complimentary Wi-Fi and flat-screen TVs measuring 32 inches, the elegant rooms and suites come equipped with kitchenettes, coffeemakers, and marble baths. A few of them include a couch bed.   
Free services include a continental and hot breakfast, parking, and round-the-clock airport shuttle transportation. Amenities include a lobby lounge, a fitness center, an indoor pool, a hot tub, a business center, and an indoor pool. 
Sheraton Detroit Metro Airport
The Sheraton hotel chain is well-known among frequent travelers. Its name is synonymous with luxury and comfort. The Sheraton near Detroit Metro Airport is no different. Even though it is mostly a transit hotel, each visitor may enjoy the fine leather and wood furniture. This is visible from the hotel's foyer to your bedroom and private living area.  
Private balconies are essential at a Sheraton hotel. Choose a room that has it, as well as a distant view of downtown Detroit. Finish your relaxed afternoon on the balcony with a cup of coffee made in the in-room coffee maker. Alternatively, you may order one from the hotel's restaurant and bar. Ideal for people who want their Irish coffee! 
There is an indoor pool available for quick laps. Then, burn calories in the on-site fitness facility, which has mats, treadmills, and other contemporary equipment to help you keep active on the road. 
Delta Hotels by Marriott Detroit Metro Airport
Feeling pecking before your flight? Scrambled eggs and bacon sound like a good idea! Or how about warm toast and a cup of coffee in the privacy of your own room? If you stay at a Delta Hotel, you can do both. The onsite restaurant provides a wonderful breakfast and meals for lunch and evening. Then, finish the evening with one of two pints of beer on tap! Then, when you're ready, go to your room, where you'll find a modernly designed place all to yourself. Even the desk chair is stylish! 
 Watch the news on the flat-screen television. However, it would be a pity not to employ such high quality in a film. Moreover, some rooms have separate living spaces large enough for 10 people if you like to watch on a sofa. But what we adore about this hotel is that it has black-out curtains in every room, which is perfect for restless travelers like us. After all, Marriott is well-versed in competing with the top hotels near Detroit Airport. 
Comfort Inn Metro Airport Romulus
Imagine that your flight is scheduled to depart at 5 a.m. Unfortunately, there aren't any places open yet, so you'll have to make do with leftovers or snacks for breakfast. Suppose we informed you that Comfort Inn does not have an issue with this. Breakfast is served at this hotel starting at 4 a.m., but most hotels near Detroit Airport or any other airport offer breakfast at 7 or 6 a.m. Everything is free, from the steaming waffles to the scrambled eggs.  
The rooms provide a variety of extra amenities, such as varied bed sizes and bathroom fixtures. In addition, a bathtub is available in some rooms, while others contain workstations with drawers for working. For business travelers, the former is the way to go. If, on the other hand, you're in town to unwind, opt for the latter option. There is an electric vehicle charging point for those who want to charge their Tesla. And it's completely free for everyone who visits! So, if you're looking for a great hotel near Detroit Airport, go no further than this one. 
Wingate By Wyndham Detroit Metro Airport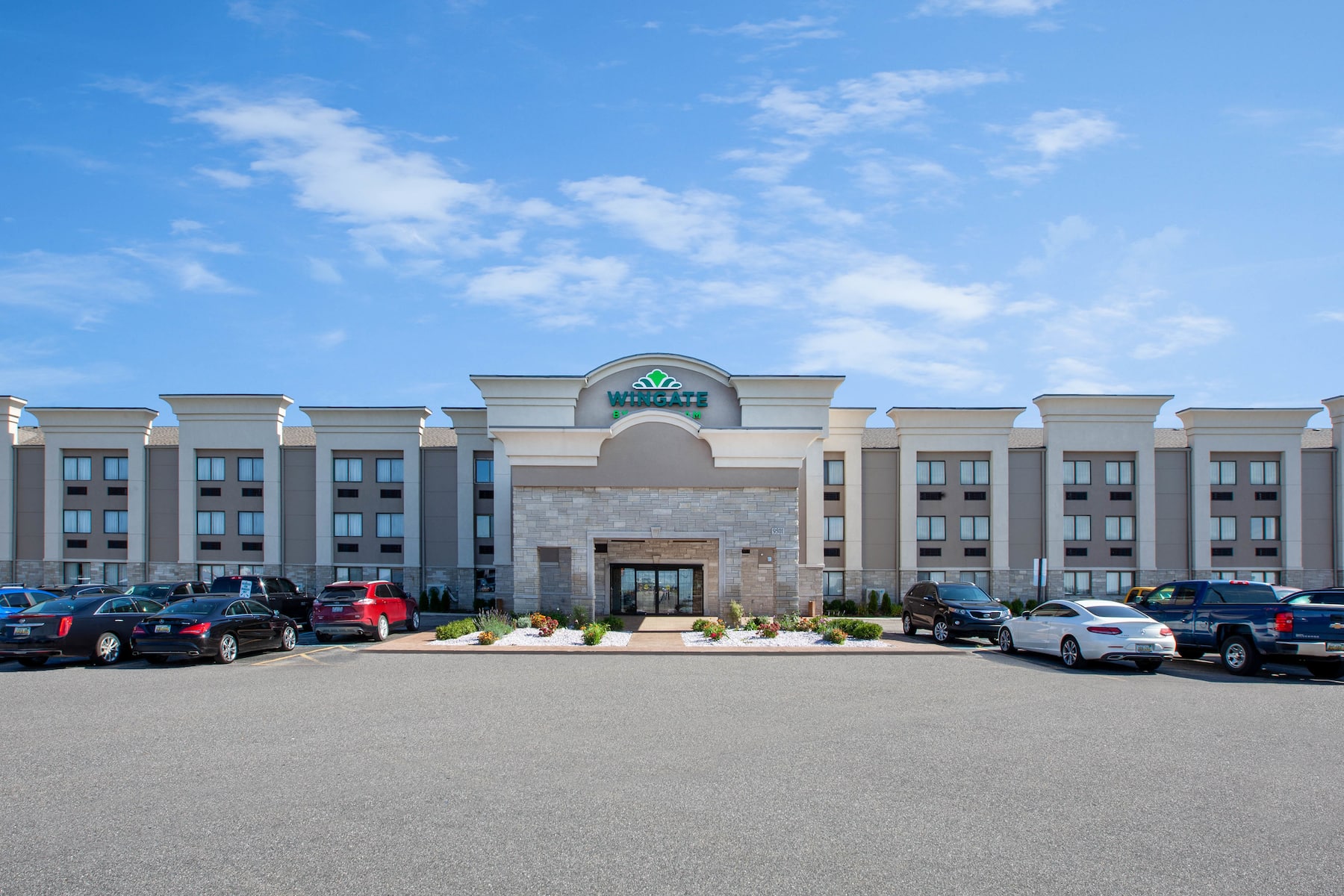 Another Wyndham property, this one offers a complimentary airport shuttle. Wingate's shuttle service is available 24 hours a day, seven days a week, and departs every 30 minutes. Just relax in the hotel lobby and use the complimentary Wi-Fi if you miss the earlier group. You may also have a drink or two at the hotel's bar.  
You'll notice the hotel's contemporary decor right away. The beige-colored furniture complements the wood floors. Free toiletries are provided in the rooms and baths as well as in the common areas. This is a good alternative if you forget to pack your electric toothbrush.   
Finding a place to eat is difficult when you're kilometers away from downtown. As a result, Wings Bar and Grill, the hotel's onsite restaurant, is available for guests to dine on and drink. The choice is yours! Keep leftovers in the fridge in your room if you can't finish a large meal. Use the in-room microwave to reheat your food the next time you dine. 
Embassy Suites by Hilton Detroit Metro Airport
This contemporary all-suite hotel is located off Interstate 94 and is only 2 miles from Detroit Metropolitan Airport. The Henry Ford Museum is about 12 miles away. The comfortable suites include complimentary Wi-Fi, flat-screen televisions, and separate living spaces furnished with couch beds. In addition, there is a coffee maker, a compact refrigerator, and a microwave. The upgraded suites come with their own separate meeting spaces. 
Free offerings include breakfast and evening snacks that are freshly made each day. In addition, there is a resto-bar and an unpretentious burger joint. A conference room, a fitness center, and an indoor and outdoor pool are also available. 
---
Here's more info on top-rated airport parking, the best parking spots in your city, affordable auto insurance, easy auto refinance, and high-quality car washes near you.
---