Dallas-Fort Worth International Airport (DFW) is one of the busiest in the country. DFW not only links to major cities nationally and globally but also to many popular Texan vacation spots in the Colorado mountains. Thanks to all these travelers, there are plenty of high-end and budget hotels near Dallas Fort Worth Airport. So we've compiled a list of the 10 best hotels near DFW Airport to make your travel planning easier.  
Everything is, indeed, larger in Texas. Case in point – Dallas Fort Worth Airport. It is the 2nd largest airport in the country and serves Dallas and Fort Worth.
The Dallas-Fort Worth areas brim with life and entertaining activities. They also have a large concentration of restaurants, historic buildings, and retail malls. If you're only visiting for a day or need to catch an early flight, staying in one of the hotels near DFW Airport is best. But just because you're here for a while doesn't mean all you can do is sleep. Dozens of hotels offer comfy stays near the airport. Also, several major attractions, such as the Legoland Discovery Center Dallas, are nearby. If you have an early flight out or a late flight in, staying in one of the hotels near DFW Airport will be ideal.  
Best hotels near Dallas Fort Worth Airport
Hyatt Regency DFW Airport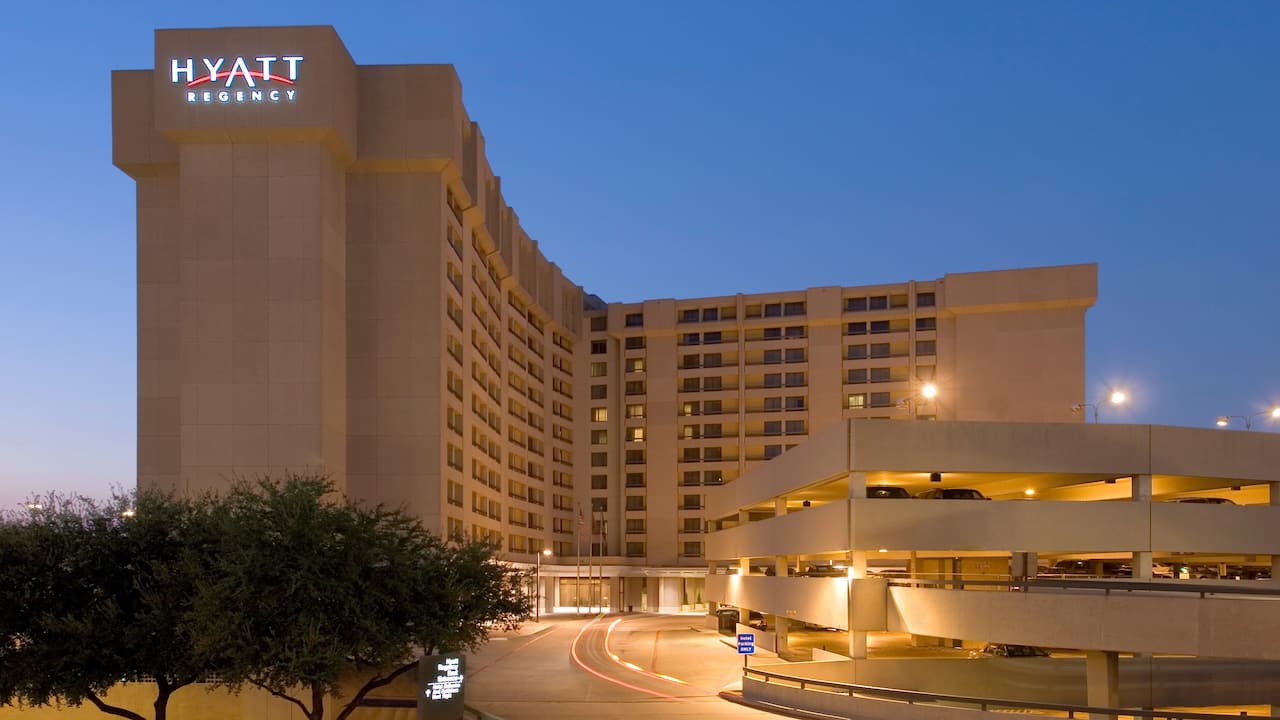 The Hyatt Regency DFW International Airport is as close as you can get to the airport. It is, in fact, located inside DFW Airport in Terminal C. The Hyatt Regency provides comfort and class within a two-minute walk of airline check-in. The ACES Lobby Bar provides food and drinks while providing a scenic view of the airport. However, the main attraction at this Dallas airport hotel is the in-room experience. Each room has a 55-inch flat-screen TV, complimentary high-speed WiFi, and a separate desk. The hotel provides quick-service meals, a lovely outdoor pool, and a full breakfast. Yoga courses are available on-site so that you can feel relaxed and loose before takeoff. 
Grand Hyatt DFW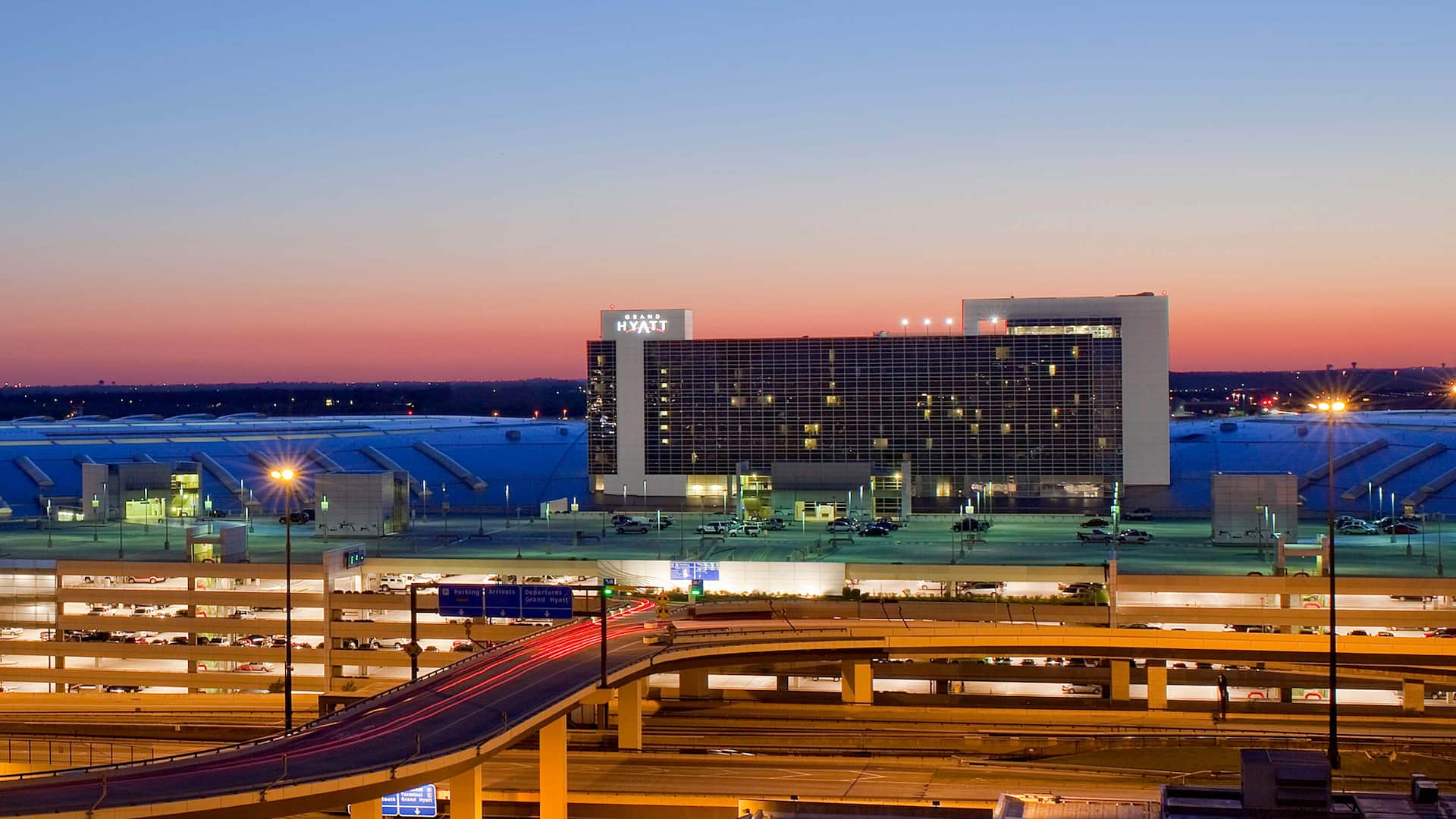 Like the Regency, the Grand Hyatt is also within DFW airport premises. The Grand Hyatt DFW in Terminal D is the place to stay for early-morning departures or late-night arrivals. Your stay will be less stressful thanks to the hotel's Grand Met restaurant's globally influenced cuisine. Enjoy the hotel's views of the airport runway, and take advantage of its quick access to the terminal via Skylink. The Executive Suite features a soaking tub in a granite setting reminiscent of a spa, and the other rooms are all soundproof. The AT&T Stadium can be reached from here by taxi in just twenty minutes. Choose to stay here for comfort, convenience, and ease of access. 
Embassy Suites, located minutes from Dallas Fort Worth Airport, offers unrivaled southern hospitality and facilities. This full-service, luxury, all-suite hotel provides complimentary breakfast and cocktails to its patrons. What's more, they offer free airport transportation to DFW Airport.  
Wired and wireless Internet access, two televisions with on-demand movies, and video gaming are among the suite features. The hotel is connected to the world-famous Bass Pro Stores Outdoor World and is near Grapevine Mills Mall, which has over 200 shops and restaurants. Before charging up with a workout in the fitness room or swimming laps in the pool, host a conference, social or corporate event in the 28,000 square feet of adaptable meeting space. 
Enjoy affordable and safe parking at the Embassy Suites by Hilton Dallas DFW North by booking a spot with us today.
Days Inn by Wyndham DFW Airport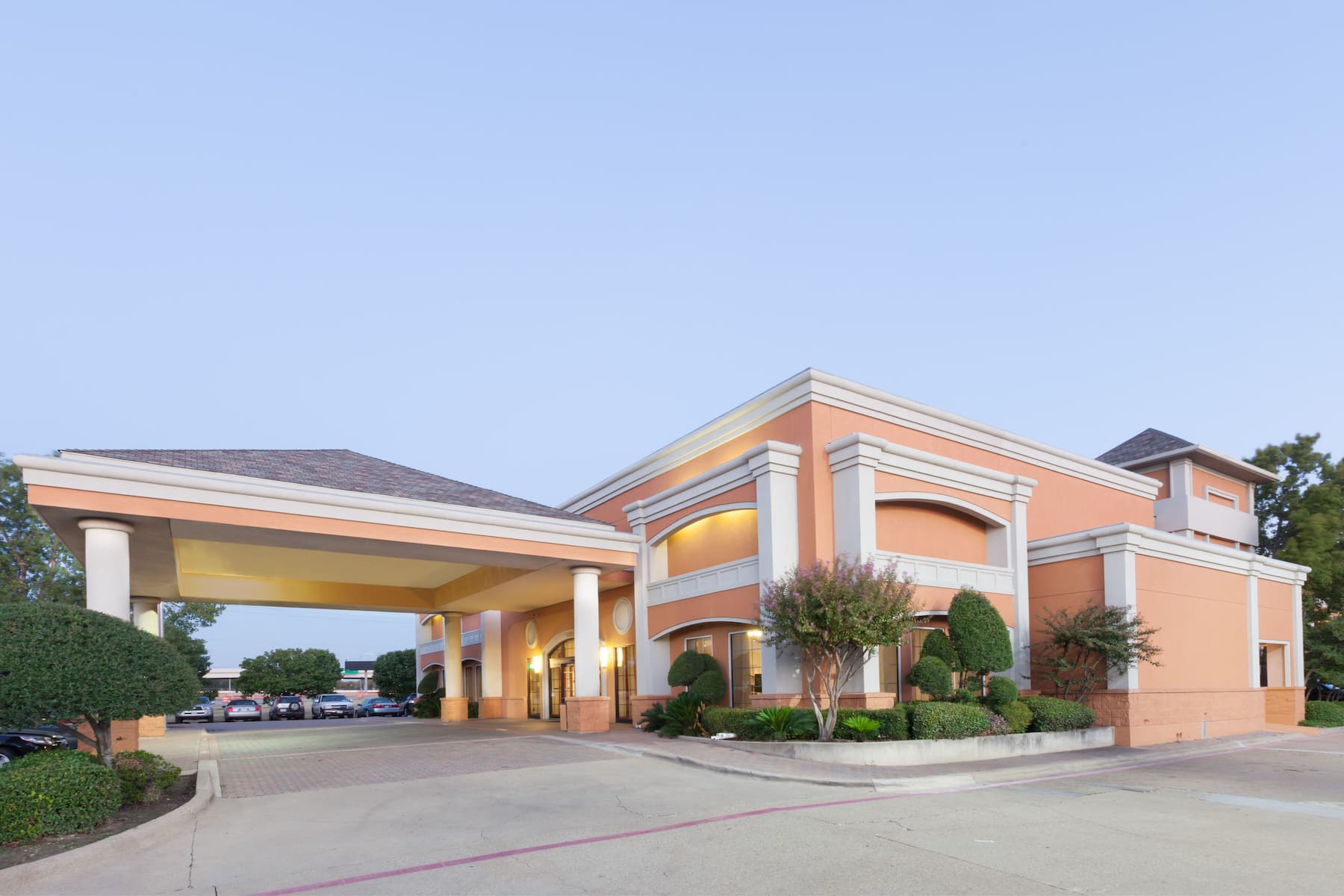 The Days Inn Irving Grapevine DFW Airport North hotel near Lake Grapevine offers the finest value for your next outing to Dallas. This motel is conveniently located along Route 114, making it simple to enjoy outdoor activities, dining, entertainment, and regional attractions. In addition, they provide a complimentary airport shuttle to and from Dallas/Fort Worth International Airport (DFW). 
Enjoy a complimentary light breakfast, your choice of coffee, tea, or juice, and free internet to get your day started right. Swim or work out at the fitness facility, which features an indoor and an outdoor pool. In addition, guests can use the on-site laundry facilities. Furry friends are welcome for a small cost in the hotel's pet-friendly accommodations. Free shuttle service to Dallas Fort Worth International Airport is also available. 
Book parking at Days Inn by Wyndham DFW Airport to snag the most affordable Sky Harbor parking spots.
Sheraton Hotel Dallas (DFW) Airport
This Irving hotel is a 10-minute drive from Dallas/Fort Worth International Airport and has a complimentary shuttle. The hotel has one restaurant, an outdoor pool, and complimentary WiFi. The Sheraton DFW Airport Hotel has large rooms with seating space and a coffee machine. There is also a flat-screen cable TV with in-room movies.  
Whiskey Tango is one of the Sheraton Hotel's on-site dining alternatives. The Sheraton Hotel DFW Airport has a fitness facility and meeting and laundry facilities. Visitors can also browse the gift shop. Downtown Dallas is a 30-minute drive from the DFW Airport Sheraton Hotel. In addition, the hotel is a 15-minute drive from the Zero Gravity Thrill Amusement Park. 
Book parking at the Sheraton Hotel Dallas (DFW) Airport on Way.com to get the best DFW Airport parking rates. 
Comfort Inn Suites DFW Airport
Comfort Inn is the perfect option for those who want to take in the sights and sounds of Irving. This hotel provides the ideal balance of quality, style, and value while being only minutes from the main locations of the DFW Metroplex. You'll be near major sites like the Tarantula Train, Six Flags, the Irving Convention Center, and many more from here. As one of the best hotels near Dallas Fort Worth International Airport, it's only a 5-minute drive away, and you can get there via the hotel's complimentary shuttle.   
The bedrooms at this facility are big and comfortable. Each has free WiFi, a flat-screen TV, and a spacious double bed. For individuals who feel hungry at any time of day, the coffee machine, microwave, and refrigerator will come in useful. There's also a spacious private bathroom with a tub shower, a hairdryer, and complimentary amenities.  
This hotel has oodles of complimentary facilities. Monday through Thursday, free manager's reception, free newspaper, free private parking, free hot breakfast, you name it! Swim in the outdoor pool or use the fitness facility during your free time. Meanwhile, business travelers will appreciate the facilities the business center provides, such as a public computer with an internet connection. There is also a well-equipped banquet and conference room for gatherings and corporate functions. 
You can book cheap DFW Airport parking at Comfort Inn Suites DFW via Way.com!
Doubletree Hotel (DFW) Airport
Because of their unmatched level of efficiency and comfort, DoubleTree Hotels are the ideal choice for stays near airports. The hotel boasts spacious interior lobbies, which can be used for eating and lounging, handy amenities, such as a front desk concierge and a gift shop, and an all-suites layout.  
Doubletree is perfect for business and family travel and offers easy access to the airport and downtown. In addition, there is a sizable pool that is ideal for families looking to enjoy their time together. Finally, because of the reliability of the hotel, this Dallas airport hotel is the ideal bookend choice that you may book at both the beginning and the end of your vacation. 
You can book affordable DFW Airport parking at Doubletree Hotel (DFW) Airport if you book via the Way.com site or app.
Holiday Inn Irving Las Colinas DFW Airport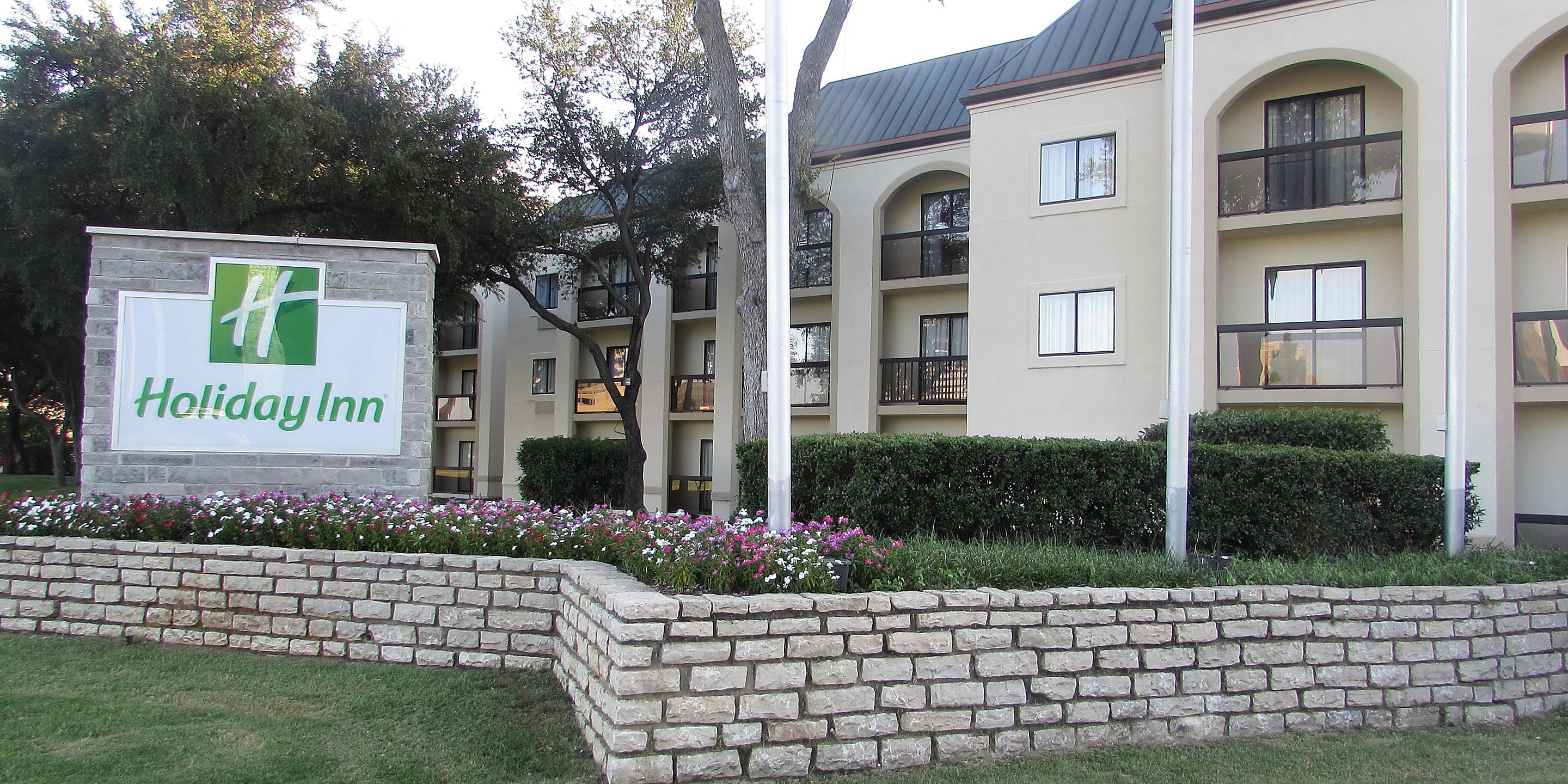 Holiday Inn Express is the more efficient and well-kept relative of the standard Holiday Inn. This makes it ideal for an airport hotel stay since you know what to expect: a clean, comfortable room, a nice breakfast, and a pleasant experience.  
There's also a beautiful lounge and a pool/hot tub area outside. You also get a free shuttle to the airport and any place within a five-mile radius of the hotel. So you could go out for the night (or at least to dinner) and return to the hotel without ever using the Uber app. 
You can book parking at the Holiday Inn Irving Las Colinas DFW Airport via Way.com. You don't even need to reserve a room!
Super 8 Grapevine – Dallas/Fort Worth (DFW)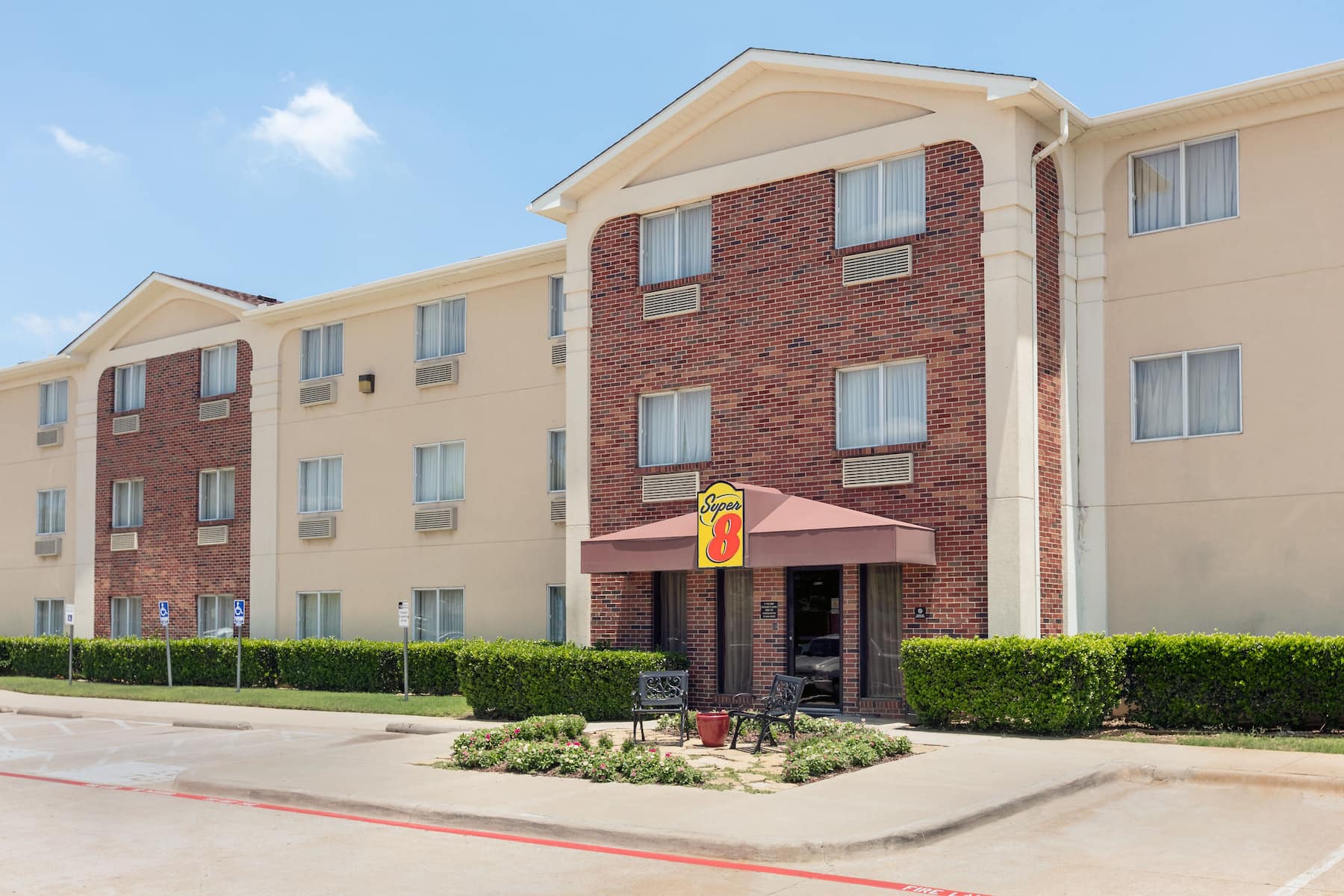 Super 8 is one of the most economical hotels near DFW Airport and is ideal for budget travelers. You can expect a comfy stay that doesn't empty your wallet here. Since the hotel is in downtown Grapevine, several restaurants are within walking distance. In addition, the hotel's complimentary shuttle will take you to the airport and other locations within a 13-mile radius of the hotel.  
This property's guestrooms are tastefully designed and well-equipped with all necessities. Each spacious room has free WiFi, an air conditioner, and a fluffy, cloud-like bed. The room also has a coffee maker, microwave, and mini-refrigerator, which is ideal for folks who wish to prepare a quick dinner. When you can't sleep at night, curl up on the comfy sofa, put on the flat-screen TV, and watch a movie. The private bathroom is spotless, with a walk-in shower, towels, a hairdryer, and complimentary amenities. 
When the weather is great, don't be afraid to spend some time resting in the outdoor swimming pool. However, if it's pouring heavily, go to the gym and work out there instead. After you've burned some calories, fill up on the complimentary breakfast at the on-site restaurant.  
Get the best prices on parking at  Super 8 Grapevine Dallas Fort Worth DFW Airport when you book with Way.com
Four Seasons Resort and Club Dallas at Las Colinas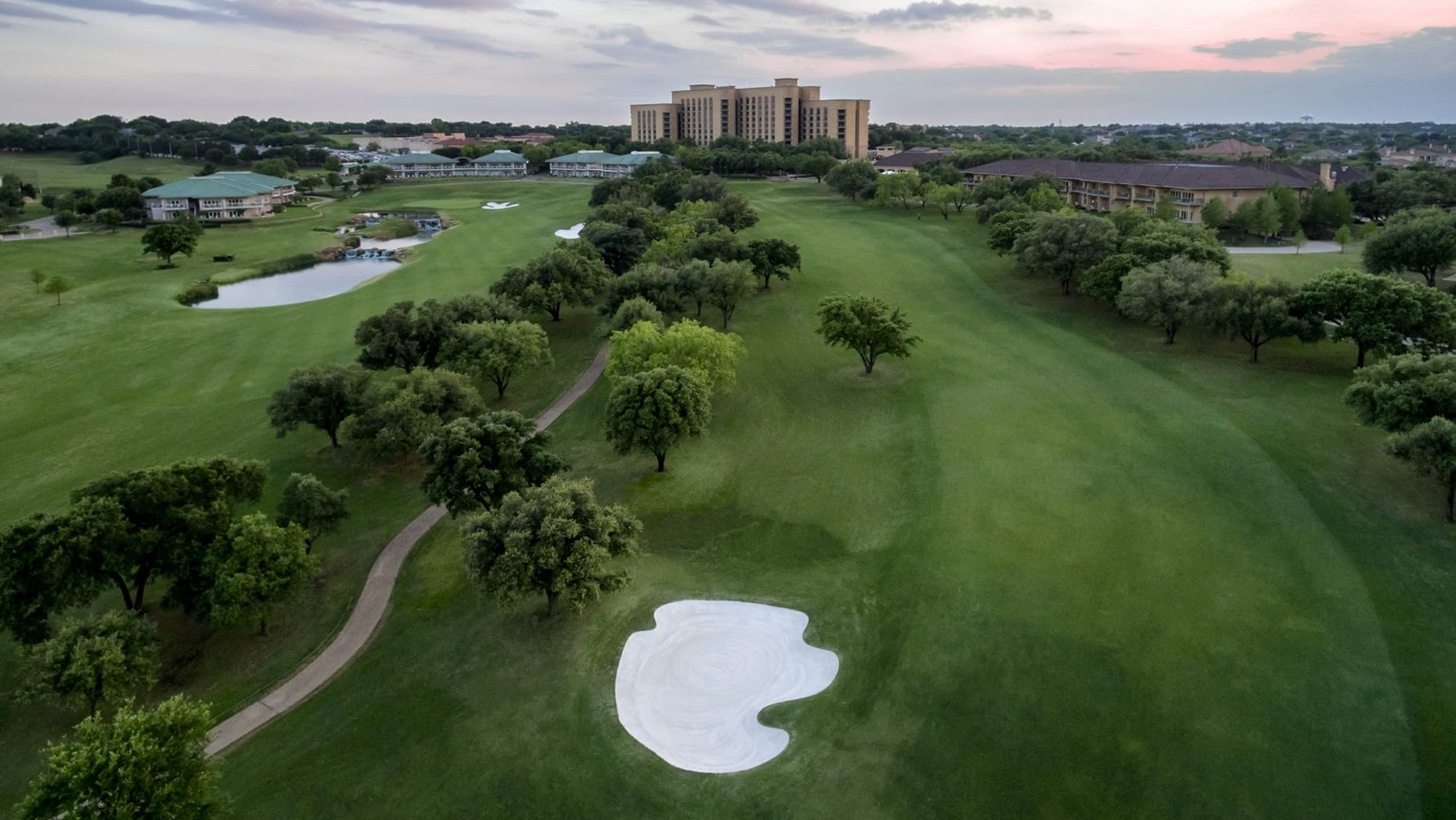 The Four Seasons Resort is only 10 minutes from DFW airport. All the usual Four Seasons amenities are present and accounted for here too. Expect cool, pale, plantation-style accommodation, suites, and villas. You can dig into rib-eye steaks large enough for two at in-house restaurant Law. A fantastic Well & Being Spa will help you relax your jet-lagged muscles. If you enjoy golf, book tee time on their award-winning championship course. Then improve your handicap with a second round on their member-only Cottonwood Valley course. After that, you'll be ready to raise a glass and toast your accomplishments at the hotel's Outlaw Taproom. 
---
Here's more info on top-rated airport parking, the best parking spots in your city, affordable auto insurance, easy auto refinance, and high-quality car washes near you.
---