Fort Lauderdale–Hollywood International Airport is quite close to all of the excitement the city has to offer. Luckily for visitors, they can have their pick of several hotels near Fort Lauderdale Airport. These include budget stays as well opulent and upmarket resorts. 
Fort Lauderdale, Florida, is a destination that appeals to a wide range of tourists. Spring breakers, cruise passengers, families, and business people flock to this city north of Miami. In general, flying into Fort Lauderdale is less busy and cheaper than flying into Miami. If you have flights in the middle of the night or early in the morning, staying at an airport hotel is a no-brainer. That's because you'll have quick access to and from the terminal. To help you, here are the best hotels near Fort Lauderdale International Airport. Many of these hotels offer onsite Fort Lauderdale Airport parking and free shuttle transport to the airport. 
Best hotels near Fort Lauderdale Airport
Best Hotels near Fort Lauderdale Airport – Courtyard by Marriott Fort Lauderdale Airport & Cruise Port
More often than not, checking in and out of airport hotels is a hectic process. Courtyard by Marriott Fort Lauderdale Airport understands this and strives to improve the visitor experience.  
After arriving from an evening flight, you may get a snack at the mini-market. The on-site Starbucks, as well as the bar and grill, are accessible for takeout as well as in-room dining. The rooms and living areas are laid out predictably and pleasantly.  
If more space is required, consider renting a suite. Then, open your laptop downstairs or go out and catch the spirit of Dania Beach's lively atmosphere. And, of course, an easy drive to and from the airport.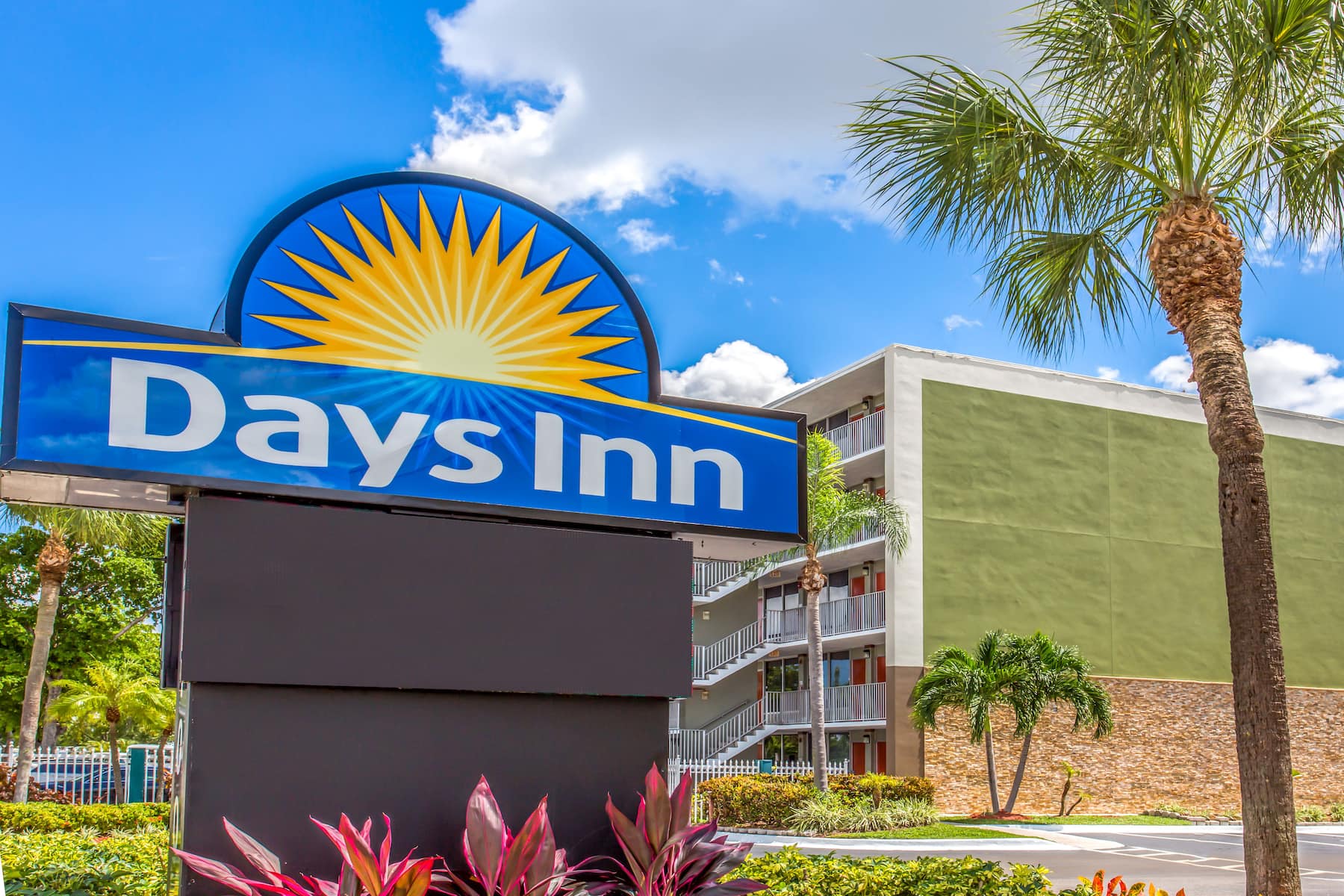 The Days Inn by Wyndham is quite near Fort Lauderdale Airport. With the beach and Cruise Port nearby and the Swap Shop Flea Market, you can get your shopping done pretty quickly and spend more time at the pool or beach. 
Enjoy a complimentary small breakfast item and your choice of coffee, tea, or juice. There's free WiFi in all rooms and common spaces. Every room has a coffee maker, a flat-screen TV with cable, and hypoallergenic pillows. After a long day, relax in the lovely outdoor pool. There is parking for all vehicles, including trucks, RVs, and trailers. 
You can book parking at the Days Inn by Wyndham FLL Airport via Way.com. You don't even need to reserve a room!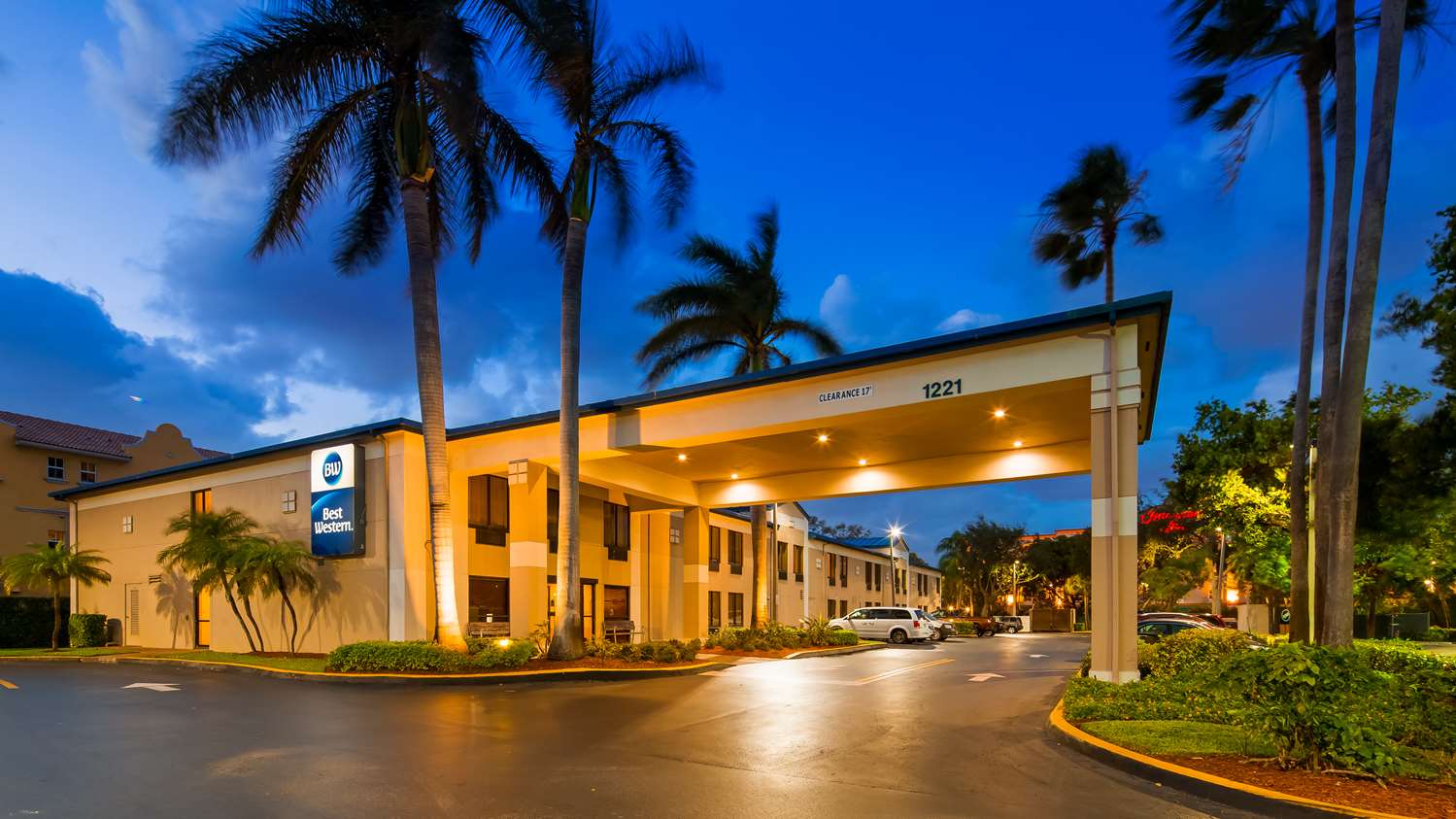 It takes 5 minutes to drive from Best Western Fort Lauderdale Airport/Cruise Port in River Oaks to get to nearby local attractions. These include the Las Olas Boulevard and the Broward Center for the Performing Arts in Fort Lauderdale. Port Everglades and the Historic Stranahan House Museum are also within a mile of this hotel.  
Make yourself at home in one of the hotel's 54 air-conditioned rooms, each of which comes with a DVD player. In addition to cable programs, you'll have access to wireless Internet. Complimentary cosmetics and hair dryers are provided in the individual restrooms. In addition to workstations and complimentary weekday newspapers, guests can expect daily housekeeping and laundry service.  
Guests may use the hotel's outdoor pool and other facilities such as wireless Internet access. There is also a full breakfast buffet provided. The hotel also offers a free shuttle to and from the airport (available 24 hours). 
Enjoy affordable and safe Best Western Plus Fort Lauderdale (FLL) Airport & Cruise Port parking by booking a spot with us today.
The reasonably-priced, pet-friendly, full-service Rodeway Inn & Suites Fort Lauderdale Airport & Cruise Port hotel is close to FLL Airport as well as to Port Everglades. Staying here offers easy access to many points of interest in the city of Fort Lauderdale, including Fort Lauderdale Beach, the Broward Convention Center, Las Olas, and more! 
The shuttle service to and from the airport, as well as the shuttle service to and from the cruise port, are both provided free of charge to all guests staying at the Rodeway Inn & Suites. They'll pick you up from the airport, take you to your cruise ship, and then pick you up again once your vacation is over to take you back to the airport. 
Book Rodeway Inn & Suites FLL Airport Parking on Way.com to get the best Fort Lauderdale Airport parking rates. 
The Hyatt Place Fort Lauderdale Airport/Cruise Port is Hyatt's offering for contemporary travelers in Fort Lauderdale. The Hyatt Place is located just a short drive away from the airport, off of the I-95 express, and close to SW 18th Avenue. The Museum of Discovery and Science, Dania Pointe, and the Broward Performing Arts Center are just a few of the many family-friendly destinations that are located near the hotel.  
The hotel has a huge outdoor pool, rooms that are both spacious and clean with comfortable mattresses, and a lounge that's ideal to stretch out and relax in. A cafe and bakery, where guests can tuck into breakfast or lunch, are located on the premises. The hotel is located close to a wide variety of shops and restaurants, and the main part of Dania Beach is only a short distance away. 
Book safe and affordable parking at the Hyatt Place FLL Airport parking lot with Way.com today.
Le Méridien Dania Beach
 at Fort Lauderdale Airport
You can always bank on Le Méridien to provide a world-class experience in the cities in which they are located. The Le Méridien Dania Beach near Fort Lauderdale Airport epitomizes this trend with a magnificent, high-class experience that encompasses the sleek fashion that south Florida is known for. The pool, lounge, and bar are all fit for a premium resort.  
The rooms provide magnificent views of the seaside, and the world cuisine offered onsite eliminates the need to go into town for breakfast, lunch, or dinner. If you're traveling on business or with someone you want to impress, this is the hotel for you. 
Best Hotels near Fort Lauderdale Airport –
TRYP by Wyndham Maritime Hotel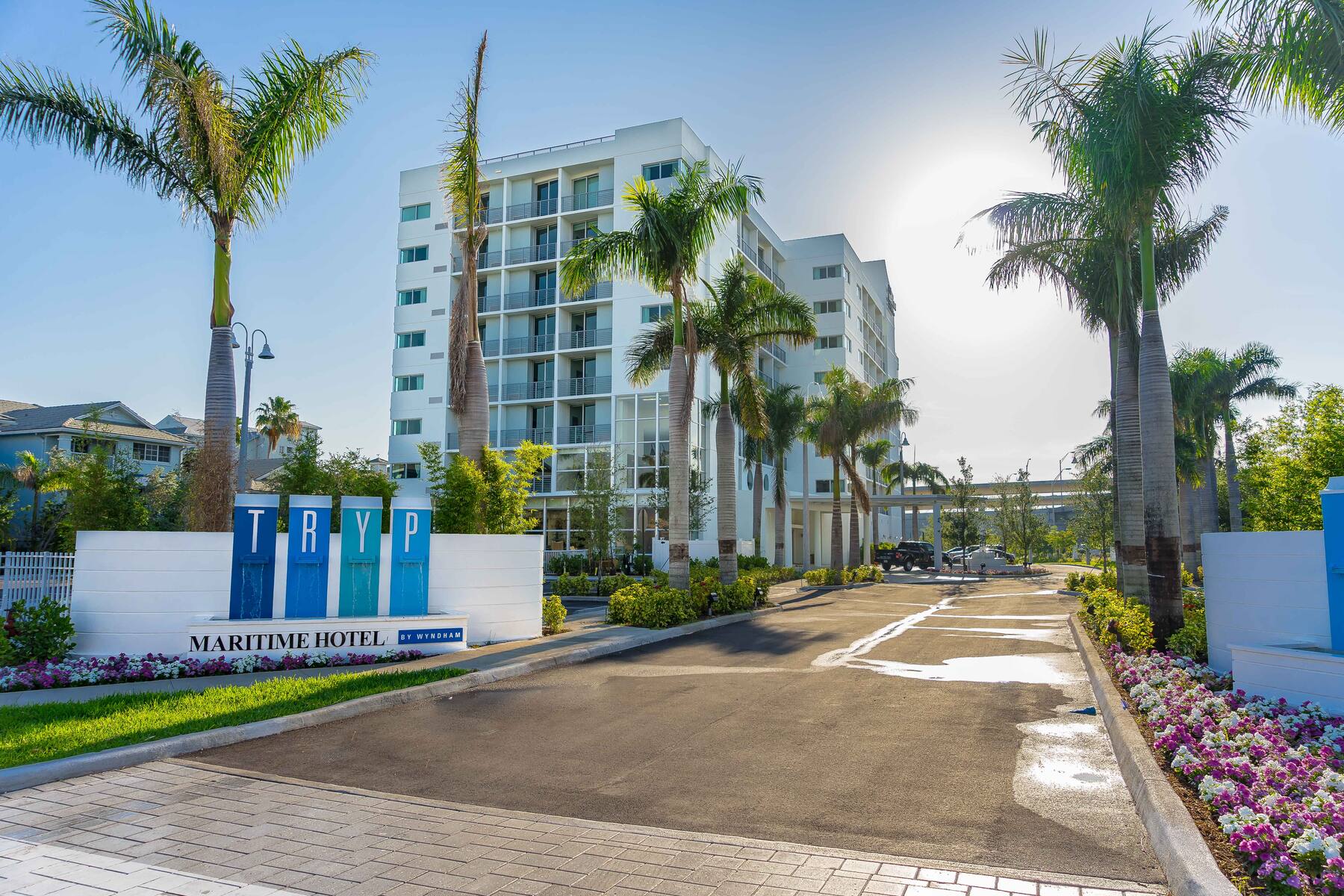 The TRYP by Wyndham Maritime Hotel is near Fort Lauderdale Airport and the Port Everglades cruise terminal. TRYP is located on the New River in the Marina Bay Resort, which spans 25 acres. The city's top luxury boat marina is located here.  
There are several surrounding attractions, including the Bonnet House Museum & Gardens and the Jungle Queen Riverboat. 
The lounge is set up in a coworking format, making it ideal for finishing up emails before traveling to the airport. Travelers also enjoy the hotel's bright, clean look, which they enjoy while enjoying a handmade drink at the onsite bar.  
The rooms have balconies and are big and comfy, with thread counts that are as appealing as the views of Fort Lauderdale. If you have time, you could swim in the unusually shaped pool or shoot some hoops in the gym. The most exciting thing to do, though, is to watch a live sports broadcast or catch up on highlights at the hotel's Sports Theater. 
Best Hotels near Fort Lauderdale Airport –
Crowne Plaza Hotel & Resorts Fort Lauderdale Airport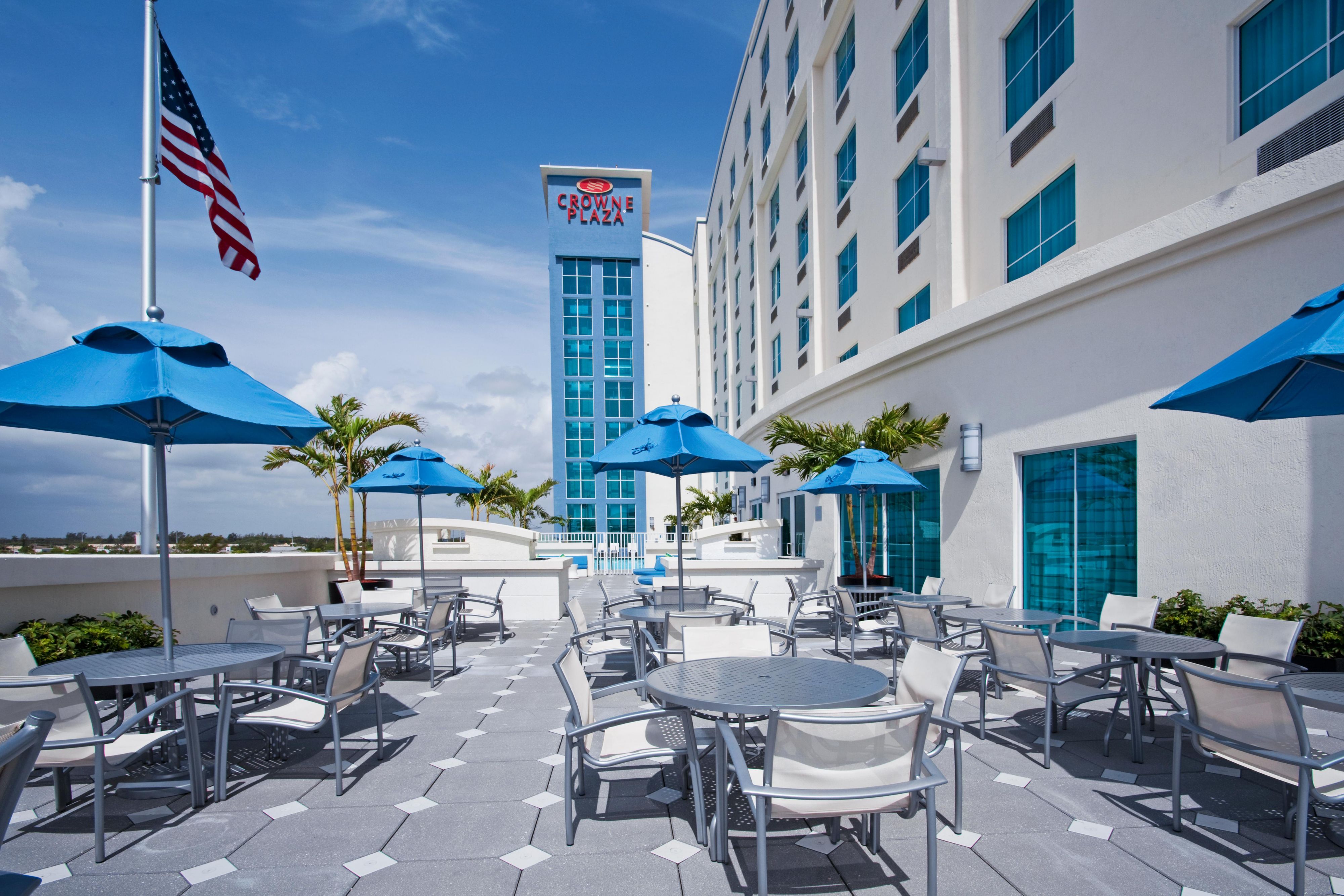 The Crowne Plaza Hotel is located about five minutes from the airport. Not only that but the hotel is conveniently located near a number of family-friendly attractions.  
If you're interested, you may watch a friendly game of basketball, baseball, or even some good old-fashioned football at the stadium. Furthermore, the front desk can assist in organizing trips for snorkeling, jet skiing, or sailing with friends and family. Other aquatic sports include scuba diving and casting your reel in the water to capture some fish. 
There is free WiFi at the Crowne Plaza Hotel & Resorts in Fort Lauderdale, so you won't have to worry about being charged every time you check your email. 
Best Hotels near Fort Lauderdale Airport –
Tru by Hilton Fort Lauderdale Airport
With a pool table and comfy seats where you can enjoy a drink, Tru by Hilton caters to the modern traveler who likes an open lounge area built to stimulate social interaction.  
The hotel's in-room amenities are luxurious and immaculate. The Tru by Hilton Fort Lauderdale Airport hotel is a winner on every level. This location is ideal for exploring Dania Beach on foot or taking an Uber into downtown Fort Lauderdale and the airport.  
Best Hotels near Fort Lauderdale Airport –
Homewood Suites by Hilton Ft. Lauderdale Airport Cruise Port 
This Fort Lauderdale Airport hotel is close to your flight, the beach, and the city. The Homewood Suites by Hilton is located on Griffin Rd, only a half-block west of the I-95 expressway. The hotel is just one mile from the airport. So it's quite easy for one of their shuttles to pick you up or drop you off quickly. 
This hotel is known for its simplicity and warmth. While the rooms are not the largest, they are pleasant and appropriate for small to medium-sized families. You receive free wifi, a fitness facility, an outdoor pool, and a complimentary cooked breakfast every morning, among other things.  
---
Here's more info on top-rated airport parking, the best parking spots in your city, affordable auto insurance, easy auto refinance, and high-quality car washes near you.
---