If you are someone who travels quite a bit, you will almost certainly fly into/out of John F. Kennedy International Airport. This massive hub connects New York City to the rest of the world. If you're flying to New York City, instead of trudging down all the way to Manhattan or Brooklyn after a long flight, you might want to consider booking yourself into a nice, comfy hotel near JFK Airport. Whether you're spending a week in NYC or just passing through, you might want to check out the 10 best hotels near JFK Airport.    
'There's nothin' you can't do now you're in New York,' is what Alicia Keys sings in Empire State of Mind. Travelers agree and can't seem to get enough of the Big Apple!
The only downside to being in New York that everyone gripes about is the infamous traffic. NYC traffic has reduced the bravest to tears of misery. That's why what should be a quick trip from JFK airport to your hotel may feel as long as the flight itself! Luckily for travelers, because JFK is New York's busiest airport, there is a wide range of hotels for all budgets and tastes. These are the most ideally-suited JFK Airport hotels, whether you're just passing through or in town for a few days but want to stay near the airport. 
Best hotels near John F Kennedy International Airport
Closest to the airport: TWA Hotel at JFK
Best hotel for families near JFK: Hilton Garden Inn Queens
Best hotel if traveling with pets: Courtyard By Marriott New York JFK
Best budget hotel near JFK: Crowne Plaza JFK Airport
TWA Hotel at JFK Airport
Distance from the airport: Connected to Terminal 5
Source: https://www.twahotel.com/
Wondering if there is a hotel inside JFK? Yes, there is! The TWA Hotel is accessible via JFK Airport Terminal 5. 
In the days of yore, before the construction of the TWA Hotel at JFK Airport, there were no on-site lodgings at JFK. Travelers who needed overnight stays had to hire a cab or a shuttle to the nearest hotel. It's not surprising, therefore, that this hotel is in high demand. While the airport shuttle is unavailable, you can use the AirTrain to and from the airport via the Terminal 5 stop near the hotel. It also connects all ports to public transit in New York City through the Jamaican and Howard Beach Stations.  
This stylish airport hotel has 512 bedrooms with all the necessary amenities. You can enjoy views of the runway through the floor-to-ceiling windows. Since all good things must be shared, you can share your hotel experience on social media using the complimentary Wi-Fi. You'll also discover a mini-fridge and a mini-bar packed with beverages. So pour your drink, sink onto the comfortable sofa, and switch on the flat-screen TV for ultimate relaxation.   
If you're not in your room, you'll most likely be exploring the hotel's first-rate amenities. When the weather permits, visit the rooftop infinity pool with views of the runway. You can also get your workout by going to the 10,000 sq ft full-service gym. Meanwhile, foodies will rejoice because this resort contains 6 restaurants and 8 bars. Make sure to check out one that's in an old jet! 
Distance from the airport: 1.5 miles
Source: https://www.radissonhotelsamericas.com/en-us/hotels/radisson-jamaica-jfk-airport
Travelers flying into JFK are highly impressed by the handy location (or facilities) at this Radisson. This 385-room hotel near John F. Kennedy International Airport offers everything a weary traveler needs. They provide a free airport shuttle, free internet, on-site rental car service, and soundproofed rooms with LCD TVs. After a long journey, their fitness facility and sauna can also help you get back on track.  
They offer convenience above all, and it works well for passengers traveling into JFK on a redeye. Have some free time before your flight? Grab a drink at the lobby bar, which also has pool tables.  
The airport's surroundings may not be the most fashionable, but they are convenient. Guests can hire a car and tour Queens and Brooklyn at their leisure, or they could take the subway and be at Penn Station in about an hour. 
You can book JFK parking at the Radisson JFK Airport via Way.com. You don't even need to reserve a room!
Courtyard By Marriott New York JFK
Distance from the airport: 1.5 miles
Source: https://www.marriott.com/en-us/hotels/nycjf-courtyard-new-york-jfk-airport/
Courtyard by Marriott New York JFK Airport, one of the luxury hotels near JFK Airport, is a little more expensive than some other JFK hotels. However, given everything it offers, it's an excellent overall pick. You can reach the airport using the hotel's complimentary airport shuttle, as with other hotels near JFK Airport. There's also a bus stop just outside the hotel's front door. Get on the bus, and you'll be on your way to your destination in no time. For those driving there, paid parking is available. 
 Each room has ultra-comfortable pillow-top beds, soundproof windows, and complimentary high-speed Wi-Fi. Before watching your favorite show on the flat-screen TV, grab some snacks from the mini-fridge. You can also use the microwave for cooking/heating meals. The bathroom is spotless and has a bathtub, bathrobes, a hairdryer, and complimentary amenities. If you need to use your laptop, you can utilize the workstation and sit on the ergonomic chair. 
Aside from the amazing rooms, this hotel features advanced touchscreen technology that will keep you up to speed on your flight status. You can also work out at the fitness facility with treadmills, cardio equipment, and free weights. Drop by The Bistro after a strenuous exercise to whet your hunger. At an extra fee, the hotel provides American meals for breakfast, lunch, and supper. You can visit the lounge area if you want to have a drink. Before leaving for the day, you might want to stop by the on-site convenience shop to pick up some daily necessities. 
Topics Related to JFK Airport
Hyatt Regency JFK Airport
Distance from the airport: 3.4 miles
Source: https://www.hyatt.com/en-US/hotel/new-york/hyatt-regency-jfk-international-airport-at-resort-world-new-york-city/jfkrj
The Hyatt Regency JFK Airport provides a hotel experience unlike any other because of its location close to the Aquaduct Racetrack and the airport itself, which is just a few miles away. It's extremely plush, with high-thread-count bedding in the rooms and an upscale restaurant and cocktail bar in the lobby.  
Try the on-site casino if you have some spare time to kill before boarding your flight. It has a wide selection of gaming options, including slot machines and board games. In addition, the marketplace and cafe are great places to get a bite to eat on the go, and the entire resort complex is interesting enough to deserve a trip to New York City all on its own – so make sure to explore it on foot and take it all in! 
Crowne Plaza JFK Airport 
Source: https://www.ihg.com/crowneplaza/hotels/us/en/jamaica/nyccj/hoteldetail
Crowne Plaza is one of the better options for hotels near JFK Airport. This 3-star hotel is within a 5-minute drive from the airport and is ideal for overnight guests. Guests who do not have their own transportation can use the airport shuttle, which will take them to all terminals. Meanwhile, visitors arriving by car can park for free in the public parking lot.  
Each of the 335 bedrooms at this facility includes all expected facilities. You can leave your valuables in the safety deposit box and utilize the free Wi-Fi to surf online at your leisure. Turn on the flat-screen TV and watch television with your feet in the air when you're bored. Those who want to snack can use the coffee machine and get snacks from the mini-fridge. The private bathroom is contemporary, immaculate, and equipped with a hairdryer and complimentary body care products.  
Idlewild Restaurant's breakfast, lunch, and supper menus are produced daily. Do note that they are only accessible for pickup and room service. Room service is offered until midnight. You could also unwind in the Bar and Lounge or get fresh food and drinks from the hotel's 24-hour JET lobby store. You can have a lot to worry about on your journey. As a result, feel free to work them off anytime you have time at the 24-hour fitness facility. Likewise, business travelers will love the on-site conference rooms and 24-hour business center. 
Hilton Garden Inn Queens/JFK
Distance from the airport: 0.9 miles
Source: https://www.hilton.com/en/hotels/jfkqagi-hilton-garden-inn-queens-jfk-airport/
It doesn't matter if you're visiting New York for business or a weekend escape; the Hilton Garden Inn Queens/JFK is always a good choice for lodging. Guests can easily visit the various attractions that this vibrant city has to offer from here. The hotel's closeness to the airport and other attractions, such as the Jamaica Center for Arts and Learning, adds to its attraction. In addition, this hotel graciously provides a 24-hour complimentary shuttle service.  
Free Wi-Fi is available in all public places. After tucking into a delicious breakfast buffet at the Great American Grill, you could relax in the lounge and read the hotel's USA Today publications. You could also work up a sweat running on the treadmill in the fitness facility. In the evening, unwind with your favorite tipple in the Pavilion Lounge or stock up on food at the Pavilion Party convenience shop, which is open 24 hours a day.  
This hotel has a total of 188 rooms distributed across 6 levels. Each room has modern conveniences such as a flat-screen TV, an air conditioner, and a work desk. Simply use the coffee maker to keep you focused on your task when you need to. There's also a mini-fridge and a microwave, which will be especially useful for individuals who don't have much time to spend at the restaurant. 
Fairfield Inn New York JFK
Distance from the airport: 1.3 miles
Source: https://www.marriott.com/en-us/hotels/ispjj-fairfield-inn-new-york-jfk-airport/
Hotels in New York are expensive, period. But that doesn't mean there are only luxury hotels near JFK Airport. While some low-priced solutions may be shady, Fairfield Inn by Marriott JFK Airport provides comfortable and modern lodging for budget travelers. The airport is only a 4-minute drive away, and an airport shuttle is available. In addition, this hotel is the only one near the airport that offers free scheduled transport to the subway and Green Acres Mall.  
You can start your day at this hotel with a free hot breakfast buffet. There is an on-site bar for relaxing but no restaurant for evening dining. Free Wi-Fi is provided in all public locations and is completely free. That means you can listen to your gym music while working out in the gym. After a strenuous workout, stop by the on-site mini-market to stock up on high-protein snacks.  
The soundproofed windows in each guestroom ensure a peaceful and comfortable night's sleep. You may store the goodies you just bought in the fridge, and there's even a microwave if you want to reheat leftovers. While the accommodation isn't particularly large, it's certainly comfortable, especially the luxurious bed. If you can't sleep, switch on the television and watch some movies. If not, you can listen to soothing music on the iPod docking station to help you fall asleep. 
Hotel 95 – JFK Airport
Distance from the airport: 3.4 miles
Guess what sets JFK apart from the majority of other big airports? If you're looking for an airport hotel near JFK, you won't have to make do with a wayside motel because there are so many boutique options. Consider Hotel 95 to JFK Airport, for instance. The Jamaica neighborhood in Queens is just a few minutes from the airport, and this hotel has rooms that are comfortable and have wonderful views, the quality of which improves the further you go up in the hotel.
Source: https://www.hotelninetyfivewg.com/
A staff member is always on hand to provide room service for those who arrive early or late. The atmosphere of the building makes you feel as though you live in a well-kept Queens high-rise, replete with convenient access to public transit and a substantial breakfast buffet. If you want a quintessential New York experience, get a room with a balcony. 
Holiday Inn Express Kennedy Airport
Distance from the airport: 1.5 miles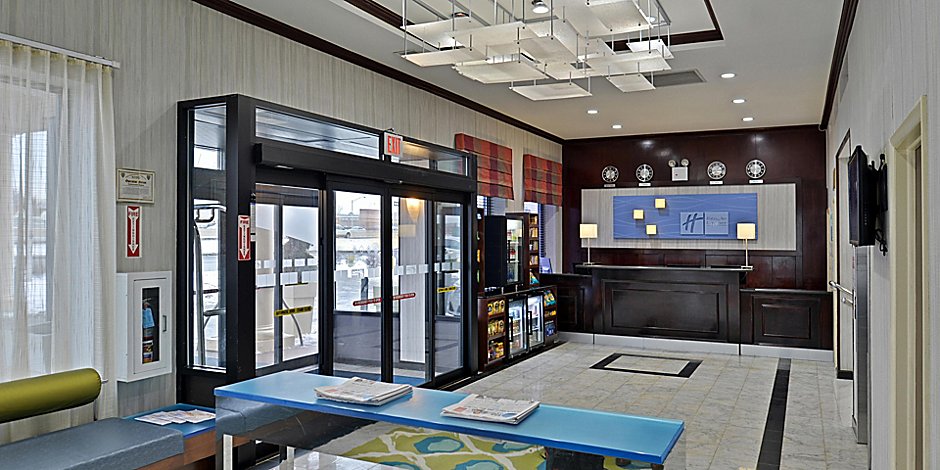 Source: https://www.ihg.com/holidayinnexpress/hotels/us/en/jamaica/nycjm/hoteldetail
Is it even an airport hotel list without a Holiday Inn on it? Holiday Inn Express Kennedy Airport, every traveler's home away from home, is on this list. It provides a free 24-hour shuttle service to and from JFK Airport. You can also ride the AIR Train from the airport to the local subway in Manhattan to see historical sites like the Statue of Liberty, Times Square, and other iconic places. You can also take the Manhattan: Private Walking Tour with Pickup for a more guided experience. On a personalized tour, explore the neighborhood with a knowledgeable local who can help you discover hidden gems.  
The 129 air-conditioned guestrooms will treat you like a VIP if you'd rather rest indoors. Aside from the luxurious furniture, each has a 32′ flat-screen TV for your amusement. It has 4 HBO channels, 2 ESPN channels, Cartoon Network, and many other channels to watch your favorite show. When you've had enough of watching, connect your phone to Wi-Fi and call your friends. The spacious private bathroom includes free toiletries, and some rooms feature a bathtub. There is also a mini-fridge and a microwave to satisfy your late hunger.  
There's no better way to start the day than with a free delicious breakfast that will leave you wanting more. Those on the go can pack their breakfast in the hotel's To-Go bag. There are also copies of the morning newspaper accessible, allowing you to disconnect from social media and get your news the old-fashioned way. Business travelers will also be happy with the 24-hour business center. It includes two PCs, fax and copy machines, and a wireless printer. You can also get your boarding pass printed for free there. Finally, after a long day, swing by the fitness center for a quick workout before retiring for the night. 
Best Western JFK Airport 
Distance from the airport: 1.6 miles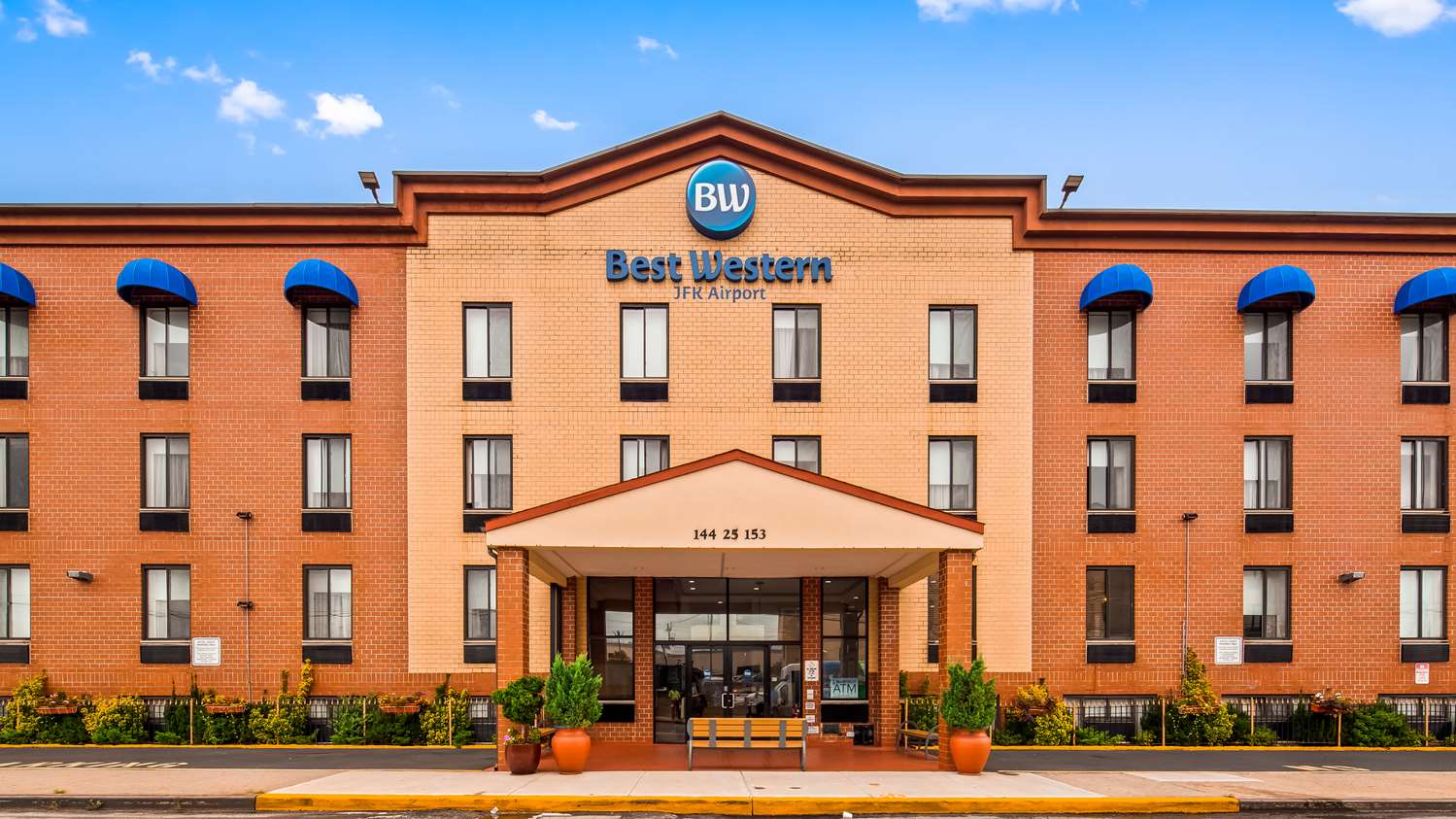 Source: https://www.bestwestern.com/en_US/book/hotels-in-jamaica/best-western-jfk-airport-hotel/
Best Western JFK Airport, located in Queens, is an award-winning hotel with comfortable rooms topped with great service. This hotel is just minutes from the airport, and you can get there by taking the hotel's 24-hour shuttle. It's also close to many attractions, including the recently opened World Resort Casino, Yankee Stadium, The Queens Botanical Garden, and many others. 
When the sun comes up, start your day with a complimentary breakfast at the on-site café. Menu items include Belgian waffles, sausages, fresh omelets, cereals, hash browns, and more. Don't worry if you're a little bloated; you can always burn off the calories at the gym. A business facility with a computer and photocopying equipment is also available. Furthermore, free Wi-Fi is available everywhere, which might help you work more effectively.  
 This property's guestrooms are all quite big. When you're tired, use the coffee machine to prepare a cup of coffee and perk yourself up in the seating area. Each room also has a work desk and ironing amenities. After a refreshing shower in the bathroom, put on the air conditioner and relax on the comfortable bed. 
Best Parking Options near JFK Airport
Where should I stay in JFK for a layover?
If your layover isn't too long, you can hang around in the airport itself because there are plenty of things to do on a layover at JFK Airport. For longer layovers, we'd recommend the TWA hotel, simply because it's connected with the airport.
Are there shuttles from JFK to hotels?
There are private shuttles from JFK to various points in New York. Also, most of the hotels near JFK Airport provide courtesy shuttle pick-ups and drop-offs.
---
Here's more info on top-rated airport parking, the best parking spots in your city, affordable auto insurance, easy auto refinance, and high-quality car washes near you.
---