When you have an early morning flight, staying at one of the hotels near Las Vegas airport makes it much easier to get to your terminal on time. After all, Harry Reid (formerly McCarran) Airport is pretty close to all the excitement of the famous Las Vegas Strip. So, get off the plane, drop your belongings at one of the many Las Vegas hotels near the airport, and put on your dance shoes for a fun night. Remember, you can always sleep on the plane. 
From Harry Reid International Airport to the hotels nearby, you can expect a first-class experience when in Vegas! So don't spend a whole lot of time getting from the airport to your hotel. You'll soon be indulging in the city's exquisite cuisine, spectacular live events, and exciting casino action. Our list of the 10 best hotels near Las Vegas Airport covers travelers who spend the weekend in Sin City or use the city as a base to explore the rest of Nevada. If you don't want to gamble on comfort, you should consider staying at one of these top Las Vegas Airport hotels.  
Best Las Vegas Airport Hotels
Mandalay Bay Resort & Casino
The MGM Grand is one of the best hotels near McCarran International Airport in Las Vegas. Apart from its convenient location, the resort is a famous casino hotel in Las Vegas due to its diverse attractions.  
MGM Grand has restaurants to satisfy any appetite. It hosts some of the most thrilling attractions on the Strip – the Grand Pool Complex, a tropical oasis with four beautiful pools and a lazy river. Another Vegas attraction is the Topgolf sports and entertainment venue, just a few steps from your room. There are rooms to suit any budget, so you'll be comfortable whether you're visiting for one night or a week.  
The resort offers StayWell Suites, pet-friendly rooms, and luxury Skylofts in addition to basic bedrooms. The massive resort offers everything you need and is close to Planet Hollywood's Miracle Mile Shops and New York-New York. In addition, it's one of the hotels near Las Vegas Airport offering taxi or Uber service. What's more – it's only a 10-minute drive to the airport. 
The Venetian® Resort Las Vegas
Although there are probably quite a few hotels near Las Vegas Airport, The Venetian® Resort Las Vegas is on a whole other level. The airport is only a ten-minute drive from this five-star hotel. If you want to make the trip even more convenient, there is an airport shuttle service that you can use for an additional fee. The hotel also hosts a state-of-the-art casino, 10 outdoor pools, and artificial canals with gondola rides. The Grand Canal Shoppes provides over 150 boutiques, in addition to its fantastic location.  
If you reserve a stay at this hotel, you will have complimentary access to the Canyon Ranch Spa + Fitness. This includes various spa services, fitness classes, and a 40 ft. rock-climbing wall. This hotel is also unrivaled among hotels close to the Las Vegas airport in terms of the variety of cuisines it serves since it features more than 40 eateries worldwide.  
Staying in the suite at this five-star resort is sure to be a once-in-a-lifetime experience for everyone. The sunken sitting area features 2 LCD cable HDTVs. The lavish private bathroom is to die for since it features a separate glass-enclosed shower, a large soaking tub, and exquisite amenities. If you want to go all out, we strongly suggest you upgrade to a suite so you can relax in front of the fireplace after a satisfying supper in the dining room. 
TownePlace Suites by Marriott LAS Airport
TownePlace Suites by Marriott LAS Airport is located just 4 miles from the Fountains of Bellagio. It provides a convenient base to pop out for amenities or souvenirs swiftly. The hotel provides guests with excellent service and all necessary conveniences. With the hotel's complimentary Wi-Fi internet connection, you can upload photos and respond to emails anytime you choose. The hotel provides free parking for visitors who drive there. The friendly front desk personnel can help you with services such as safe deposit boxes. You'll appreciate the in-house BBQ facilities accessible here if you're a picky eater. 
The TownePlace Suites by Marriott Las Vegas Airport South has several recreational amenities. You can also visit the beach nearby for some outdoor fun. The hotel's on-site pool welcomes you for a relaxing plunge or a few laps. If you dread missing a workout, a trip to the hotel's fitness center will keep you fit and healthy.  
Book parking at TownePlace Suites by Marriott LAS Airport on Way.com to get the best LAS Airport parking rates.    
DoubleTree By Hilton Las Vegas Airport
The DoubleTree by Hilton Las Vegas Airport is located adjacent to Interstate 215 and is only a 5-minute drive from the airport. This hotel competes with many other hotels near the Las Vegas airport and provides several perks and free amenities. One of them is a round-the-clock airport shuttle service. This hotel also provides a thrilling Las Vegas experience without the gambling, noise, and lights that keep families and business visitors awake at night.  
When you arrive, you'll be greeted with a delicious cookie. All 190 bedrooms provide free Wi-Fi and a variety of amenities to make your stay as relaxing and pleasurable as possible. They have a flat-screen TV to keep you entertained. The custom-designed bed is so comfortable that you won't want to get out of bed.  
When you wake up, you can begin your day by resting in the heated outdoor pool or working out in the fitness center. Then, feel free to get some snacks or cool yourself with a glass of water from the lobby store. To complete your visit, you can relax in your guestroom with room service and take in the sunset mountain views. 
Four Seasons Hotel Las Vegas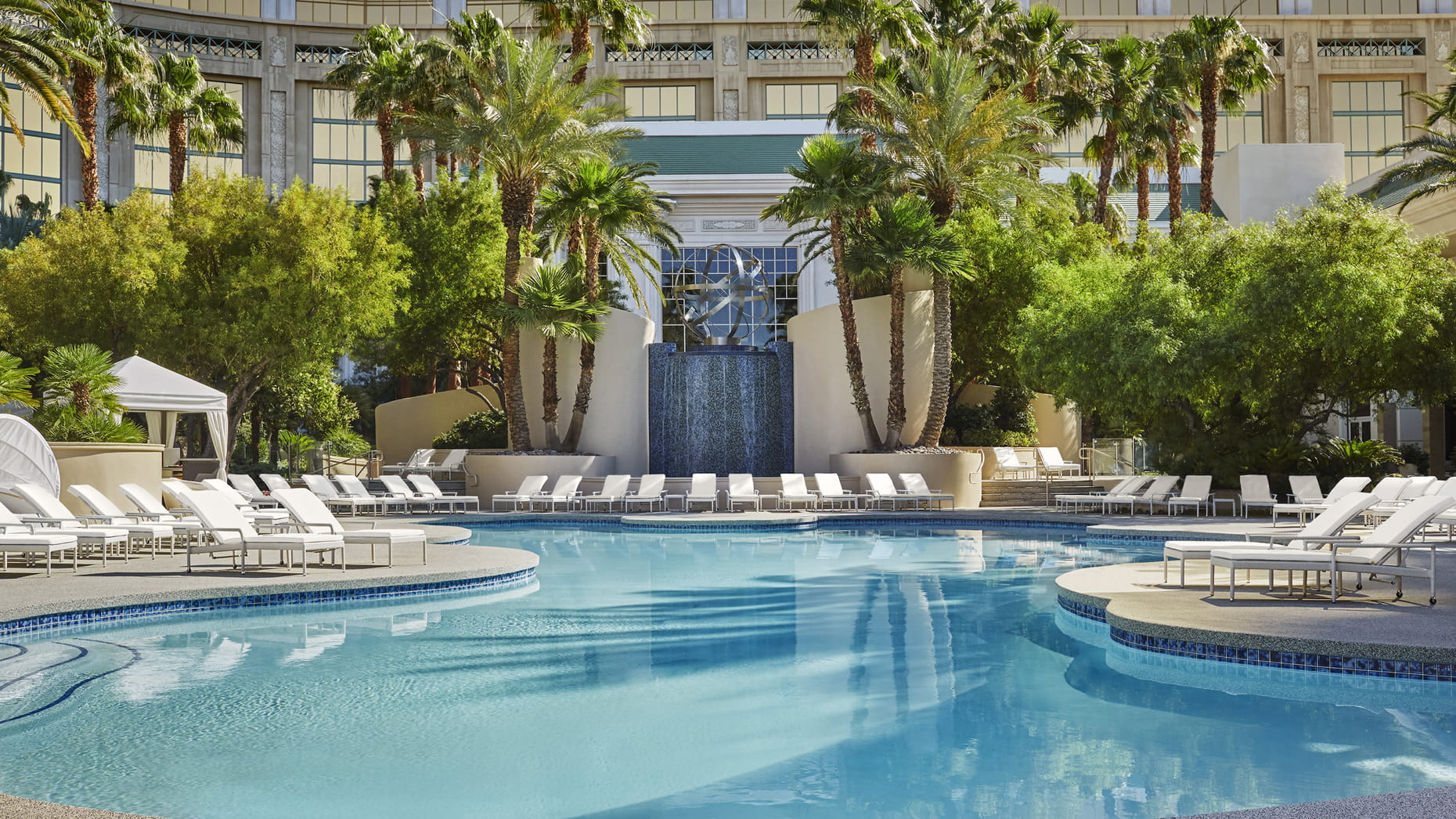 The Four Seasons, next to Mandalay Bay, is a premium hotel option near Las Vegas International Airport. The Four Seasons resort at Mandalay Bay Tower provides beautiful suites with panoramic views of the Vegas Strip or the Nevada foothills.  
You'll benefit from an ideal location as well as the clean amenities and lovely design you'd expect from this 5-star resort. The spacious bedrooms have complete marble baths, floor-to-ceiling windows, and comfortable beds that will make you forget you're in the heart of the city. Keep in mind that the Four Seasons is one of the best hotels in Las Vegas. It does not have a casino, though. So keep that in mind if you're looking for a non-gaming hotel near the airport in Las Vegas. 
This resort, with its on-site spa and private pool, is one of the calmer hotels near Las Vegas Airport and is ideal for a good night's sleep. However, if you're looking for more action, head next door to Mandalay Bay, where you'll have access to pools, casinos, and nightlife establishments. 
Platinum Hotel and Spa

Located just 1.9 miles from Las Vegas Airport, this non-smoking hotel is just a short drive from several retail and casino destinations in Las Vegas. Platinum Hotel & Spa in Las Vegas does not provide airport shuttle services, unlike other hotels near Las Vegas Airport. Other choices, such as getting a cab or calling Uber, are also available for transportation. You can park your car for free in the private parking lot if you drive yourself.  
At this wonderful establishment, guests can access suites with a separate living room, a 42″ plasma screen TV, a CD player, and a sofa bed. Preparation and consumption of meals are simplified because the kitchen and eating room are in the same location. Everything from a huge refrigerator to a microwave to a coffee maker is available. The best part is that you have your own private patio from which to take in the cityscape.  
Additionally, this hotel features an on-site gym and two swimming pools for guests to enjoy. The hotel's business services, such as conference rooms and a business center, are available to guests on a business trip. Relax in the sauna or get a massage after an exhausting day at work. End the night with a bottle of wine at the on-site bar and sample world-class American cuisines. 
Luxor Hotel & Casino
The Egyptian-themed resort has some of Vegas' most spectacular architecture, notably in the atrium lobby. The Luxor, located between Excalibur and the Shoppes at Mandalay Place, is a premier resort for eating, shopping, and entertainment.  
This popular resort is only an 8-minute drive from McCarran, yet it feels like a tiny city with its amenities and services. The Luxor is distinguished by its classic pyramid design, which generates a dazzling SkyBeam at night. It's the world's brightest light beam. So you can see it from anywhere on the Strip. However, Luxor's premium bedrooms are equally excellent, especially given the lower-than-average prices. It's also worth noting that it's one of the best all-inclusive resorts in Las Vegas.  
You'll enjoy the convenience of a hotel near the Las Vegas Airport and the grandeur of a 4-star Vegas resort when you stay here. This means you'll have access to live entertainment, upscale and casual eating, and a sizable casino. In addition, the Luxor is famous for providing attractions for people of all ages and interests, such as Bodies: The Exhibition and the Titanic Artifacts Exhibit, as well as cocktail lounges, pools, and a full-service spa and salon. 
MGM Grand
The MGM Grand is often ranked as one of the top hotels near Las Vegas Airport. MGM is a popular casino hotel in Las Vegas because it is conveniently located and features more activities than you could imagine! The MGM Grand is home to some of the most exciting attractions on the Strip, including the Grand Pool Complex, a tropical paradise with four magnificent pools and a lazy river. The MGM Grand also features restaurants that can satiate any appetite. Another thing to do in Vegas is to visit the sports and entertainment complex known as Topgolf, which is conveniently located only a few feet from where you are staying.  
There are rooms available at prices suited to guests of any means, ensuring they will have a pleasant stay regardless of how long their stay might be. In addition to standard beds, the resort features luxurious Skylofts, pet-friendly accommodations, and StayWell Suites. Basic bedrooms are also available. This enormous resort has all the amenities you could want and is close to New York-New York and the Miracle Mile Shops at Planet Hollywood. 
It is only a ten-minute drive to Harry Reid International Airport, and it is one of the hotels close to the Las Vegas Airport that provides taxi or Uber service. 
Travelodge By Wyndham Las Vegas Airport Near the Strip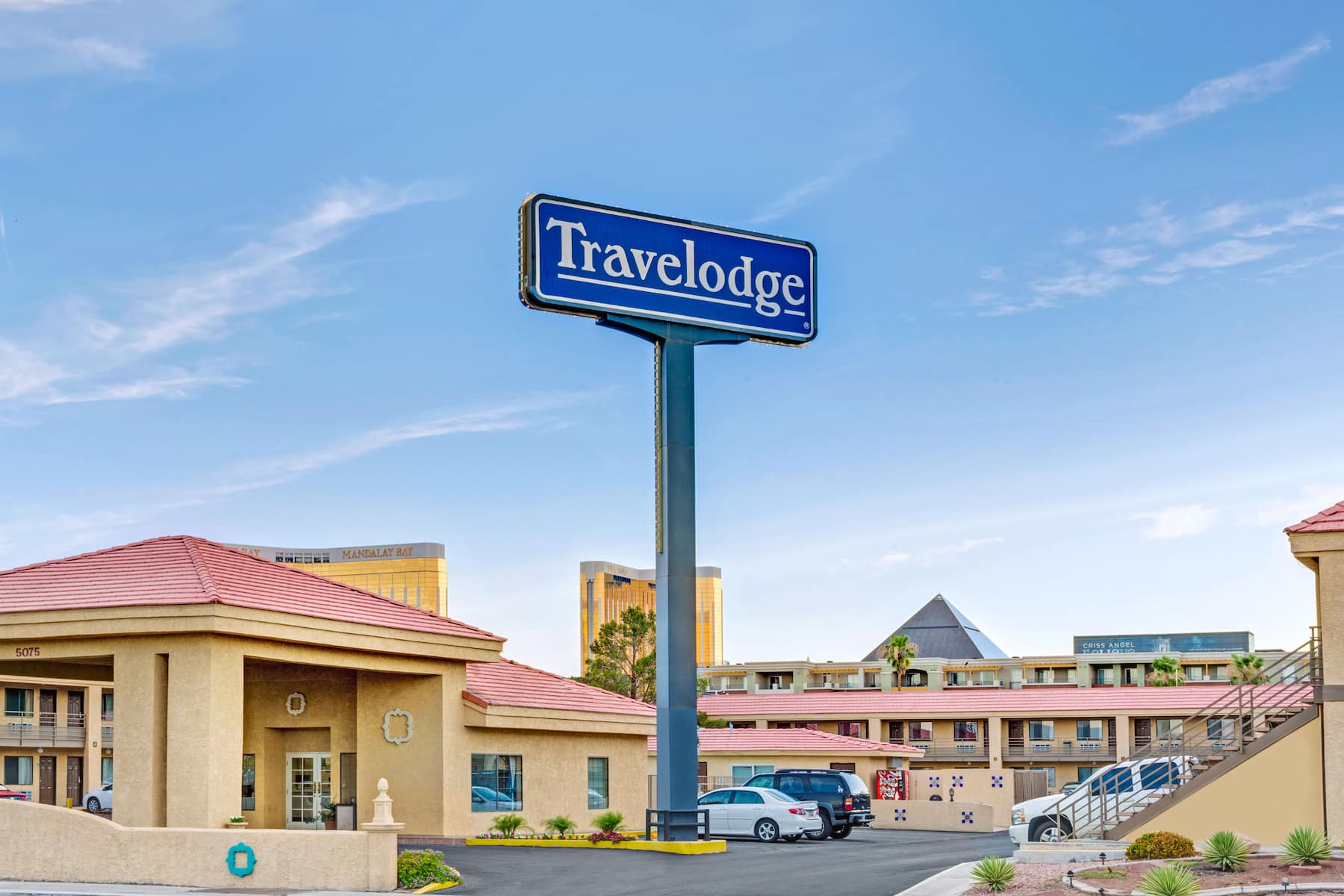 Travelodge by Wyndham Las Vegas Airport Near The Strip is certainly one of the most economical hotels near the Las Vegas airport. It takes around 3 minutes to drive to the airport, and those who do not drive can take advantage of the free airport shuttle. In terms of transportation, the city's monorail is only a few minutes away. You'll also appreciate the convenient access to Interstates 15 and 215 for hassle-free travel across the area.  
If you're going to Las Vegas with your kids, you should absolutely stay here. Kids under 17 are permitted to stay with you for free! There's also a kid-friendly outdoor pool, making this one of the best hotels near Harry Reid Airport in Las Vegas for a family vacation.  
All of the non-smoking casual rooms at this hotel are accessible via external hallways. They all have free Wi-Fi, cable TV, and a coffee maker. In addition, each room has ironing facilities, a microwave, and a refrigerator. Meanwhile, the apartment has some extras, such as a wet bar and a warm fireplace. 
Embassy Suites Las Vegas
Embassy Suites is only 1.9 miles from Las Vegas Airport. If that's not enough, the hotel provides an airport shuttle service for an additional fee. If you enjoy taking leisurely strolls, there are many notable attractions within easy walking distance of the hotel. They include the Hard Rock Casino, the Las Vegas Convention Center, and the iconic Las Vegas Strip.  
In addition to two flat-screen televisions, each suite at this hotel has a microwave and a refrigerator. You don't have to wonder about the size of each apartment, which features a separate living room and a huge work area. It's so big that it can fit six people comfortably. The private bathroom is our favorite amenity in the hotel accommodation. Taking a long soak in the large tub will help you unwind after a long day. 
An evening reception and a daily breakfast are part of your VIP treatment at this hotel. The Three Palms Café serves delicious continental food. Swimming in the outdoor pool is the perfect way to unwind after a long day of travel. However, you're welcome to hit the gym if you still feel energetic. 
---
Here's more info on top-rated airport parking, the best parking spots in your city, affordable auto insurance, easy auto refinance, and high-quality car washes near you.
---