Los Angeles International (LAX) is the second busiest airport in the United States and the 6th busiest airport in the world. Many airlines use the airport as a hub. With plenty of late-night and early-morning flights and arrivals, airport hotels are a boon for passengers who need to grab a few hours of shut-eye close to the airport. Luckily, finding a comfy place to stay in L.A., that's close to the airport is not too hard. In fact, you may be spoilt for choice! Here are the 10 best hotels near LAX Airport to make your task easier.  
LAX airport hotels may not be the most attractive in Los Angeles, but they offer much to weary, jet-lagged travelers. Maybe your jet arrives late, and you want to be in bed as soon as possible. Or maybe you're worried about making it to the airport in time for a red-eye out of Southern California. If you're flying into or out of LAX, hotels near the airport with shuttle transportation might make your journey much easier. The area around Lost Angeles Airport has a wide range of accommodations, including both affordable and luxury chain hotels. So what's the best thing about staying near the airport? You're only a short drive from some of the best beaches near LAX. 
Best Hotels near Los Angeles International Airport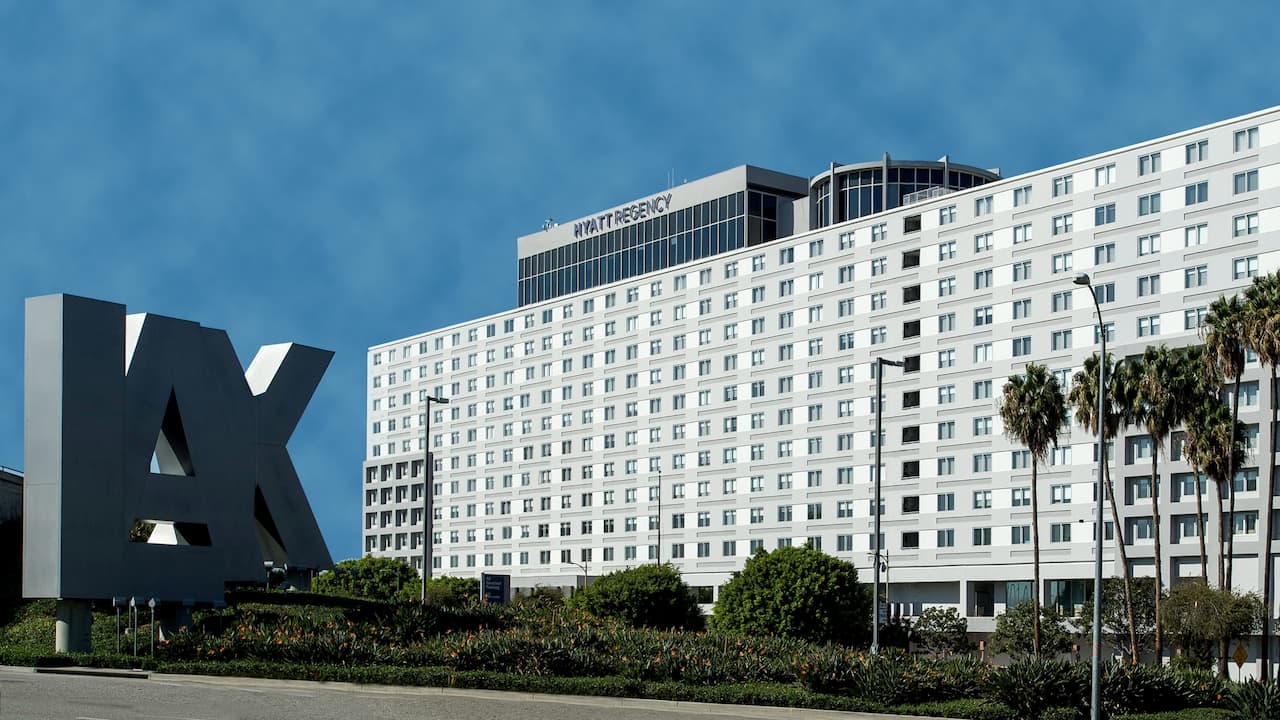 Searching for a good hotel near the airport with a free 24-hour shuttle, valet parking, a restaurant, bar, and a pool? Oh, and you also want a fitness facility and business centers? Not too much to ask if you choose to stay at the Hyatt. The Hyatt Regency is not just close to LAX Airport; it's also close to SoFi Stadium.  
With elegant rooms, soft beds, soundproofing, coffee machines with Starbucks coffee, laptop-sized safes, and modern bathrooms, you can enjoy a good night's sleep at the Hyatt Regency at any time of day. Also, if you don't have a lot of bags, the hotel is a short walk from all LAX terminals. 
The hotel offers its guests a complimentary 24-hour shuttle service that is swift and convenient. There are also plenty of excellent restaurant and beverage alternatives nearby. However, because this is not the most walkable neighborhood of Los Angeles, so it is best to take a cab, Uber, or Lyft there. 
The Sheraton Gateway recently had a $43 million renovation of its guest rooms, lobby, public areas, and restaurants. It is presently gorgeous and one of the closest hotels to Los Angeles International Airport, so near that you can walk there from the airport. This is a significant benefit if you dislike waiting for shuttles. 
The hotel strives to provide a full resort experience, including restaurants and a pool deck with fire pits and cabanas. The pool is especially attractive, with its bright blue waters surrounded by adorable black and white cushioned chairs and loungers. Although the structure appears to be from the 1960s, the interior and pool area are nice for an airport hotel. If you want rooms with a view, aim for the corner suites with runway views. 
This hotel also provides free 24-hour airport shuttles, gym and room service, and free WiFi.
Sonesta Los Angeles Airport, located less than a mile from LAX airport, provides a contemporary and energetic experience for your stay in the City of Angels. The Sonesta Los Angeles Airport LAX is near the airport and the ocean. Cultural features include the Kia Forum and the Petersen Automotive Museum, while popular activities in the region include the Venice Beach Boardwalk and the Santa Monica Pier.  
Looking to attend an event or play a game? Check out what's happening at SoFi Stadium or the Los Angeles Memorial Coliseum. Mix business with your L.A. lifestyle by lounging by the outdoor pool, working out at our fitness facility, or grabbing a beer at the Century Taproom, the hotel's informal modern gastropub.  
Relax in one of the modern guest rooms before heading out to some top things to do near LAX, such as the stunning Los Angeles coastline beaches – Venice Beach and Manhattan Beach – to soak up the sun and the SoCal atmosphere. This hotel is also close to the area's world-class sports stadiums, including SoFi Stadium, Dodgers Stadium, and Crypto.com Arena. 
Get the best LAX parking at Sonesta LAX Airport hotel by booking with Way.com. 
The Hotel Pacific near LAX Airport is only a few minutes from Los Angeles International Airport. Make yourself home in one of the 45 air-conditioned rooms with an LCD television. Free wired and wireless internet connection keeps you connected. They also have cable television to keep you entertained.  
The hotel is conveniently located near major highways such as the 405 and 105 and a variety of local attractions such as the Manhattan Beach Pier. A business center, complimentary newspapers in the lobby, and a 24-hour front desk are among the facilities offered. Free self parking is available onsite. Among the amenities are the desks, irons/ironing boards, and phones with free local calls. 
Enjoy affordable LAX parking at the Pacific Hotel by booking a spot with us today! 
SpringHill Suites by Marriott LAX Airport
El Segundo Beach, Dockweiler State Beach, and Hermosa Beach are all within walking distance of the SpringHill Suites by Marriott. Stay here to enjoy easy access to these beaches. The Kia Forum arena and the Redondo Beach Performing Arts Center are also conveniently located near this hotel for the convenience of its guests.  
You can unwind in one of their large hotel suites when you're ready to call it a day after hours of beach-inspired activities in California. Because the hotel provides free WiFi and separate living spaces, you will have plenty of room to spread out and relax throughout your stay. You can also maintain your connection to the outside world by paying a small price to upgrade to improved high-speed internet while in Hawthorne.  
Before heading out to the beach, be sure to stop by The Market to pick up various tasty snacks and refreshing drinks. In addition, you can get some good exercise during your downtime by swimming laps in the outdoor pool. Do you need a location in Hawthorne to hold your event? Guests can also use any of their three California locations to host a gathering or successful business event. 
Get the best prices on parking at SpringHill Suites by Marriott LAX Airport when you book with Way.com
This hotel is located in a convenient area adjacent to LAX Airport, which puts you close to various intriguing food options and activities. This hotel, located in Inglewood, California, has free WiFi in all its accommodations. In addition, the rooms at the Century Inn are smoke-free and have facilities like cable television and free WiFi.  
The Century Inn is only a few minutes from a wide selection of activities, and guests can easily access the local highways 405 and 10. Guests also have the option to visit the adjacent SoFi Stadium, Hollywood Park Casino, and The Forum, or they could go into the heart of downtown Los Angeles. 
Book parking at Century Inn LAX Airport to snag the cheapest LAX parking spots.
The Wave Hotel in Manhattan Beach, California, enjoys a prime location on the beach. The Manhattan Beach Pier is easily accessible via foot, and Los Angeles International Airport is a mere 8 kilometers distant. In addition, the Hermosa Beach Pier is only a mile and a half away, and the Redondo Beach Pier is just a mile and a half away from the hotel.  
The Wave Hotel features a sauna, an outdoor pool, and free WiFi in its 44 guest rooms. All of this is in an area that provides a wealth of choices for shopping, dining, and sandy beaches. In addition, this hotel provides guests with high-speed Internet access and free parking at no additional cost. The hotel has a business center that guests traveling on business can use. In addition, guests have access to a computer station, a baggage storage area, and laundry facilities. 
You can book airport parking at the Wave Hotel LAX Airport via Way.com in just minutes. 
This inexpensive motel in the Culver City neighborhood is 0.5 miles from Los Angeles International Airport. Rainbow Acres Natural Foods is also only a few minutes away. The Washington & East bus stop is 5 minutes walk from this hotel. 
Paradise Inn & Suites offers the greatest services and amenities to make visitors feel at ease. With the inn's free WiFi internet connection, you can post photos and respond to emails anytime you want. The inn provides free parking for visitors who have their own transportation. If you wish to see the top shows in town, the inn's ticket service and excursions can help. 
The inn's onsite laundromat keeps your favorite travel ensembles clean, allowing you to carry less. Daily housekeeping is provided in your room so you can rest and enjoy your stay. The inn is completely smoke-free, offering a clean air environment. Smoking is only permitted in specified smoking locations. 
 With welcoming decor and basic amenities, guestrooms are intended to deliver a maximum degree of comfort. For the comfort of its visitors, the inn provides air conditioning in some of its rooms. In addition, some rooms include televisions and cable T.V. In select rooms, visitors will also find a refrigerator and a coffee or tea maker. 
You can book parking at the Paradise Inn & Suites LAX Airport via Way.com. You don't even need to reserve a room!
Ritz-Carlton, Marina Del Rey
The Ritz-Carlton, Marina del Rey, is without a doubt LAX's best airport hotel. It is actually only about a 5-minute drive from LAX Airport. The Ritz-Carlton Marina del Rey is a lovely, shimmering sanctuary of waterfront yachts and tropical greenery that is also quite close to the airport. Unfortunately, there is currently no shuttle service between LAX and the hotel. However, Uber will cost around $20, and a taxi will cost around $25. In fact, this hotel not only boasts the nicest LAX airport hotel but also offers one of the top hotel club lounges in the city.  
This classic Southern California getaway is situated on one of the world's largest recreational marinas. Immerse yourself in spectacular coastal surroundings by staying in one of their 304 beachfront guest rooms and suites, relaxing at Sisley Spa, farm-to-table dining at Cast & Plow, or working out on the tennis and basketball courts or in their gorgeous heated saltwater pool. The Strand is a nearby picturesque road for walking, jogging, and cycling, and the marina is a popular site for water activities.  
Enjoy Marina and city views, personal "Juliet" balconies, spacious windows and doors for increased vistas and light, premium Asprey bath necessities, and exclusive Club Lounge access when you book a Club Level Guest Room. 
Los Angeles Airport Marriott
The Los Angeles Airport Marriott provides a complimentary shuttle service from the terminal every 5-8 minutes. The full-service Starbucks in the lobby, ideal for affordable beverages and snacks, is a key perk of this Marriott. 
The all-new M Club Lounge at LAX Marriott offers 4,000 square feet of work and lounge space. It is open 24 hours a day, seven days a week, and is on the 18th floor. From here, you can enjoy breathtaking views of the Hollywood Hills, Downtown Los Angeles, and the LAX runways. Unfortunately, the lounge is not particularly well-stocked outside the major dining hours. Also, there is no bottled water; instead, a dispenser for room temperature, chilled or sparkling water is offered.  
During dining hours, a complete buffet breakfast is significantly better than the Sheraton's mentioned above, as well as evening canapés. In addition, if you are a Bonvoy Platinum member, you will receive complimentary club lounge access (for whichever room you choose) and a room upgrade. 
Book Parking at Hotels near LAX Airport
---
Here's more info on top-rated airport parking, the best parking spots in your city, affordable auto insurance, easy auto refinance, and high-quality car washes near you.
---