While many people come to Beantown for fun and leisure, that isn't the only reason they're here. Business travelers might be in the Hub just for a few days. And they'll be looking to stay at a hotel near Boston's Logan Airport to make their life easier. To help, we've compiled a list of the 10 best hotels near Logan Airport.
Did you know that staying at a Boston Logan Airport hotel can help you save money, provide quick access to downtown Boston, and even have amazing waterfront views? Kind of goes contrary to all preconceptions about airport hotels, doesn't it?
Logan Airport in Boston is one of the largest transportation hubs in the United States. And because downtown Boston and the harbor are pretty close, tourists are spoilt for choice in terms of hotels. We'll look at the top hotels near Boston Airport here. Don't worry about costs. We've listed hotels ranging from high-end luxury hotels to affordable stays for travelers on a budget.
Hilton Boston Logan Airport
The Hilton Boston Logan Airport is a high-end hotel with inside access to two Logan Airport gates. The Hilton Boston Logan Airport is only a few steps away from the airport's gates. It is connected to gates A and E so you can walk off the plane and into your hotel. It's a typical Hilton, which guarantees that your requirements will be satisfied with the quality.
Along with standard business services for clients in town for work, the hotel provides a range of recreational activities. The amenities include an indoor pool, whirlpool, exercise center, jogging trail, and sauna. Cribs, rollaway beds, highchairs, and playpens are offered for families that want to travel light. If your flight arrives or departs before or after checkout, the hotel's baggage storage and luggage hold let you explore before or after your stay.
DoubleTree Boston Logan BOS Airport
This Chelsea, Massachusetts hotel is minutes from Logan International Airport and within driving distance of downtown Boston. It offers airport shuttle service from 5 AM to 10 PM and complimentary WiFi. A flat-screen HDTV with cable channels is available in each room. There is also a refrigerator, coffee machine, and microwave available.
An indoor pool is also available at the DoubleTree by Hilton. Guests can also use the fitness center before dining at the Pendulum Pub. The DoubleTree by Hilton Boston Logan Airport, located right off Route 1, is close to numerous attractions. Within a 10-minute drive of the DoubleTree by Hilton Boston Logan Airport, guests can enjoy a variety of shopping, eating, and entertainment at the Faneuil Hall Marketplace or see a sporting event at the TD Garden.
Looking for parking at the DoubleTree Boston Logan? Book now to get the lowest BOS parking rates.
Comfort Inn BOS Airport
The Comfort Inn & Suites is near Logan Airport and offers a free airport shuttle and free parking. If you want to save money while staying close to the airport, stay at the newly refurbished Comfort Inn & Suites Boston/Logan International Airport. Trendy improvements make this a nice, clean spot to lay your head without hurting your budget, all while providing a convenient location to catch a flight.
The common meeting place allows guests to socialize while sipping complimentary drinks or eating at the breakfast bar. And a 24-hour airport shuttle makes it simple to arrive on schedule without worrying about traffic. For registered guests, the Comfort Inn & Suites also provides free parking.
If you want to park at the Comfort Inn near BOS Airport, book your spot right away on Way.com.
Holiday Inn Express BOS Airport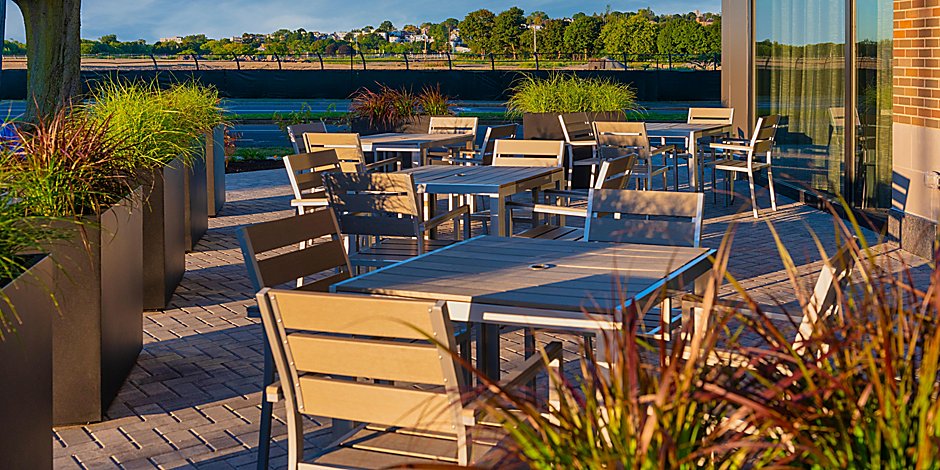 The Holiday Inn Express Boston Logan Airport is an excellent alternative for visitors visiting Boston (MA), providing a relaxing and trouble-free stay every time. With a stay at Holiday Inn, you can immerse yourself in the natural beauty of the sea.
The variety of amenities offered by Holiday Inn Express Boston Logan Airport ensures that all guests make the most of their stay. The hotel's complimentary WiFi internet connection allows you to upload photos and respond to emails anytime you choose. Use the hotel's easy-to-book transportation options to schedule your trips to and from the airport. In addition, the hotel offers taxi services to assist you in getting around Boston.
The hotel always has parking accessible for their driving visitors. While staying at this excellent hotel, the friendly front desk personnel can provide you with various amenities such as baggage storage and safety deposit boxes. The hotel has a fireplace on chilly evenings to keep you warm. The hotel's on-site dry cleaning and laundry services keep your clothes fresh, allowing you to carry less.
You can book cheap Boston Logan Airport parking at the Holiday Inn Express parking lot!
Four Points by Sheraton Boston Airport
The Four Points Boston Airport makes traveling simple while keeping you near the airport. The Four Points Boston Logan Airport is located four miles from Logan. This Revere hotel is ideal for a one-night stay and is not far away. With 24-hour airport shuttle service, it's simple to see why so many people select the Four Points to rest their heads.
A pleasant lobby, clean accommodations, and various amenities like a fitness center, indoor pool, numerous restaurants, and a lounge make this an easy spot to spend the night and enjoy yourself without having to leave. In addition, if you want to go exploring, the Four Points hotel makes it easy to go out and discover what Boston offers.
You can book parking at the Four Points by Sheraton Boston Airport Hotel via Way.com. You don't even need to reserve a room!
Best Western Boston Airport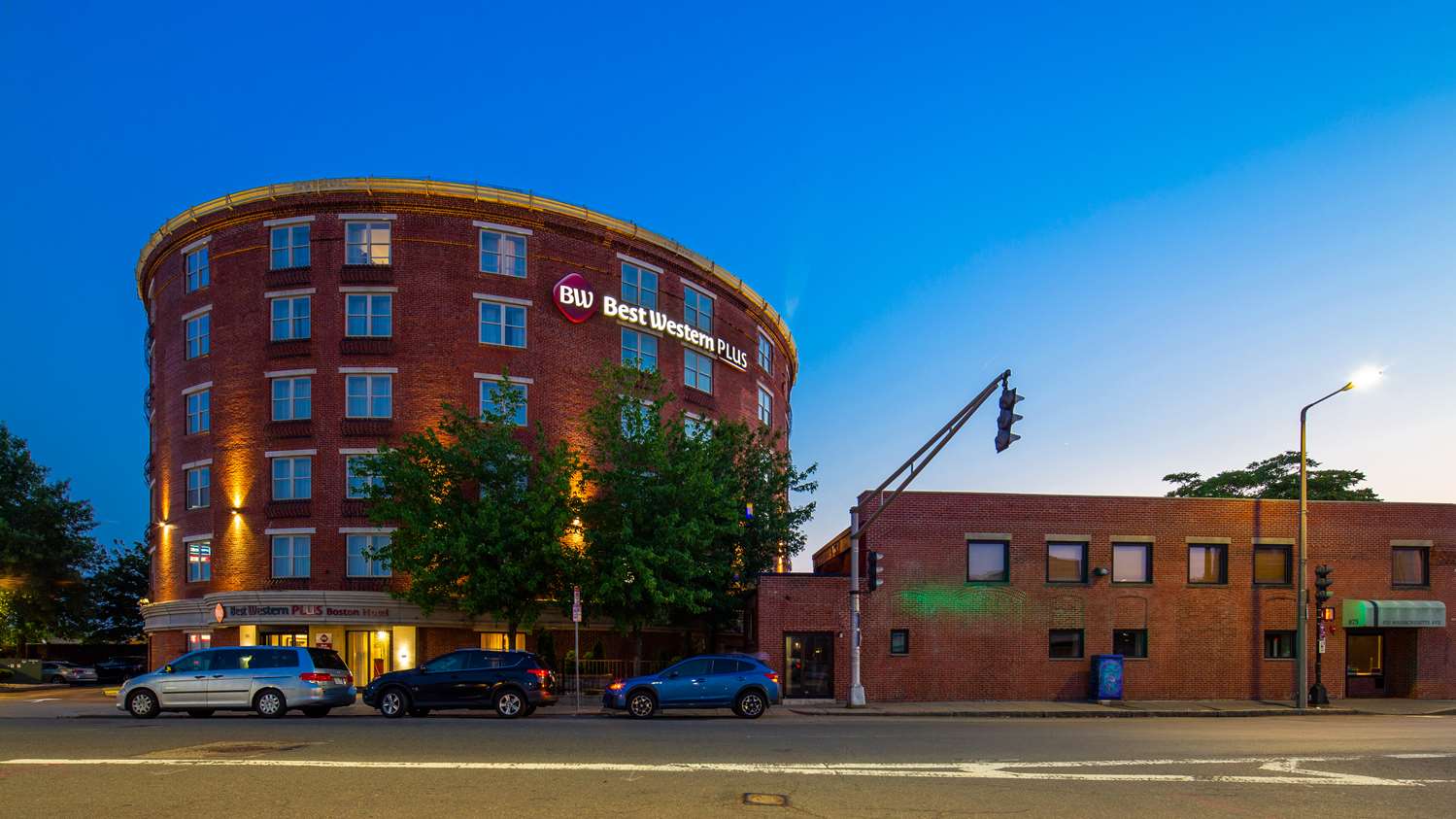 The Best Western Plus Boston Hotel is located in Boston, a short distance from the Massachusetts Avenue Bus Station. This one-of-a-kind hotel features an expedited check-in and checkout facility, a free shuttle service, and an executive level. Meeting rooms, a ticket service, and a 24-hour lobby are among the services accessible to Best Western Plus Boston Hotel visitors. For those who drive, there is also on-site parking.
There are 92 air-conditioned rooms in the Best Western Plus Boston Hotel. There are also other rooms designated just for families. The Best Western Plus Boston Hotel is an excellent base for exploring Boston Commons, the Museum of Fine Arts, and the rest of the city. It is a 20-minute walk from Worcester Square Bus Station, which provides easy access in and around Boston.
Book parking at the Best Western Boston Airport now to get the best Boston Logan Airport parking rates.
Hampton Inn Boston Logan Airport
The Hampton Inn Boston-Logan Airport is a wonderful alternative for your near-airport stay because it is inexpensive and accessible to Logan. The Hampton Inn Boston/Logan Airport is about three miles away from the airport. Guests can simply drive there, take a taxi, or take advantage of their complimentary airport shuttle. The rooms are big and contemporary, and as with other Hampton Inns, quality services are supplied at a considerably lower price than that of costly hotels.
Breakfast is offered every day at no extra charge and includes both hot and cold alternatives. The indoor pool is ideal for families looking for an alternative to TV and video games for their children. At the same time, the fitness facility is ideal for parents looking to unwind after a long day of travel. The on-site restaurant allows visitors to remain in, yet the proximity to the city allows them to wander out for exploration.
Courtyard By Marriott Boston Logan Airport
Courtyard by Marriott Boston Logan Airport is one of the top affordable hotels near Boston Logan Airport with free shuttles, located 2.2 miles from the airport. It's an excellent starting point for touring the city because it provides excellent lodging. When you arrive at the airport, you will be met by the hotel's complimentary shuttle. Not to mention the hotel's proximity to the local railway station and various eateries.
When you arrive at the hotel, you'll be astounded by its scenery, which includes many opulent facilities. You can float in the pool, relax at the spa, and work on cardio in the fitness center. Meanwhile, foodies will enjoy Brinkley's Restaurant on-site. It delivers delectable American fare for breakfast, lunch, and supper. Brinkley's Lounge also serves small appetizers and beverages in a comfortable setting. Finally, the business center rounds off the amenities, ready to meet the demands of all business travelers.
Because of the facilities provided in each room, each room at this hotel provides nothing but comfort. A flat-screen TV, air conditioning, and a comfortable queen-size bed are all included. The free high-speed WiFi will allow you to browse online and update your social media, while the work desk will allow you to do your tasks. Make a cup of coffee in the morning and enjoy it on the balcony, which offers magnificent views of the area.
Westin Boston Seaport
Source: https://www.marriott.com/The Westin Boston Waterfront, located in Boston's Seaport neighborhood, is one of the top hotels near Boston Airport for business travelers. It's a 5-minute drive from the airport and provides easy access to the Boston Convention & Exhibition Center. You can also explore the New England Aquarium, Chinatown, and Back Bay in your spare time. Thes spots are only a short taxi ride away from the hotel. However, this hotel does not provide airport transportation for guests, unlike other hotels near Boston Airport.
You can arrange your own event on this site in one of the 27 conference rooms, the largest of which can seat up to 1,500 people. Meeting planners, high-tech audiovisual equipment, and free WiFi in public spaces make it easier for business travelers to work. After a long day, reward yourself by visiting the on-site restaurants and pubs. The heated indoor swimming pool and whirlpool are also available for leisure. Those who exercise can order New Balance clothing and shoes before visiting the fitness center. In addition, it provides disposable headphones, cold towels, and lockers.
This hotel has approximately 750 rooms and suites, all intended to provide maximum comfort. Each one has a huge work desk as well as an ergonomic workstation. During your little break, keep yourself entertained by viewing various shows on the 55″ smart TV. If you're having trouble concentrating on your job, we recommend utilizing the hotel's coffee machine to prepare Starbucks coffee. Then, crawl into the Westin Heavenly Bed and get some shut-eye.
Hyatt Boston Harbor
When visiting Boston, most business travelers look at hotels near Boston Airport that are reasonably priced. That being said, you should check out the Hyatt Regency Boston Harbor. Staying at this airport hotel gives you convenient access to sites like Faneuil Hall, Quincy Market, and The USS Constitution Museum. Meanwhile, water transportation will take seven minutes to the center of Boston. Have a lot to transport? Relax since you can easily teleport to the airport by taking advantage of the free shuttle services that will transport you to the terminals. There is also free parking for people who go by vehicle.
This hotel has excellent facilities that will ensure a wonderful visit. Guests have the option of exercising in the on-site fitness facility. While no swimming pool exists, you can still treat yourself to unrestricted use of the spa. If you become hungry, don't be afraid to visit the on-site restaurant and sample all of the delectable delicacies. If you stay longer, you might wish to utilize the laundry facilities. Furthermore, this motel welcomes pets. Your pet is welcome to spend the night for a fee, and the hotel will supply pet dishes and treats.
Most of the rooms in this hotel have unrivaled views of the neighborhood. Each has a cloud-like bed, a flat-screen TV, and an iPod docking station. It's also soundproof, so you'll get a wonderful night's sleep. The King Room is huge, but if you want something bigger, ask for the Junior Suite. Of course, it will cost you more, but it is also worthwhile.
---
Here's more info on top-rated airport parking, the best parking spots in your city, affordable auto insurance, easy auto refinance, and high-quality car washes near you.
---