Miami International Airport is one of the busiest in the world. It's no wonder, then, that airport hotels compete for the 44+ million travelers that fly in and out of Miami each year. Because of this, it might be difficult to discover the best hotel near Miami Airport. But, not to worry, we're here to help! 
No one, literally not a single person, enjoys spending an hour traveling to and from their hotel room, after a long trip. However, overnight layovers are a common occurrence for many MIA Airport passengers. That's because Miami Airport experiences more than its fair share of flight cancellations and delays due to poor weather.  
While hurricane season, in theory, is from June 1 to November 30, hurricanes and tropical storms don't follow that schedule! MIA also offers more flights to Latin America and the Caribbean than any other airport in the United States. Therefore many travelers stay the night on their north-south travels.  
The solution? A hotel near Miami Airport. Yes, airport hotels aren't generally known for being the most luxurious alternatives. But we can't deny they are certainly convenient.  
So, if you're searching for hotels near Miami Airport, this list has something for you. As an added plus, most of these hotels are an excellent base for experiencing all of Miami's outstanding attractions and beaches. So whether you're visiting for one night or a week, you'll enjoy comfort, convenience, and a fashionable stay. Here is our selection of the top Miami airport hotels.
Miami International Airport Hotel
This hotel calls itself the 'only hotel inside Miami Airport', and with good reason! The Miami International Airport Hotel is on the Departure Level of the Miami International Airport Terminal, Concourse E. (2nd Floor). You can't get closer to Miami International Airport than this!  The hotel has over 250 rooms and 3,000 square feet of meeting space. Guests can use the hotel's and meeting facilities' free WiFi.
Embassy Suites Miami Airport
This chic hotel is close to Miami Airport, making it an ideal stop for families flying or meeting someone there. The Embassy Suites by Hilton features an outdoor pool and fitness facility to keep the youngsters busy while mom and dad enjoy the complimentary evening reception.
Dining choices include the hotel's Grill 305 restaurant and in-suite dining via room service. Of course, it's difficult to go wrong with a complimentary breakfast. After all, there's no more cost-effective way to feed the whole family before hitting the beaches for the day.
If the family is accompanying the grownups on a work trip, this hotel is a perfect choice because it also has a business center and conference spaces.
Hilton Miami Airport Blue Lagoon
Blue Lagoon is a fantastic family hotel if you're in Miami for the ocean views and need a hotel near Miami Airport. What's more, the hotel even provides a complimentary local shuttle service to and from MIA.
Their outdoor pool with a bar and a hot tub is ideal for unwinding after a long journey. In addition, the Blue Lagoon Saloon serves nighttime meals, the Coral Cafe serves dawn breakfasts, and Herb N' Kitchen serves a quick grab-and-go lunch. If you don't want to leave your room, Hilton Miami Airport Blue Lagoon also has room service and The Cove Bar if you want to mingle with other hotel guests.
Meeting rooms and a business center are accessible if duty beckons and sports courts are open 24 hours a day, seven days a week if the family wants to play tennis.
Enjoy affordable and safe parking at the Hilton Miami Airport Blue Lagoon by booking a spot with us today.
DoubleTree by Hilton Miami Airport
This hotel, located off the Dolphin Expressway (Highway 836), is just minutes from Miami Airport. Each room has a flat-screen cable TV with Pay-Per-View movie channels and video games.
There is also a coffee machine, a desk, and a private bathroom. Impressions is a casual restaurant in the Miami Airport Doubletree that offers breakfast and lunch. Enjoy Dinner at Rioja, which specializes in steaks, or an evening meal at DoubleShot Tapas and Burger Bar.
The Blue Lagoon Business District is near the Doubletree Miami Airport Convention Center. The Miami International Merchandise Mart is only a short walk away. The Port of Miami, South Beach, and the historic Coconut Grove are also within a few minutes drive.
You can book parking at the DoubleTree Hilton Miami Airport via Way.com. You don't even need to reserve a room!
Courtyard Miami Coral Gables
This lovely Coral Gables hotel combines old-world Spanish design with contemporary comforts. This airport hotel is only a short distance from the strip. Therefore, it is convenient for people waiting for flights and those with an insatiable desire to experience Miami.
Before this became a full-service pool in the 1920s, this beautiful swimming hole in Coral Gables was a coral rock quarry. The freshwater pool, fed by a subsurface aquifer and surrounded by palm palms, appears ethereally lovely.
Book parking at the Courtyard Miami Coral Gables to get the best Miami Airport parking rates.
Sonesta MIA
The Sonesta Miami Airport is close to Miami Airport and Downtown Miami. This TripAdvisor-rated hotel has plenty of conference space for business travelers.
The Sonesta Miami Airport hotel has a variety of eating alternatives. Cafe 950 and Buena Vista Lounge provide regionally influenced meals and specialty beverages that are superb. The Market Place is another dining alternative that is open 24 hours a day for a fast grab-and-go snack.
The 24-hour fitness facility, outfitted with aerobic equipment, free weights, and resistance cables, is ideal for finishing your workouts. They also have a pool with the whole family to unwind and sit on the sundeck if you prefer pool leisure to the grind of working out.
The Sonesta Miami Airport Hotel extends its secure, affordable parking service to customers who book the Way.com website or app.
EB Hotel MIA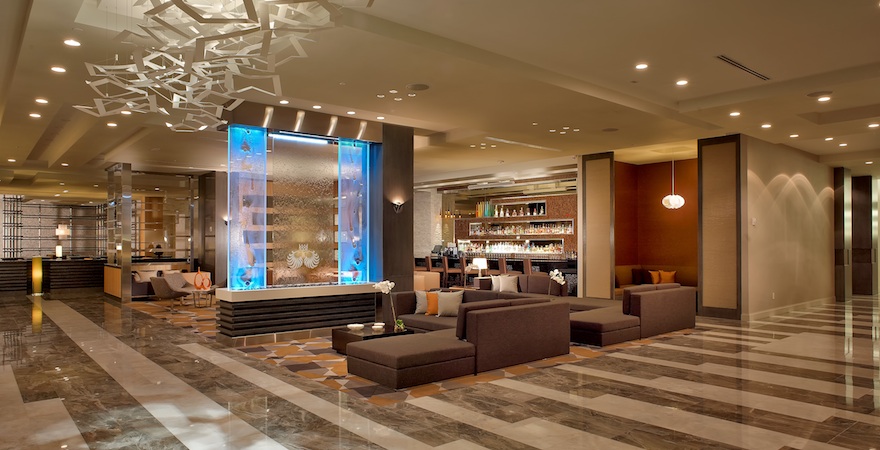 EB Hotel is located just five minutes from MIA and won a Tripadvisor Certificate of Excellence. Its upscale decor, beautiful rooms with walk-in showers, and modern fitness facility surely helped. In addition, this upscale-chic hotel has free WiFi, a speedy airport shuttle, a climate-controlled outdoor pool, and a trendy lobby bar. That's why it's a great choice for business travelers or those catching a flight.
EB hotel MIA is part of the Eurobuilding Hotel Chain. They launched in Spain and have since grown throughout Latin America and, most recently, Miami. The EB Hotel Miami Airport does not participate in any major hotel loyalty programs. Still, it does have top-of-the-line amenities comparable to luxury hotels on South Beach or in Downtown Miami.
Book MIA parking at EB Hotel via Way.com and get a guaranteed parking spot.
Aloft MIA
The Aloft Miami Airport is a trendy new hotel near Miami International Airport. You'll have easy access to popular areas such as Little Havana, Coral Gables, Coconut Grove, and Downtown. The Art District and South Beach are also quite close.
The hotel features a bar, a 24-hour pantry, and a lounge. The complimentary hotel-wide wired and wireless High-Speed Internet Access makes sure you're connected! Their plug-and-play connectivity station charges all of your equipment and connects to the 42″ LCD TV to enhance work and enjoyment.
You can park at the Aloft MIA Hotel without booking a room if you book via Way.com
Courtyard Miami Airport West Doral
This hotel is not only accessible to Miami International Airport, but it is also a short walk from the ocean. In addition, they provide a complimentary airport transfer service.
A heated outdoor pool and free WiFi are available to guests. Each room has a small refrigerator, microwave, and cable television.
Guests at the Courtyard Miami Airport West Doral have access to interactive Media Pods in the lobby. There is also a Go Board with the most recent news, weather, and airport information.
The Courtyard Miami Airport is close to the 18-hole Doral Country Club – Blue Monster Golf Course.
If you book parking at the Courtyard Miami Airport via Way.com, you won't need to reserve a room there.
Intercontinental at Doral Hotel Miami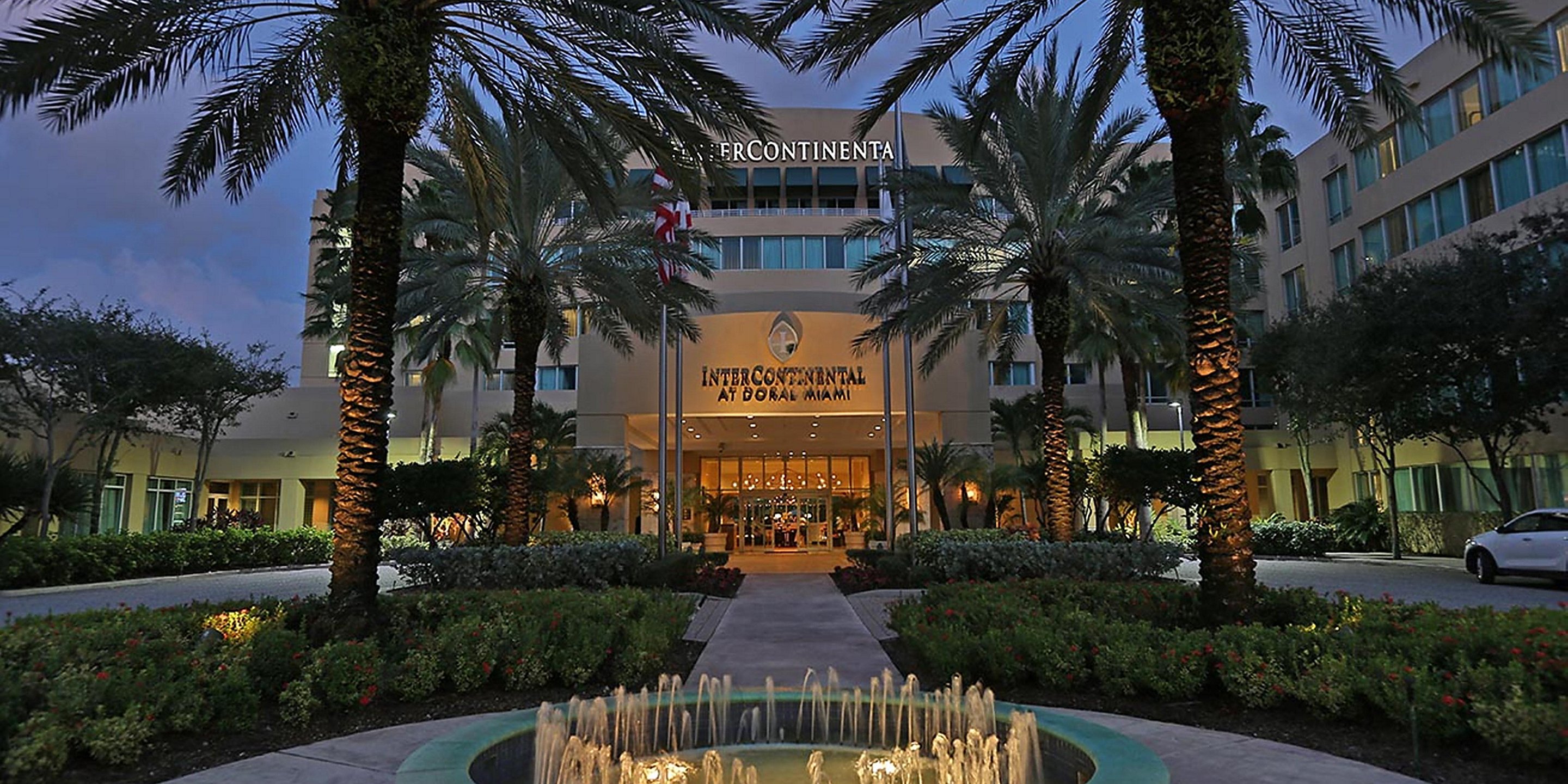 This eco-friendly hotel is near Miami Airport and the city center. Doral Miami is 8.3 miles from South Beach's shopping and beaches. The Doral Country Club is only a short drive away from the hotel.
All rooms in the InterContinental at Doral Miami includes a flat-screen Smart TV. They include a separate wardrobe and also a marble bathroom with a large showerhead. The outdoor pool, 24-hour fitness facility, and business center are available at this Miami hotel.
You can park at the Intercontinental at Doral Miami  without booking a room if you book via Way.com  
Hotels near Miami Airport where you can park and fly
---
Here's more info on top-rated airport parking, the best parking spots in your city, affordable auto insurance, easy auto refinance, and high-quality car washes near you.
---