Are you flying into or out of Minneapolis International Airport? Hotels near Minneapolis airport are likely the most convenient option for you, especially if you have a long flight ahead. An MSP Airport hotel is also a smart choice for travelers who have flown in, are fatigued, and need nothing more than a good night's sleep. Here are the 10 best hotels near Minneapolis Airport for you to choose from.
The Minneapolis-Saint Paul International Airport is a joint-city airport between Minneapolis and Saint Paul in Hennepin County, Minnesota. Minneapolis-Saint Paul International Airport (MSP) is the largest airport in the United States Upper Midwest. It not only handles the most passengers of any airport in the region, but it also acts as a military post, hosting the Minneapolis-Saint Paul International Airport Joint Air Reserve Station. It's no wonder then that hotels near Minneapolis Airport are always full! So make sure you book a room from one of these top MSP Airport hotels well ahead of your journey.
InterContinental Minneapolis – St. Paul Airport
The InterContinental, located in MSP Airport's Terminal 1, is the closest you can get to staying at the airport without settling down on the tarmac! Where else can you see a plane take off from your hotel room window? It doesn't get any better than staying at the InterContinental, where even the entry-level rooms are large. The floor is carpeted, and mood lighting and elegant mod-cons make staying here comfortable. Despite its proximity to the runway, the soundproof windows, blackout curtains, and luxurious beds allow you to sleep like a baby.
With so many amenities, you'll never be bored while staying at this hotel. There is free WiFi, a complimentary shuttle to the Mall of America, and even a sumptuous spa to relax before a long journey. If you want to get out and about, there's also a fitness facility and a billiards table. The outdoor patio and thermal pool are great places to relax and unwind, and the on-site restaurant will pamper you with exquisite food. Furthermore, the hotel boasts fantastic runway views and easy access to the TSA checkpoint.
Hyatt Regency Bloomington Minneapolis Airport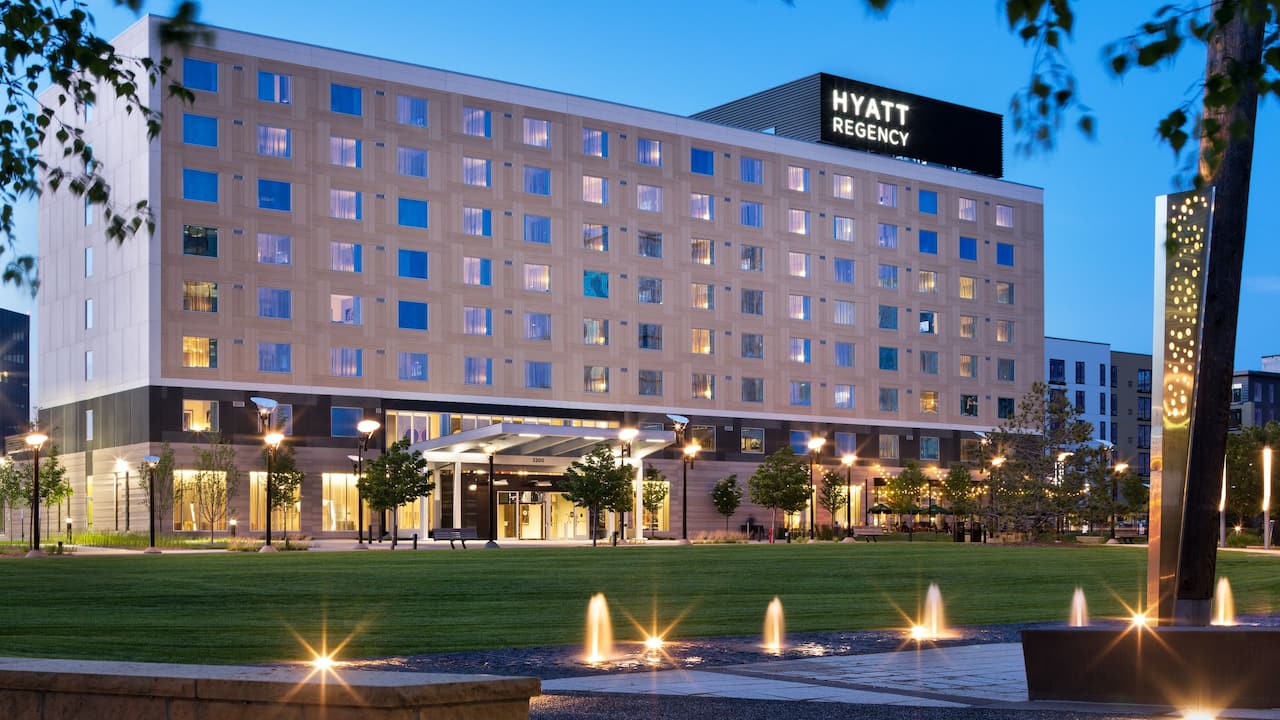 The Hyatt Regency Bloomington-Minneapolis is just 5 minutes or one Blue Line stop from The Mall of America. It's only 11 miles or 30 minutes on the Blue Line to downtown Minneapolis, U.S. Bank Stadium, Target Field, Target Center, the Minneapolis Convention Center, the Theatre District, and more.
No effort is spared to make guests feel at ease by delivering the greatest services and amenities. Using the hotel's complimentary WiFi, you can effortlessly keep up with your communications. In addition, guests may enjoy easy on-site parking. Front desk services such as concierge service, speedy check-in or check-out, baggage storage, and safety deposit boxes can help you with your needs.
Get comfy and warm in the lobby with the hotel's gorgeous on-site fireplace. Packing light is achievable at the Hyatt Regency Bloomington owing to the hotel's dry cleaning and laundry services that keep your garments clean. In-room amenities like 24-hour room service, room service, and daily housekeeping allow you to make the most of your stay. All bedrooms are designed for comfort and provide a variety of amenities to guarantee a peaceful night's sleep. In addition, some hotel rooms provide linen service and air conditioning for your convenience.
Hampton Inn MSP Airport
Hampton Inn Suites is one of the most upmarket all-suite hotels with a complimentary shuttle near Minneapolis St Paul MSP Airport. The shuttle to the airport, as well as the Mall of America and other local attractions, is the main draw here. Because there is no on-site restaurant, the complimentary shuttle makes it quite convenient to get out for lunch and supper.
The hotel provides an excellent breakfast in the morning, which includes a full selection of hot and cold foods. The 24-hour convenience shop allows you to stock up on ingredients to prepare meals on your own. The indoor pool and fitness facility are ideal for both relaxation and workouts.
Aside from the standard King and Queen rooms, the hotel also offers bigger rooms and suite choices, making it ideal for families. In addition, there's everything from walking space to couch beds to a bevy of modern amenities, including kitchenettes featuring basic kitchen equipment for meal preparation.
enVision Ascend Hotel MSP Airport

This relaxed hotel in a redbrick structure along Interstate 494 is a short drive from Minneapolis-Saint Paul International Airport, 13 miles from the Mall of America, and 16 miles from U.S. Bank Stadium. The enVision Hotel St. Paul South is located in South St. Paul, close to the airport and in the commercial sector. If shopping is on the agenda, Mall of America and Tamarack Village are worth visiting. Not a big hopper? Those interested in natural beauty could visit the Mississippi River and Fort Snelling State Park. You may also attend an event or a game at Xcel Energy Center and make time to visit Nickelodeon Universe, a must-see destination.
Rooms have complimentary WiFi, flat-screen T.V.s, coffeemakers, workstations, microwaves, and minifridges. Their suites have additional sitting rooms with pull-out couches. This hotel has an indoor pool, a fitness club, and a bar/lounge. There is also free WiFi in public areas and self-parking. A snack bar/deli, a business center, and a meeting space are also available. Parking and a nice breakfast are provided at no cost. There's also a welcoming bar. There's also an indoor pool, a workout area, a business center, and a gaming room with a billiard table.
Super 8 Bloomington Minneapolis Airport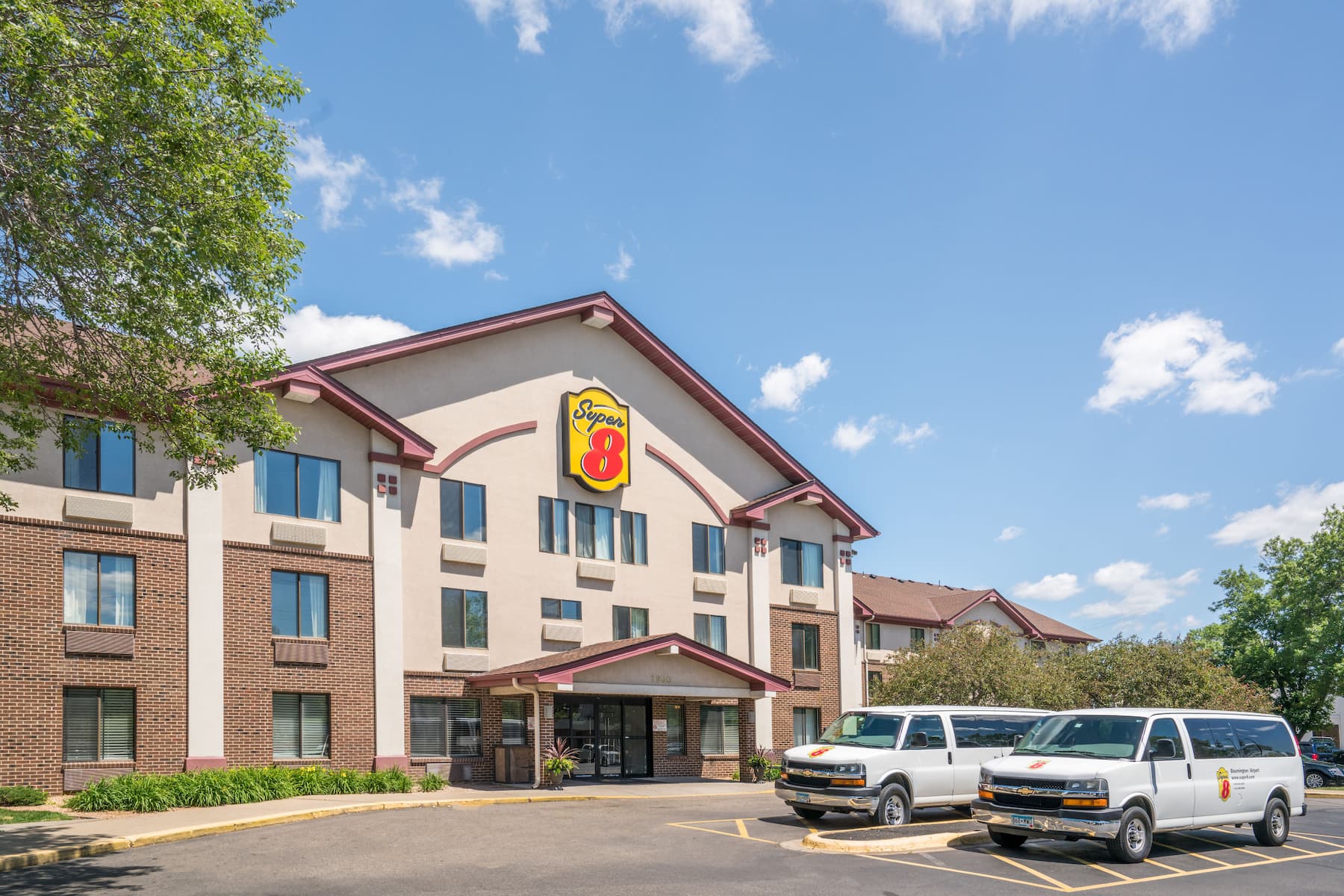 This Super 8 Bloomington/Airport hotel is approximately five miles from Minneapolis Airport via I-494, making it an ideal location for travelers (MSP). In addition, the Mall of America, Target Field, and the Metrodome are also within easy driving distance of this Bloomington hotel.
Use the free WiFi in your hotel room to watch your favorite shows and movies. In addition, you'll enjoy a complimentary light breakfast dish plus your choice of coffee, tea, and juice at the start of your day! The hotel offers accessible rooms and suites. In addition, the hotel provides a free shuttle to the Minneapolis Airport that runs every half hour. At this Minneapolis Airport hotel, children 17 and under stay free with an adult.
Microtel Inn & Suites by Wyndham MSP Airport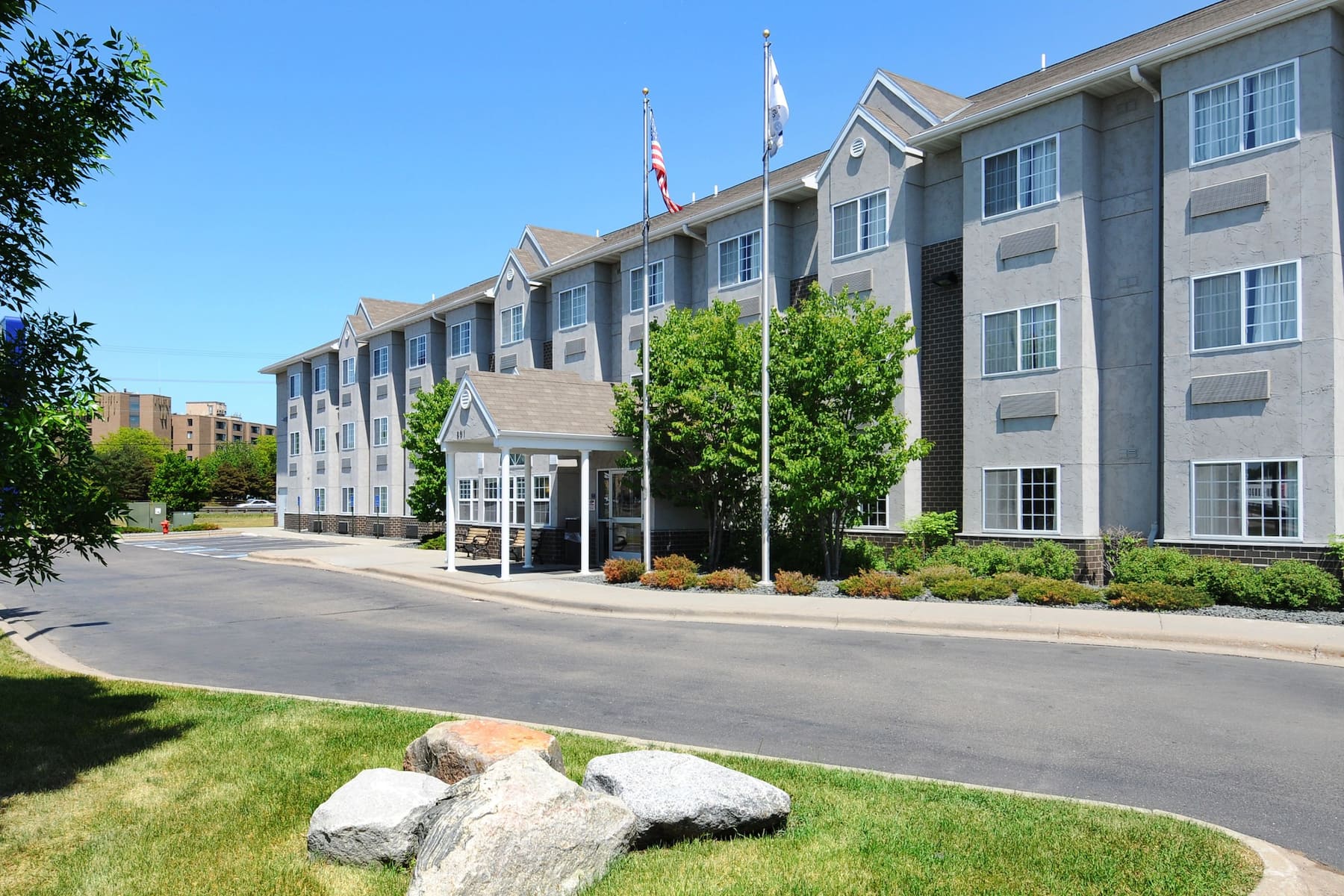 The Microtel Inn & Suites by Wyndham Bloomington Minneapolis offers convenient and pleasant accommodation, and it is only a short drive from Minneapolis Airport. In addition, there is a safe, a shuttle to the airport, and a reception desk open around the clock.
Guests staying at the hotel can access various amenities, such as a lift, a business center, and wired internet service. Those who wish to maintain their active lifestyle while on the road have convenient access to a fitness center. The Microtel Inn & Suites by Wyndham Bloomington Minneapolis rooms come furnished with a refrigerator, a microwave, and a hair dryer. There is a nice range of local eateries within walking distance for those who prefer venturing out and discovering new places. In addition, guests have the opportunity to go to Water Park of America.
Extended Stay America Minneapolis Airport
You'll be near the airport, within a 10-minute drive of Mall of America and Nickelodeon Universe, when you stay at Extended Stay America Suites Minneapolis Airport Eagan South in Eagan.
The hotel's complimentary internet access keeps you connected during your stay. Parking is free for those who arrive by vehicle. The laundromat and laundry service are available for longer stays, or anytime you need them. This smoke-free hotel has coffee/tea in the lobby, laundry facilities, and a 24-hour front desk. Breakfast is provided on the go for free. Premium cable channels are available on 32-inch flat-screen televisions. Irons/ironing boards and blackout drapes/curtains are also provided in the rooms. On request, housekeeping services are also available.
Baymont by Wyndham Bloomington MSP Airport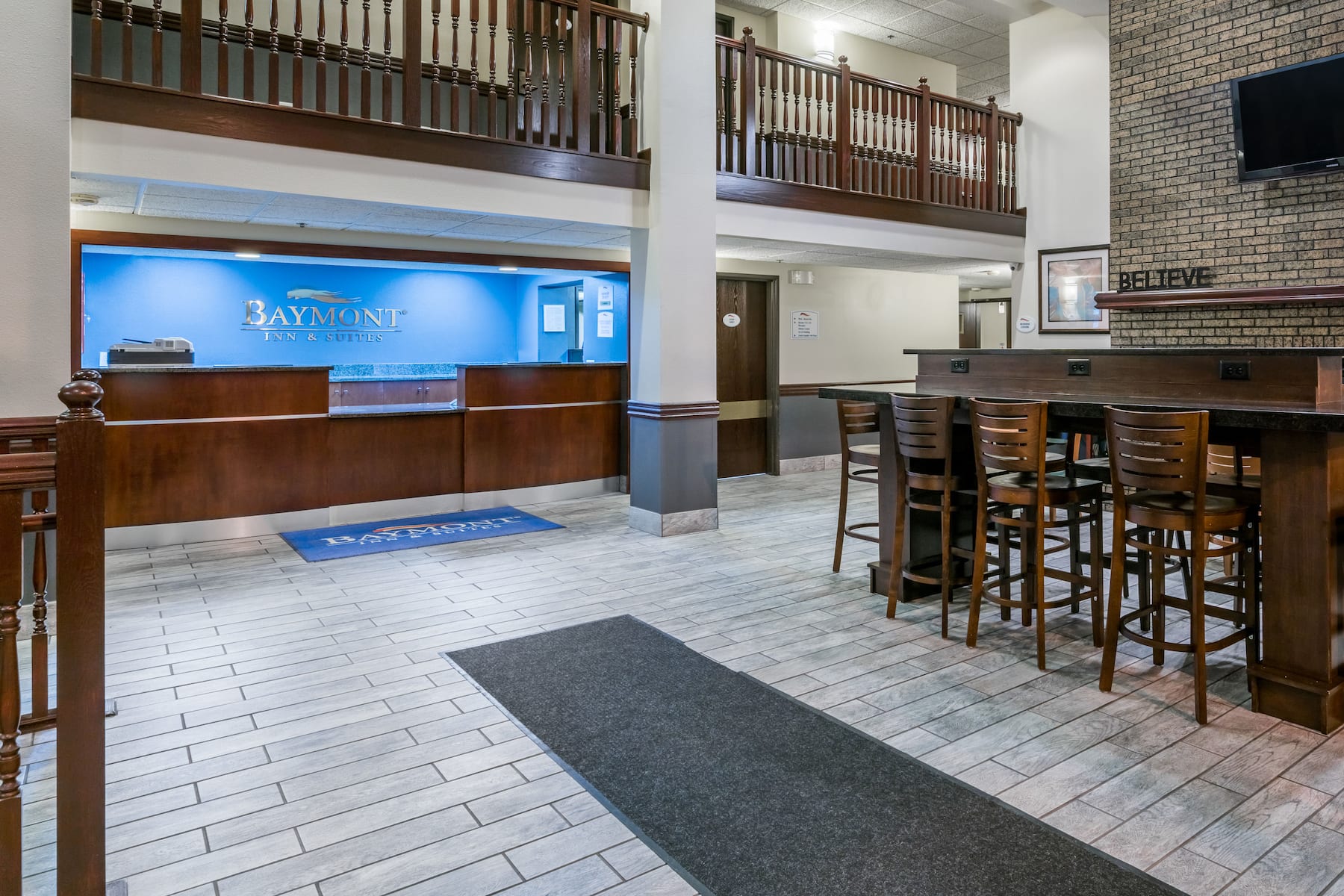 The Baymont Inn & Suites Bloomington MSP Airport hotel is ideal for business and pleasure visitors and is just a short drive from Minneapolis-Saint Paul International Airport (MSP). The hotel is located off I-494 in Richfield, MN, and provides convenient access to major destinations such as the Mall of America and downtown Minneapolis. It is also close to Adler Graduate School and the University of Minnesota, the corporate offices of Best Buy, The Toro Company, and International Dairy Queen.
Every morning, the Baymont Breakfast Corner serves complimentary breakfast with nutritious selections, and their business center handles all your copy, print, and fax requirements. Stay in shape at the fitness center or unwind in the indoor heated pool and hot tub. Each non-smoking guest room has complimentary WiFi, a flat-screen HDTV, a hair dryer, and ironing supplies.
Hilton Minneapolis St Paul Airport
The Hilton Minneapolis is one of the top all-inclusive hotels near Minneapolis Airport, located just south of the airport near the Mall of America. It provides free shuttles to the airport and the mall if you need to do some last-minute shopping. There's also a shuttle to the light rail station if you need to get into town quickly.
The enormous indoor pool and hot tub area are unique and ideal for a dip and a soak later. The sophisticated gym is a paradise for health enthusiasts, and the 24-hour business center is a godsend for business travelers. The on-site restaurant and lounge deliver a fantastic buffet breakfast, steak and seafood lunches, and nights. The fact that the hotel is pet friendly is the cherry on top. Coffeemakers and cable T.V. with pay-per-view movies are standard in all hotel rooms and suites. Soft linens, mattresses, and modern furniture make this room relaxing.
Embassy Suites Minneapolis Hotel Airport
Embassy Suites by Hilton is one of the top suite hotels near Minneapolis Airport, offering a free shuttle and various services. To begin, you wake up daily to a delicious breakfast before getting on one of the shuttles to tour the area. Furthermore, every weekday night, it holds a Manager's Reception where you may interact with other guests over a choice of beverages. Aside from that, the on-site restaurant delivers delectable dishes.
The Embassy Suites' large rooms and suites provide not just flat-screen cable T.V.s but also coffee/tea makers, refrigerators, and microwaves. In addition, plush mattresses, spotless bathrooms, and work tables provide a relaxing stay.
---
Here's more info on top-rated airport parking, the best parking spots in your city, affordable auto insurance, easy auto refinance, and high-quality car washes near you.
---