Louis Armstrong New Orleans International Airport, or MSY, is only 13 miles from New Orleans' French Quarter. Therefore, staying at a hotel near New Orleans Airport is a pretty sensible idea. The location is also an excellent starting point from where you can visit other parts of Louisiana. We've compiled a list of the 10 best hotels near New Orleans Airport, so you can pick one and make your travel planning the 'big' easy ?. (Forgive us, for we have punned!)
Are you ready for your next Mardi Gras? Or are you just passing through on your way to another city? Whatever your reason for visiting the Paris of the South, you can want to spend a night or two near the MSY  airport. That way, you can get the relaxation you need after or before a long-haul flight! A hotel near New Orleans Airport is undoubtedly a good option if you don't mind a short commute to the French Quarter.
Top New Orleans Airport hotels
The New Orleans Airport region is an ideal base for visiting places like the Northshore across Lake Ponchartrain. The area has numerous family-friendly activities and beautiful Main Streets in villages like Mandeville and Abita Springs. Families with children might want to avoid the Bourbon Street party scene. This makes the airport a perfect location. Inquire about pools; the majority of these hotels have them. There are a few chain restaurants in the Kenner neighborhood, some local favorites, like the amazing Fisherman's Cove on Williams Boulevard, which serves superb seafood at rock-bottom pricing. So without further ado, here are the top 10 MSY Airport hotels:
Country Inn & Suites by Radisson
Among hotels near Louis Armstrong Airport, the Country Inn & Suites by Radisson has some of the best ratings. It just takes 5 minutes to get there from the airport. Also, you can use the free shuffle at any time. That is what we call comfort!
Take no time and immediately retire to your nice bed. Some rooms include a king-sized or queen-sized bed, while others have two comfy queen beds. That is the finest option for a four-person household! You'll have a flat-screen TV with cable channels in any room you choose, so you won't have to miss what's going on at home. There is also free Wi-Fi to help you remain connected.
If you merely want to kill some time until your next trip, go to the on-site health facility and burn calories on the treadmill while watching TV. Those who like to unwind can use the hotel's outdoor swimming pool.
La Quinta by Wyndham New Orleans Airport
La Quinta is a good choice for staying near MSY Airport with a free airport shuttle, Wi-Fi, and parking. Even better, it welcomes pets for free! It's a terrific place to stop before or after spending the day at one of New Orleans' top pet-friendly hotels. Each room at La Quinta is not only big but also nicely designed. It combines contemporary design with a cozy atmosphere. You'll discover a flat-screen TV with cable channels, a work desk, and a coffee or tea maker in each room. The private bathrooms are also rather huge! Some even offer huge baths where you can soak away the jetlag.
Don't even get us started on the outside pool. It's ideal for both resting and working exercise. However, a fitness center is also on-site if you need more pumping. Every morning, breakfast is served at Messina, the on-site restaurant. It delivers American food in a relaxed setting. If you want more eating alternatives, go to Westland Retail Malls, which is only 5 minutes away on foot, or any other four shopping centers within walking distance! In terms of proximity, La Quinta is only 5 minutes from Louis Armstrong Airport, making it the finest hotel near Louis Armstrong Airport.
Contempra Inn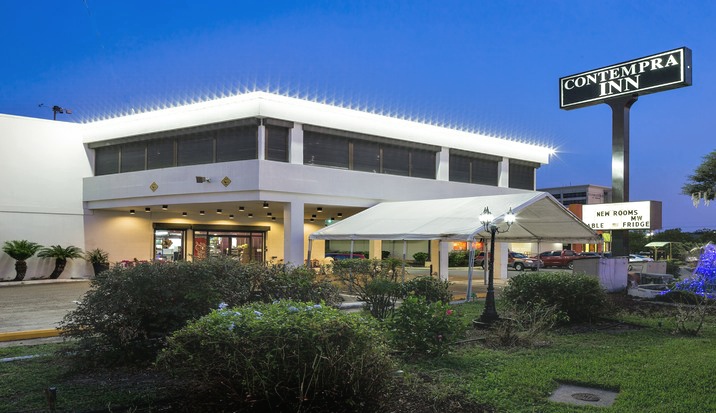 Why splurge when you only need a cozy place to rest your head? As one of the hotels near Louis Armstrong Airport, Contempra Inn guarantees a pleasant night's sleep within minutes of arrival. Every room has a bathtub, so take a moment to relax. Then, nap or laze around watching your favorite shows on the in-room flat-screen Ultra HDTV with 300 channels. It's also free to use Wi-Fi!
The hotel's lobby is open 24 hours a day, so you can grab a bite or a drink whenever you like. On top of that, each room has a fridge and a microwave. That way, you can pick up something from one of the many neighboring eateries, then save your leftovers for later use.
Even if there isn't much to do on-site (particularly without a swimming pool), the surrounding area offers many activities. Nearby are some of New Orleans' most popular shopping destinations. You'll be able to eat and have fun there. In addition to being less than 10 minutes from the airport, this hotel is one of the top New Orleans hotels near the airport, although it doesn't provide free shuttle service.
DoubleTree by Hilton Hotel New Orleans Airport
Loyalists expect style and substance from the inexpensive Hilton brand, and this hotel does not disappoint. The Louis Armstrong New Orleans International Airport (MSY) is two miles away, and the French Quarter is 12 miles from the Doubletree by Hilton New Orleans Metairie.
Guests can use a complimentary 24-hour airport shuttle and a 24-hour fitness center. The guest rooms and suites are tastefully furnished and large, with enough workstations, updated linen, and free high-speed internet access. Another perk is an outdoor pool in a courtyard setting. On-site amenities include a bar, a restaurant, and a conference space.
Holiday Inn Express & Suites New Orleans Airport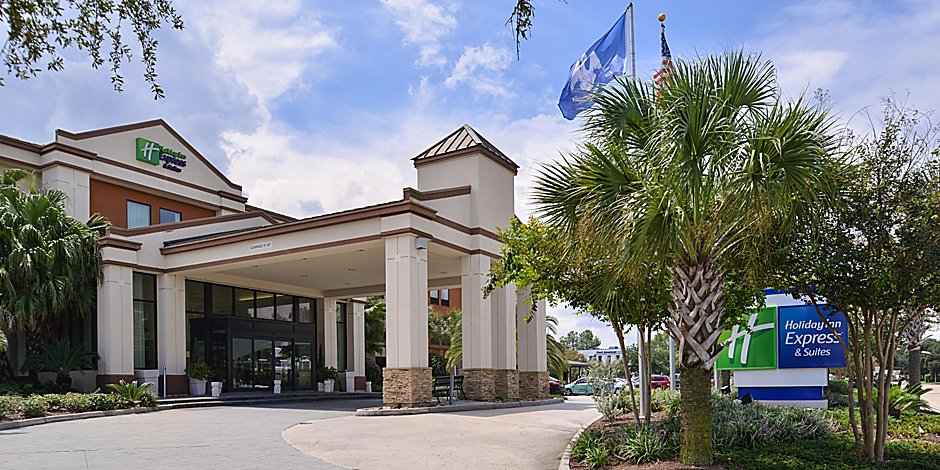 Holiday Inn Express is located south of MSY, offers affordable rooms, and is close to the airport. This hotel, located south of MSY and is a cheap brand, just underwent renovations, making it one of the freshly remodeled airport hotels. The hotel, located in the James Business Park, has all the standard amenities, such as a shuttle service to and from the airport, free wireless internet access, flat screens measuring 32 inches, and a daily basic cooked breakfast.
You are around 15 miles away from the city center and approximately six miles away from the Pontchartrain Center. The hotel allows guests to bring their pets with them, and the children will enjoy the outdoor pool. When you're not feeling up to going out, a Voodoo Barbecue restaurant, which is part of a locally owned franchise with sites in Louisiana, Florida, Texas, and South Carolina, is a fantastic choice for consuming alcoholic beverages and eating delicious food.
Comfort Suites Kenner
There are two swimming pools at the Comfort Suites Kenner: an outdoor pool and an indoor pool. Unfortunately, that isn't the case at all hotels near the airport in New Orleans. So even if you're coming in the dead of winter, you can warm yourself in the indoor pool, which is available all year round.
This is one of the best hotels near New Orleans Airport because of its location in Kenner. It's convenient since Esplanade Mall Shopping Center, where you can buy various items to amuse yourself while waiting for your train or bus, is only ten minutes away. Wood flooring and carpets can be found in most Comfort Suites hotels. For people who prefer to spend most of their time lounging in front of the television, some come with larger seating spaces. Their rooms have a mini-fridge, a microwave, and free Wi-Fi.
Super 8 By Wyndham New Orleans
This hotel's amenities could make you question why it's ranked as one of the finest in New Orleans for hotels near the airport. Everything about this hotel looks normal, from the fitness facility to the seasonal outdoor pool to the hotel's distance from the city center. On top of all that, there isn't even an airport transfer service.
We shortlisted this hotel mostly because of its excellent beds and rooms. When you walk through the door, you'll feel at home. It has a retro feel with a dash of New Orleans heritage, which we find appealing. Everything about the accommodation at this hotel suggests that guests will have a restful night's sleep. It's about six minutes from Lakefront Airport to the Super 8 by Wyndham hotel. This airport is so close that you can walk there! Louis Armstrong Airport is only a 20-minute drive away.
New Orleans Airport Hotel
This New Orleans Airport Hotel near the airport is a notch beyond the typical chain hotel. It provides both value and a convenient location for seeing the city and other attractions in the surrounding area. One of the hotel's bragging rights is a courtyard saltwater pool, which is quite popular among guests traveling with children. The Landing Restaurant, which serves breakfast, lunch, and supper and has a menu for children that may be requested, is located in the recently remodeled large lobby of the hotel.
The lobby features bright primary colors. It won't take you more than a few minutes to walk to the Esplanade shopping complex. Connecting rooms are also available, which is a great convenience for families who want their children to be nearby without being in the same room. In addition, if you stay in a suite, Monday through Friday, you will have access to the evening welcome reception held in the Club Lounge.
Hilton New Orleans Airport
This Hilton, which has 317 guest rooms, is located less than one mile from the airport and has a wide variety of services. In addition to watching movies with the DVD player, the parents will enjoy having a microwave and kitchenette available in their room. In contrast to many more basic airport hotels, this hotel provides room service around the clock and has a restaurant and a bar on the premises.
The Hilton has a pet-friendly policy as part of their package, in addition to an indoor and outdoor pool, sauna, and fitness center. A patio designed in the New Orleans style is an excellent way to pay homage to the local culture. This well-recognized multinational brand offers customers additional conveniences such as free parking and an airport transfer service.
Days Inn by Wyndham New Orleans Pontchartrain
While New Orleans is home to several Days Inn by Wyndham properties, only the one in Pontchartrain has garnered consistently positive ratings. Even though Lakefront Airport is closer, Louis Armstrong Airport is only 15-20 minutes away because of the airport's direct freeway connection. In this section, we'll look at what makes this hotel so great for travelers who want to stay close to the airport in New Orleans.
Comfort and a cozy environment are the main features of this 3-star hotel, so don't anticipate anything else. However, the Queen Room has an in-room spa bath. Perfect for unwinding in front of your flat-screen TV as you enjoy your favorite shows! Other accommodation choices include a kitchenette when you need to cook a fast meal. Food and drink vending machines are available if you're merely hungry.
The free exercise facility makes up for the lack of a swimming pool. In addition, all visitors have access to free Wi-Fi and parking. Days Inn's amenities, as you can see, are somewhat limited. However, comfort and value for money are the primary factors that make it one of the best hotels in New Orleans.
---
Here's more info on top-rated airport parking, the best parking spots in your city, affordable auto insurance, easy auto refinance, and high-quality car washes near you.
---