If you're looking for a place to stay in Newark, the odds are that you are making plans to travel to New York City or maybe fly out of New Jersey. A stay at any of these 10 best hotels near Newark Airport will keep you comfortable until you take off, whether you're flying in for a trip to the Big Apple or just hanging around on a longish layover. 
Newark, New Jersey, is a city that may not yet be on your list of top vacation destinations. But it does provide a wide variety of things to do, not to mention some pretty cool neighbors like Manhattan and Staten Island. Newark is also the location of the first major airport in the United States – Newark Liberty International Airport.
EWR Airport is one of the busiest airports in the country and is only 7.5 miles from the center of Manhattan. We've compiled a list of the top hotels near Newark Airport so that the next time you're in town for sightseeing or simply need somewhere to rest your head before your next flight, you'll be able to find a nice place to stay.  
Best Newark Airport Hotels
Newark Liberty Marriott Airport Hotel
At the Marriott Newark Airport Hotel, comfort and ease of use take precedence above anything else. It is the only hotel that offers a complimentary shuttle to each terminal around the clock, although it is within the airport! This makes it a good option for those who are only transiting via EWR. Additionally, it provides complimentary airport transportation to all terminals, similar to the other hotels at Newark Airport that offer shuttle services. Moreover, this hotel is just a few miles from several attractions, including the Jersey Gardens Mall Shopping Center and Lincoln Park, both popular destinations.   
This hotel has 591 rooms and suites, all of which have undergone recent renovations. It doesn't make a difference which one you choose because you'll be able to enjoy a flat-screen TV, a pillow-top mattress, and a comfortable seating area no matter which one you select. While there is no charge to use WiFi in any of the hotel's public areas, there is a fee to use it in your room. The bathroom is marble, and in addition to a walk-in shower and a bathtub, it also has a set of complimentary toiletries. Guests staying on the concierge level can take advantage of complimentary breakfast and access to a private lounge and enjoy views of the airport from some of their accommodations. 
Visit The Greatroom, a restaurant that serves food throughout the day and specializes in fresh baked goods and coffee from Starbucks, to satisfy your appetite after enduring a long flight. You can also eat at the Aviation Grill, which is nearby. It stays open throughout the day and serves contemporary dishes inspired by American cuisine. Remember to keep your body in good shape by going to the fitness facility whenever you get the opportunity to do so. Meanwhile, those traveling on business will love the hotel's 18 meeting rooms and the Grand Ballroom, which can accommodate up to 1,100 guests. 
Wyndham Garden Newark (EWR) Airport
The Wyndham Hotel is a good value hotel located 5 minutes from the EWR Airport terminals. The hotel has a free airport shuttle that runs every half hour, 24 hours a day. Large, family-friendly rooms with blackout curtains, free WiFi, and tea and coffee makers are available here. Connecting rooms are also an option.  
There is a café, a bar, and a Grab & Go kiosk providing light foods and drinks 24 hours a day, and there is limited room service. The hotel also has a well-appointed business center, a modest but well-equipped fitness center, and free on-site parking. In addition, there is an outdoor pool. The front desk is open all hours of the day and night. Each of the 349 comfortable rooms features thoughtful amenities such as plush pillow top bedding, complimentary WiFi, and an in-room safe. Guests who upgrade to a suite will also have access to a living space with a sleep sofa. Some rooms look out onto the courtyard, and there are accommodations for physically challenged people. 
Book parking at Wyndham Garden Newark (EWR) Airport to snag the most affordable EWR Airport parking spots 
Doubletree by Hilton EWR Airport
The Doubletree is a great hotel located only minutes from the airport and provides a free shuttle service every 15 minutes throughout the day and night. The rooms are cozy and have amenities like blackout curtains, coffee makers, mini-bars, and contemporary bathrooms. In addition, there are balconies available in some of the rooms. Guests can also access the Executive Lounge, where complimentary breakfast is served each morning. Light snacks and drinks in the evenings during the week are provided to guests staying in Executive Rooms. 
In addition to restricted room service, the lobby features a bistro, a contemporary bar, a restaurant, and a coffee bar staffed by Starbucks. In addition to the heated indoor pool, there is also a business center and a fitness facility that is very well-lit and well-equipped. The hotel also provides a concierge desk, a front desk that is open around the clock, on-site parking that requires payment, and other spots for lounging around. 
Enjoy affordable and safe parking at the Doubletree by Hilton EWR Airport by booking a spot with us today. 
Motel 6 -Newark (EWR) Airport
The Motel 6 Elizabeth – Newark Liberty Intl Airport is a short distance from Newark Liberty International Airport. This Motel 6 has free airport shuttle service and free WiFi. Park and fly is an option here. All of the guestrooms have mini-fridges. No effort is spared to make guests feel at ease by delivering the greatest services and amenities available. Front desk services such as speedy check-in or check-out and luggage storage are available to meet your needs. Room service and other in-room amenities help you make the most of your stay. Smoking is permitted only in the hotel's designated smoking areas. 
All guestrooms are designed for comfort and have a variety of amenities to ensure a peaceful night's sleep. Some of the hotel's rooms have air conditioning for your convenience. Unique design features like a balcony/terrace are there in some Motel 6 Elizabeth – Newark Airport rooms. Some rooms have in-room entertainment options such as televisions and cable TV. The hotel is also close to the Staten Island Zoo, Jersey Gardens, and the Riverfront Stadium. 
Book parking at Motel 6 Newark Airport on Way.com to get the best EWR Airport parking rates.    
Hilton Newark Airport
Consider booking your stay at Hilton Newark Airport for a stress-free trip. This hotel, located just minutes from the airport, provides a free 24-hour shuttle service to and from the airport. There is also a private parking facility, although it is not free. In addition, you can visit the local train stations, such as North Elizabeth Station and Elizabeth Station, to conveniently explore the surrounding neighborhood. Both are less than a mile from the hotel. This property is also close to numerous regional highways, providing quick access to nearby attractions, including the heart of New York City.   
After a good night's sleep on the hotel's super fluffy bed, wash your face in the pristine private bathroom before making a cup of coffee using the coffee maker. Take your time sipping your coffee in the pleasant lounge room before heading down for breakfast, watching the city view via the window. A flat-screen TV, an air conditioner, and a wide work desk are all included in the accommodation. WiFi is available, but only for a fee.  
You can swim in the indoor pool during your free time. Fitness enthusiasts can also maintain their regimen in the on-site fitness center. Another significant on-site amenity is the business center, which is excellent for nearly any occasion. You can also stop by the gift shop to get souvenirs for your relatives. However, if you don't have enough cash, stop at the hotel's ATM beforehand. 
Holiday Inn Newark Airport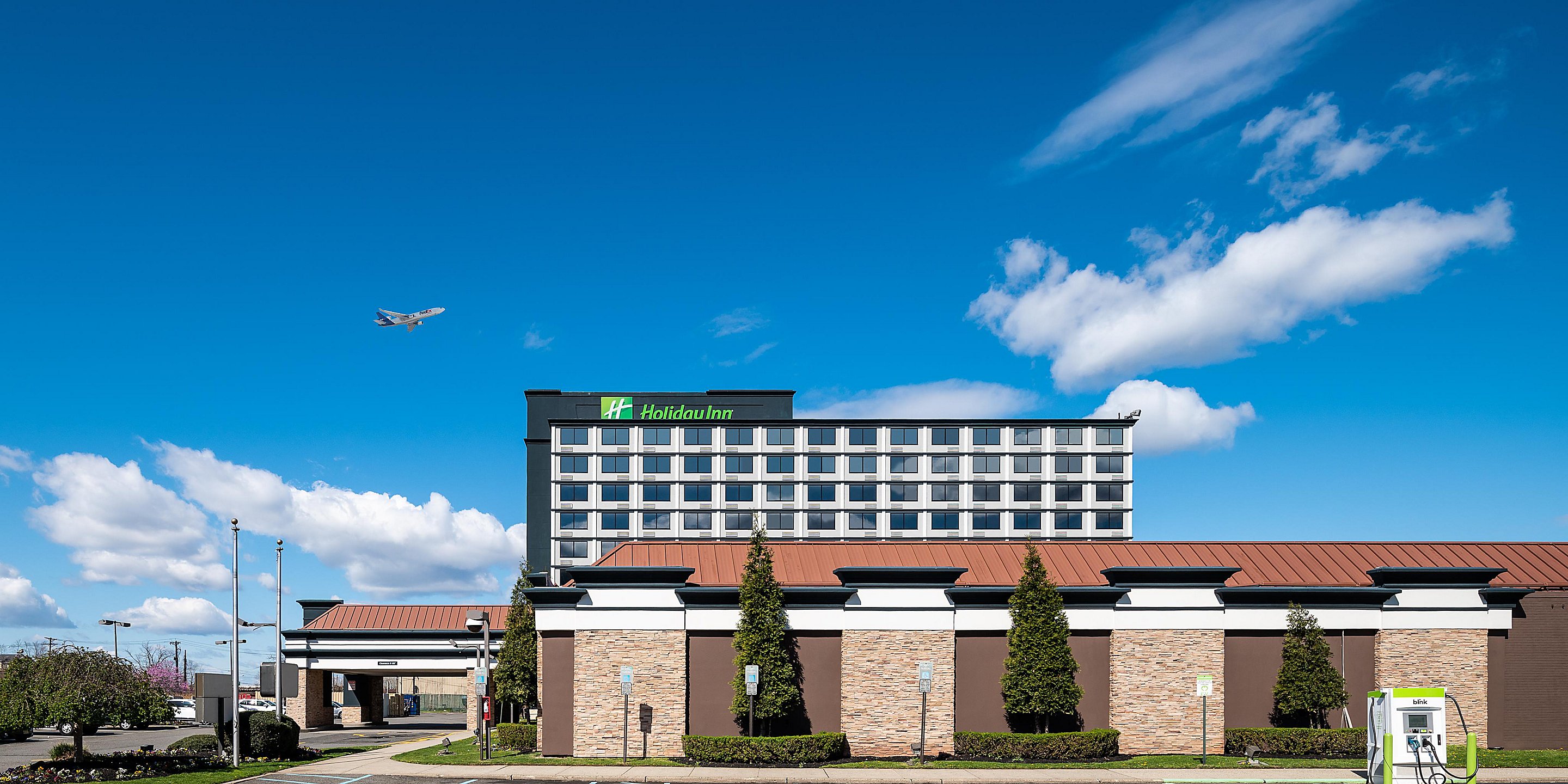 The Holiday Inn Newark Airport is directly across the highway from the airport's main entrance. The 24/7 free airport shuttle will drop you off at the hotel's front entrance. There's a flight information center in the lobby. Here you can prepare your boarding card and check the status of your next flight. With its modern decor and rooms, you'll be able to relax whether you're in the lobby, restaurant, or your room.  
Your room is adequately equipped for both relaxation and productivity. You can watch various premium cable channels while staying connected to the internet with free WiFi. Downstairs is a restaurant that even foodies will enjoy. 450 Bistro & Lounge serves delectable Italian, French, and American fare for breakfast, lunch, and dinner. If you're bringing your family, children under the age of 12, dine for free at any time of day! Holiday Inn Newark Airport has all you need for a nice stay, with so many conveniences and outstanding service. 
Fairfield Inn & Suites Newark Liberty International Airport
Fairfield Inn & Suites Newark Liberty International Airport is the best value for money for Newark Airport hotels with shuttle services. It's only a 4-minute drive from the airport and offers a complimentary airport shuttle 24 hours a day, seven days a week. There is parking available. However, it is not free. The nearest subway station is at the airport, providing convenient access to the city center and Manhattan, making it ideal for visitors looking to explore the city. 
Begin your lovely day with a continental breakfast of hot and cold foods in the on-site restaurant. Then, if you are one of those corporate guests, take advantage of the meeting rooms and amenities. Unlike some hotels near Newark Airport, this one has a swimming pool. When you have time, relax by taking a dip in the indoor pool or hot tub. You can also work out at the fitness facility with cardio equipment and free weights. 
This hotel's rooms provide complimentary WiFi, a flat-screen TV, and a work desk. While the bathroom isn't large, it's spotless and has complimentary toiletries. When you're running low on energy, the in-room coffee maker will come in handy. When you're hungry, take the sandwich you bought at the on-site convenience store out of the fridge and reheat it in the microwave. While the King Room has one King Bed, you may want to stay in the Queen Room if you need an extra bed. 
Hampton Inn Newark Airport
The Hampton Inn, like most of the best hotels near Newark Airport, provides a 24-hour complimentary airport shuttle. However, the free transportation to the airport and neighboring shops and restaurants sets it apart from the others. You'll be close to major sites, including Rosemount Memorial Park, Newark Symphony Hall, the Newark Museum, and other eateries and entertainment options. When it's time to sleep, you'll be glad you chose the Hampton Inn as you slip into one of their wonderfully comfortable beds.  
You won't have to throw away any leftover food from your day visiting Newark because your accommodation will have a microwave and a compact fridge. You can check your flight status using the complimentary WiFi and the business center. Don't worry if you're rushing out the door in the morning and don't have time to sit down for the complimentary delicious breakfast! They've got On the Run breakfast packs that allow you to have the most important meal of the day while on the run. Hampton Inn Newark Airport is a terrific place to stay in Newark because of its convenient location and considerate staff. 
SpringHill Suites By Marriott Newark International Airport
SpringHill Suites by Marriott Newark International Airport is ideal for travelers looking for hotels near Newark Airport that are convenient, comfortable, and fun. It's only a 3-minute drive from the airport and offers guests a complimentary airport shuttle. If you rent a car, you can park it in the parking lot for a fee. However, you don't need a car to enjoy the neighborhood. Top attractions such as Lincoln Park, Newark City Hall, and Independence Park are all easily accessible by foot.  
The public areas have a variety of essential amenities for both business and pleasure travelers. First and foremost, complimentary WiFi is available throughout the property. Then, guests can begin their morning by enjoying the restaurant's complimentary breakfast. You can also work out in the fitness center or float in the indoor swimming pool. Meanwhile, midnight snackers must visit the mini-market. There will be plenty of refreshments and beverages to keep them satisfied.   
This property's suites are all spacious and comfortable. Each has a comfortable bed, a flat-screen TV, and a safety deposit box. While here, channel your inner chef by preparing your favorite meal in the kitchenette. If you cannot cook, simply reheat your food in the microwave. A microwave, coffee maker, and work desk are all available in the room. 
Renaissance Newark Airport Hotel
The Renaissance is the best hotel near Newark Airport if you want to live like royals during your visit. They feature everything you need for a wonderful visit, including stylishly designed rooms, exquisite on-site cuisine, and first-rate amenities. Luxury will follow you to your room, where you will enjoy the modern design highlights. Rooms have luxurious bedding and sleek marble bathrooms. Some suites enjoy amazing views of the New York City skyline. Others have access to the club lounge, including complimentary hors d'oeuvres, desserts, and non-alcoholic beverages. If you want to explore the neighborhood, you've chosen the ideal airport hotel to stay in. That's because it's close to boat service to the Statue of Liberty and Ellis Island. 
You can explore the beauty of Jersey and the surrounding areas like a native with Renaissance's trademarked Navigator Program. The Navigator will make sure you know where all the local gems are and how to appreciate the area best. When you're ready for supper to remember, come to Ironbound, Renaissance's signature restaurant, for delectable Italian and Portuguese-inspired fare. They also have a complimentary airport shuttle for your convenience.
---
Here's more info on top-rated airport parking, the best parking spots in your city, affordable auto insurance, easy auto refinance, and high-quality car washes near you.
---