Whether you have a longish layover or a short business trip, staying at a hotel near Orlando airport may be the most convenient option. This will relieve the stress of needing to rush to make an early morning flight and save you oodles of money on rental cars. To help you choose, we've come up with a list of the 10 best hotels near Orlando Airport.  
Orlando is one of the world's most popular vacation spots. It's chockablock with amusement parks, attractions, restaurants, shopping, athletic events, and other activities.  
There is something for everyone in your family to enjoy when visiting Orlando. You can explore world-famous destinations like Disney World to local favorites like Gatorland.  
Millions of tourists to Orlando require a place to stay. Fortunately, there are several hotels and resorts to choose from. Even better – many of these hotels are pretty close to Orlando Airport.  
Best hotels near Orlando Airport
Best Hotels near Orlando Airport – Hyatt Regency Orlando International Airport Hotel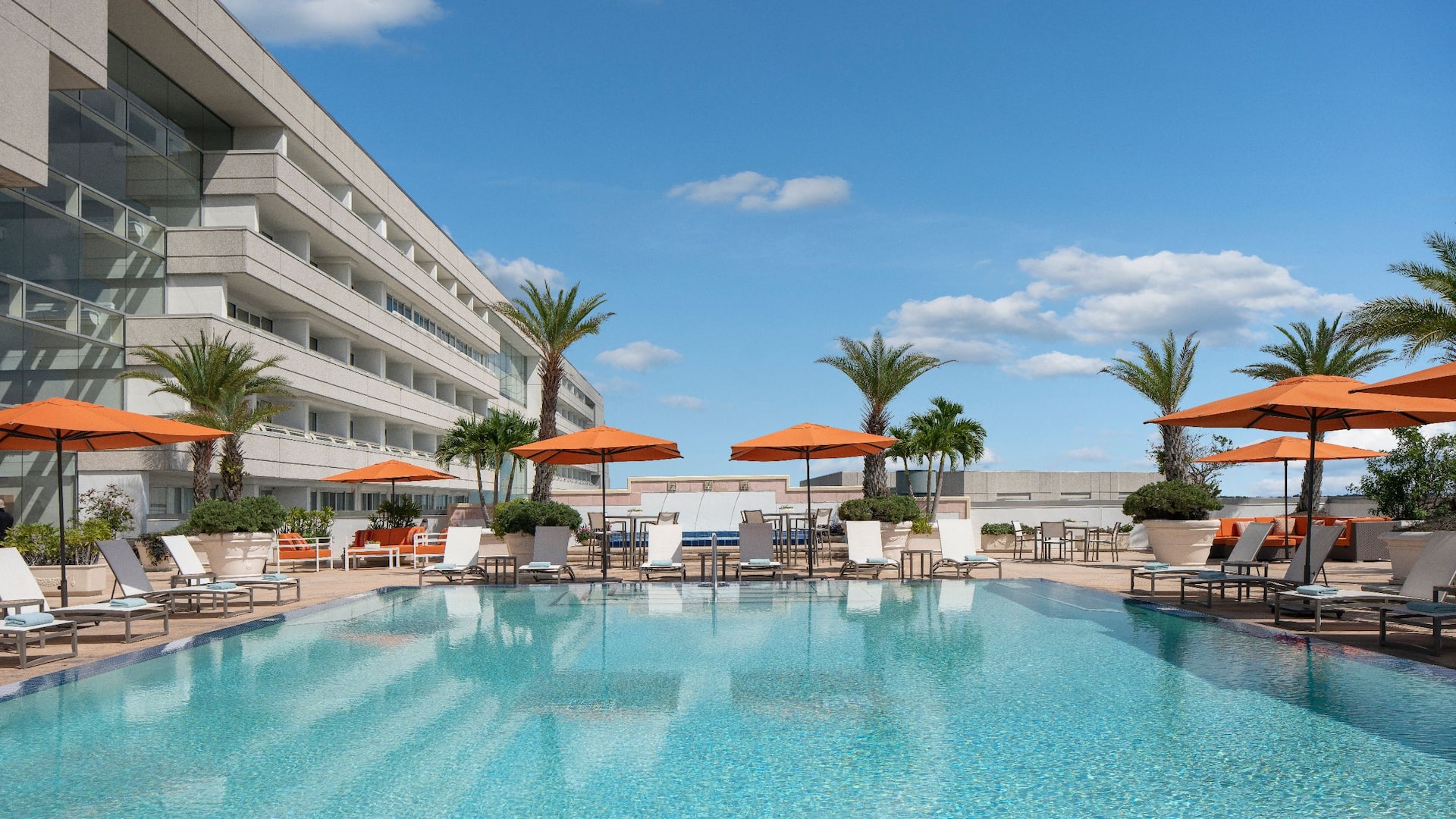 The Hyatt Regency Orlando International Airport Hotel provides unparalleled convenience. You'll have easy access to Orlando's most popular attractions as you are only a short ride away from the main terminal at Orlando Airport.  
This 445-room hotel offers a variety of accommodation types, such as suites, kings, Hyatt Business Plan rooms, and accessible rooms. While staying at the hotel, you'll also have access to their dazzling outdoor pool, sundeck, and gym. 
Dining at the Hyatt Regency is world-class, with a diverse menu of delights from throughout the world.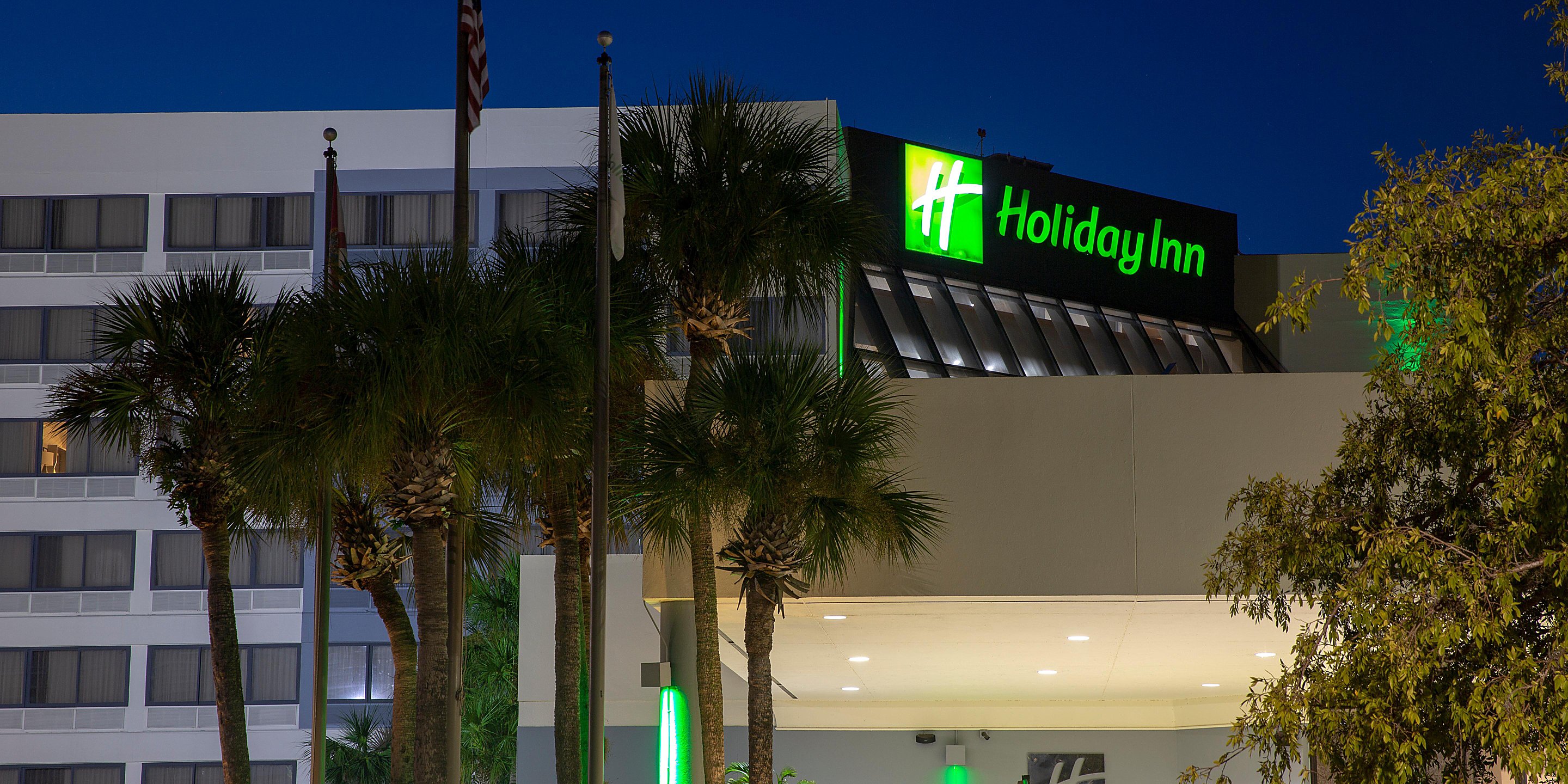 You can recharge quickly at Holiday Inn Express & Suites Orlando International Airport. Every room at the Holiday Inn Express is full of amenities that you and your family will appreciate.  
Every feature in this hotel, from free WiFi to black-out shades, makes your stay more comfy and pleasant. In addition, your children will enjoy the outdoor pool as you work out in the complimentary fitness facility.   
If you want to have the stamina to tackle one of Orlando's fantastic attractions every day, breakfast is the most important meal of the day. Fortunately, the Holiday Inn Express & Suites offers a complimentary breakfast buffet every day.   
Fill up bacon, omelets, pancakes, fruit, and other foods before heading to Disneyworld or SeaWorld. There is also plenty of complimentary coffee for your caffeine fix in the morning. 
You can book parking at the Holiday Inn Orlando via Way.com. You don't even need to reserve a room! 
The DoubleTree by Hilton Orlando Airport Hotel is less than five minutes from Orlando International Airport, so you'll be unwinding in no time. In addition, your family will enjoy quick and simple access to the city's most popular attractions and downtown Orlando.  
A 24-hour airport shuttle, fitness center, and outdoor pool are among the hotel's highlights. The Doubletree Hotel has 348 rooms with luxury suites, king beds, and queen beds.  
Do you need a cup of coffee in the morning before a long day at Disneyworld? For you and your family, Made Market Cafe serves Starbucks coffee and a variety of grab-and-go meals and snacks. Landings Bistro and Lounge also offers fine dining options.  
Enjoy affordable and safe parking at the DoubleTree by Hilton Orlando Airport Hotel by booking a spot with us today. 
The Embassy Suites hotel is less than 3 miles from Orlando International Airport. It offers two-room suites as well as several complimentary amenities. They also provide a 24-hour airport shuttle to and from the airport.  
You won't be bored while waiting for your next flight because the hotel has an outdoor heated pool, whirlpool spa, and fitness center.  
Embassy Suites is also just a short drive away from Universal Orlando Resort, SeaWorld Orlando, and Walt Disney World Resort. 
Furthermore, Embassy Suites is near the busy International Drive, allowing you to indulge in some shopping, dining, and entertainment quickly. 
The Renaissance Orlando Airport Hotel offers beautiful, modern lodgings with first-class guest rooms and the finest facilities you expect. This full-service hotel is conveniently located minutes from Orlando International Airport and Lake Nona Medical City.  
The hotel offers a complimentary airport shuttle from 4:00 a.m. to 1:00 a.m. and easy access to all of Orlando's main expressways.  
Discover your personal hideaway at their enormous outdoor pool, with extra-sized cabanas and a massive whirlpool. The delectable food at Fresco, the on-site restaurant, is in a class of its own. Relax with drinks in Malabar's classy environment, ideal for socializing.  
They offer free WiFi in the lobby, a large fitness facility, an on-site Navigator, and Concierge service. 
Book Renaissance Hotel Orlando (MCO) Airport parking to get the best Miami Airport parking rates. 
Best Hotels near Orlando Airport –
SpringHill Suites by Marriott Orlando Airport
SpringHill Suites allows travelers to stay close to the airport while visiting the Walt Disney World amusement parks. The hotel offers convenient access to Orlando's theme parks and a bevy of facilities. This includes a daily breakfast buffet, free airport shuttle service, a 24-hour fitness facility, and on-site parking.  
The SpringHill Suites are also close to Orlando Vineland Premium Outlets, Disney Springs, and ESPN Wide World of Sports Complex. Their dining options include Starbucks coffee and a complimentary breakfast buffet to get your day started and lunch and supper alternatives.  
Best Hotels near Orlando Airport –
Courtyard by Marriott Orlando Airport
The Courtyard by Marriott Orlando Airport is designed to accommodate longer stays. They know that families visiting Orlando have long and exhausting days. Fortunately, the Courtyard rooms are provided with comfy mattresses and quality bedding, making it easy to relax and sleep.  
While staying at Courtyard Orlando-Airport, you'll be in and ready to explore Orlando in no time after catching a complimentary airport shuttle. Camping World Stadium and Medical City are two nearby attractions. The Disney theme parks are also nearby and easy to get to.  
This 149-room hotel welcomes pets and offers a range of suite-sized accommodations for you and your family. During your visit, you can use the 24-hour fitness facility, outdoor pool, and complimentary WiFi. Starbucks and The Bistro offer on-site eating, including breakfast, supper, and beverages. Of course, there are several food alternatives within a few minutes of the hotel. 
Best Hotels near Orlando Airport –
Wingate by Wyndham Orlando International Airport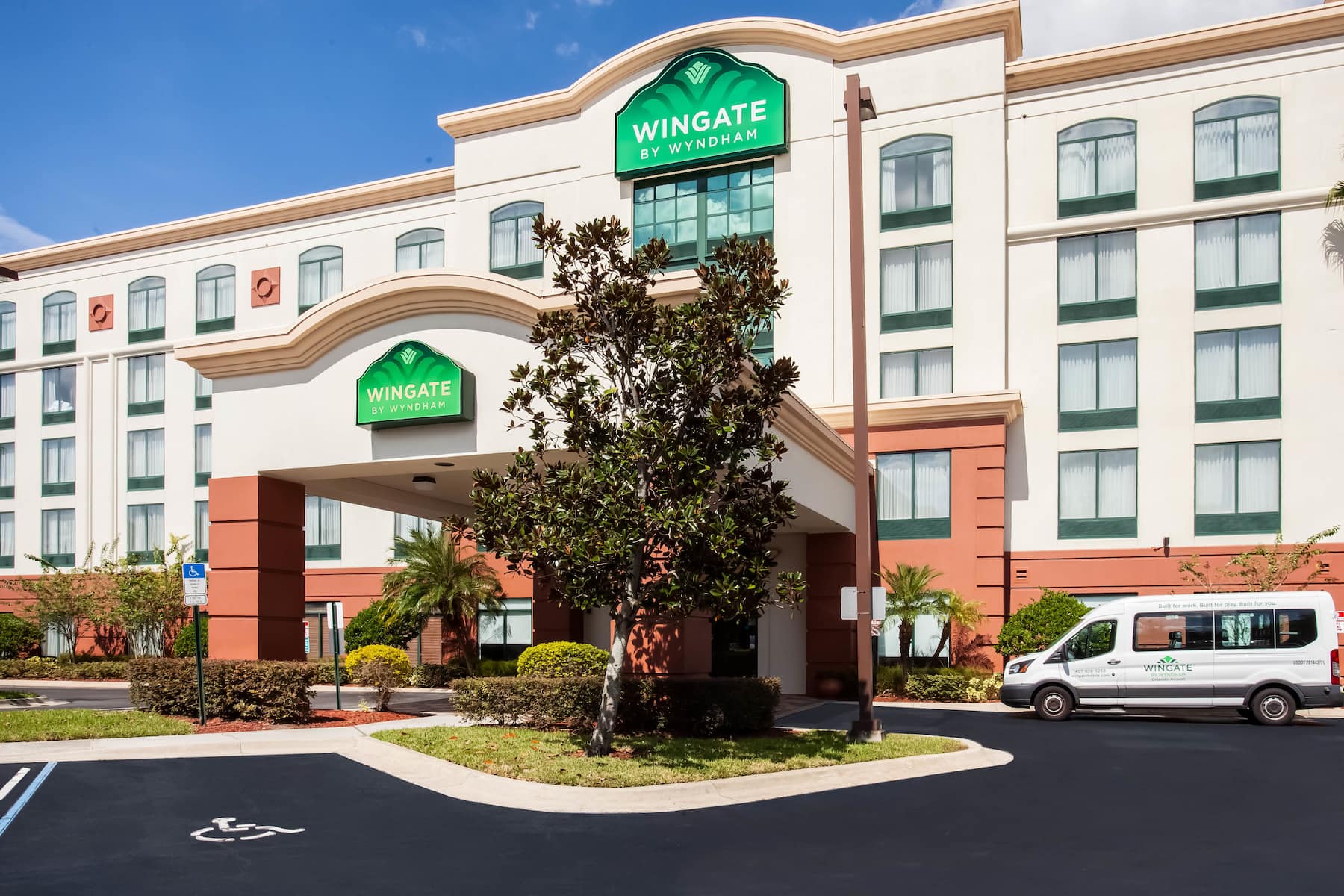 Wingate by Wyndham is ideal for families, couples, and business visitors. All 104 rooms give visitors a pleasant and restful stay.  
Guests may enjoy complimentary spa-inspired personal care packages, a fitness center, an outdoor pool, and an indoor hot tub.  
Every day, guests may enjoy a complimentary full American breakfast. A filling meal is an excellent way to fuel up for a long day at Disney or another Orlando destination.  
Wingate guests have access to the I-Ride Trolley, taking them anywhere on International Drive. Take the trolley to approximately 500 outlet stores or over 150 neighborhood eateries. 
Best Hotels near Orlando Airport –
Homewood Suites by Hilton Orlando Airport
For business travelers visiting Orlando, Homewood Suites is an excellent choice. The hotel offers a wide range of guest rooms.  
In addition to laundry facilities and convenience stores, there is an on-site business center that is great for meetings and parties.  
Active tourists looking to get their hearts racing will appreciate the hotel's well-equipped fitness facility, while sightseers will take advantage of the ability to head outdoors and visit Orlando's theme parks. Homewood Suites is about 16 miles from Walt Disney World Resort and Universal Orlando Resort. 
The hotel provides a free airport shuttle to and from Orlando airport.
Best Hotels near Orlando Airport –

Fairfield Inn Orlando Airport
The Fairfield Inn Orlando Airport makes it easy to get around Orlando. While staying at Fairfield Inn, you will have easy access to the most popular sights, golf, restaurants, and shopping. Crayola Experience, Lee Vista Promenade, and Serendipity Day Spa are nearby attractions.  
Every accommodation in this 139-room family-friendly hotel has amenities that will make you feel at ease. Microwaves in every room, an outdoor pool, a workout center, a hot tub, and free WiFi are among the nicest features.  
The Fairfield Inn Orlando Airport is close to several restaurants, stores, and movie theaters. And, of course, you may always start your day with a full breakfast of staples, including eggs, sausage, oatmeal, and fruit. 
---
Here's more info on top-rated airport parking, the best parking spots in your city, affordable auto insurance, easy auto refinance, and high-quality car washes near you.
---