There are several hotels near Phoenix Airport, ranging from no-frills budget accommodation to stylish resorts with all the bells and whistles. Most of these hotels also provide free airport shuttles to and from Phoenix Sky Harbor Airport. To help make your decision easier, here is our list of the 10 best hotels near Phoenix Airport.  
Phoenix is on most people's list of places to visit. There's no place better to explore the desert and valley area. Arizona's capital and the most populous city is home to various leisure activities, world-class shopping complexes, exciting nightlife, and one-of-a-kind restaurants. There are several activities available to create wonderful experiences and memories here. There are also several cafes, brewpubs, cocktail bars, and brunch locations downtown.  
We strongly recommend staying in a good hotel near Phoenix Sky Harbor Airport. Why? Because the airport is only minutes from downtown. Stay near the airport, and you can get a good night's rest without worrying about a long commute or potentially heavy traffic. Have fun organizing your trip to Phoenix with the help of our airport hotel list.  
Best Hotels near Sky Harbor Airport
The Hyatt Place Tempe/Phoenix Airport rooms feature separate living areas with pull-out sofas, free WiFi, flat-screen TVs, coffeemakers, and mini-fridges. The hotel also provides a free airport shuttle service and free parking for guests. The property also features a heated outdoor pool, and a fitness room open around the clock.
When it comes to dining, there is a market café that is open around the clock, as well as a coffee and cocktail bar. A breakfast buffet with hot and cold foods, such as eggs, sausage, cereal, yogurt, fruit, and bread, is also provided as part of the amenities.
You can book cheap Sky Harbor Airport parking at Hyatt Place Tempe via Way.com!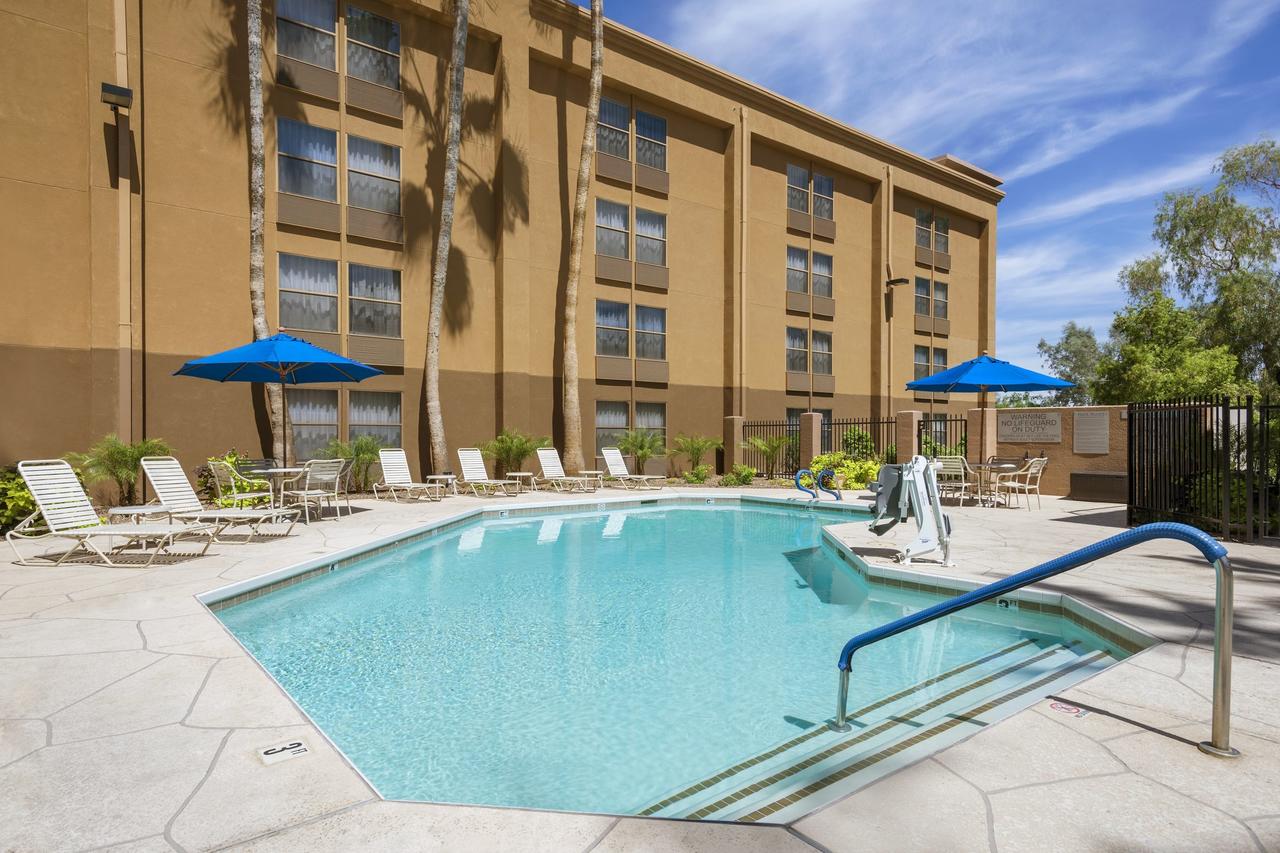 GreenTree Inn Phoenix Sky Harbor is only five minutes from the airport. It provides a free 24-hour shuttle service and onsite parking with Park & Fly packages. In addition, it is close to downtown Tempe, ASU, and the Mill Avenue shopping and dining district.
A business center, exercise facility, and outdoor lounging area with a fire pit are available to guests. Additionally, there is a pool, laundry facilities, in-room meal delivery, and the GreenTree Market. Every room includes complimentary WiFi, a 37-inch flat-screen TV, a mini-fridge, and a microwave. On weekdays, guests may also have a complimentary cooked breakfast or an On the Run Breakfast Bag.
Get the best prices on parking at GreenTree Inn and Suites PHX Airport when you book with Way.com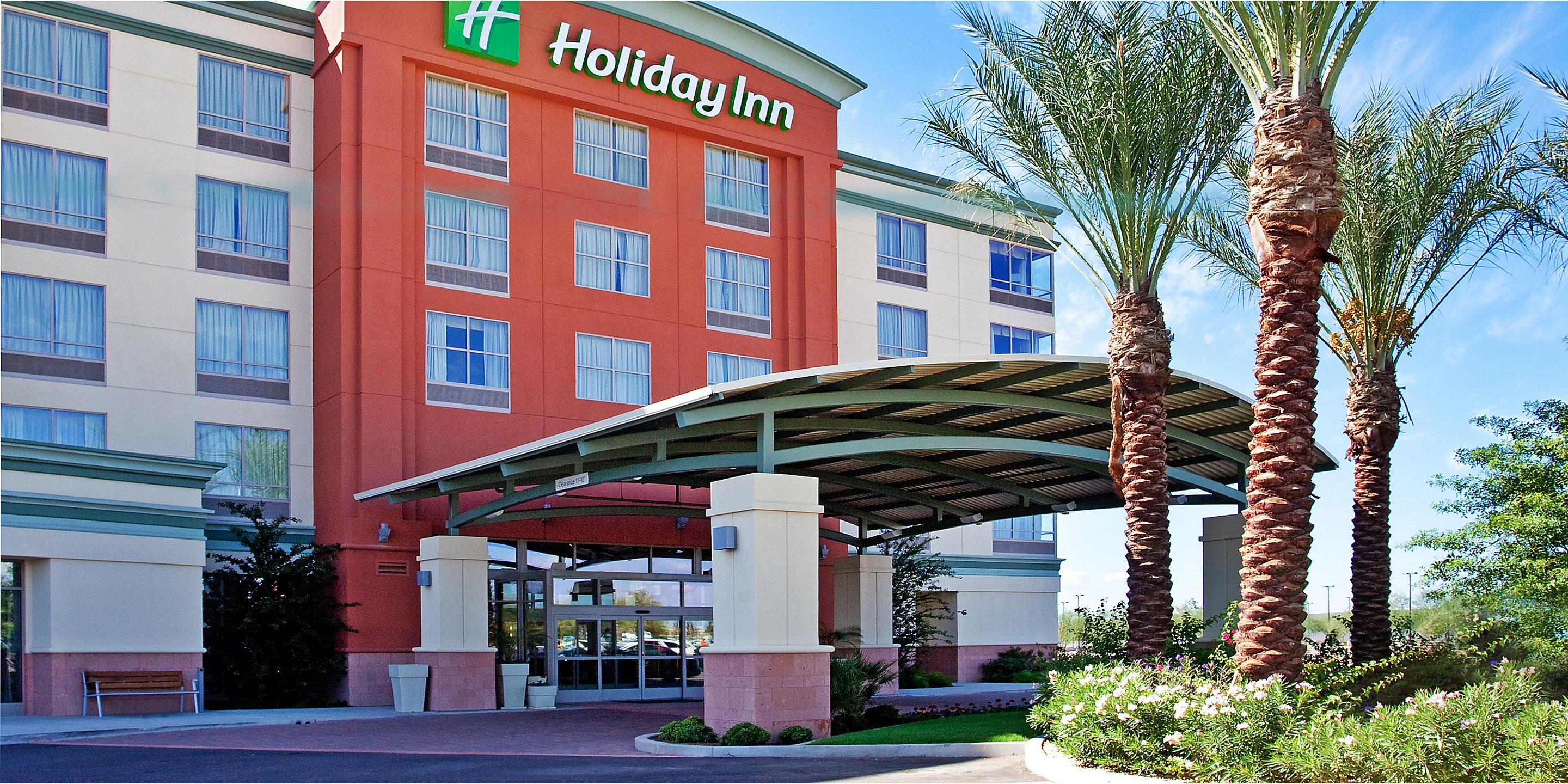 The Holiday Inn & Suites Phoenix Airport, located minutes from PHX airport, provides a free 24-hour airport shuttle and a comprehensive list of additional services to visitors. It has an outdoor pool and spa, a fitness facility, a business center, and a full-service American/French café with a lounge bar.
A free shuttle service runs between the neighboring Metro Light Rail Station and Mill Avenue between midday and late. Work desks with ergonomic seats, coffeemakers, mini-fridges, microwaves, flat-screen TVs, and WiFi are standard in all rooms. For a separate living room with a pull-out sofa, book a suite.
Visit the Burger Theory while you're here. It provides gourmet burgers and artisan beers that are more than two thumbs up. If you're thirsty, stop by the 44th Street Bistro and Lounge and get a beverage. Then, spend time relaxing in the heated outdoor pool and hot tub.
You can book parking at the Holiday Inn and Suites Phoenix (PHX) Airport via Way.com. You don't even need to reserve a room!
Source: https://www.hilton.com/
When it comes to having a hassle-free stay, Hilton Garden Inn Phoenix Airport North is a perfect choice. This hotel's ideal location allows you to enjoy the finest of Phoenix. This hotel is only a few minutes from the airport, and the free 24-hour shuttle service will take you anywhere within a three-mile radius, including the airport. Aside from that, you may stroll to the rail station, which is only a 6-minute walk away. If you come by vehicle, Downtown Phoenix and its attractions are only a 4-minute drive away, and you can park for free at the hotel.
This hotel's allergy-friendly rooms and suites are well equipped with complimentary WiFi and flat-screen TVs. Each room also has a coffee maker, mini-fridge, and microwave, which will come in handy for people who wish to prepare a quick dinner. The bed is quite comfortable, and we adore its size. If you want a place with a lot of space, you should stay in the suite. It has a separate living space with a pull-out sofa, making it ideal for a small party.
When you wake up, wash your face in the pristine private bathroom before heading to the onsite American restaurant for breakfast. Then, swing into the Pavilion Pantry, which is open 24 hours a day. After a filling lunch, don't forget to work out in the fitness center or swim a few laps in the heated outdoor pool. Meanwhile, business travelers may stay productive by using the 24-hour business center, which allows safe, remote printing from your accommodation.
You can book affordable Sky Harbor Airport parking at Hilton Garden Inn PHX Airport if you book via the Way.com site or app.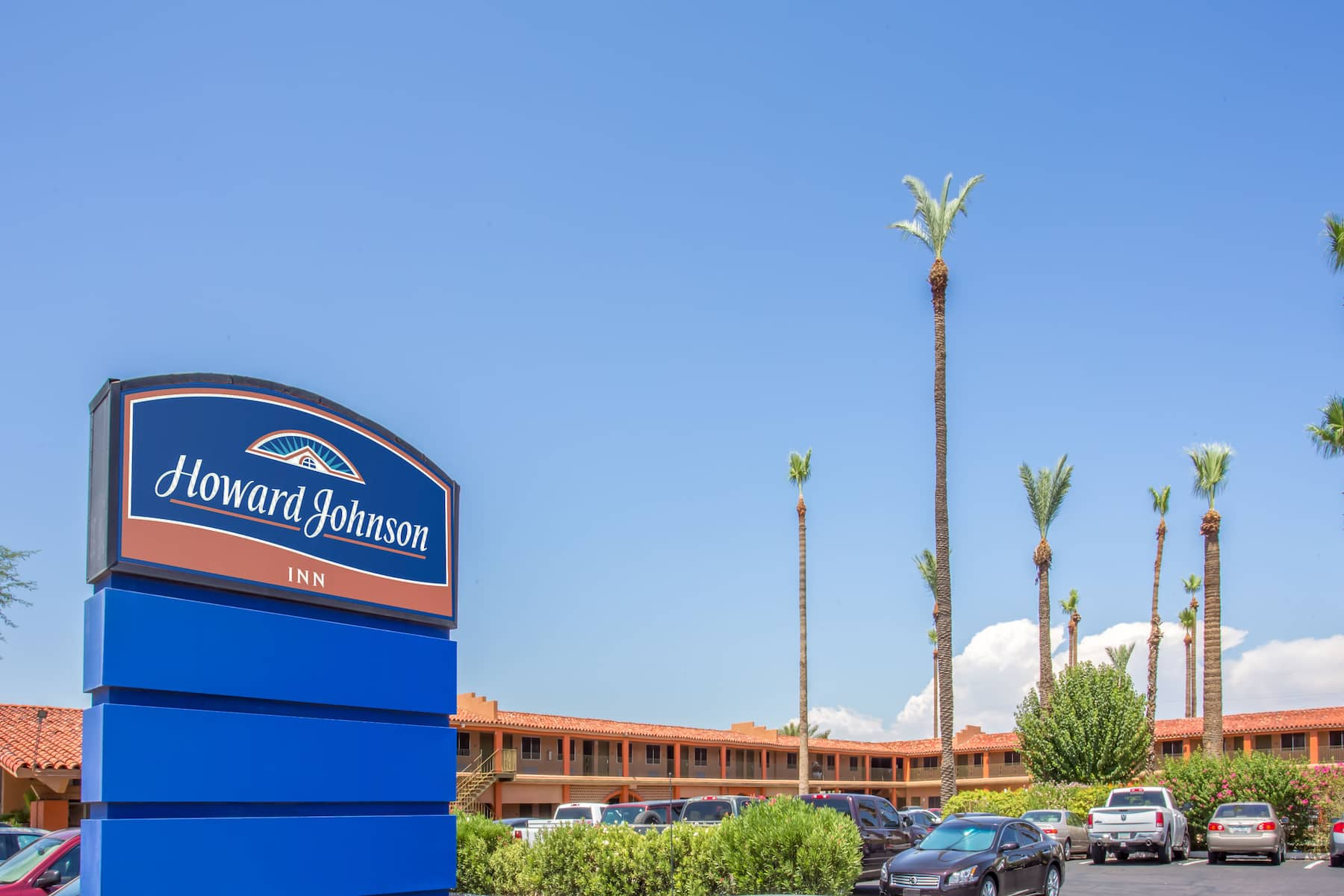 The Howard Johnson by Wyndham Phoenix Airport hotel is in an ideal location. It is close to businesses, downtown Phoenix, and the convention center. On top of that, Phoenix Sky Harbor International Airport is about two miles away (PHX). This motel offers inexpensive lodging and luxuries such as free continental breakfast and is within walking distance of Gateway Community College.
Here, you may start the day off well with a complimentary small breakfast item and your choice of coffee, tea, or juice. With their free WiFi, you may watch your favorite shows from the comfort of your guest room. For extra convenience, each guest room has a refrigerator and microwave. You may also cool down by swimming in our outdoor pool. Rolling Hills Golf Course, an 18-hole course less than three miles away, is open for play. The Phoenix Zoo is also nearby, as are the Phoenix Convention Center, Talking Stick Arena, and Chase Field.
Enjoy affordable and safe parking at the Howard Johnson Inn Phoenix Sky Harbor by booking a spot with us today.
The Sleep Inn Phoenix Airport hotel is smoke-free, pet-friendly, and conveniently located near Arizona State University and the airport. In addition, the hotel offers guests Grab & Go breakfast each morning.
The hotel's location on the Salt River allows you to experience Phoenix's natural and cultural attractions easily. Sleep Inn is surrounded by golf courses, parks, shopping malls, and other amenities. Your vacation may include a day excursion to Papago Park to view the Desert Botanical Garden and the Phoenix Zoo with its 125 acres of animals, or it could be a day of shopping at the Tempe Marketplace.
When you return, you'll be able to unwind and destress. Whether you've been enjoying the desert or Tempe Town Lake, or whether you've been attending business meetings, our helpful staff will direct you to our outdoor pool and hot tub.
Book parking at Sleep Inn & Suites PHX Airport with Way.com to snag the most affordable Sky Harbor parking spots.
Best Hotels near Phoenix Airport – Residence Inn Phoenix Airport
The Residence Inn Phoenix Airport is near Sky Harbor International Airport, making it a popular choice for business travelers and individuals searching for an extended stay hotel or who simply want to experience the comforts of home away from home. Each room has a kitchenette with a burner, microwave, dishwasher, and refrigerator.
There is also a flat-screen TV with premium cable channels and complimentary WiFi. A complimentary hot breakfast buffet is served every day, and there is an evening social hour Monday through Wednesday. In addition to the complimentary airport shuttle, you may take the Valley Metro Light Rail to downtown Phoenix or Tempe for shopping, restaurants, and entertainment.
The Radisson Hotel Phoenix Airport is conveniently located in the heart of Phoenix, making it an ideal choice for travelers here for either business or pleasure. The Chinese Cultural Center and the Pueblo Grande Museum are two of the most popular destinations in the area, and they are both easily accessible from the hotel. This three-star hotel provides a variety of convenient amenities, including express check-in and check-out, a 24/7 front desk, access to wireless internet, and parking.
Additionally, it provides complimentary airport transportation services for visitors who request them. There is a fitness center, an outdoor pool, a hot tub, a bar, a restaurant, and amenities for visitors who are disabled, all located on the premises. Wake-up service, cable television, and an iPod docking station are in each room, plus air conditioning.
Aloft Phoenix Airport is a bright, welcoming, and stylish hotel. Several chain hotels serve Phoenix Sky Harbor Airport, but this boutique property stands apart from the crowd. The major plus here is that you can reach the airport in only 5 minutes by utilizing the hotel's free airport shuttle. It's also just a short drive away from tourist attractions such as the Phoenix Convention Center, Arizona State University, and Phoenix Zoo.
They offer free WiFi access throughout the property. When you have some free time, visit the WXYZ Bar for a drink, live music, or billiards. You'll also be able to locate a 24-hour convenience shop, which covers all your daily vital needs. For a spot of exercise, feel free to work out in the 24-hour gym or swim in the outdoor swimming pool. Combined with business traveler-friendly facilities, this hotel is a fantastic choice for work or recreation.
Best Hotels near Phoenix Airport – DoubleTree Suites by Hilton Phoenix
The Metro Light Rail System is only a block away from the DoubleTree Suites by Hilton Hotel Phoenix. This makes it simple to access downtown Phoenix and its lengthy list of fascinating things to do. The hotel also provides a free shuttle service to and from Phoenix Sky Harbor International Airport. The hotel features resort-style amenities such as a fully-equipped fitness center, an outdoor pool, and a restaurant for its guests to enjoy, in addition to its accessible location.
The American Grill at The Belvedere provides guests with a complimentary breakfast buffet and a selection of contemporary American meals available throughout the day. The guest rooms are very roomy and offer separate living spaces and bedrooms and seating areas with couch beds.
Relevant Searches
---
Here's more info on top-rated airport parking, the best parking spots in your city, affordable auto insurance, easy auto refinance, and high-quality car washes near you.
---