Make your next trip to the Golden City super convenient by staying in one of these hotels near San Francisco airport. Our list of 10 best hotels near SFO is ideal for travelers who want a quick drive to the airport without compromising on the quality of the lodgings.  
San Francisco International Airport is one of the busiest airports in the world. It's no wonder, then that airport hotels compete for the 50+ million people that travel in and out of SFO. Because of this, it might be difficult to cut through the clutter and discover the ideal San Francisco airport hotel for you. 
Even though San Francisco airport is only a few minutes south of the city, it's a good idea to spend the night here if you have an early morning flight. What's more, it's also usually a less expensive option than staying in the city. In addition, some hotels near SFO offer free parking and shuttle rides to the airport. You couldn't get more convenient than that!   
 Best Hotels Near SFO
If you're thinking of staying at an SFO Airport hotel, you can relax. You don't picture a run-down, seedy motel where jets roar through the walls and the bedsheets will be scary under blacklight. San Francisco boasts plenty of hotels, most of which are within a five-minute drive of the international terminal. These hotels also have many of the same amenities as a city hotel. We've included a mix of high-end and budget stays suitable for all kinds of travelers to San Francisco.  
Grand Hyatt at San Francisco Airport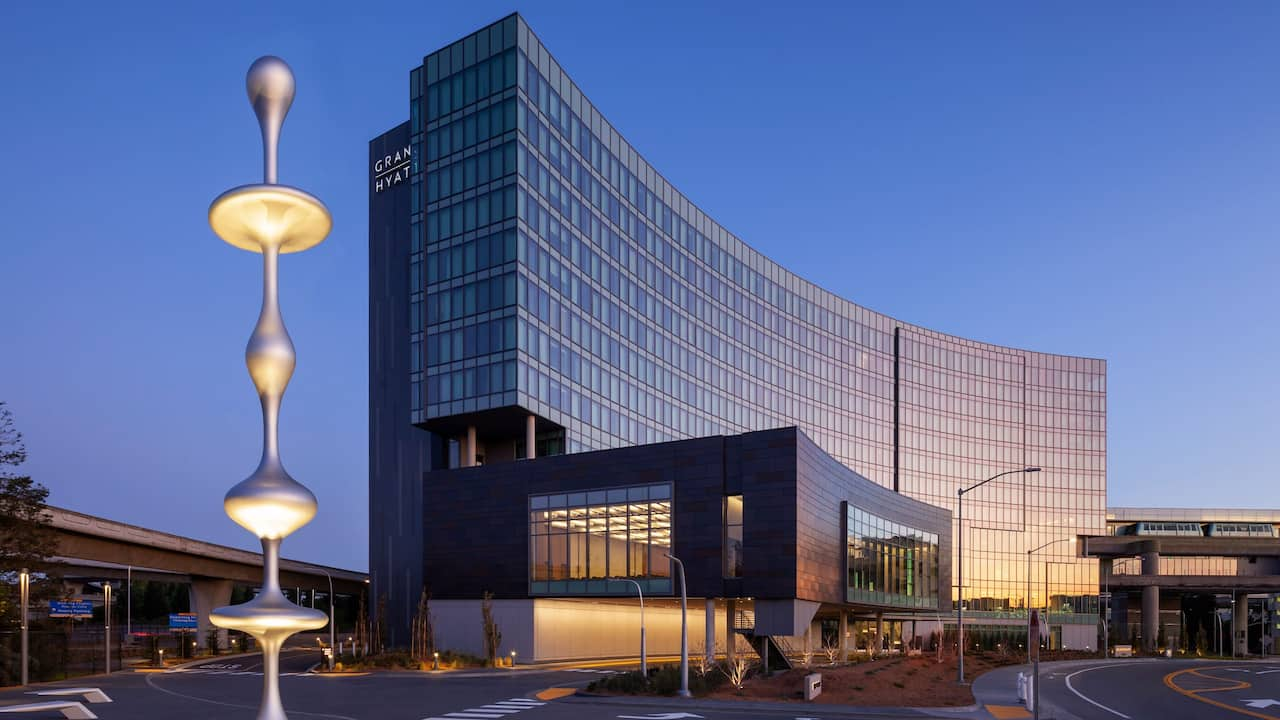 The Grand Hyatt is a short walk from all terminals and is near SFO's main entrance. With an onsite bar, fitness facility, and fantastic rooms facing the airport grounds, booking a trip to San Francisco is incredibly straightforward and quick here. Watching planes take off and land is quite a surprisingly pleasant way to fall asleep. Even more so when you know that all you have to do in the morning is take the elevator downstairs to security. 
The hotel restaurant provides food till late at night. You can also arrange for early-morning breakfast delivery to your room. In addition, the concierge can hook you up with services at the airport or downtown San Francisco, which is a 15-to-20-minute Uber journey or less than 30 minutes on the BART rail. You may also utilize your World of Hyatt reward points here. 
Embassy Suites by Hilton San Francisco Airport
This hotel boasts a lovely Mediterranean design and has 340 rooms. Embassy Suites opened in 1986 and had a renovation in 1996. The hotel provides its guests with plenty of amenities. There's an indoor pool, a sauna, a fitness center, a whirlpool, and a wet bar. Rooms have a microwave and a refrigerator. The hotel also has a restaurant on the premises and daily breakfast.
Located on San Francisco Bay, the hotel is only 17 miles from downtown San Francisco and the Moscone Convention Center. It is also only just two miles from San Francisco International Airport. Even if getting to San Francisco is your trip's major purpose, we recommend you stop by the town of Burlingame. That's because it has a lot of interesting things to see. After a hectic day of hiking up and down the hills of San Francisco, there is nothing more calming than taking a leisurely stroll around the picturesque streets of Burlingame.
Enjoy affordable and safe parking at the Embassy Suites by Hilton San Francisco Airport by booking a spot with us today.
Hampton Inn San Francisco Airport
Hampton Inn is quite close to the breathtakingly beautiful San Francisco Bay. This means it's ideal for hikes, including the picturesque Coyote Point, which is just one mile away. This is not the only feature that sets the Hampton Inn and Suites apart from other airport hotels, though. Guests who prefer to roll out of bed and immediately engage in activities like bird viewing, kayaking, or other forms of quick outdoor exercise may find this hotel a wonderful option.  
In addition, it provides all of the complimentary amenities you'll expect. These include breakfasts and transportation to and from the airport, without charging extra for them. Travelers who want their hotel rooms to have a more personal feel can consider staying at the Hampton Inn and Suites in Burlingame due to the usual size difference between Hampton Inn and its bigger, more corporate competitors. Finally, people interested in traveling around the Peninsula and wanting to be close to the airport will find that staying at the Hampton Inn is an excellent option. 
Book parking at the Hampton Inn San Francisco Airport to snag the most affordable SFO Airport parking spots.
Ramada by Wyndham San Bruno SFO Airport
The Ramada San Francisco Airport is one of a kind among airport hotels and has well earned that distinction. It's almost as if the brand was designed just for travelers who love convenience. Quick and easy meals and room service is the norm for tourists who are only passing through.  
Also included is fast WiFi. And an in-room experience that is both familiar enough to be accessible and sophisticated enough to help you feel a little bit better about that 6:30 a.m. trip in the morning, which is both clean and pleasant. The South San Francisco Convention Center is a short distance from the Ramada San Francisco airport hotel. But, more importantly, the hotel is about 1.5 miles from SFO. 
Book parking at the Ramada by Wyndham San Bruno SFO Airport on Way.com to get the best San Franciso Airport parking rates.
La Quinta Inn & Suites by Wyndham SFO Airport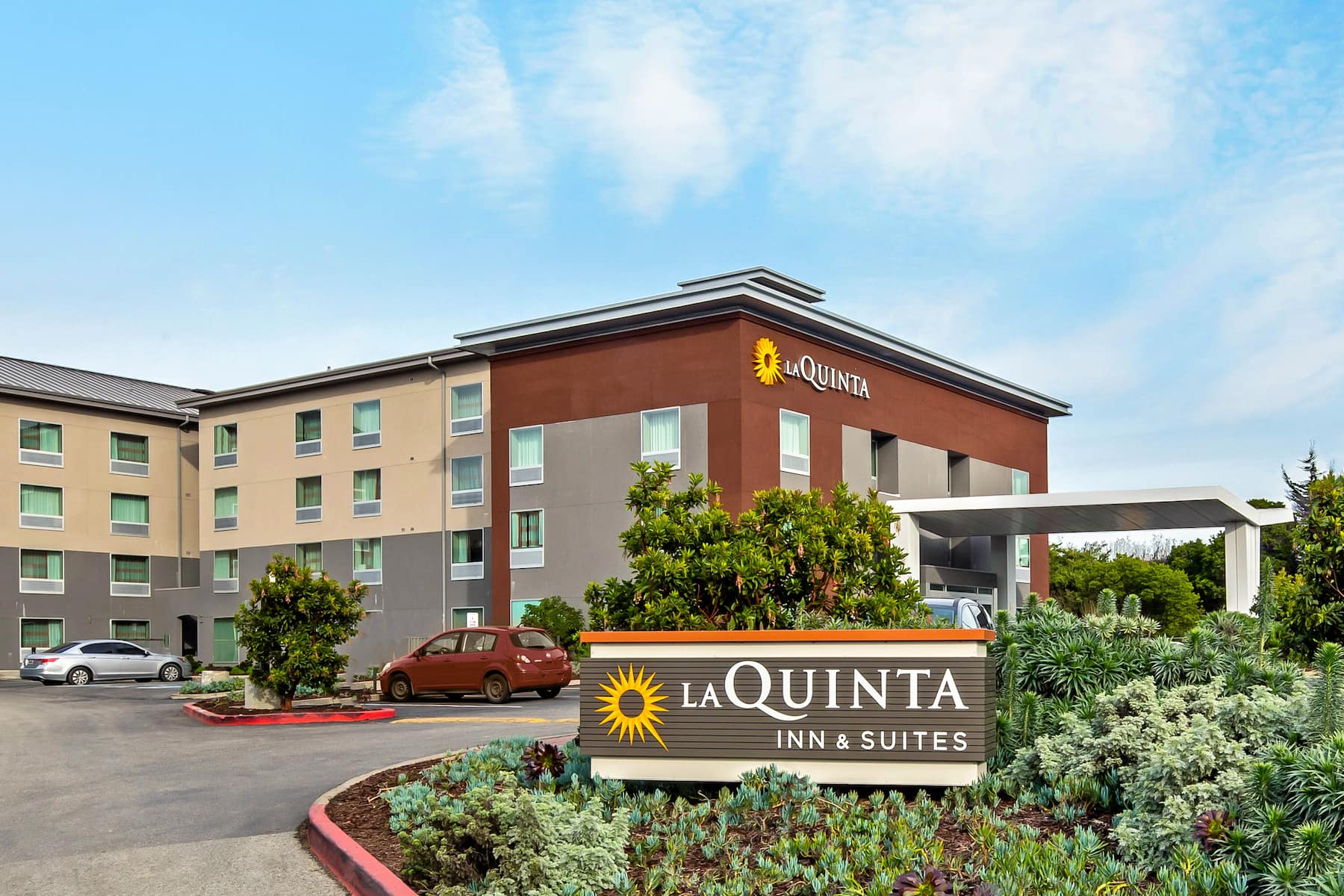 The fact that this hotel is called La Quinta San Francisco Airport West hotel is kind of ironic. It gets its name from the direction "west." That's because you would be sleeping in the San Francisco Bay if you were in a location east of the airport! The airport terminal exits towards the hotel, so getting to the hotel from the baggage claim area is a simple matter of taking a shuttle. While here, take advantage of the huge outdoor pool and lounge area that the hotel has to offer onsite.  
This is the perfect location to unwind before embarking on a long day of travel or after returning from one. This hotel allows guests to bring their pets. It also provides free WiFi. In the morning, tuck into a substantial continental breakfast (the kind where you'll have to fight the urge to sneak a few items out of the room and carry them past security). The rooms are comfortable and, despite their basic nature, are spotless and free from noise. 
Get the best prices on parking at La Quinta Inn & Suites by Wyndham SFO Airport when you book with Way.com
Home2 Suites by Hilton SFO Airport
Home2 Suites by Hilton San Francisco Airport North, located just off US-101 in the cradle of biotechnology, offers a pleasant stay for your business or leisure trip. You can walk to the Genentech campus or ride our free shuttle to and from San Francisco International Airport (SFO), about two miles away. Our hotel is also accessible to dining and shopping in South San Francisco and BART and Caltrain stations.  
Rest easy in modern, spacious suites, including a sitting room, an in-suite kitchen, and complimentary WiFi. Meal preparation is simplified by a full-size refrigerator, dishwasher, and dishes. Fuel your day with complimentary breakfast staples, including fresh fruit, oatmeal, eggs, cereal, and more, as well as 24-hour hot coffee and tea. Business travelers will like the large conference room and business services section.  
You can book cheap SFO parking at Home2 Suites by Hilton SFO Airport via Way.com! 
Homewood Suites SFO Airport
Feel at ease in this extended-stay hotel in San Francisco. From the Homewood Suites by Hilton San Francisco Airport-North hotel, one of the most comfortable extended stay hotels near SFO, take in the splendor of a San Francisco Bay sunset. The o San Francisco International Airport is only five miles away. Local attractions such as Chinatown, Alcatraz, Fisherman's Wharf, Golden Gate Park, Muir Woods, and the San Francisco Zoo are all within walking distance. At Oracle Park, you can watch the San Francisco Giants play baseball.  
Relax in one of their studios. Or book a one-or two-bedroom suite with a separate bedroom and sitting space, a sofa bed, and TVs with premium cable channels. In the fully equipped kitchen, you can fix a meal. Relax in our heated indoor pool or get some exercise in our fitness facility. With free WiFi access, you can stay connected. Plan a commercial or social event in the meeting room and use the business center's services. Wake up each day to a complimentary hot full breakfast, and unwind at the end of the day with our evening supper and beverages, which are offered Monday through Thursday.   
Looking for SFO parking at Homewood Suites SFO Airport? Book now to get the lowest rates. 
Red Roof Inn San Francisco Airport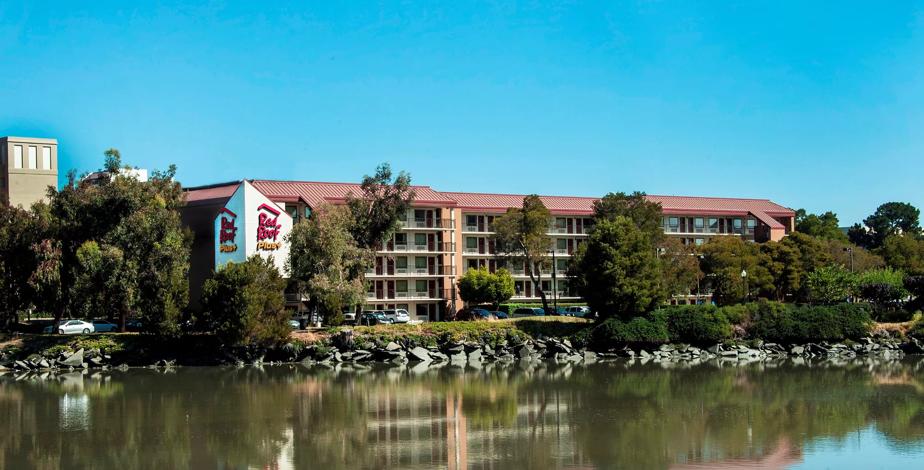 Make Red Roof PLUS+ San Francisco Airport your home away from home while looking for comfortable and convenient lodgings in San Francisco (CA). A stay at Red Roof San Francisco Airport provides convenient access to the vibrant city and its attractions. 
At Red Roof PLUS+ San Francisco Airport, you'll find an abundance of exceptional services and amenities. Stay connected with complimentary internet access throughout your stay. In addition, thanks to Red's laundry service, you can wear your favorite ensembles again and again. 
All the essentials you need for a good night's sleep are provided in the guestrooms. Some hotel rooms have linen service, blackout curtains, and air conditioning to make your stay more comfortable. Cable television is available in some rooms to keep guests engaged. Some rooms also have a refrigerator, bottled water, a coffee or tea maker, instant coffee, and instant tea. 
If you want to park at Red Roof Inn San Francisco Airport, book your spot right away. 
Hotel 1550 SFO Airport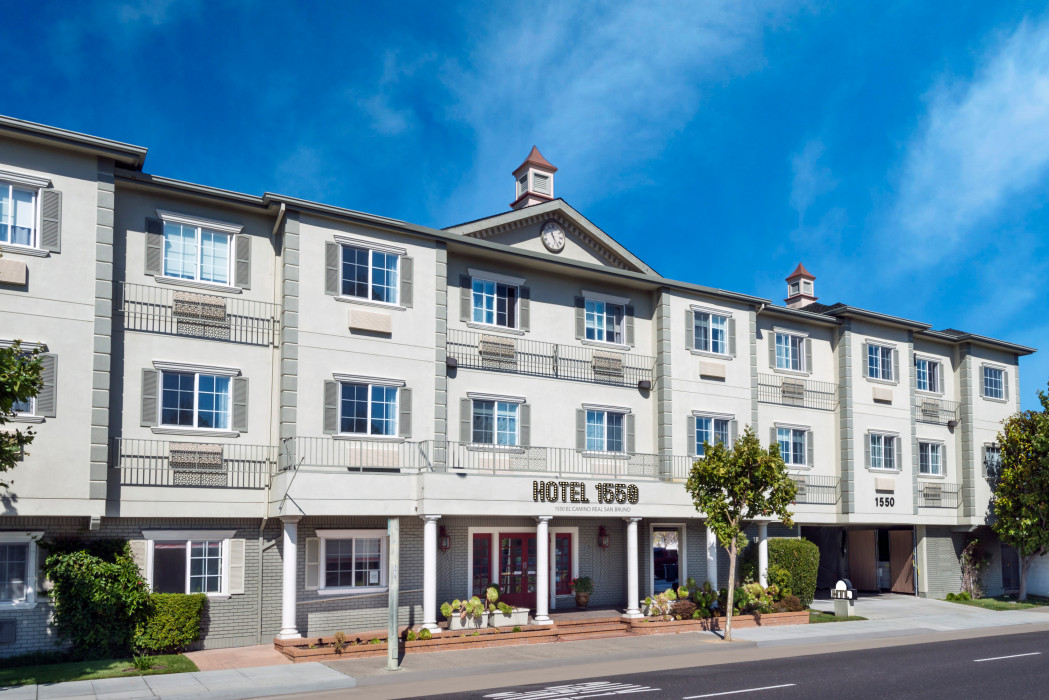 The picturesque city of San Bruno, California, is home to the Hotel 1550, which boasts a prime location in the heart of the city. It is also close to Bayfront Park, Central Park, and the Cow Palace. In addition, the hotel is in a prime location, directly across the street from San Francisco International Airport. It is also just a few minutes from San Francisco's Financial District.  
Hotel 1550 is only 15 minutes away from San Francisco State University and 26 minutes away from Stanford University. Because of this ideal location, the hotel is perfect for business travelers, vacationing families, and students. In addition, because the Hotel 1550 is close to a variety of restaurants, golf courses, and other well-known attractions in the San Francisco Bay Area, it is the best option for tourists looking for a place to stay in the SFO area. 
You can book parking at the Hotel 1550 SFO Airport via Way.com in just minutes.
Marriott San Mateo SFO Airport
The San Mateo Marriott San Francisco Airport is the hotel of choice for discerning visitors with engagements in Silicon Valley and San Francisco. You'll discover an exquisite, casual atmosphere and a welcome as warm as the warm Mediterranean that influenced it the moment you step into the Italian marble lobby.  
The clean and contemporary style of the guest rooms and suites exudes relaxed sophistication. The San Mateo Marriott is unlike any other bay area hotel because of its unparalleled guest services and ideal location. The San Francisco International Airport is only 10 minutes away, while San Jose International Airport is a 30-minute drive. In addition, the hotel is conveniently located halfway between San Francisco and the high-tech business heart of Silicon Valley. 
You can book parking at the Marriott San Mateo SFO Airport via Way.com. You don't even need to reserve a room!
---
Here's more info on top-rated airport parking, the best parking spots in your city, affordable auto insurance, easy auto refinance, and high-quality car washes near you.
---