St. Louis Lambert International Airport is the busiest airport in Missouri. Over 16 million passengers travel each year via STL. If you are one of these travelers, you might consider staying at a hotel near STL airport. The airport is 14 miles from downtown. So, if you're flying early or late, staying at a hotel near St Louis Airport makes sense. Here are the 10 best hotels near St Louis Airport for you to choose from.
St. Louis is a thriving "Gateway to the West," replete with urban parks and botanical gardens. Not to mention the amazing live music venues, fantastic cuisine, and hopping nightlife the city boasts of. So if you choose the perfect St. Louis Airport hotel, you won't have to sacrifice luxury and convenience. When it comes to hotels near St. Louise Airport, you have a wide range of big-name and chain brands to choose from, all of which provide first-rate facilities and world-class comfort. To help you decide, here are the 10 top hotels near St Louis Airport, some of which provide complimentary shuttle service.
Best hotels near St. Louis Airport
Holiday Inn Express & St Charles STL Airport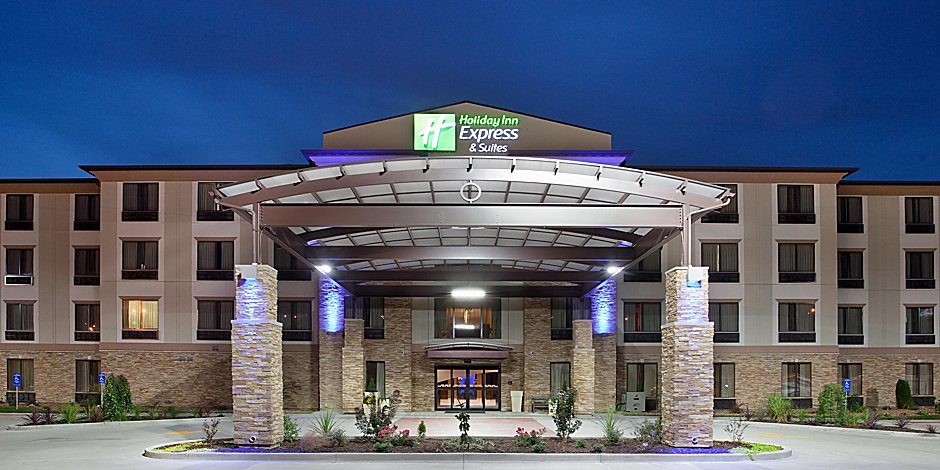 Holiday Inn Express & Suites is a modest all-suite hotel near St Louis Airport. The motel, located off I-70 just outside the airport, has a lot of facilities for an airport hotel. To start with, there is a complimentary airport transfer service. Not just that, complimentary Wi-Fi is available throughout the hotel, which is a nice bonus.
Another pleasant surprise is the indoor heated saltwater pool, which allows you to swim in any weather, even in the dead of winter! The fitness facility will be ideal for you if you're a fitness fanatic. Although simple, the all-suite hotel rooms are adequate for a single night's visit. In addition to a separate seating space, each room has a fridge, microwave, and a flatscreen TV.
Book ST Louis airport parking at the Holiday Inn Express STL Airport parking lot via Way.com.
Pear Tree Inn St. Louis Airport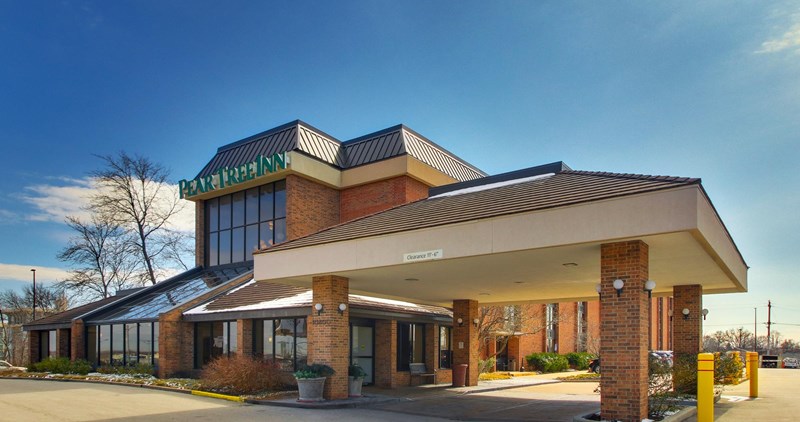 The Drury group's Pear Tree Inn is one of the best hotels near St. Louis Airport, located just beyond the I-70 exit. The hotel looks great with an overall color scheme that is a pleasant shade of blue. It offers plenty of bang for your buck. An excellent example is the lovely outdoor swimming pool area, which features a large deck with loungers and parasols.
If you're an exercise junkie who craves a workout at any moment, the 24-hour fitness facility is ideal. However, the business center is an excellent place to catch up on work if you're there for work. The hotel's highlight feature is its complimentary cooked breakfast of cereals, pastries, bagels, fresh fruits, and coffee each morning. The Pear Tree Inn's rooms and suites include complimentary Wi-Fi, cable TV, and coffee/tea makers. Additionally, you'll be greeted by comfy mattresses and bathrooms that are pristine and stocked with amenities.
Marriott St. Louis Airport
The Marriott, the nearest hotel to St. Louis MO Airport, is one of the best luxury hotels near St. Louis Airport. Even so, the hotel provides a complimentary shuttle service, which is one of the things that sets it apart from the competition. To begin with, guests will like the hotel's numerous high-end features and services. Breakfast, lunch, and supper are all available in the hotel's two restaurants.
Swimming in either an indoor or outdoor pool is an option. You can then relax poolside with a book or some music afterward. There is a small but well-equipped gym and a business center where you can catch up on work. The Marriott's rooms are decorated in warm tones and have dark wood furnishings if you want a secluded atmosphere. Additionally, there are cable TVs with HBO, plush sofas, and ergonomic workstations throughout the building. Floor-to-ceiling windows with vistas of lush foliage and flora are the show's real star.
Hilton St. Louis Airport
The Hilton is one of the most well-known hotel chains in the world, and it is located near St. Louis International Airport. Aside from that, the hotel has a lengthy list of amenities, beginning with one of the most attractive indoor pools you've ever seen at a facility of this type. Before retiring to your room, you can unwind in this calming area where you can sit, go for a swim, and enjoy some time in the water. The gym is perfect for people who don't want to miss their fitness routines. There is even a business center open around the clock, allowing you to take care of work and meet deadlines regardless of the day.
In addition, there is a first-rate restaurant on the premises that provides traditional American cuisine and dishes that are traditional to New York City delis. The cocktail bar is the cherry on top since it allows guests to indulge in one more drink before retiring for the night. The Hilton's guest rooms and suites come with contemporary conveniences such as coffeemakers, flatscreen televisions, and iPod docking stations for music players. A relaxing stay is guaranteed with mattresses that feel like clouds and stylish bathrooms.
Embassy Suites by Hilton St. Louis Airport
The Embassy Suites by Hilton Bridgeton is undoubtedly one of the best hotels near St Louis Airport. The all-suite hotel features an area shuttle and a complimentary shuttle to and from the airport. If your stopover is longer than intended, you can even go sightseeing. This hotel's stylish rooms, or suites, provide high-tech conveniences, including an MP3 docking station and a flatscreen TV. This, along with free Wi-Fi, eliminates the entrainment factor as you wait for your flight. Refrigerators, microwaves, and coffeemakers keep you well-fed and rested before travel. The 24-hour room service rounds out the in-room facilities.
Despite being an all-suite hotel, Embassy Suites offers several freebies, the most notable of which are breakfast and the Manager's Reception in the evening. Furthermore, the on-site restaurant delivers superb American cooking that will thrill chowhound. The indoor pool and hot tub are ideal locations to unwind and relax. Fitness enthusiasts will like the gym, while business travelers will appreciate the 24-hour business center.
Renaissance St. Louis Airport Hotel
One of the best hotels near St. Louis Airport that offers a free shuttle service is the Renaissance St. Louis Airport Hotel. The hotel is known for its many facilities, one of which is a complimentary shuttle to and from the airport. In addition, the hotel offers a variety of other services. For example, it is one of the very few hotels with pools indoors and outside, making it unique. When deciding where to go swimming or take a dip, you have many options available. You can have a piping hot latte or an ice-cold coffee at the Starbucks on the premises whenever you feel like it. In addition, the restaurant on the premises serves traditional dishes from St. Louis, so you can sample those while you're there.
The hotel also offers a variety of amenities to cater to guests' needs, including a business center and a well-appointed fitness facility. The Renaissance's rooms and suites are immaculate and contemporary, with ergonomic work desks, coffeemakers, comfortable mattresses, and tasteful decor. If you want to splurge, your best bet is to book one of the concierge-level suites, which not only have more space but also provide you with private access to the hotel's club.
Hampton Inn St. Louis Airport
The Hampton Inn, located on Pear Tree Lane just outside the airport gate, is one of the closest hotels near St Louis Airport with a free shuttle. Furthermore, it represents outstanding value for money, especially given the extensive list of facilities it provides. The hotel provides a delicious continental breakfast daily, which is a terrific way to start the day.
The gym is small yet well-equipped for vigorous exercise. There's also a business center where you can catch up on unfinished business. The highlight feature is the fenced-in outdoor pool with seats by the side to relax after swimming. The hotel's free Wi-Fi extends to the rooms, but that's not its finest feature. They all have coffeemakers, refrigerators, and microwaves. So a fresh cup of coffee is not far away every day. Furthermore, if you have leftovers after a good dinner, you can preserve them and consume them later at your leisure. Cable television with in-room movies provides entertainment.
Best Western St. Louis Airport North Hotel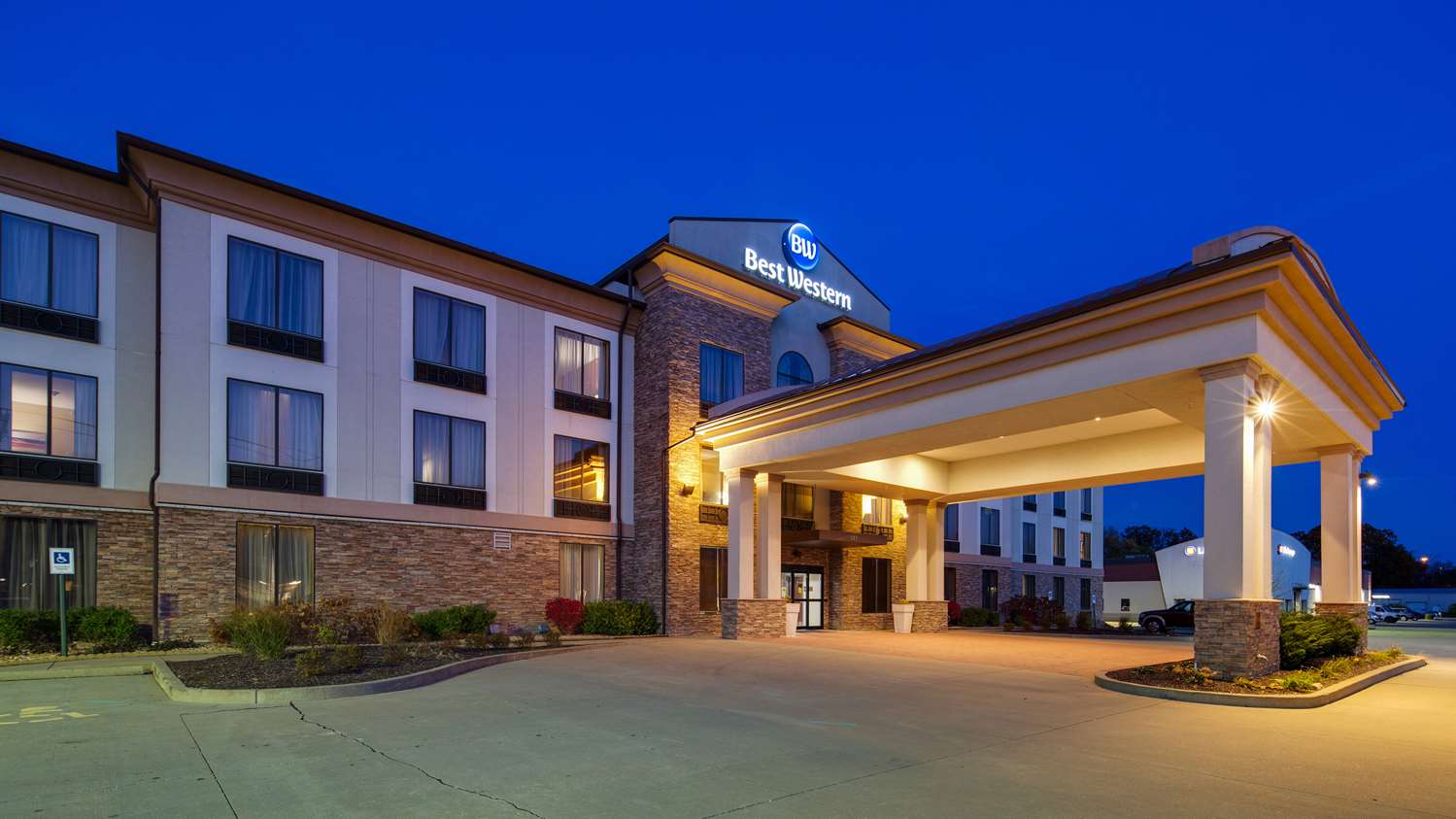 The Best Western Hotel is the place to stay in Hazelwood, north of the airport. Best Western is one of the best budget hotels near St Louis Airport and features a lot of freebies that budget visitors can take advantage of. First and foremost, the Best Western Hotel provides a complimentary continental breakfast. After that, you can take a leisurely dip in the outdoor pool or work out in the gym.
One of the finest features of this hotel is the variety of accommodation options, which are suitable for everyone from singles and couples to large groups and families. All rooms include cable televisions and free Wi-Fi, and the bigger suites have separate living spaces with pull-out couches, mini-fridges, and microwaves.
Days Inn by Wyndham St. Louis North
One of the most cost-effective budget hotels close to St. Louis International Airport is the Days Inn By Wyndham, located just five minutes north of the airport. The guest rooms and suites at the Days Inn are cheery and bright, decorated in vivid oranges and blues. They are equipped with posh mattresses, complimentary Wi-Fi, spotless bathrooms, cable TV, and coffeemakers; some even have refrigerators and microwaves.
If you are going to be staying for a little bit longer, it would be well to upgrade to the suite. In addition, complimentary local telephone calls, radios, and ironing facilities are provided in every room. After indulging in the hotel's delicious breakfast, guests can go for a refreshing dip in the outdoor pool before continuing their day. The pool area provides beach towels and daybeds on the deck where guests can relax once they have finished swimming.
La Quinta by Wyndham St. Louis North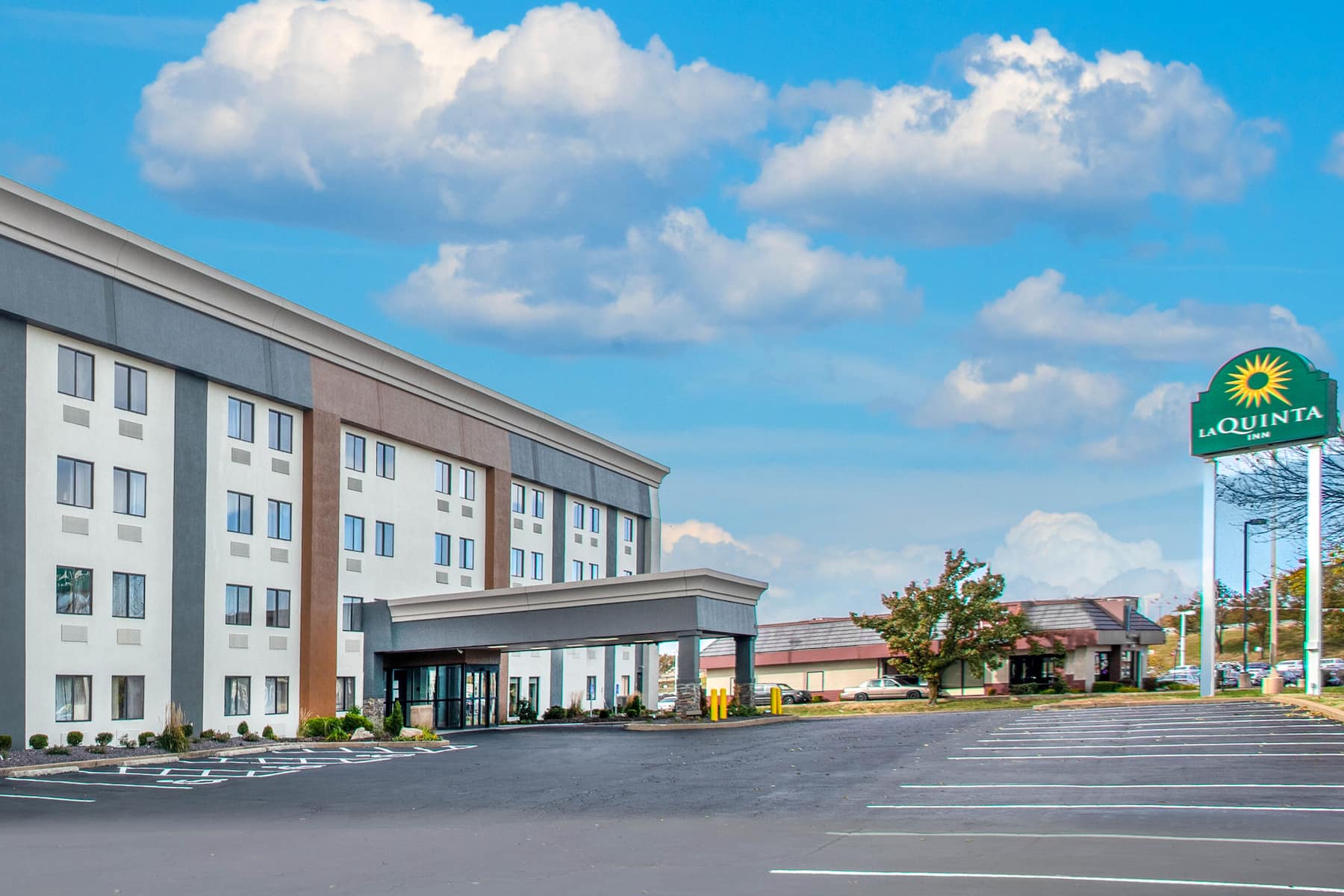 One of the top hotels in the area of St. Louis MO Airport is the La Quinta by Wyndham, which can be found in Hazelwood to the north of the airport. There are many things to like about this hotel, even though it is in a predominantly commercial area. To begin, it offers a delightful continental breakfast buffet that consists of freshly baked products, fresh fruit, and waffles. You won't have to get up as early as usual, to get something to eat because you already have it. If you feel like working out, there is a fitness facility available for your use.
The centerpiece of the property is the outdoor pool surrounded by lush vegetation and daybeds. You will be delighted by how big all the rooms at the La Quinta by Wyndham are, beginning with the regular ones and working up to the suites. In addition to having flatscreen televisions and free Wi-Fi, guests can access ironing boards and coffee and tea-making amenities in their rooms.
---
Here's more info on top-rated airport parking, the best parking spots in your city, affordable auto insurance, easy auto refinance, and high-quality car washes near you.
---