Tampa International Airport is surrounded by plenty of hotels that provide both leisure and business travel accommodation. They all provide good value for money and conference and business meeting facilities. In addition, many have gyms, swimming pools, and more than one in-house restaurant and bar. Here is a list of the 10 best hotels near Tampa Airport. Many of these hotels provide free shuttle service to TPA terminals.  
The Tampa International Airport is both popular and super busy. It is also bang in the heart of Tampa city. Whether they are there for work or pleasure, travelers usually find it convenient to stay at an airport hotel. That's because of their proximity to downtown, the cruise port, Ybor City, and the commercial sector. Since there is a large selection of hotels from which to pick, we've compiled a list of the best options available to help you select the most suitable hotel for you to stay in during your trip to Tampa.  
Best hotels to stay in near Tampa Airport.
Best Hotels Near Tampa Airport – Tampa Airport Marriott
When it comes to airport hotels, location is always the most important factor. The Marriott Tampa Airport wins in spades when it comes to location. That's because the hotel offers the ideal location for travelers to Tampa. After all, it is, in fact, part of Tampa International Airport. Getting to your gate in time for an early morning flight is a breeze because of the small distance involved.  
This hotel is also close to a number of the city's most popular sights and activities, such as the downtown area, the commercial sector, and the historic Ybor City neighborhood. The Tampa Airport Marriott offers a variety of on-site food options, in addition to other convenient facilities such as an outdoor pool and a fitness center. When you take into consideration its location, the price of a cozy room here is quite reasonable. 
Guests who have reservations at the Hampton Inn Tampa Airport get complimentary shuttle transportation to and from the airport. The Hampton Inn Tampa Airport features its own outdoor swimming pool and rooms that come furnished with amenities such as coffee machines, ironing facilities, hair dryers, cable televisions with pay-per-view movies, and more.  
At the Hampton Inn, guests may use the hotel's fitness facility, business center, and reception desk, open around the clock. The Florida Aquarium, home to sea dragons, seahorses, marine animals, and many more, is within driving distance of the hotel. In addition, the Busch Gardens in Tampa Bay is also nearby. 
Book parking at the Hampton Inn by Hilton Tampa Airport on Way.com to get the best Tampa Airport parking rates.   
The Westshore Grand, a favorite of business travelers, provides luxury and convenience just a few miles from Tampa International Airport. Oh, and Shula's steakhouse, one of the top steakhouse franchises in the country! The Westshore Grand combines contemporary style and welcoming, sophisticated interiors. This hotel is a favorite among business and leisure visitors. It is near downtown and is close to fantastic shopping and dining options.  
The hotel's attractions include a big pool area, a 24-hour health and fitness center, and a comprehensive range of business facilities. In addition, guests can obtain free transportation to and from the airport, or if coming by vehicle, free self-parking is offered. 
Enjoy affordable and safe parking at the Westshore Grand TPA Airport by booking a spot with us today.
Best Hotels Near Tampa Airport –
Renaissance Tampa International Plaza Hotel
The Renaissance Tampa Hotel is near Tampa International Airport at International Plaza and Bay Street. International Plaza, with over 200 premium boutiques including Nordstrom's and Neiman Marcus, is a shopper's paradise, while Bay Street has some of Tampa's greatest restaurants and entertainment.  
The tastefully furnished rooms are quite comfortable, and after a good night's sleep, the hotel's Pelagia Trattoria serves one of the greatest breakfast buffets in town. It is not free, but it is excellent. In addition, Pelagia serves delicious modern Italian food for lunch and dinner. A huge resort-style pool area and a fully-equipped exercise facility are also available. Parking is completely free. 
Best Hotels Near Tampa Airport –
Grand Hyatt Tampa Bay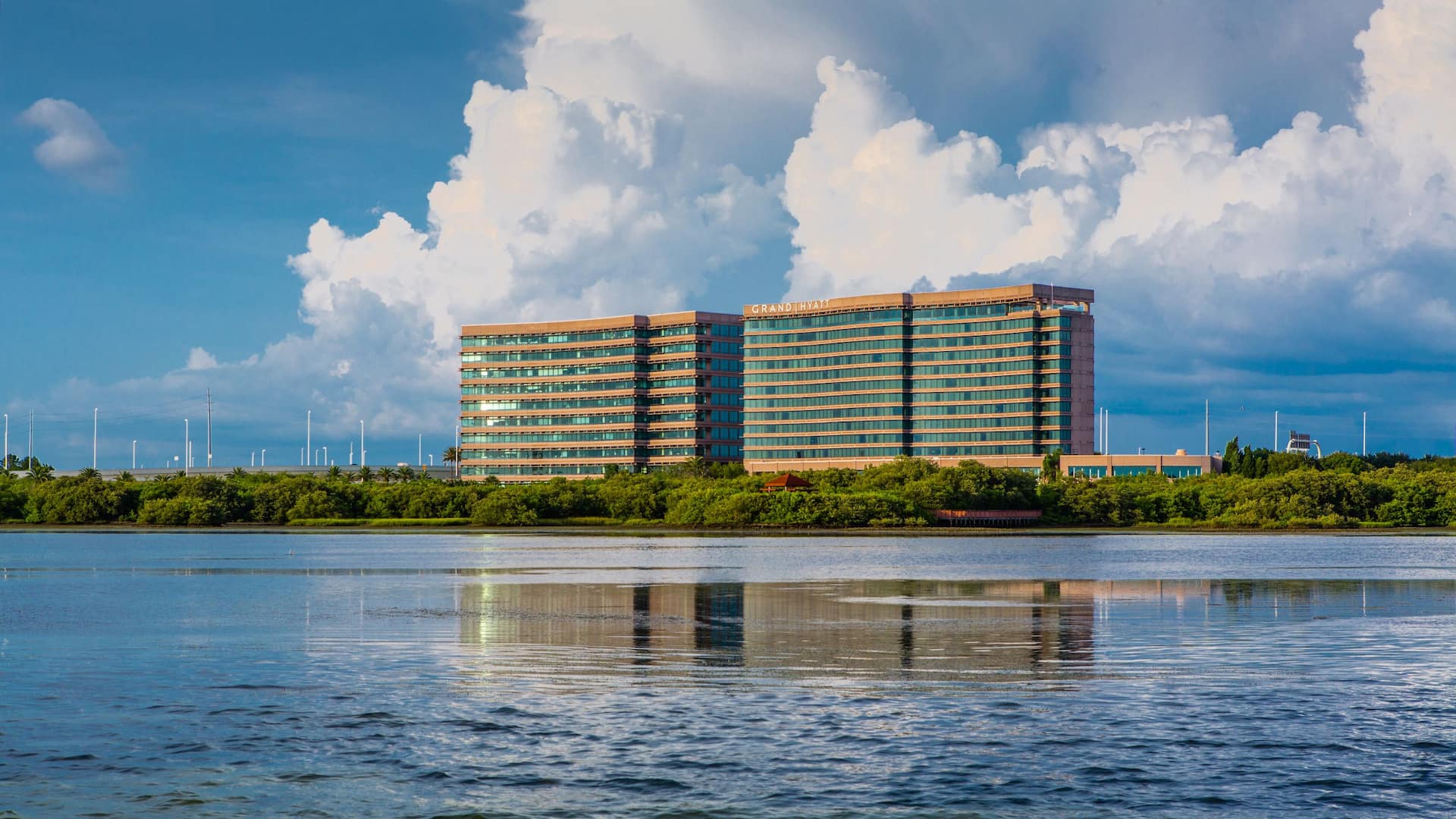 The Grand Hyatt, on the shores of historic Tampa Bay, is a magnificent and opulent structure that towers above its picturesque surroundings. This hotel caters to both business and leisure guests with its exquisite rooms and convenient location near the airport. The views are unparalleled, whether you take pleasure in them from the comfort of your accommodation or while basking in the rays on the stunning outdoor pool deck. 
The Grand Hyatt is popular for several reasons, including the elegant and comfortable rooms, the gorgeous gardens, the amazing views, and the magnificent facilities. In addition, the Grand Hyatt is known for its two restaurants, both of which are well-known and popular. The menu of Armani's, which specializes in food from the north of Italy, is widely considered one of the city's most creative. In addition, there is Oystercatchers, which is rightly considered among the region's finest seafood restaurants. 
Best Hotels Near Tampa Airport –
Hilton Garden Inn Tampa Airport Westshore
The Hilton Garden Inn Tampa Westshore is across from the airport and adjacent to International Plaza, which has fantastic shopping and restaurants. What's more, they offer airport shuttle transportation at no cost. This new modern hotel has everything you need, including a huge outdoor pool area and a well-equipped fitness center. Coast, their onsite restaurant, serves breakfast, lunch, and supper.  
Business travelers will appreciate the 24-hour business center and complimentary printing service. The chic and contemporary guest rooms are completely equipped with all the necessities, such as a mini-fridge, microwave, and coffee machine. There is also free wireless Internet access in the rooms and public areas. 
Best Hotels Near Tampa Airport –
Ramada by Wyndham Tampa Airport Westshore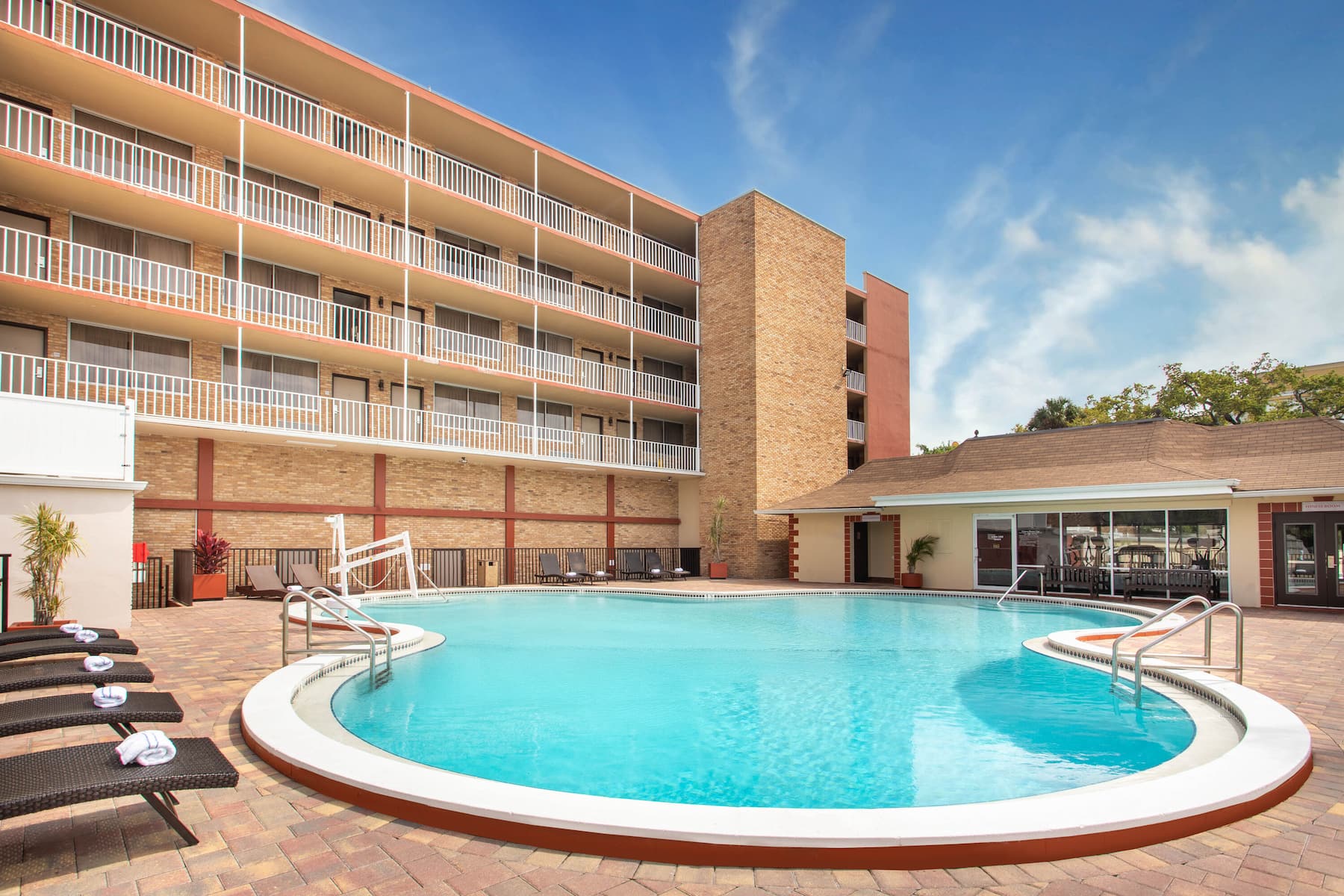 The Ramada by Wyndham is only a short distance from Tampa International Airport and Westshore Plaza. It is another fantastic option for families, couples, and business travelers. If visitors want, a complimentary airport shuttle will pick them up at Tampa International Airport and return them there after their stay.  
The Ramada by Wyndham features a restaurant, an outdoor heated pool, rooms with cable TV, refrigerators, ironing facilities, alarm clocks, coffee machines, and free WiFi. Additionally, the hotel provides a fitness facility, 12 conference rooms, and a business center. Guests are welcomed with open arms at a reception desk staffed around the clock and ready to recommend nearby points of interest. The motel features free onsite parking and also provides access to laundry facilities. 
Best Hotels Near Tampa Airport –
Courtyard By Marriott Tampa Westshore
The Courtyard Tampa Westshore/Airport is near Tampa International Airport, Raymond James Stadium, and the Tampa Convention Center. It is the ideal spot for both business and pleasure tourists. The Courtyard Cafe is a restaurant onsite. Before you begin your day's activities, start with something modest or hearty from their fairly priced breakfast buffet.  
The hotel offers various perks, including luxurious beds with a plethora of pillows, free high-speed internet access, an outdoor pool and whirlpool, a fitness center, and The Market. This hotel is ideal for sports fans visiting town for a football event or avid shoppers visiting the International Mall!
Best Hotels Near Tampa Airport –
Four Points by Sheraton Suites Tampa Airport Westshore
At the Four Points by Sheraton Suites at Tampa Airport Westshore, guests are offered complimentary transport to and from the airport on the hotel's shuttle service. The hotel has an indoor pool, rooms equipped with refrigerators, coffee machines, microwaves, cable TV, and wireless Internet access. In addition, there is room service provided.  
The Four Points by Sheraton Suites hotel is a great choice for anyone looking for a romantic break for two or anyone coming to Tampa on business. The hotel is within the business district, close to Cigar City Brewing and the Tampa Riverwalk. It is located within a short distance of Raymond James Stadium and is only one kilometer from the Westshore Mall. In addition, this hotel is located close to a variety of attractions, including golf courses, beaches, iFly Indoor Skydiving, museums, and aquariums. The hotel also features an onsite fitness facility open around the clock and a business center that provides comprehensive services. 
Best Hotels Near Tampa Airport –
Hotel Alba Tampa – Westshore
The Hotel Alba Tampa Westshore's central location is ideal to enjoy various activities in the city. The Hotel Alba is less than fifteen minutes from the airport, and onsite parking is offered. In addition, guests can access high-speed Internet, satellite television, working desks, room service, valet laundry, and luxury appointments.  
For folks who need to work while visiting, the hotel is close to the city's key commercial and government sectors and the Tampa Convention Center. There are business services and conference rooms, a swimming pool, a 24-hour front desk, and concierge service. They also have a Jacuzzi, workout facilities, and a full-service restaurant. 
---
Here's more info on top-rated airport parking, the best parking spots in your city, affordable auto insurance, easy auto refinance, and high-quality car washes near you.
---