Jeep has introduced numerous notable models, but the Jeep Wrangler stands out among them all. Over the years, Jeep has released a plethora of Wrangler variants, each with technology that has become more advanced over time. Here are the best Jeep Wrangler years, from when it was a military truck to when it became one of the most recognizable modern off-road SUVs. 
Various Jeep Wrangler models with their years
Different Jeep Wrangler model years and the specific features that set them apart from others are given in the table below.  
Model Name with Year

 

Features

 

2022 Jeep Wrangler

 

Can drive it on any terrain

 

100:1 crawl ratio

 

Reinforced windshield

 

Optional 35-inch tire package

 

Best in-class coverage

 

Unique design

 

Best off-road capabilities

 

2020 Jeep Wrangler Unlimited North Edition

 

Selec-Trac 4×4 system

 

Removable 3-piece hardtop

 

Bridgestone All-Terrain tires

 

Anti-spin rear differential axle

 

2018 Wrangler Rubicon

 

3.6-liter V6 engine, which can generate nearly 285 terrain-hungry horses

 

Proper ground clearance with the equipped 33-inch heels

 

Solid gas mileage                                       

 

2018 Jeep Wrangler JL

 

Both 2-door and 4-door models are available

 

3.6-liter Pentastar V6 engine

 

18 MPG in the city and 23 MPG on the highway

 

2015 Jeep Wrangler

 

Incredible off-road performance

 

Four-wheel drivetrain

 

Strong engine performance

 

2014 Jeep Wrangler Willys Wheeler JK

 

Standard 3.6-liter Pentastar V6 engine that can generate 285 hp and 260 ft-lb of torque

 

2013 Jeep Wrangler JK Sport

 

Sportier-looking Wrangler

 

16-inch silver-styled steel wheels

 

Manual convertible top

 

Cloth seat trim

 

ABS traction control

 

3.6-liter V6 engine that can generate 285 hp

 
Which are the best Wrangler years?
The table below shows the best Wrangler years in terms of certain specific features. 
Model Year

 

Highlights

 

2015

 

Best in terms of reliability

 

2003 

 

Best Trend-Setter

 

2011

 

Best for Smooth Driving Upgrades

 

1996 

 

Best Optimized Safety Features

 

1980

 

Best for Classic Design

 

2018

 

Best Overall

 
What makes the 2018 Jeep Wrangler the best overall?
Having a vehicle that can traverse all terrain, whether steep hills or mud pits, is something that everyone desires. The 2018 Jeep Wrangler is one such vehicle that has great fuel efficiency and is smooth and reliable. It has a box-like appearance with many technological upgrades.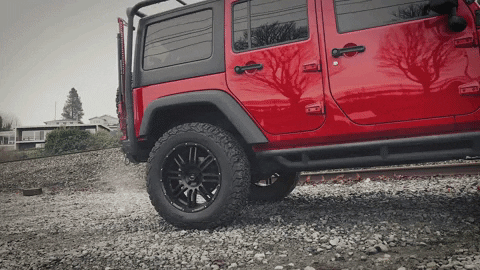 via GIPHY   
It provides a smooth and comfortable driving experience for you. You can easily handle and control this model. All of these features entice users to buy this model. 
Which is the worst Wrangler model?
The 2012 Jeep Wrangler is often claimed as the worst overall model. The features that made its users give this model a bad review are its lack of comfort and stability, engine overheating, semi-slow speeds, and bad acceleration. But there are people who claim that they have had a good experience driving in this Wrangler. According to Consumer Reports, 2012 was not a good year for this model. 
Other bad Wrangler model years are listed below 
2007 – Worst Off-Road Experience

 

1987 – Worst Stability

 

2006 – Worst Comfort

 

1988 – Worst Appearance

 

2008 – Worst in terms of Driving Noise

 
Bottom line
After reading this article, you now know the best Wranglers in terms of reliability, trendsetting, smooth driving, and also the ones that miss the mark. Based on your area of interest, you can choose the Wrangler that can meet your needs. To experience the thrill of the open road, try out one of these Wranglers. Being one of the best and most reliable off-road vehicles, it is the best choice you can ever make.
FAQs
Which year of Jeep Wrangler is most reliable?
The 2015 Wrangler is the most reliable Wrangler model.
Which year of Jeep Wrangler is the best for Classic Design?
The 1980 model is the best for Classic Design.
---
Forget the car expenses! Start saving $3000/year and enjoy the best deals using the auto super Way App.

Finding the best gas discounts, EV charging, auto insurance, auto refinance, best parking, and car washes is now easy through our all-in-one app.