Green is the new black in the auto industry. There are an increasing number of all-electric luxury automobiles being released by automobile manufacturers. You no longer have to choose between speed, comfort, and environmental impact. With the best luxury electric cars of 2022, you can have it all. 
Incentives from the government and tax breaks can help offset the cost of electric vehicles. For one thing, you'll find that electric cars are generally easier and more efficient to maintain than their gasoline-powered counterparts. When it comes to electric vehicles, the year 2022 does not disappoint. A new generation of fast, stylish vehicles is on the horizon, with improved features, faster acceleration, and more affordable prices than ever before. We've compiled a list of the best luxury electric cars of 2022.  
Best l
uxury electric cars of 2022 –
Honorable mentions
Well, we do have our own top 3 for best luxury electric cars 2022. But there are some other fantastic cars out there that might catch your attention. Here is our list of honorable mentions of the best luxury electric cars. 
Porsche Taycan

 

BMW iX

 

Ford F-150 Lightning

 

Volvo C40 Recharge

 

Polestar 2

 

Rivian R1S

 

BYTON M-Byte

 

Tesla Cybertruck

 

Audi Q4 e-tron

 

Cadillac Lyriq

 

Volvo XC90

 

Audi A6 e-tron

 

Ford Mustang Mach-E

 

Maserati MC20

 
Top 3 luxury electric cars of 2022
#3 Lucid Air
The electric sedan is smooth and quiet. If a chill drive is what you are aiming for, then Lucid Air is the right one for you. The steering is quick, with a weight distribution that is just right. When it comes to interior design, the stylish sedan does things a little differently than its competitors. It doesn't have the same three screens as the Tesla Model S or Mercedes EQS, which occupy the majority of the cabin. The interior of the cabin is a stylish combination of leather, wood, Alcantara, and metal.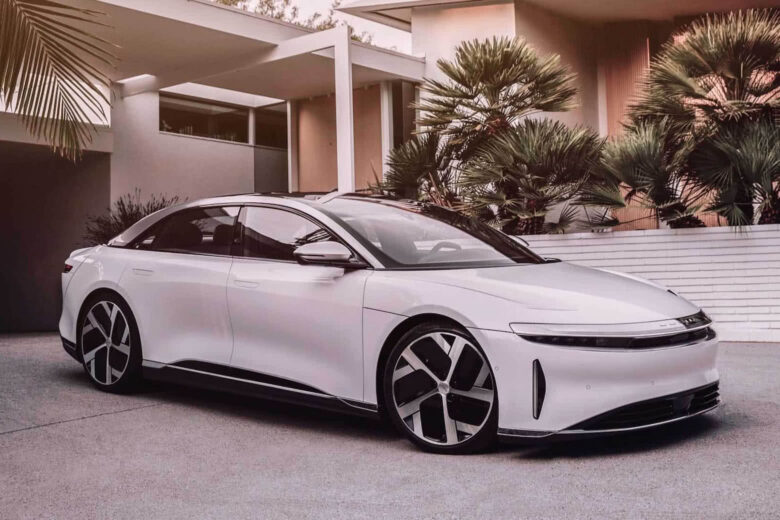 Source: Lucid Motors
The Lucid Air's interior is one of the best. The addition of a roomy backseat makes this ride even sweeter. An electric skateboard platform and up to three electric motors are used in the Lucid Air to provide a range of power and speed options for riders. It has 800 horsepower, 885 Lb-ft of torque, and an impressive 0-60 mph time of 3.0 seconds. 
The newest version of Lucid Air will be offered with an executive rear seat package that includes two bucket seats that recline a total of 55 inches. Instead of an analog gauge cluster, the dash has a three-screen layout with a digital gauge cluster. Even in the backseats, the artificial intelligence system in Lucid's multimedia interface can pick up on a conversation. The autonomous driving technology will be kept up to date through the use of wireless over-the-air updates. 
#2 Mercedes-Benz EQS-Class
Mercedes-Benz EQS-Class doesn't feel like a super-sedan, but rather like an S-Class that's electric. Accurate air suspension keeps occupants comfortable on bumpy roads, and the cabin is extremely quiet. Compared to the 450+ model, the 580 version is heavier but noticeably quicker, making it feel like a more powerful luxury sedan. The EQS, on the other hand, is worth a look if you're looking for a luxurious experience. EQS models of the 2022 model year will be powered by a 107.8 kWh lithium-ion battery developed in-house by Mercedes. 0-60 mph is estimated at 5.5 seconds, with 329 horsepower and 406 Lb-ft of torque.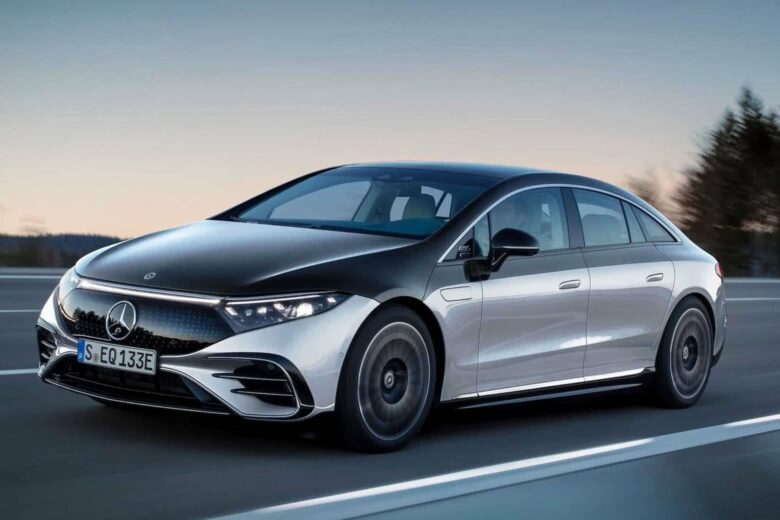 Source: Mercedes-Benz
Autonomous driving capabilities, such as hands-free operation, may be made available for the EQS at a later date, but this is not guaranteed. Now, it has numerous driver-assist and active-safety systems such as adaptive cruise control, lane-keeping assist, and evasive steering assist; blind-spot monitoring; front automatic emergency braking; oncoming cross-traffic alert; and oncoming cross-traffic warning. 
Pre-collision detection can move the seat back and forth quickly to move occupants further away from an impact. Mercedes' unusual "pink noise" aural protection is another safety feature. Engineered breakage points in the glass cover of the available Hyper screen infotainment system reduce the risk of shattering hazards in a crash. 
#1 Tesla Model S
Plaid
No matter which Model S you select, lightning-fast performance is a given. The Model S Plaid has a hefty 1,020 horsepower and 1,050 pound-feet of torque. It's not surprising that it's insanely fast, but exactly how fast is a matter of debate. The new steering wheel is one of the most eye-catching features of the Model S refresh. The old conventional steering wheel has been replaced by a yoke that looks like it was designed for spacecraft piloting.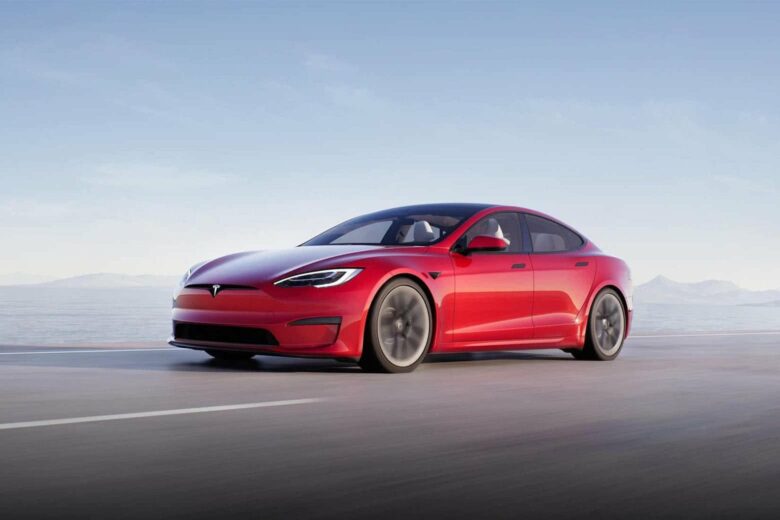 Source: Tesla
The digital instrument cluster is largely unchanged, but the center touchscreen has been rearranged to be landscape-oriented like those on Model 3 and Model Y. The new infotainment system has been a big hit with us. There's a backup shifter in case the car doesn't get your intended direction of travel right the first time. The interior has been dressed up with new wood and carbon fiber trim and a new display for passengers in the back seat. Rear-seat passengers benefit from a new seat design that takes up a small amount of space away from front-seat passengers. 
For the updated Model S, a steering wheel resembles that used in aircraft and racing cars. A round wheel is no longer an option for the Model S, as it is now a requirement. If you buy a Model S, you'll have to get used to the yoke, but we're not convinced that it's actually better than the old-fashioned steering wheels Tesla thinks it's too cool for. 
---
Here's more info on top-rated airport parking, the best parking spots in your city, the most affordable insurance for your car, and top-rated car washes near you.
---