Many people need to fill up their cars with the gas every week. But have you ever wondered what the capacity of your car's gas tank is? Continue reading to learn everything you need to know.
Average Car's Gas Tank capacity
The size of your car will determine your gas tank size. A small car can normally hold roughly 12 gallons of gas. A larger car can hold up to 15 gallons of gas and, in some cases, even more.
It's crucial to understand that Miles per gallon (MPG) have little to do with the size of your petrol tank. The larger the tank, the further you will be able to travel before needing to stop for petrol. However, this will not affect your gas mileage, so keep that in mind.
Furthermore, as the gas tank grows, its weight will increase. Rather than going for a big tank, it might be more effective to make the tank smaller and boost the MPG marginally. To improve fuel efficiency, you'll want to make sure it's as light as possible.
Size of an Average Gas Tank
The usual capacity of a gasoline tank is 13 to 16 gallons. A Ford Focus, for example, can store 13.5 gallons of gas, a Hyundai Elantra 14 gallons, and a Mazda 3 can hold between 14.9 and 15.9 gallons of gas, depending on the model.
Reserve Tank capacity
The low fuel warning light will turn on when the gas tank approaches reserve levels in most cars. The reserve fuel level is typically between 10% and 15% of the tank capacity.
Fuel Capacity vs. Size of the Engine
The more space inside the engine for gasoline and air, the bigger it is. The volume (amount of space) in an engine's cylinders will be used to estimate the size of your engine. The mixture of air and fuel is ignited here to generate the energy required to turn the wheels.
The volume shared by all cylinders determines the engine's overall size. The number of cylinders in an engine varies greatly, ranging from two to twelve. We've even seen some cars with 16 cylinders. On the other hand, the higher figures are usually linked with massive UTEs and supercars.
In general, the smaller the engine, the smaller the engine capacity and, as a result, the more fuel-efficient your car will be.
To have a better understanding, let's look at the average size of gas tanks dependent on engine size:
Two-Cylinder Car Gas Tank Capacity
A two-cylinder car holds around 11–12 gallons of gas. Examples of two-cylinder cars are:
Volkswagen XL Sport

2018 Morgan 3 Wheeler

2014 Alfa Romeo Mito
Four-Cylinder Car Gas Tank Capacity
A four-cylinder car holds approximately 14–15 gallons of gas. Examples of four-cylinder cars are:
Chevrolet Malibu

Ford Mustang EcoBoost

Honda Civic Type R

Honda Accord

Subaru WRX STI 305-HP
Six-Cylinder Car Gas Tank Capacity
Typically, a six-cylinder vehicle will hold 15–16 gallons of gas. Examples of six-cylinder cars are the following: 
Alfa Romeo Giulia Quadrifoglio

1996 Ford F-150 XL

Ford Taurus SHO

207 BMW 335i

1993 – 2002 Toyota Supra Mk
Eight-Cylinder Car Gas Tank Capacity
A car with eight cylinders can normally hold 16 gallons of gas or more. Examples of eight-cylinder cars are the following:
Buick 215

Dodge HEMI Series

Ford Cosworth DFV

Koenigsegg Spyker V8

Lotus Type 918
Cars with the biggest Gas Tank Capacity
You might be wondering what kind of car will allow you to get the most gas mileage without filling up your tank. The average gas tank size is bigger in larger cars. 
Here are some of the best fuel-tank-capacity cars on the market:
Audi Q7 – 22.5 gallons

Bently Bentayga – 22.5 gallons

Dodge Durango – 24.6 gallons

Ford Expedition EL – 33.5 gallons

GMC Yukon XL – 31 gallons

Infiniti QX80 – 26 gallons
Cars with Smallest Gas Tank Capacity
There are a variety of manufacturers and models of cars with small gas tanks. A good example is the Hyundai Ioniq Blue. The gasoline tank on this car is 11.9 gallons.
Gas Tank Capacity of a Smart Car
Smart cars are well-known for being inexpensive, fuel-efficient, and dependable. In addition, they have a good gas mileage of around 40 miles per gallon. They also weigh 700 pounds less than almost any other American vehicle.
When you consider the size of a Smart car, you might believe that the fuel tank is on the small side, as smaller cars typically have smaller gas tanks. You'd be correct; most Smart cars have an 8.7-gallon fuel tank.
Gas Tank Capacity of a Race Car
The gas tank of a race car is usually 22 gallons. The gas comes from a central tank to prevent teams from adding additives. The petrol cans used to refill race cars hold 11 gallons and weigh about 70 pounds when full.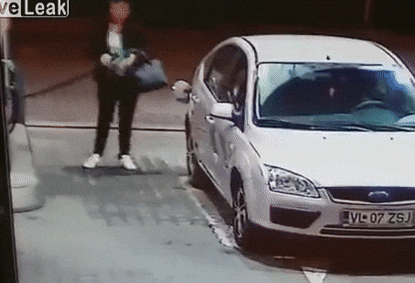 ---
Here's more info on top-rated airport parking, the best parking spots in your city, affordable auto insurance, easy auto refinance, and high-quality car washes near you.
---