The circumstances surrounding your policy cancellation will determine whether or not you are eligible for a car insurance refund. If you need to cancel your policy before the end of the term, most providers will refund you a portion of your outstanding balance.
Did you cancel your car insurance amid your term? Or worse, did your car insurance company cancel your car insurance? Don't worry. You will get a car insurance refund. However, the amount you can get back depends on various factors. These include whether you or your insurer chose to terminate the policy, how much time you have remaining on your policy, and your insurer's refund policies.
Car insurance refund if you decide to cancel your policy 
If you cancel your policy in the middle of a term, you are eligible for a car insurance refund. In most cases, you'll be able to get most or all of your unused premium back. Car insurance companies' standards, as well as state law, determine whether you must pay a cancellation charge. Contact your insurance company to know if you are eligible for a car insurance refund. Some insurance companies don't charge cancellation fees.
There's one other thing to keep in mind. While a car insurance company may not technically charge you a cancellation fee, it may choose to "short rate" your policy. That means it must establish your rates and send you new papers, among other things. If your car insurance company short rates your policy, it means the first half of your insurance term is more expensive due to set-up fees. As a result, you may only receive a part of the original amount you paid back.
Although not legal in every jurisdiction, this can have the same impact as a cancellation fee.
Car insurance refund based on paying upfront and installments
Whether you paid for your insurance in installments or one large sum can have an impact on your car insurance refund. Many insurers will give you a lower cost if you pay for a six-month or one-year insurance in full. 
If you choose a lump-sum payment, take in mind the possibility of cancellation. Keep in mind that paying in full gives your car insurance company more of your money. If you're buying insurance and think you might need to cancel in the middle of your coverage, consider the difficulties of getting your money back.
Changes to your policy
It's also possible that a change you make to your coverage qualifies you for a car insurance refund. Perhaps you removed a teen driver from your policy or reduced your coverage limits. If you make this change, your insurer will refund the money for the period remaining on your premium. They'll likely keep the excess cash and put it to your next insurance bill as a default. If you need the money right away, call your insurer and request a return.
No car refund if your company cancels
To begin, keep in mind that an insurer may terminate your policy in the middle of its term in one of two ways. It doesn't happen often, but your insurer may cancel your insurance policy. If this occurs, you may be eligible for a partial refund.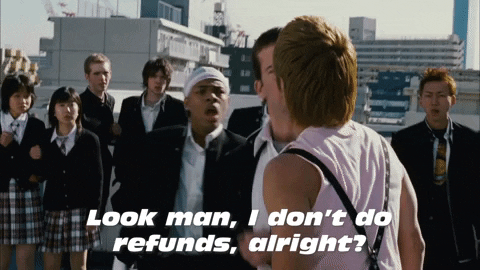 If you haven't paid your insurance charge, your policy will be canceled. In this case, you can kiss your car insurance refund goodbye. Worst case scenario, you might end up paying money to your car insurance company. Another reason an insurer can cancel a policy in the middle of its term is if your risk profile has changed significantly. The explanation may be that you were convicted of a very serious driving offense, such as a DUI or a high-speeding penalty. It's also possible that you've allowed your vehicle's registration expires.
If your insurance coverage was canceled due to a risk shift, you are almost always entitled to a refund.
It's important to understand the difference between your insurer canceling your policy and a car insurance non-renewal, which means your insurer has decided not to renew your contract after a six-month or one-year period. In this case, you will not be eligible for a car insurance refund. This is because the premium you paid had already been used up.
How to get your refund
Getting a car insurance refund is usually as straightforward as phoning your car insurance company. Before you cancel your car insurance, get in touch with your insurance company. You can get your money returned in the form of a check, direct deposit, or a refund to your original payment method.
---
Check out our blogs for info on finding top-rated airport parking, the best parking spots in your city, and affordable car washes near you.
---