Having a car is only part of the picture. How properly you care about it makes all the difference in the world. Car detailing is common because we all value a sleek and presentable ride. The Chemical Guys have been unrivaled in auto detailing and accessories markets for quite some time. Chemical Guys can help you with any aspect of auto detailing, from cleaning and deodorizing the interior to buffing and shining the outside. Keep reading as we fill you in on all you need to know about Chemical Guys. 
How Did It All Begin?
Chemical Guys was founded by Paul Schneider and David Knotek. They started the company out of a garage in Huntington Beach, California, and have subsequently expanded to become an industry leader worldwide. 
Schneider and Knotek shared a love for cars and detailing, and they set out to develop a range of products to assist others in keeping their vehicles in showroom condition. They started selling at auto shows and festivals, and their products quickly earned a reputation for excellence. 
Car wash soaps and shampoos, waxes and sealants, interior cleaners, and detailing products are just some of the many car care products that Chemical Guys now offers. You may also try out several of their products at once by purchasing one of their many detailing kits or packages. 
---
Product Categories of Chemical Guys
Here is a more detailed overview of some of Chemical Guys' most popular product categories: 
Car Wash Soaps and Shampoos: 

Chemical Guys has a wide selection of car wash soaps and shampoos to suit your specific requirements and price range. They sell shampoos and soaps that clean your car thoroughly but will not remove the wax or sealant.

 

Waxes and Sealants: 

Chemical Guys has various types of waxes and sealants to keep your car's paint in excellent condition. Different types of waxes and sealants mean you can find one that works well with your car's paint.

 

Interior Cleaners: 

The Chemical Guys has several options for cleaning and protecting your car's interior. Leather, vinyl, plastic, and cloth are all protected from damage when cleaned using their interior cleansers.

 

Detailing Tools: 

To help you keep your car looking its best, Chemical Guys provides several detailing tools. Microfiber towels, brushes, and applicators are among their detailing tool options.

 
---
Top Rated Products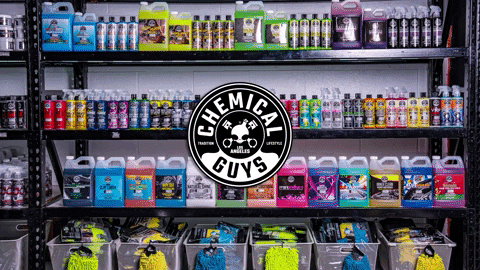 Via Giphy
Citrus Wash & Gloss Car Wash Soap
This car wash soap contains citrus extracts that clean and protect your car's paint. It also leaves behind a fresh, citrus scent. Prices vary from $11.99 for a 16-ounce bottle to $49.99 for a gallon, depending on your chosen size. 
Mr. Pink Super Suds Shampoo
Mr. Pink was a pH-balanced car wash shampoo that produced thick, luxurious suds, effectively lifting dirt and contaminants off the vehicle's surface without harming the paint or wax. Product sizes vary from 16 ounces to 1 gallon, with prices ranging from $9.99 to $39.99. 
Extreme Body Wash & Wax
In a single step, this car wash shampoo and wax in one is designed to clean and protect your car's paint. It leaves behind a deep, wet shine. The product's price varies from $11.99 to $49.99, with the largest available container being 1 gallon. 
Professional Grade Premium Microfiber Towels
These towels are often considered the workhorse of the Chemical Guys microfiber lineup. They come in various sizes and are designed for versatile use, including cleaning, wiping, and buffing. They are soft, durable, and highly absorbent. Depending on the size you choose, the price of this product might be anywhere from $8.49 to $9.99.  
Miracle Worker Microfiber Towels
These microfiber towels are soft and absorbent, making them ideal for car detailing. They are also durable, and you can reuse them many times. The price for this item varies from $13.49 to $34.99, depending on the size you want. 
Hybrid V07 Optical Select High Gloss Spray Sealant
This spray sealant was designed to provide long-lasting protection and a high-gloss finish. It was easy to apply and provided excellent water beading. The product ranges from $19.99 to $64.99, and the biggest container offered is a gallon. 
Butter Wet Wax
This wax is known for its deep, wet shine. It also provides long-lasting protection for your car's paint. The wax ranges from $19.99 to $79.99, with the largest container offered being a gallon. 
Hex-Logic Buffing Pads
These foam buffing pads come in various colors and degrees of abrasiveness, making them suitable for polishing and compounding tasks. This is offered as a kit and ranges from $28.99 to $49.99. 
---
Popular Kits by Chemical Guys
The Leather Cleaner & Conditioner Complete Leather Care Kit
The Leather Cleaner & Conditioner Complete Leather Care Kit is for deep cleaning and conditioning leather. It aids in cleaning the leather of dirt and oils and restores its sleek and smooth appearance. The kit includes leather items such as car interiors, furniture, shoes, bags, etc. This kit costs $29.99. 
All-Season Arsenal Builder Kit
The All-Season Arsenal Builder Kit is a car detailing kit offered by Chemical Guys. It includes combining products to clean and detailed cars for a scratch-free shine. The kit is designed to be versatile and suitable for use in all seasons. This specific kit costs around $118.99. 
TORQ 10FX Random Orbital Polisher Kit
The TORQ 10FX Random Orbital Polisher Kit is a set that includes the TORQ 10FX dual action polisher, three Hex-Logic buffing pads, and the V-Line 4oz sampler compounds. It is like a powerful machine that can polish, wax, and clean vehicles without damaging the paintwork. The kit includes everything required for a full paint correction detail, costing $259.99. 
Car Cleaning Kit
A car cleaning kit is a collection of products and tools specifically designed for cleaning and maintaining a car's exterior and interior. The best car wash bucket kit usually includes items like a wash mitt, microfiber towels, car shampoo, a wheel cleaner, and an interior cleaner. A car cleaning kit can help achieve a scratch-free shine and maintain the car's cleanliness. This kit costs $99.99.  
---
DIY Videos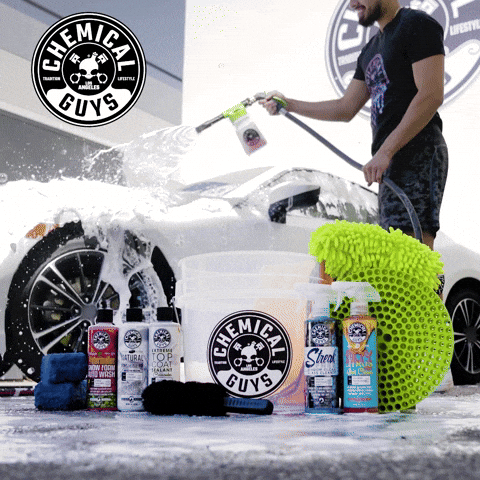 Via Giphy
Chemical Guys provides a wide range of YouTube and DIY videos to help car owners learn how to use their products and perform various detailing tasks. These videos can be a great resource for beginners and experienced detailers. 
The YouTube videos and DIY videos provided by Chemical Guys are a valuable resource for car owners of all experience levels. They can help you learn how to use Chemical Guys products properly, how to perform detailed tasks, and how to get the best possible results. 
Chemical Guys cover specific topics in their videos, and here are some examples: 
How to wash a car properly

 

How to wax a car

 

How to polish a car

 

How to remove scratches from a car

 

How to clean a car interior

 

How to detail a car engine

 

How to choose the right detailing products

 

How to use detailing tools properly.

 
---
Wrapping Up
There are many reasons why a car owner should use Chemical Guys products. Here are just a few: 
High quality: 

Chemical Guys products, known for their high quality and performance, are crafted with the finest ingredients and designed to deliver results.

 

Wide range of products:

 Chemical Guys offers a wide range of products to find perfect for your needs and budget. They have everything you need to clean, protect, and enhance your car's appearance.

 

Easy to use:

 Even for beginners, Chemical Guys products are easy. They come with clear instructions and DIY videos designed to be safe and effective.

 
Overall, Chemical Guys products are great for car owners of all experience levels. They offer a wide range of high-quality, easy-to-use, affordable products. If you are looking for products to help you keep your car looking its best, Chemical Guys is a great option.
---
Trust us to find you the best gas discounts, EV charging near you, auto insurance, home insurance, auto refinance, and more with our all-in-one app! We'll also help you find and book the best parking and car washes near you. 

---