Whether you're looking to exercise, walk by the riverfront, or just spend time in nature, you can't go wrong with the Schuylkill River Trail in Philadelphia! It's common for tourists and residents alike to spend a whole day here taking in the sights of nature. Have a stress-free outing by booking affordable Schuylkill River Trail parking before you head out.
Spanning 30 miles of pristine riverfront, the Schuylkill River Trail is the highlight of Philadelphia's natural beauty and elegance. It is a multi-use trail that follows the path of the Schuylkill River and can be used for biking, walking, running, and other activities. Though the stretch of the trail that is within the city limits is only 30 miles, the extended trail covers almost 120 miles! It is part of the Circuit Trails of Greater Philadelphia, which spans five counties.
When visiting the trail, you can either use public or private transport to get to your destination point. However, using your vehicle offers a level of comfort and flexibility for most people – so plan for Schuylkill River Trail parking! If you know where to find the best parking garages and spots along the trail, you won't have to spend too much time driving around looking for a spot.
We've broken down everything you may need to know about parking along the Schuylkill River Trail – from details about the route to where to find both street parking and off-site parking along the trail.
What is the Schuylkill River Trail?
The 30-mile multi-use path extends from Center City to Parker Ford. It passes through Bartram's Garden, runs along the east bank of Schuylkill River past the Philadelphia Museum of Art, enters the Fairmount Park through Manayunk, and heads north towards Valley Forge. Most parts of the trail in Philadelphia are 10-12 foot wide paved surfaces with grass shoulders – making it a favorite among runners, bikers, commuters, and families. The Schuylkill River Trail is part of the larger Circuit Trails, which will combine the region's biking trails together into a 750-mile network. You can view an interactive map of the trail here.
Schuylkill River Trail Location Map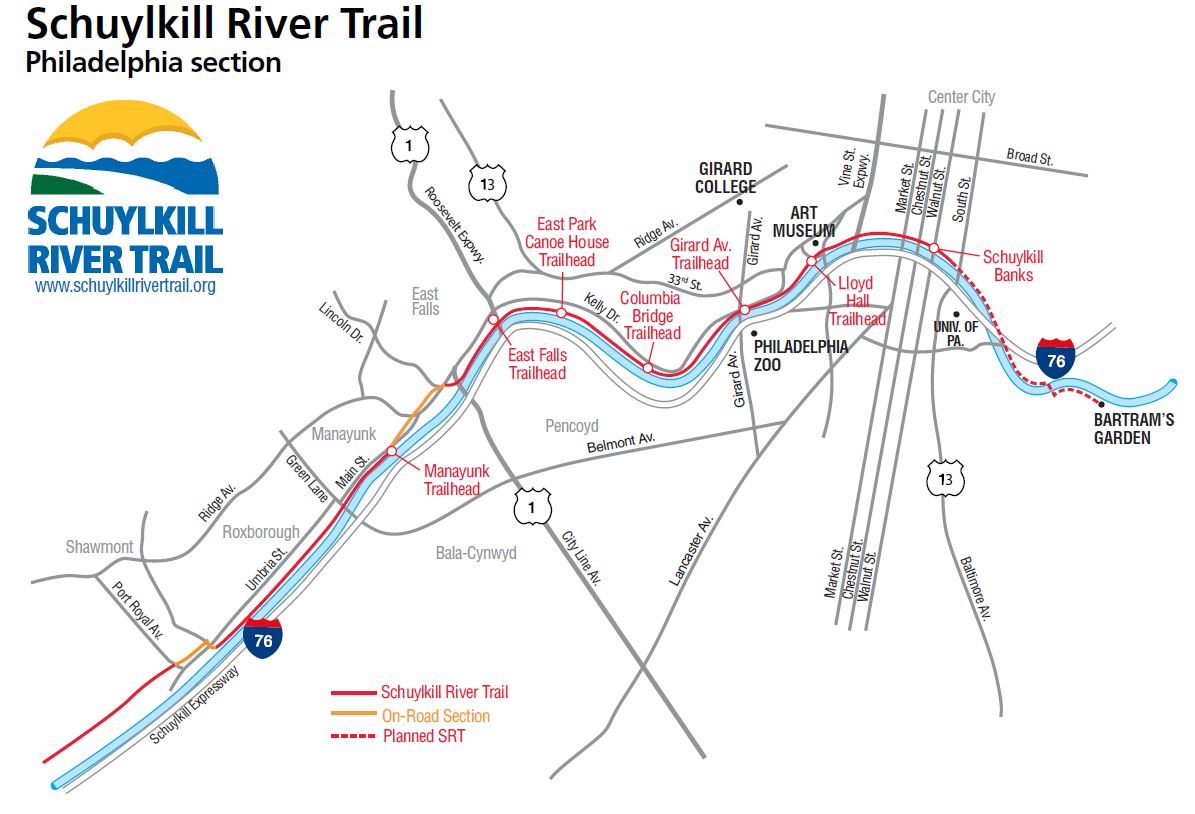 Where to park for Schuylkill River Trail and their rates
You can park at many train stations along the R-6 Norristown Line, and also at Valley Forge Park's Betzwood Picnic Area. The availability of parking lots depends on which point of the trail you want to enter. However, there are garages and street parking facilities along the entire trail. If you are starting near Center City, you can find many off-site garages within walking distance of the trail. In the Fairmont Park neighborhood, you'll find parking around Benjamin Franklin Parkway and Kelly Drive. You could also park at the Philadelphia Museum of Art parking garage. On average, parking in Center City will cost you between $5-8 an hour to $25-30 a day. The Philadelphia Museum of Art parking garage will cost you $15 – $17.
What are the rates for street parking along Schuylkill River Trail?
Meter street parking rates in Philadelphia will usually cost you between $1 – $3 per hour. However, you must check the maximum parking time limits before you leave your car at a metered spot on the street. If you violate any parking rules or regulations, you may return to see your car towed!
Can you find free parking for Schuylkill River Trail Philadelphia parking?
Yes, you can find free street parking near Schuylkill River Trail in Center City. Try Ranstead Street, Cherry Street, and N 21st Avenue – 23rd Avenue between Winter Street and Arch Street. In Fairmount, Waterworks Drive public parking lot offers free parking and is quite popular with bikers and joggers using the trail. Get there early so that you won't have to face too much hassle in finding a Schuylkill River Trail parking spot. You can also find limited free street parking spots on Waterworks Drive and West Sedgley Drive.
Is off-site parking near Schuylkill River Trail more affordable?
If you feel that driving around looking for street parking or official parking lots is tiresome, you can use a parking app like Way.com to pre-book off-site parking nearby. You can find the closest parking garages, compare prices and book a spot – all in just a few swipes! You don't need to stress out over parking spaces – book a spot even before you set out from home! It also helps you save more than 25% on parking rates using the in-app vouchers, discounts, and offers.
Best parking lots along Schuylkill River Trail
This outdoor self-park lot with contactless parking and 24-hour security is one of the best options along the trail. It is open between 7 a.m. and 7 p.m. and is operated by Patriot Parking. It is just 0.4 miles from the Schuylkill River Trail. Park here for as low as $30 for an entire day, or choose hourly parking for even lower rates.
This outdoor self-park garage is open between 6 a.m. and 6 p.m. and is a premium parking option in Philadelphia. It is just 0.5 miles from the trail and offers convenient parking for $38 per day. It will cost even less for hourly parking.
Also read: A ready reckoner on where to find the best parking spots in Philadelphia.
---
Read more blogs on affordable airport parking, the best insurance for your car, and top-rated car washes near you.
---