Fixing a big dent in your car door can be tricky. Most of the time, you'll be able to get the worst of the dent out. But the door may still be out of shape. You should hire a professional if you want the area to look as good as new.
Death and taxes are sure things in life? Do you know what else is inevitable? Getting a dent in your car! When your car has a dent, it never looks good. Even if you try to be as careful as possible, you can only sometimes plan for shopping carts that run away, footballs are thrown the wrong way, and light posts that appear out of nowhere.
You can take it to a body shop or a friendly local mechanic to get it repaired, but their charges can be astronomical, especially if they need to remove the paint or use body filler.
Instead, do it yourself and save some of that hard-earned money. Small dents or dings in a car can be fixed at home without damaging the paint, and you don't have to be a gearhead to do it.
However, not all of these methods will work on your vehicle. It depends on the location of the dent and the body panel, hood, or bumper material. For example, aluminum lacks memory properties, making it much more difficult to remove dents without paint. Paint is much harder.
Can I repair the dent myself?
Yes, but first, you must ensure the dent is alright. Measure the dent and ensure it's no more than three inches across and not too deep. If the mark is on a curve or contour of the bodywork, you shouldn't try to fix it yourself. You'll also need to be confident working on your car and getting to the back of panels.
Now it's time to decide which method to use. The step-by-step guides below show some of the best ways to get the job done.
If you think fixing it yourself is too hard, you can take it to a body shop or garage.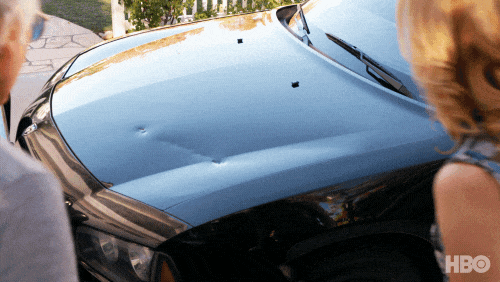 DIY Steps for fixing a dent on the car door
Are you determined to fix it yourself? Here's how to fix a big dent in your car door:
Get a dent puller, a hair dryer, tools for fixing dents, and microfiber towels.

Park the car on a flat surface.

Find out if the dented part is made of metal or plastic. Since it's on your car door, it's probably a dent in the metal.

Use your hair dryer to warm up the dented area. When the region is hot, attach the dent. 

Follow the directions on your dent puller to pull the dent out. Switch to your dent-pulling kit when the dent is gone or almost gone.

Use your microfiber towel to clean the area and find the deepest part of the remaining dent. 
If it's bad, keep going with the next steps. If it's not, you're done!
Fill the hole with the hot glue that came with your dent kit and let it dry for at least five minutes. Attach the puller to the glue and slowly pull the dent out by turning the dial. The dent should look much better if you remove the extra glue.
If your dent is too big to fix at home, take it to an auto body repair shop and let the experts take care of it. 
What is the cost of fixing a dent in your car?
The price range for dent repair is between $50 and $2500. Although this is a wide range, most tiny dents measuring less than one inch will cost between $50 and $125. Crash-related dents are often greater and cost $150 or more to repair.
Dents on sections with sensors, such as a bumper, dents involving numerous panels, or the necessity to repair pieces or panels, result in premium pricing. Removal costs may include repainting, sanding, or minor repairs.
Your overall cost for dent removal can vary substantially based on several factors. Get many estimates from collision or car body shops before deciding.
Technicians may use a cost calculator for dent repair to calculate how much to charge you. This application allows technicians to specify the size and depth of a dent. 
Some applications assess the accessibility of the dent based on the vehicle identifying number (VIN) of the car. 
How to repair a dent on plastic surface
If the damage is on a plastic surface, such as the front or rear bumper cover, and you can access the interior, pour boiling water.
If you can't get to the dent from the inside, try warming the outside with a hair dryer to make it bigger. For this method to work, you'll need a compressed air source. Once the dented area is warm, spray it with compressed air to cool it down and make the material contract. The dent might pop out.
You can find many other ways to fix dents on the internet, but we're still determining if they work. Only some tools for taking out dents work well too. Do a lot of research before you buy anything because you always get what you pay for.
Things to Keep in Mind
Take your time with everything. Getting rid of dents takes more than one step. If you work too quickly or pull on the metal too hard or too far, you'll stretch it in the wrong direction, making it impossible to fix. Without spending money on a professional repair, you can pull or push out your dent or ding using one or more of these methods. If you do well, pat yourself on the back. 
If not, or if the surface still looks crooked or the paint is damaged, it was worth a try. You can still swallow your pride, pull your money, and give it to a trained professional.
Don't Dent Your Finances! Get Insurance via Way.com
Check out the Way.com app to see how much you can save on your car insurance policy if you're worried about the bill. Then, use the money you saved to help fix the dent.
Once you've downloaded Way.com, you have to answer a few questions, which will take about a few seconds. You'll get car insurance quotes for coverage similar to what you already have. On average, Way.com customers save $971 a year.
---
Here's more info on top-rated airport parking, the best parking spots in your city, affordable auto insurance, easy auto refinance, and high-quality car washes near you.
---