You're jetting off from RDU and feeling hungry but don't want to settle for a boring airport meal. Do not fret, my famished friend! There are plenty of amazingly good restaurants near RDU to satisfy your hunger and your taste buds. Whether you're in the mood for a quick bite or a fancy dinner, our foodie's guide has got you covered with the top restaurants near RDU Airport.
10 best restaurants near RDU
If you're traveling through RDU Airport and looking for a delicious meal, you'll find good grub pretty easily! There are plenty of great restaurants in the area that offer a variety of cuisines and dining experiences. Here are the 10 best spots, in no particular order.
Hot tip:

Book RDU parking ahead so you can spend more time indulging your taste buds and less time searching for a spot!
Carmen's Cuban Cafe & Lounge
4 min (1.7 mi) via Airport Blvd
108 Factory Shops Rd, Morrisville, NC 27560
View this post on Instagram
Only a short drive from RDU Airport in Morrisville, Carmen's Cuban Cafe & Lounge is a must-visit spot for anyone who loves flavorful, authentic Cuban cuisine. Their menu includes flavorful dishes like Ropa Vieja and empanadas, tamales, and their famous mojitos. Fellow foodies recommend their Bistec Empanizado, Churrasco, Tostones, and Yucca. For something sweet, try the Plantanos Maduros or the Chocolate Mousse Cake.
Want to try a little of everything? Go for the Havana Sampler that has papa rellena, croquetas, empanada, and mariquitas. It's like a mini-vacation for your taste buds before your flight even takes off.
Chophouse
151 Airgate Dr, Morrisville, NC 27560
3 min (1.4 mi) via Airport Blvd
View this post on Instagram
If you're looking for a restaurant that offers you a steakhouse experience near RDU, Chophouse is the place to go. From Ribeye to Filet Mignon, this restaurant serves up some of the best cuts of meat in the area. And with a cozy, rustic atmosphere and friendly service, you'll feel right at home. But it's not just the steak dishes they're good at. Their seafood offerings have quite the fan following too. The Pacific Halibut, Atlantic Salmon, and Rockefeller Oysters are must-tries. If you don't want to feel too heavy before your flight, they also have a pretty sizable soup and salad menu. Try the Blue Crab Bisque, Caeser Salad, or Wedge Salad for something lighter.
Babymoon Café
5 min (2.4 mi) via Airport Blvd
100 Jerusalem Dr #106, Morrisville, NC 27560
View this post on Instagram
Babymoon Café is a small family-owned Italian restaurant near RDU Airport. Covered outside seats and an indoor seating area with a "star-filled" ceiling and a water fountain add to the relaxing atmosphere. Make a reservation if you can, but it's not mandatory. There's a wide variety of traditional Italian dishes like pizza, spaghetti, seafood, steak, and salads to choose from. You can't go wrong with the complimentary bread platter. Their salmon and shrimp dishes are to die for, and so is the veal piccata. You must also try favorites like ravioli and risotto.
Fount Coffee + Kitchen
8 min (3.7 mi) via Airport Blvd
10954 Chapel Hill Rd Ste 109, Morrisville, NC 27560
View this post on Instagram
Before or after your journey, stop by Fount Coffee + Kitchen, conveniently close to RDU Airport, for a relaxing cup of their well-roasted, locally sourced coffee. The café has a large selection of smoothie bowls, salads, open-faced toast " stacks," baked goods, small meals, and Counter Culture Coffee from Durham. The food at Fount is gluten-free and prepared with only the freshest, most nutrient-dense, and healthful ingredients. In addition to wine and seasonal craft beer, the drink menu features Tribucha Kombucha, a Cary-based kombucha beverage.
Los Tres Magueyes RDU
4 min (1.7 mi) via Airport Blvd
995 Airport Blvd, Morrisville, NC 27560
View this post on Instagram
This family-owned Mexican restaurant on Airport Rd in Morrisville invites customers to indulge in delicious dishes and beverages for lunch or dinner. They strive to delight their patrons with great food and friendly service. Customers can choose from the restaurant's family favorites and traditional Mexican dishes, prepared lovingly by hand and freshly made daily. They've got all your favorites, like tacos and burritos, enchiladas, and quesadillas. Some of their more unique options are El Pollo Limón and Pineapple Chicken & Shrimp. Trust us, it's muy delicioso.
Waffle House
6 min (2.9 mi) via Airport Blvd
1006 Airport Blvd, Morrisville, NC 27560
View this post on Instagram
Sometimes you just need some good old-fashioned comfort food, and Waffle House near RDU delivers. They've got all the classic Southern favorites, like waffles, hash browns, pork chops, and grits. Plus, it's perfect for those early morning or late-night flights. The patty melt is a must-try. The waffles are delicious, and so are the omelets. We'd recommend it as the ideal breakfast restaurant near RDU.
Cracker Barrel Old Country Store
4 min (1.8 mi) via Airport Blvd
955 Airport Blvd, Morrisville, NC 27560
View this post on Instagram
For more Southern comfort food, head to Cracker Barrel Old Country Store near RDU. They've got all the classics, like biscuits and gravy and pancakes. The cheesecake pancakes are a hit with most travelers. Country Fried Steak, Chicken n' Dumplins, and Fried Chicken BLT are good options. There's also a range of Homestyle Meals, Country Plates, and Country Vegetables n' Sides. Comfort food at its best! Wash it all down with some freshly brewed iced tea or old-fashioned lemonade.
Spinners Bar and Grill
4 min (2.1 mi) via Airport Blvd
1200 Claren Cir, Morrisville, NC 27560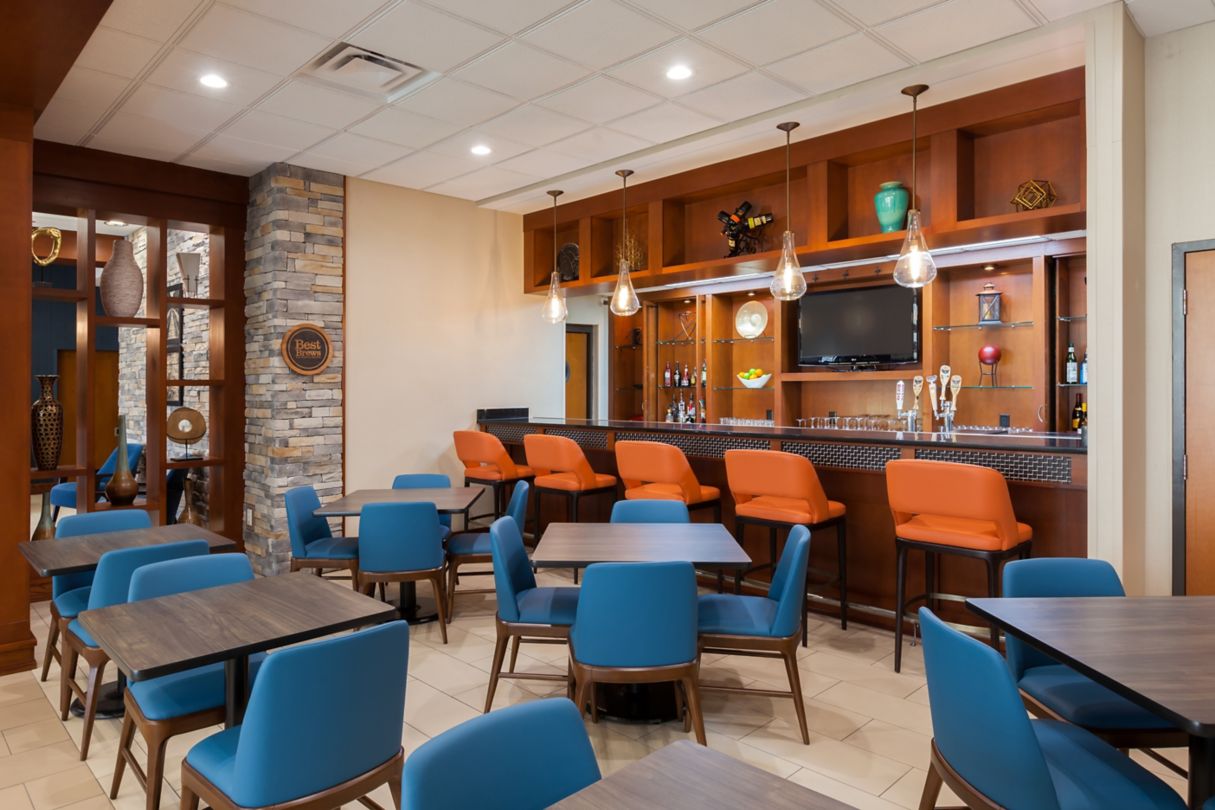 Image Source: https://www.marriott.com/en-us/hotels/rdufp-four-points-by-sheraton-raleigh-durham-airport/dining/
This casual bar & restaurant is located at the Four Points Sheraton Hotel in Morrisville, quite close to RDU Airport. This sleek, modern spot serves  American cuisine like mac & cheese, burgers, and sandwiches. Pot pies, shrimp and grit, tacos, and salads are also available. And with a full bar and plenty of all your favorite tipples and creative cocktails, it's a great spot to hang out before your flight.
Farmside Kitchen
7 min (4.3 mi) via I-40 E and Airport Blvd
5431 Page Rd, Durham, NC 27703
View this post on Instagram
This is the best restaurant near RDU if you want something healthy to eat without compromising taste. They are a locally owned and operated business that sources its produce locally. You can choose from a variety of grain bowls or create your own. The clean and bright restaurant serves tasty, nutritious meals with plenty of kid-friendly alternatives. They also serve up some rather tasty tea drinks.
Page Road Grill
6 min (4.1 mi) via I-40 E and Airport Blvd
5416 Page Rd, Durham, NC 27703
View this post on Instagram
Page Road Grill prioritizes sourcing ingredients from North Carolina farmers and is dedicated to using sustainable practices, including compostable and recyclable to-go containers, bags, and bar stirrers, as well as participating in a food recycling program that reduces solid waste by 85%. The lunch menu offers a variety of sandwiches, burgers, and salads, while the dinner menu features Southern favorites such as shrimp and grits, smoked brisket, and crab cakes. The establishment is known for being an ideal spot to unwind and enjoy oneself. Shrimp and grits, scallops, and pork are highly recommended. Additionally, they boast a full-service bar that includes 21 beers on tap, signature cocktails, and a full wine list.
These 10 best restaurants near RDU are a great option for anyone who wants to enjoy a delicious meal before or after their flight. Nonetheless, due to the high demand, it is important to book RDU airport parking in advance to prevent missing flights because of traffic. When you reserve a parking spot in advance, you won't have to worry about driving around the airport parking lot in circles, wasting time. Instead, you may unwind and savor your meal with the assurance that your vehicle will be waiting for you upon your return. So, the next time you fly out of RDU, visit these fantastic restaurants and pre-book your parking spot for a stress-free travel experience.