Honda, which has already developed a set of fuel-cell vehicles, is on its way to success in the electric car market. They aim to make electric vehicles account for two-thirds of worldwide auto sales by 2030. Inspired by this idea, they've unveiled a vehicle called the Honda Fit EV. Here you will learn about this car's features and why the Honda Fit EV was not successful. 
Honda Fit EV – The lease-only vehicle
The Honda Fit EV, however, was a far smaller blip on the EV map in terms of its features and overall impact. As Honda's first attempt at producing an all-electric vehicle, the Fit EV was only available for one year, i.e., 2014, the year it was introduced. Honda had previously begun leasing the hydrogen fuel-cell-powered Honda Clarity with minor success, and the Fit EV was just an attempt in the electric vehicle world. 
But Honda Fit EV was not a success, and the model lasted only for that year. One of the reasons this car was unsuccessful was that it was a 'lease-only' vehicle, and the allotted range was very low.  
Be smart and move on to electric vehicles. We will make this process easy by helping you find the best charging experience possible. 
Specifications
Price

 

Wheelbase

 

Length

 

Width

 

Height

 

Curb weight

 

$37,415

 

98.4 in

 

161.6 in

 

66.7 in

 

60.0 in

 

3238 lb

 
Type of electric motor

 

Speed in sports mode

 

Fuel Economy

 

Permanent magnet AC synchronous electric motor, 123 hp, 189 lb-ft; 20-kWh lithium-ion battery pack

 

0 to 60 mph: 8.7 sec

 

EPA for city driving: 132 MPGe

 

 

EPA for highway driving: 105 MPGe 

 

Range (C/D est): 64 mi 

 
The front fascia has a splitter which helps in the larger airflow around the sides and lower air underneath. A rear spoiler extends from the roof rearwards. The car's underside was lined with a large, flat belly pan. 
The electric Fit offers the same comfortable seats, easy-to-use controls, and excellent vision as the gas model. The space was spacious enough to accommodate four adults in luxury. There's a lot of stash space.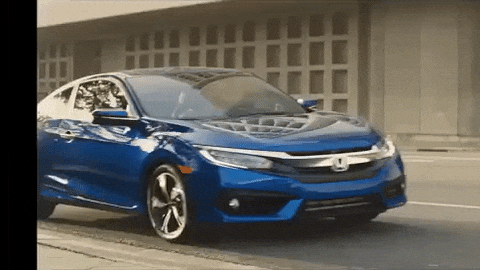 via GIPHY
The driving range was estimated in real-time and shown as a concentric circle around the car's present location, giving the impression of a moving blip on a radar screen; this feature was integrated into the standard voice-activated navigation system. The navigation system can provide traffic updates and make emergency calls for the driver.  
As an additional EV-specific feature, the driver was provided with an eco-score and an information display on the dashboard that shows the vehicle's current energy consumption.
What are the performance issues of the Honda Fit EV?
The performance it brought about in its sport mode was much lower than what Tesla cars produce on a poor day.  
It has a curb weight of 3,238-pound which was 630 pounds more than the gas-powered Honda Fit. On evaluation, it was found that its performance was almost the same as that of the 2013 Honda model, and there was not much progress.  
When charged using a 240-volt charger, it takes about 3 hours to charge fully. The vehicle can run up to 82 miles, the estimated EPA range when fully charged.  
Price and other features
The MSRP of the Honda Fit EV was around $37,415, with a lease payment of around $259 each month for three years. It includes collision insurance and unlimited mileage. The major issue with this vehicle was that you could not own it as it was available only for lease and should be after the lease period.  
Based on the car review provided during that time, the vehicle was found to run smoothly and provides a torque-filled driving experience. The gas engine was replaced by an electric motor which was not that acceptable all around.  
Way.com is here to help protect what's around you. We also give you the best insurance rates for your most valuable asset, your home. 
Pros and cons
Pros

 

Cons

 

Single trim level and single-color combination make it simple.

 

You can only lease the car but can't buy it.

 

It was a zero-emission vehicle.

 

The vehicle was found only in a limited number of states.

 
Bottom line
Honda Fit EV, even though it was introduced into the electric vehicle world, it did not receive wide acceptance. But by introducing this vehicle, Honda company got an idea about the behavior and interest of the EV market. We can expect that through this understanding, Honda will introduce EVs which can even be the best electric car in the future. We can wait patiently to receive the Honda EV.  
---
Way.com, the one-stop shop for all car owners, will assist you with parking needs. We will help you find affordable car insurance and refinancing quotes, let you know the closest car wash, and show you how to get cash back on your gas. 
---