Traveling can be a hassle sometimes, especially if you're traveling to the fifth-largest airport in the US, George Bush Intercontinental. Finding a hotel near IAH Airport can help alleviate some of that stress. That said, finding a suitable hotel near Houston IAH Airport might be difficult. To make your search easier, here's a list of the 10 best hotels near Houston IAH Airport.
George Bush Intercontinental Airport is approximately 23 miles north of downtown Houston. That's a bit of distance you'll need to commute if you're arriving or leaving at odd hours. The good news is that there are numerous hotels near George Bush Intercontinental Airport in Houston. With our list of the top 10 IAH Airport hotels, you won't have trouble selecting a hotel that meets your requirements.
Best Hotels near Houston IAH Airport
Houston Airport Marriott at Houston IAH Airport
Excellence is something you can count on when it comes to Marriott hotels. Everything from the service, hospitality, and facilities to the staff is always superb. So it's easy to see why Houston Airport Marriott is the finest hotel near George Bush Intercontinental Airport in Houston, Texas, on this list.
If you can't accept anything less than the best, we highly recommend staying at this hotel. Even though the pricing is slightly higher, your stay will be well worth it. The sensation you will have been unlike any other.
There are many reasons to like Houston Airport Marriott. This chic hotel has recently renovated big rooms and suites with excellent décor. This is where you may find the right balance of convenience, style, and comfort under one roof. Every room has a cable TV with premium channels, a coffee machine, and a speedy WiFi connection. Get some fresh air by relaxing on the hotel's patio or swimming in the relaxing outdoor saltwater pool.
Wingate by Wyndham Houston Bush Intercontinental Airport
This Wingate by Wyndham Houston Bush Intercontinental Airport IAH hotel has a convenient location off route 8. This hotel is only five miles away from Houston George Bush Intercontinental Airport. It is also close to the Hobby Center for the Performing Arts, golfing, shopping, and various local restaurants.
This pet-friendly hotel has daily breakfast, complimentary WiFi, a fitness facility, and a pool. There are also conference rooms, and a business center, making it an excellent choice for business and leisure travelers. In-room amenities may include a microwave, refrigerator, safe, television, and daily newspaper delivery. In addition, some rooms are accessible for guests with disabilities and suites. At guests' request, the hotel provides a complimentary shuttle service to and from the airport every day between 6:00 am and 10:00 pm. Please call the hotel to arrange pick-up.
Book Wingate by Wyndham Houston Bush Intercontinental Airport Parking in just minutes with Way.com airport parking.
Holiday Inn Houston Intercontinental Airport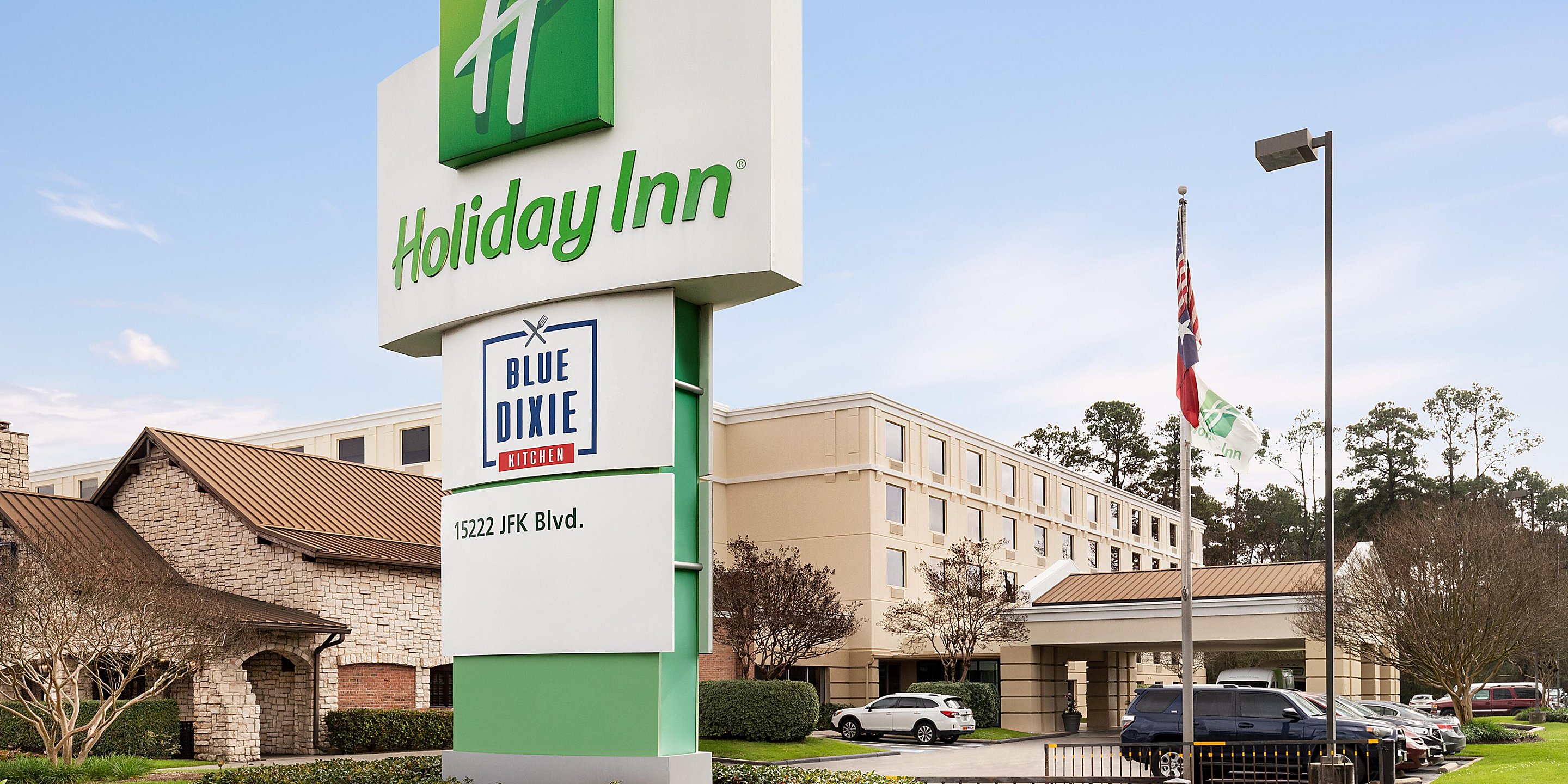 When it comes to airport stays, the Holiday Inn Houston Intercontinental Airport is the ideal budget-friendly option. Natural comfort and full-service amenities make this a great spot to relax and refresh. But, of course, you're never too far from Houston's best attractions when surrounded by some of the city's best hotels.
This recently opened hotel has newly remodeled rooms with warm Texan hospitality. Indulge in the welcoming atmosphere whether you're traveling alone or with a group of loved ones or buddies. There are brightly decorated interiors in all of the rooms. Each one has a television and a desk for working. You can also make a cup of tea or coffee while relaxing in the quaint surroundings.
Need to book Holiday Inn Houston Intercontinental Airport Parking? Book the best IAH Airport parking on Way.com.
Radisson Hotel Houston (IAH) Airport
The Radisson Hotel Houston Intercontinental Airport is quite close to the airport. This smoke-free hotel has an indoor pool, a restaurant, and coffee/tea in the lobby. There is free WiFi in public areas, free self-parking, and a free airport shuttle. Onsite amenities include laundry facilities, a 24-hour front desk, and speedy check-in.
The Radisson has 90 air-conditioned rooms with coffee/tea makers and hairdryers. Beds have quality bedding. Televisions include premium cable channels and pay-per-view movies. There are refrigerators and microwaves available. The bathrooms have a combined bath/shower unit and complimentary toiletries.
This Houston Airport hotel features free wired and wireless Internet. Desks and phones are examples of business-friendly amenities.
Book Radisson Hotel Houston (IAH) Airport parking via Way.com in less than five minutes!
Country Inn & Suites by Radisson Houston Airport
You can take advantage of a late check-out time at the Country Inn & Suites if you are looking for a leisurely stay on a budget. This hotel offers a check-out time of midnight, along with complimentary coffee, a full breakfast, and a newspaper in the morning. If you are looking for a place to stay where you can save money, this is the place to go. The hotel chain features locations close to both of Houston's airports. They provide guests with quick access to Houston's most visited attractions. If needed, they'll provide shuttle service seven days a week. This is above the exceptional amenities and customer service they offer.
Book Country Inn & Suites by Radisson Houston Airport parking via Way.com in less than five minutes!
Hilton Garden Inn Houston Bush (IAH) Airport
Book a stay at Hilton Garden Inn Houston Bush Intercontinental Airport, and you can enjoy everything Houston has to offer. The amenities and services provided by Hilton Garden Inn Houston Airport ensure that guests have a great stay. With the hotel's complimentary WiFi internet access, you may upload photos and respond to emails whenever you choose. Use the hotel's easy-to-book transportation options to schedule your travels to and from the airport. In addition, the hotel offers cab services to help you find what you're looking for in Houston.
The hotel provides free parking for visitors who have their own transportation. While staying at this excellent hotel, the friendly front desk personnel can assist you with various services. This includes speedy check-in or check-out, luggage storage, and safety deposit boxes. The hotel also offers onsite dry cleaning and laundry services. In-room amenities include room service and daily housekeeping, allowing you to unwind and enjoy your stay.
Wondering how to book Hilton Garden Inn Houston Bush (IAH) Airport parking ? Book IAH parking easily with Way.com.
Hyatt Regency Houston International Airport
This Houston hotel is only a few miles from Houston IAH Airport and has a complimentary airport shuttle. It has a tropical outdoor swimming pool with a hot tub and accommodations with free WiFi. The Hyatt's rooms have a flat-screen TV with cable channels. There is also a spacious work desk and a coffee maker.
The hotel has a business center as well as a 24-hour fitness center. Sam's Restaurant and Bar offers a casual atmosphere with fresh, regional cuisine. The Hyatt Regency Houston Intercontinental Airport is only a 15-minute drive away, and Downtown Houston is 15 miles away. In addition, the property is a short drive from NRG Stadium and Texas Medical Center.
You can now book Hyatt Regency Houston International Airport parking on Way.com without a room reservation.
Red Roof Plus & Suites Houston Airport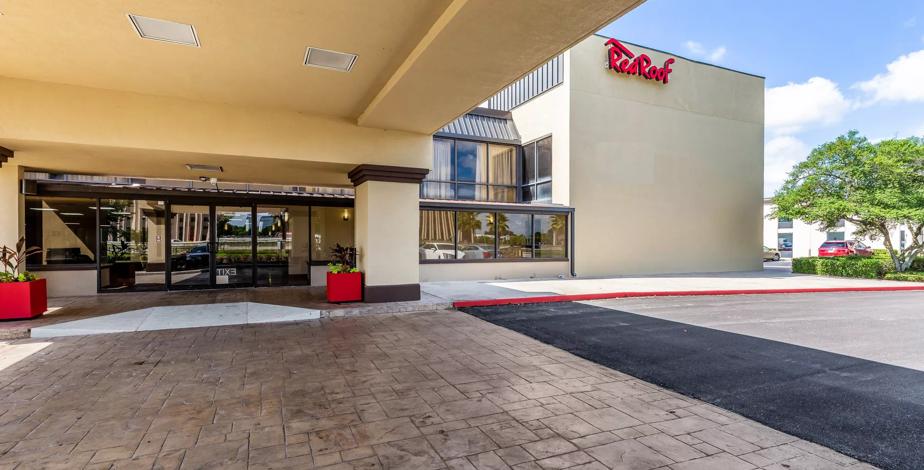 The Red Roof PLUS+ & Suites near IAH Airport SW is a family-friendly hotel only a few miles from the Houston Airport (IAH). Also, Jesse Jones Park and Nature Reserve, Kingwood Cove Golf Club, Wet' n' Wild Splashtown, and the Houston Zoo are all located in the vicinity.
They provide free Verified WiFi for guests and a free enhanced TV package that includes HBO. There's also a free airport shuttle to and from Houston Airport. It is available daily between the hours of 7 am, and 10 am and between the hours of 5 pm and 10 pm. The Red Roof PLUS+ & Suites Houston – IAH Airport SW welcomes humans and their four-legged companions with open arms.
Red Roof Plus & Suites Houston Airport parking is now available at discounted rates only on Way.com.
Sheraton North Houston
We've shared a selection of inexpensive hotels near Houston Airport. It's time to show you how to improve your game and enjoy a luxurious experience at Sheraton North Houston. Let's begin with the Sheraton North Houston. This is a terrific pick for any type of Houston visitor. This hotel provides a family-friendly environment and numerous amenities to enhance your stay. Book your room at this Houston Airport hotel, whether you're just passing through or taking a vacation in Houston.
Relax and enjoy optimum convenience while yet maintaining flair and charm. You'll feel at ease no matter where you're from. You'll be pleasantly pleased by high-quality hospitality and world-class services. The Sheraton North Houston's comfortable rooms have cable TVs, coffeemakers, and seating places. You can even request a room with direct access to the Club Lounge if you want to have some beverages there.
Hampton Inn & Suites Houston-Bush Intercontinental Airport
When you stay at this hotel, you will have easy access to the airport and Houston's most popular attractions. That's because it is near three major freeways. The Hampton Inn & Suites is one of the best hotels near Houston's IAH Airport, period.
Relax in your spacious accommodation, which has a comfy Cloud Nine Bed. It's so comfortable that you'll never want to get out of bed. Every accommodation has internet access, so you won't have to worry about missing out on the newest news. Cookies, chocolates, and fruits are available for breakfast every day.
---
Here's more info on top-rated airport parking, the best parking spots in your city, affordable auto insurance, easy auto refinance, and high-quality car washes near you.
---