Planning a vacation should be enjoyable, right? But, with so much information available on the internet, it is easy to become overwhelmed. For instance, you just want a comfy hotel near Jacksonville airport. A quick google search will often leave you screaming "TMI"! You'll comb through result after result, and still have no idea what to do. Don't worry; you are not alone. We're here to help with a list of the 10 best hotels near Jacksonville Airport.  
 Jacksonville International Airport is 13 miles north of downtown Jacksonville. JAX airport's strategic location makes it easy for folks to get to all the popular tourist attractions in Jacksonville. And when it comes to attractions, Jacksonville has them in spades. These include the Jacksonville Zoo and Gardens, Seaton Creek Historic Preserve, and the Ranch Wildlife Sanctuary.
Where to stay near JAX Airport
As one of Florida's most populous towns, it comes as no surprise that there are plenty of hotels near Jacksonville Airport. Depending on the hotel you are staying at, you can drive to the airport in 4 to 7 minutes. Having said that, most hotels provide shuttle transport for their guests. Overall, the areas near JAX Airport are family-friendly with a plethora of eateries and shopping options.
Crowne Plaza Jacksonville Airport Hotel
Source: https://www.ihg.com/crowneplaza
This full-service hotel near Jacksonville Airport has enough amenities to keep any traveler happy. This includes free internet, airport shuttles, and onsite parking. The famous atrium, replete with a heated indoor pool, is a breathtaking focal point of this Crowne Plaza. At the Savannah Bistro, guests can dig into the best of Southern hospitality and fill up on innovative regional food. Enjoy premium triple sheet bedding and sleep amenity packs for the best night's sleep. Start the day with a visit to the cutting-edge exercise facilities and fuelling up at Biscotti's Internet Cafe. The Crowne Plaza Jacksonville Airport is a must-see due to its proximity to the airport and area attractions.
Courtyard Jacksonville Airport Northeast
Source: https://www.marriott.com/
Many people chose Courtyard by Marriott Jacksonville Airport/ Northeast when visiting Jacksonville. Why? Jacksonville Airport is only a few minutes away and they have an airport shuttle. What's more, you won't have to pay a dime for it, and if you have a car, you can park it for free.
The comfortable and comfy mattresses at this hotel offer a pleasant night's sleep to guests. Each room is pleasantly designed and has a flat-screen TV with cable channels. Of course, extra facilities, like those found in other hotels near Jacksonville Airport, are also available. Each room includes an air conditioner, free WiFi, and a coffee maker. The nicest feature, in our opinion, is the big bathtub.
When the light comes up, make your way down to Courtyard Café for an American breakfast. Meanwhile, The Market is open 24 hours a day and serves modest snacks and cold beverages. Don't forget to have a cup of coffee as you read the newspaper in the lobby. The hotel includes a sundeck that surrounds the outdoor pool and a whirlpool for leisure. Those looking to exercise can also visit the fitness facility. It has treadmills, weights, and cardio equipment.
If you're looking for JAX Airport parking,  you'll find it on Way.com airport parking. You won't even have to book a room!
Springhill Suites By Marriott Jacksonville Airport
Source: https://www.marriott.com/
Choose Springhill Suites by Marriott Jacksonville Airport for an unforgettable stay. This hotel is difficult to beat, with its amazing hospitality, first-rate amenities, and excellent location. This hotel is only a 5-minute drive from the airport, and it offers a free shuttle service, making travel simple.
Once you've finished unloading your belongings, you may unwind in the tastefully appointed room. It comes with a couch bed, a flat-screen TV, and complimentary high-speed WiFi, allowing you to stay connected and productive. The bathroom is fantastic, and it also comes with high-quality bath supplies. An in-suite pantry with a microwave and a mini-fridge is also available, so don't be afraid to unleash your inner chef!
Start your day with a complimentary, cooked breakfast. This includes Belgian waffles, eggs, pastries, and fresh fruits at this hotel. If you eat a lot, stop into The Market convenience shop for some snacks and beverages. Following that, you may work out in the fitness facility, swim in the outdoor pool, or unwind on the sundeck.
Quality Inn Airport Jacksonville
Source: https://www.choicehotels.com/
Quality Inn Airport Jacksonville can only be described in one word: fantastic. This freshly remodeled hotel is quite close to the airport and provides guests with an airport shuttle. However, unlike other hotels near the airport in Jacksonville FL, it is only offered at a fee. Another thing that makes this hotel exceptional is that it is bordered by hundreds of restaurants, ensuring that you are never hungry.
As one of the best hotels near the airport in Jacksonville, you should take advantage of many of its complementary features. They include included continental breakfast, parking, and local calls. Caffeine addicts, unite! To top it all off, you can get free 24-hour coffee! We also like the outside swimming pool location. It's spacious, and if you get weary, you can sit by the pool and have a drink.
The quality of the accommodation at this hotel is unquestionable. They are all equipped with work tables and cable televisions. Microwaves and refrigerators are available in certain rooms, making your stay even more enjoyable. However, we must applaud the bed. It's quite comfortable, with luxuriously soft bedding. You will undoubtedly sleep like a baby!
Way.com has plenty of JAX parking options for you to choose from. Forget about having to book a hotel room!
Fairfield Inn & Suites Jacksonville Airport
Source: https://www.marriott.com/
Fairfield Inn & Suites Jacksonville Airport is a 4-minute drive from the airport. It is an excellent choice for tourists passing through Jacksonville. This hotel near Jacksonville Airport provides a complimentary 24-hour airport shuttle. There is free parking available for people traveling by vehicle, and no reservations are required.
This hotel has several amenities that will make your stay more pleasurable. They feature a business center, a lobby computer, and a boarding pass printer. If you are hungry late at night, you could swing by the convenience shop and grab some snacks and drinks. On-site laundry is also provided 24 hours a day, which is really convenient when you've run out of clothing to wear. Guests are also welcome to swim in the outdoor pool or work out in the fitness facility.
Each room has a smart TV with access to apps such as Netflix and Hulu. You'll be able to facetime your buddies as well, thanks to the free WiFi. Don't forget to keep your snacks and beverages in the fridge, and if you are hungry at midnight, simply reheat your meal in the microwave. What's the cherry on top? Well, the private bathroom has a large bathtub, so you can enjoy a relaxing bubble bath!
DoubleTree By Hilton Hotel Jacksonville Airport
Source: https://www.hilton.com/
The 3-star DoubleTree by Hilton Hotel Jacksonville Airport is quite close to Jacksonville Airport. You do not need to worry about airport transfers, since this hotel, like other hotels near Jacksonville Airport, provides them. Even better, it's available 24 hours a day, seven days a week. River City Marketplace is an 8-minute drive from the hotel, while downtown is a 20-minute drive. If you want to see the downtown area, try taking the Half-Day City Tour in Downtown Jacksonville. The pleasant and trained guide will teach you about the history of downtown and show you all of the key sights in the neighborhood.
All of the modern bedrooms and suites at this hotel provide free high-speed WiFi, a 42″ flat-screen TV, and a soft bed. Those who need to finish a project may take use of the big workspace, which has an ergonomic chair and a multimedia center. Do you want anything cold? Purchase one from a local convenience shop and place it in the mini-fridge. However, we strongly advise staying in the suite. It's really big, and it has a dining room, which is ideal for families!
If you enjoy classic American food, Frequency Restaurant and Bar is open for breakfast, lunch, and supper. After a long day, you may unwind by the outdoor pool. Why not head to the gym and get a little exercise done before retiring to bed if you still have some energy left?
Way.com  is the place to look if you're searching for parking at Jacksonville Airport.
Hyatt Place Jacksonville Airport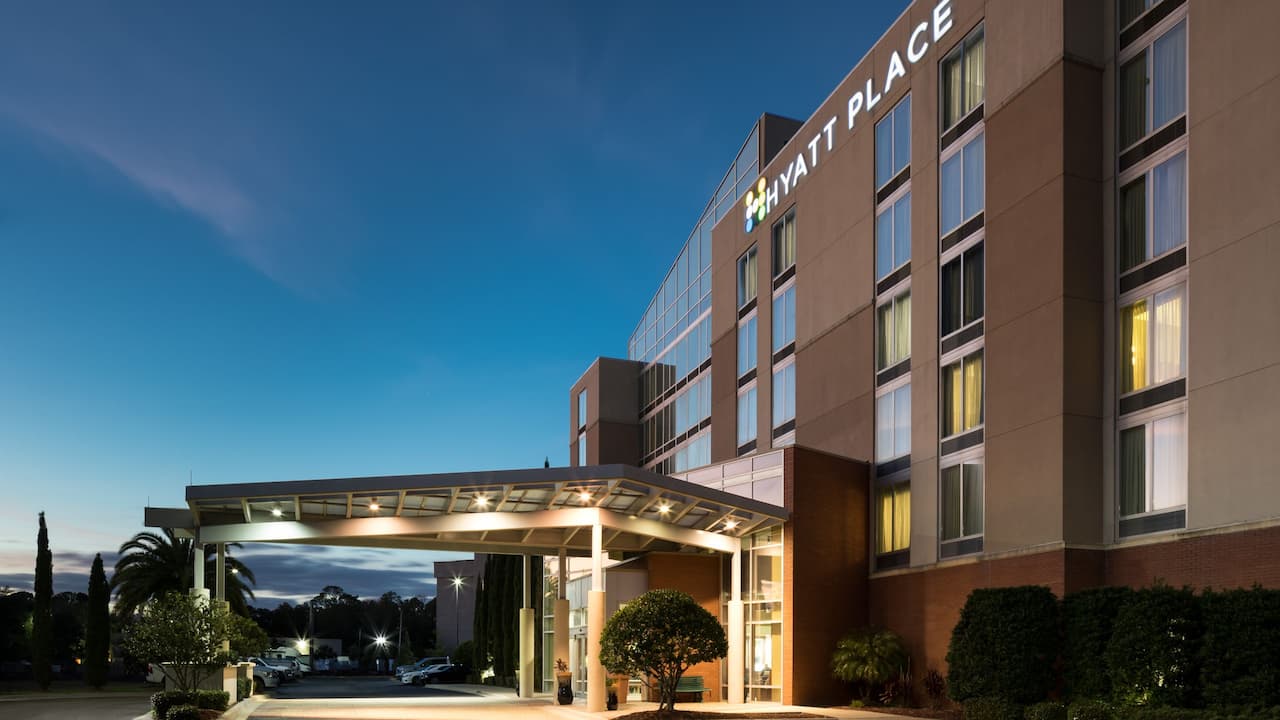 Source: https://www.hyatt.com/
No matter where you go, staying at a Hyatt hotel is always a good idea. When in Jacksonville, consider staying at the Hyatt Place Jacksonville Airport. It's only 2.3 miles (3.7 kilometers) from the airport and provides a complimentary airport shuttle, so you don't have to call an Uber. You may also easily visit River City Marketplace, which is located off Interstate 95.
This resort, one of the newest hotels near the airport in Jacksonville FL, has 127 well-appointed rooms ready to greet you. Each spacious accommodation has a separate sitting space. Rooms also have a 42″ flat-screen TV, and free WiFi, which are the three most vital features for relaxing. There is also a 24-hour food service, which is ideal for folks who frequently need to eat around midnight. A coffee machine and a mini-fridge round out the comforts.
When you wake up, you may start your day with breakfast at the Gallery Market, which is open 24 hours a day and features American food. Then you're encouraged to relax in the outdoor pool with sun loungers. Those who do not swim may instead use the 24-hour fitness facility. Before calling it a night, unwind with a glass of wine at the cocktail bar.
Holiday Inn Express Hotel & Suites Jacksonville Airport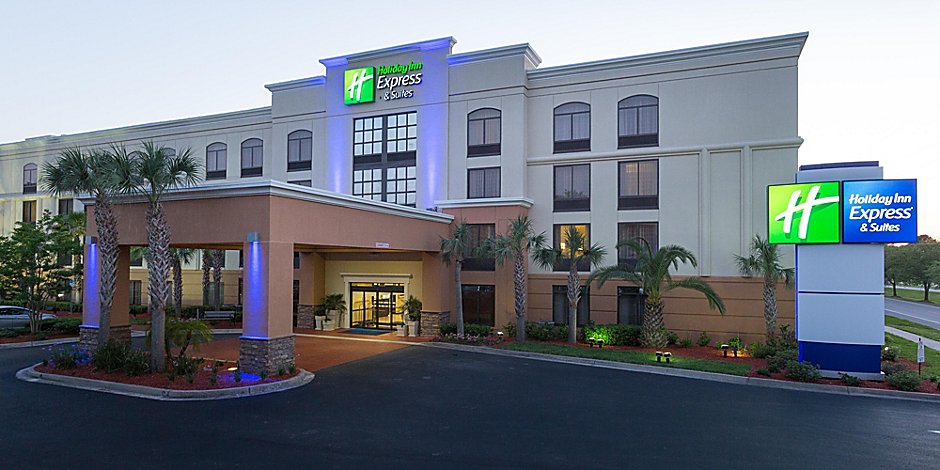 Source: https://www.ihg.com/
The Holiday Inn Express is one of the top hotels near Jacksonville Airport for rest and relaxation. This hotel, known for its family-friendly atmosphere, is not only close to several eateries, but also to the airport. It also provides a complimentary airport shuttle 24 hours a day, seven days a week. Do you need a parking spot? This hotel offers free public parking with registration.
This hotel's comfortable room is nothing short of spectacular. Turn on the air conditioner, connect your phone to the free WiFi, and rest your tired head on the cloud-like cushion when you arrive. If you can't sleep, switch on the TV and continue watching your favorite Netflix series. Coffee-making facilities and a work desk are available as extras.
While you're here, take advantage of the complimentary breakfast at the on-site restaurant. Then you may relax in the swimming pool and hot tub, or work out in the fitness facility. Travelers on business can use the 24-hour fitness facility, which has fax and photocopying equipment.
Don't need a room near JAX? If you're looking for Jacksonville Airport Parking, Way.com can help.
Hampton Inn & Suites Jacksonville-Airport
Source: https://www.hilton.com/
Hampton Inn & Suites Jacksonville-Airport is also of the best hotels in Jacksonville near the airport. Despite being less than 2 miles from the airport, the hotel provides a complimentary airport shuttle.
There's no better way to start the day than with a complimentary hot breakfast buffet at this hotel. When it comes to food, you may also get a fast snack from the 24-hour convenience shop if you're in a rush. Those who do want to work up a sweat in the fitness facility can cool down in the outdoor pool.
All the rooms have a flat-screen TV with pay-per-view channels. Getting online is a breeze with free high-speed WiFi. While there is no kitchen, there is a microwave, a coffee maker, and a small refrigerator in the room. Those searching for a larger accommodation may like the Queen Suite, which has two queen-size beds and large lounge space.
Hilton Garden Inn Jacksonville Airport
Source: https://www.hilton.com/
Garden Inn, is only seconds away from the airport. This hotel is conveniently located between Interstate 95 and 295. It offers several freebies, including an airport shuttle and free public parking. Are you going downtown? Don't worry, Downtown Jacksonville and the area's magnificent beaches are just a short drive away.
This hotel's guests may enjoy on-site eating at the Great American Grill restaurant, which will keep your stomach full and pleased. Do you want any snacks? You may look for them in the 24-hour convenience shop whenever you wish. Don't forget to burn some calories by working out at the gym or swimming a few laps in the outdoor pool. A 24-hour front desk and speedy check-in and check-out are two further amenities worth highlighting.
There are several rooms to select from at this motel. Each one is not tiny and has all of the necessary conveniences. A flat-screen TV, free WiFi, and an air conditioner are standard. If you have the funds, consider booking the suite instead. It's a fantastic suite for you and your family or friends, with plenty of seating and a much-needed spa bath.
Other parking options near JAX Airport
Apart from hotel parking, consider offsite options like Park EZ Fly & Ride JAX Airport Parking, where you can park at just $5.99/day. 
Way.com can assist you in your search for Jacksonville Airport Parking options.
---
Here's more info on top-rated airport parking, the best parking spots in your city, affordable auto insurance, easy auto refinance, and high-quality car washes near you.
---