If you are visiting Milwaukee for business or pleasure and want to stay at one of the hotels near the Milwaukee Airport, you're in luck. There are Milwaukee Airport hotels that cater to all kinds of travelers. There are hotels for the business traveler, the stylish vacationer, and the budget-conscious traveler. So here's our list of the 10 best hotels near Milwaukee Airport.  
Top Milwaukee Airport Hotels
Milwaukee is a pretty interesting industrial city with a rich cultural and historical heritage. It is also Wisconsin's biggest city, having a population of over 500,000 people. It may not be as well-known as its neighboring city, Chicago. But this sophisticated industrial boomtown has a lot to offer visitors. The airport is 8.6 miles from downtown Milwaukee. Even if you stay at a hotel near Milwaukee Airport, you can get to the city in less than 30 minutes. Here are some of the Milwaukee Airport hotels you should consider.
Crowne Plaza Milwaukee Airport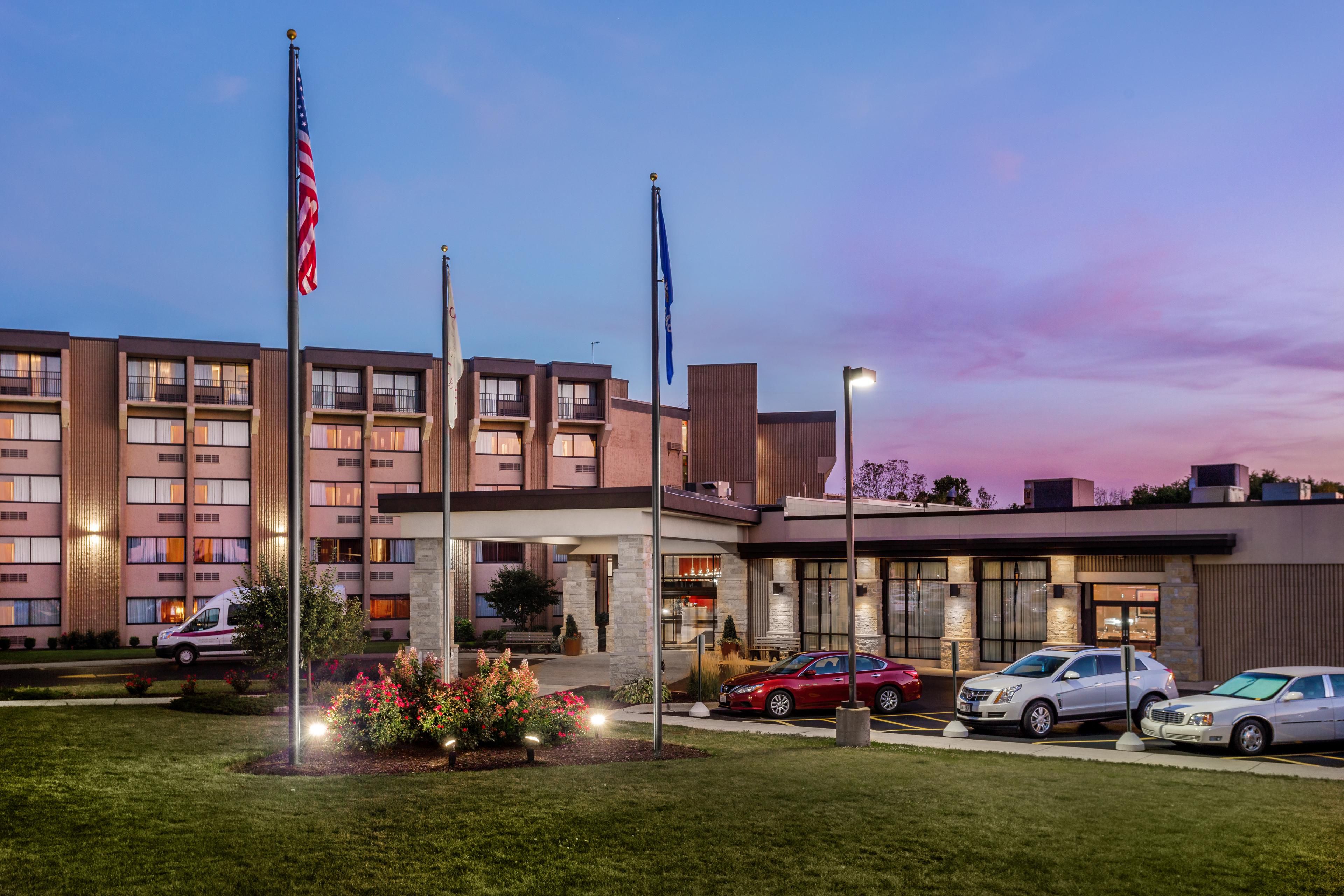 The Crowne Plaza Milwaukee Airport is about 10 miles from the heart of downtown Milwaukee and only 4 miles away from MKE Airport. The hotel provides its guests with many convenient amenities, such as free parking, a fitness center, and an indoor pool.
Travelers who are feeling peckish may get something to eat in the restaurant that is on the premises. It is open for breakfast, lunch, and supper. In addition, workstations, flat-screen televisions, and free WiFi are available in each of the hotel's 194 guestrooms. Visitors are happy with the personnel for their friendliness, helpfulness, and ability to accommodate their needs.
Need to book Crowne Plaza Milwaukee Airport parking without booking a room? Just reserve your MKE parking spot with Way.com.
Hilton Garden Inn Milwaukee Airport
The Mitchell International Airport is only a mile away from the Hilton Garden Inn Milwaukee Airport. Even so, this hotel provides complimentary transportation to and from the airport. In addition, the hotel is quite close to the I-94 highway. So it will only take a few minutes to reach downtown Milwaukee which is just eight miles away.
Each hotel room has a refrigerator, microwave, and Keurig coffee machine. WiFi access is provided without charge to guests. There are suites available, each of which provides additional room for living. You can unwind after a hard day by soaking in the whirlpool or indoor pool, and a fitness facility is on the premises for your use. Travelers who do not wish to journey too far in search of dining options may appreciate the hotel's provision of a restaurant on the premises.
Hyatt Place Milwaukee Airport
The Hyatt Place is another of the several hotels near Milwaukee Airport. The Mitchell International Airport is approximately a mile away. This hotel also provides a free shuttle service to and from the airport for all its guests. There is a choice between standard rooms and suites. They come equipped with a coffee maker, a mini refrigerator, and complimentary wireless internet access.
The guest lounge, the fitness center, and the pool are all available to guests. There is also a self-service laundry facility onsite and other traveler comforts such as a pet-friendly policy. The Hyatt Place Milwaukee Airport features an onsite breakfast bar. It provides guests with delicious breakfast options each morning. In addition, the hotel provides a store that is open around the clock so guests can acquire refreshments to grab and go and take back to their rooms.
La Quinta Inn by Wyndham MKE Airport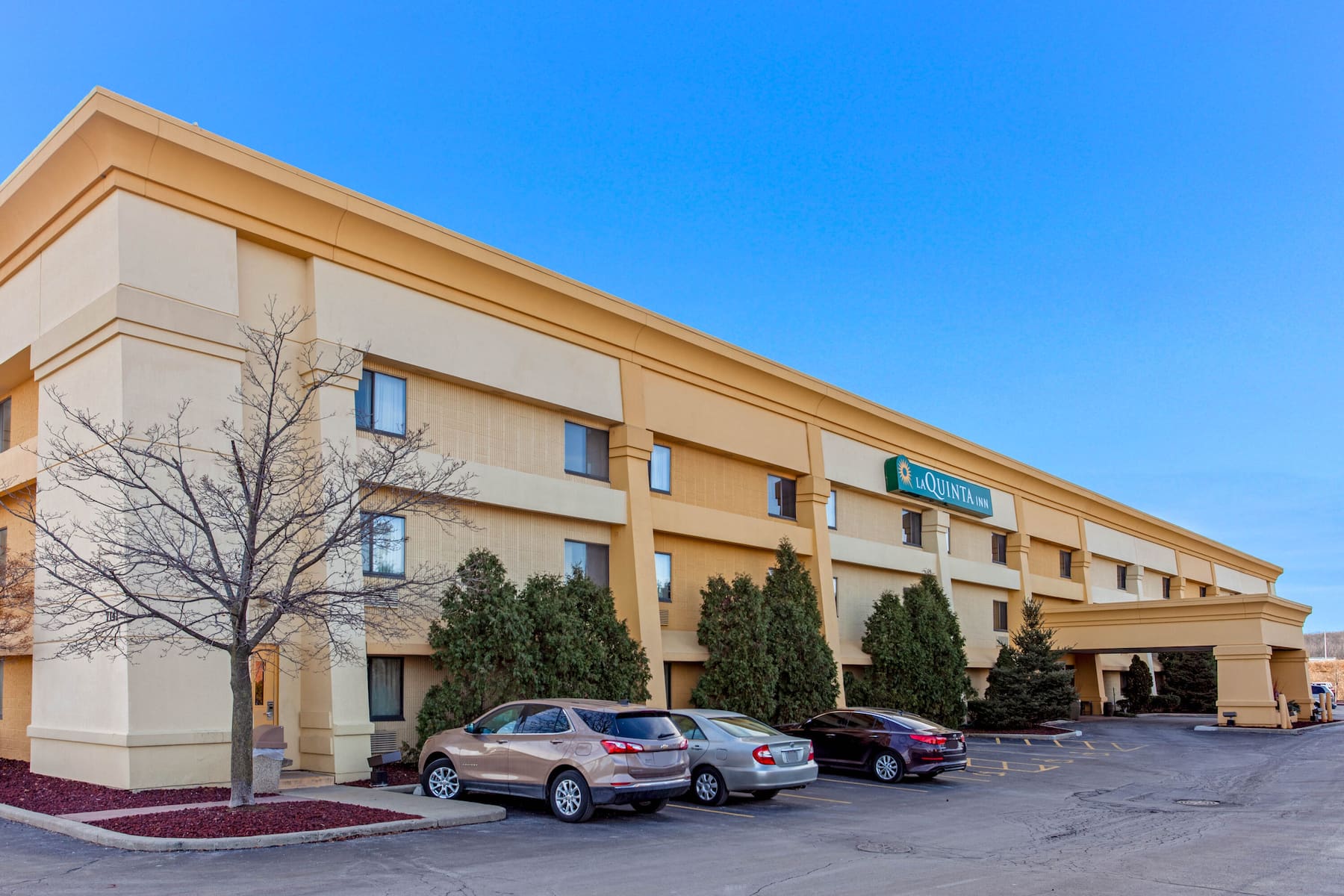 This hotel offers a free shuttle service to Milwaukee Airport, which is 4.1 miles away. There is a television with a flat-screen and cable in each of the guest rooms. The hotel also has free WiFi throughout the whole facility. All rooms at the La Quinta Inn Milwaukee Airport/Oak Creek feature a coffee and tea maker and the necessary utensils. For the comfort of our guests, we provide ironing facilities and a hair dryer.
The La Quinta Inn provides guests with a complimentary daily continental breakfast. Guests staying at this property can also access a fitness facility and a laundromat at their convenience. This hotel is a 16-minute drive from Miller Park, which is the home field of the Milwaukee Brewers baseball team. Additionally, only 9 miles separate this location from Marquette University.
Don't want to book a room near MKE Airport? You can still park your car in the La Quinta Inn by Wyndham MKE Airport parking lot if you book via Way.com.
Drury Plaza Hotel Milwaukee Downtown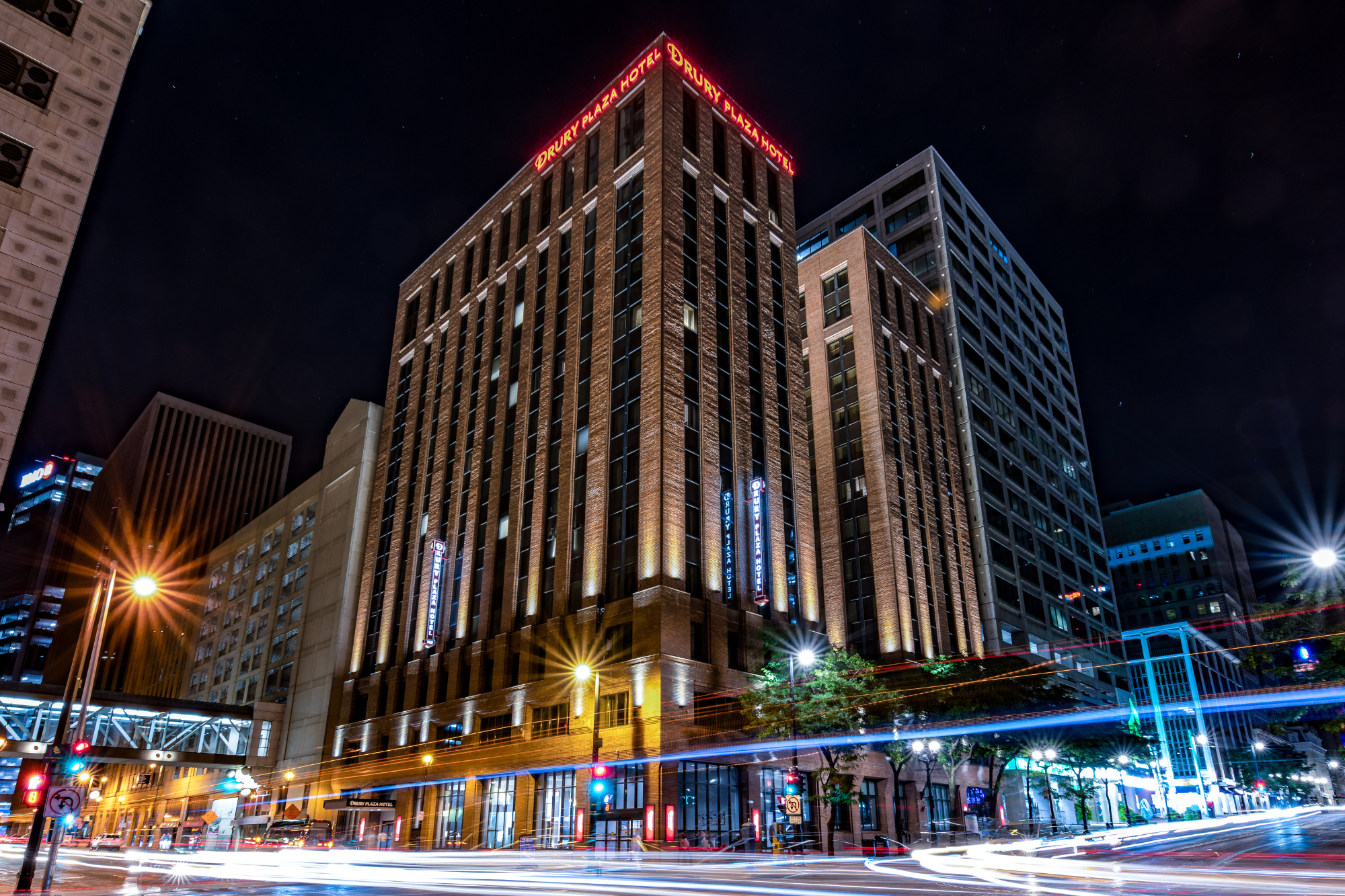 Within walking distance of the Wisconsin Center, Milwaukee Art Museum, Marquette University, Milwaukee RiverWalk, and Fiserv Forum sits the Drury Plaza Hotel. The Drury Plaza is in the heart of downtown Milwaukee. Despite that, the Milwaukee airport is only six miles away.
Historic First Financial Centre, built in 1928 in the city's signature Art Deco design, has been converted into a luxurious hotel. The rooms have a microwave, fridge, and free WiFi. Two-room suites are available for those needing more space and a more distinct living area. An onsite restaurant provides guests with a complimentary hot breakfast and refreshments each morning. The fitness facility, swimming pool, and whirlpool are accessible all day and night.
Saint Kate – The Arts Hotel
Saint Kate – The Arts Hotel is one of the few Milwaukee hotels with creative accents in each room. This makes a stay there one of a kind. The Saint Kate boutique hotel is within walking distance of several downtown attractions. It also is only six miles from General Mitchell International Airport. The Saint Kate Hotel is unrivaled in its dedication to the visual arts. There are sculptures and paintings by local artists displayed in the foyer and throughout the property. To help you unwind after a long day, they've provided a ukulele and record player in each of your rooms.
The rooms and suites here are rather roomy. Some even feature separate living rooms and art tables where guests may express their artistic side. The Canvas Rooms include eccentric furnishings created by local artists. The more spacious Ovation Suite features two bedrooms, three bathrooms, and panoramic views of the city. The hotel has a 24-hour fitness center and welcomes dogs, providing them the same five-star treatment as its human guests.
Home2 Suites by Hilton Milwaukee Airport
Some of you may opt to stay at one of the hotels near Milwaukee airport rather than downtown. Those who have an early flight out will find it convenient to stay near MKE Airport. If you stay at MKE airport hotels, you won't be late for your flight. And when looking for hotels in Milwaukee airport, Home2 Suites by Hilton Milwaukee Airport is a good option.   The Home2 Suites by Hilton is close to the airport, about one mile away. Hotel guests may use a complimentary shuttle to and from the terminal. Home2Suites provides free parking for guests who have rented cars. The Mitchell Gallery of Flight Aviation Museum and various eateries are within a mile of the hotel. Trips into downtown Milwaukee for concerts and sporting events are just a short drive away.
It's designed for more extended stays, so each suite comes equipped with a kitchen. Each room features a comfortable living space, a bedroom, a dining table, and a workstation. Breakfast is complimentary, and so is the use of the fitness facility, indoor pool, and business center. We welcome our furry friends at Home2 Suites.
Rodeway Inn & Suites  Milwaukee (MKE) Airport
Whether traveling for business or pleasure, staying at the Rodeway Inn and Suites Milwaukee Airport will help you get the most out of your trip. The Rodeway Inn and Suites Milwaukee Airport offers many amenities that can please even the pickiest guests. Stay in touch with your friends and family thanks to the free WiFi. Before your check-in date, the hotel can set up a ride for you from or to the airport. In addition, the hotel's shuttle service makes it even easier to get around Milwaukee.
If you're coming by car, you'll be glad to know that the hotel has free parking. You can get help at the front desk with services like express check-in or check-out. The rooms at the Rodeway Inn and Suites Milwaukee Airport have useful features that ensure all travelers have a pleasant stay. Some rooms at the Rodeway Inn and Suites Milwaukee Airport entertain a TV and cable TV for guests to watch in their rooms. Some rooms at the hotel also have a refrigerator, a coffee or tea maker, and a minibar in case you need them.
If you want to book Rodeway Inn & Suites Milwaukee (MKE) Airport parking, you can do so easily with Way.com airport parking.
The Iron Horse Hotel
Just six miles away from Milwaukee's Mitchell International Airport is the stylish Iron Horse Hotel. The boutique hotel was once a warehouse almost a century ago. It has undergone extensive renovations and is now a pleasant hotel near Milwaukee Airport. So whether you're celebrating a special event or needing a little extra luxury when traveling on business, you'll find it here.
Extra space and contemporary furnishings characterize the loft-style accommodations. Locally-created artworks, like murals on guest room walls, lend a sense of class to your stay. Lofts with upgrades boast 12-foot ceilings and breathtaking cityscape views. The hotel provides its guests with a 24-hour, fully-equipped fitness facility. There's also a business center and complimentary wireless Internet access. It's one of the nicest places in town to stay with your pet. There's a pet check-in desk and a room service menu just for dogs.
Hampton Inn Milwaukee Airport
The Hampton Inn airport hotel is in a location that is very near Milwaukee Airport. Travelers may make use of the hotel's complimentary airport transfer service. Free high-speed Internet access is available in each room and suite, as well as a coffee maker, a mini-refrigerator, and a work desk.
During their stay, guests get a complimentary breakfast and free parking. The hotel has a fitness facility and an indoor pool, but if you want to go for a stroll in the woods, you should head to the adjacent Grant Park instead. There are hiking paths there.
---
Here's more info on top-rated airport parking, the best parking spots in your city, affordable auto insurance, easy auto refinance, and high-quality car washes near you.
---