Travelers love Portland International Airport. PDX is the second on our list of best US airports to get stuck during layovers. Portland International Airport is usually praised for its accessibility and ease. Hotels near Portland Airport share these characteristics. They also provide convenient access to downtown Portland, the Columbia River Gorge waterfalls, and Mount Hood's slopes. To help you decide, here's a list of the top 10 hotels near Portland Airport, Oregon.
When visiting Portland, Oregon, there is a wide range of airport hotels to choose from. There's everything from huge brands to boutique hotels to regional motels. So you'll never be short of options, whether you want to splurge or save money.
Best Hotels near Portland Airport
Several things make Portland the ideal hipster getaway. It offers artisanal brews, food stalls, and fantastic coffee, all in a beautiful outdoorsy setting. Portland International Airport lies between downtown Portland and the Scenic Columbia Gorge area, so staying near the airport is ideal for many.
Most Portland hotels are located in the eastern districts of Parkrose and Sumner. Aside from the areas mentioned above, there is Northern Portland, which is west of the airport. It is largely made up of golf courses, racetracks, and sports facilities. It is also home to a fantastic collection of hotels, which you should consider if you like green spaces.
Radisson Hotel Portland Airport
There's no better hotel to stay near Portland Airport than the Radisson Hotel Portland Airport if you're looking for luxury. While it may be a little pricey to stay at this swanky hotel near the airport, it is well worth the money. Yes, the rooms are large. But what really sets them apart are the breathtaking views from the floor-to-ceiling windows that look out into the lush surroundings. It is unusual for an airport hotel to have this awesome swimming pool. There's Free WiFi in rooms and custom toiletries in their stylish bathrooms. Microwaves, refrigerators, and even computer games round out the amenities.
There's little question that the hotel's facilities will be the same caliber as the rooms. In the hotel's superb pool area, you can relax after taking a refreshing plunge in the cold water. Or, you can visit the spa, one of the few in the area, for a soothing massage or facial. The well-equipped workout center is ideal for those who are health-conscious. At the lakeside café, you can have a wonderful meal whenever you feel like it.
Hampton Inn & Suites Portland Airport
The Hampton Inn & Suites is close to the airport and features 129 cozy guest rooms. In addition, the hotel is close to Interstate 205. That's not all. Hampton Inn offers a free shuttle service to and from Portland International Airport around the clock. You'll be within a five-minute walk to Cascade Station and Mt. Hood Ave shops. MAX station, from where you can board a train to downtown Portland, which is 12 miles away.
Guests will also appreciate the hotel's handy location. Guests are welcome to use their fitness center and outdoor pool that's open seasonally.  Other amenities are a daily hot breakfast and complimentary wireless internet service.
Book Portland Airport parking at the Hampton inn & Suites to  save on parking costs.
Best Western Premier Hotel at Fisher's Landing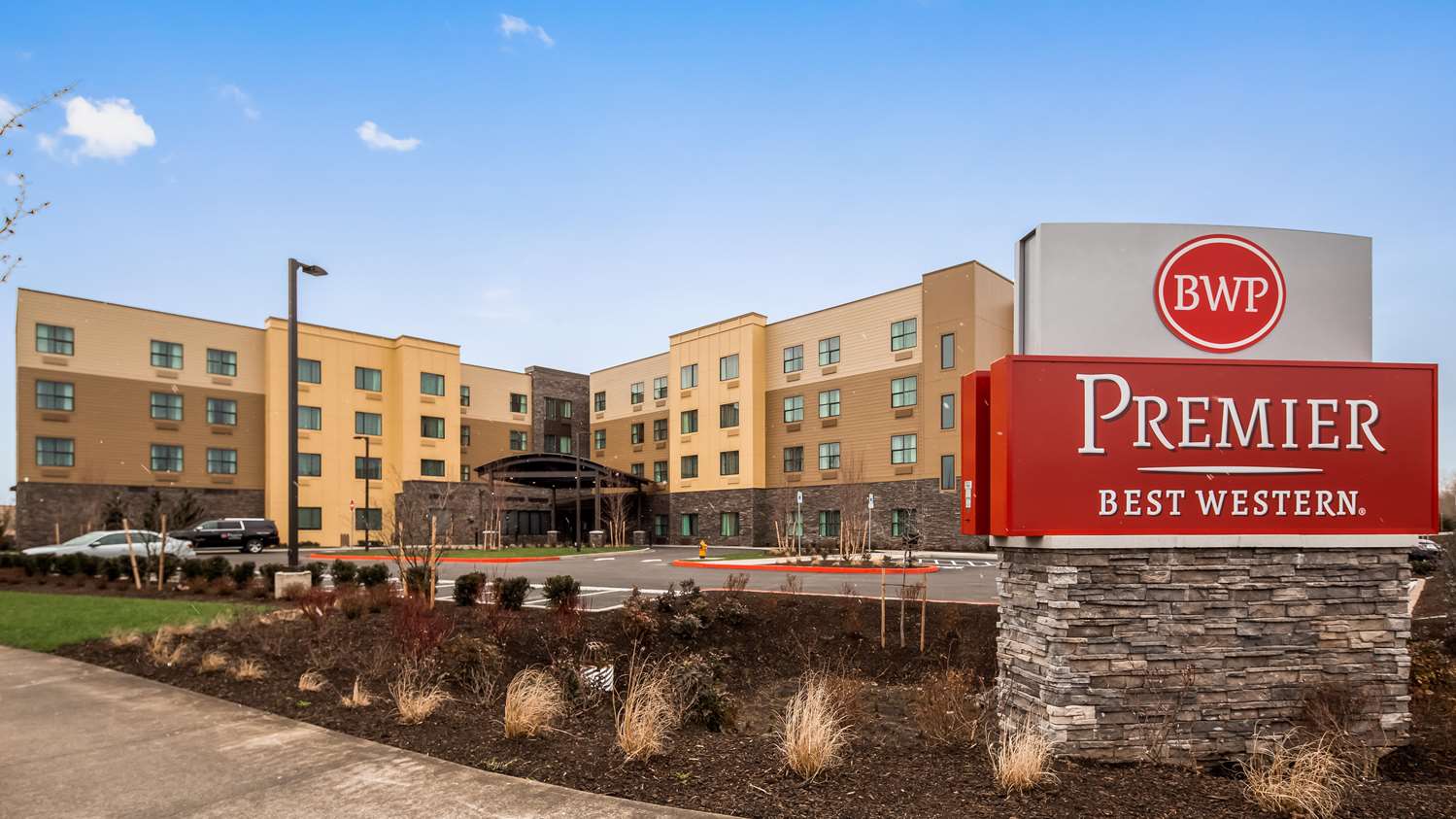 Best Western is just three miles from Portland International Airport and minutes from Cascade Station. They provide free airport shuttle service, free breakfast, free WiFi, a fitness center, and other amenities. This hotel is an excellent option for both business and leisure guests. The hotel provides a really elegant environment with exceptional comfort and service.
Guests may unwind on a comfortable bed while marveling at high-end amenities and premium Nest bath items. The smoke-free rooms all have trendy furniture and conveniences. These include a comfy sleeper sofa, flat-screen TVs with cable HD channels, and complimentary high-speed Internet. In addition, a handy mini-refrigerator, microwave, and coffee maker will make you feel right at home. There's also a state-of-the-art workout facility for you to recharge your batteries.
You can book Portland Airport Parking at the Best Western Hotel at Fisher's Landing via Way.com in just minutes.
Embassy Suites by Hilton Portland Airport
The Embassy Suites by Hilton is undoubtedly one of the best hotels near Portland Airport. Elegant décor and elegant rooms elevate it to the level of a luxury all-suites hotel. While you wait for your flight, you may unwind in the indoor pool and jacuzzi area.
If you have an exercise routine, go to the 24-hour fitness facility. At the end of the day, dine at the on-site restaurant. You can start the day with a delicious breakfast that includes anything from made-to-order eggs to pancakes. You'll also appreciate the hotel's spacious rooms, decorated in a warm neutral color palette. They've livened up with unique artwork. Plush mattresses, flat-screen TVs, free WiFi, and contemporary bathrooms ensure a relaxing stay.
Ramada Portland Airport
The Ramada by Wyndham Portland International Airport is one of the nicest hotels in the area. The Columbia River Grotto and the Gorge are close to visit if you have an extended stopover. The hotel has various features in the interior. A full-service restaurant and bar eliminate the need to go around hunting for food.
The heated pool is a genuine delight, and the sauna and whirlpool are perfect for soaking tired muscles. The cutting-edge exercise center is a pleasant surprise. Also, the 24-hour front desk organizes valet/laundry services. Finally, there is free WiFi and a business center on-site. The hotel's rooms and suites are all well-designed and full of facilities. These range from simple self-catering amenities like microwaves and refrigerators to upscale bathrooms and cable TVs. Book one of the Jacuzzi suites if you want to go all out.
Hyatt Place Cascade Station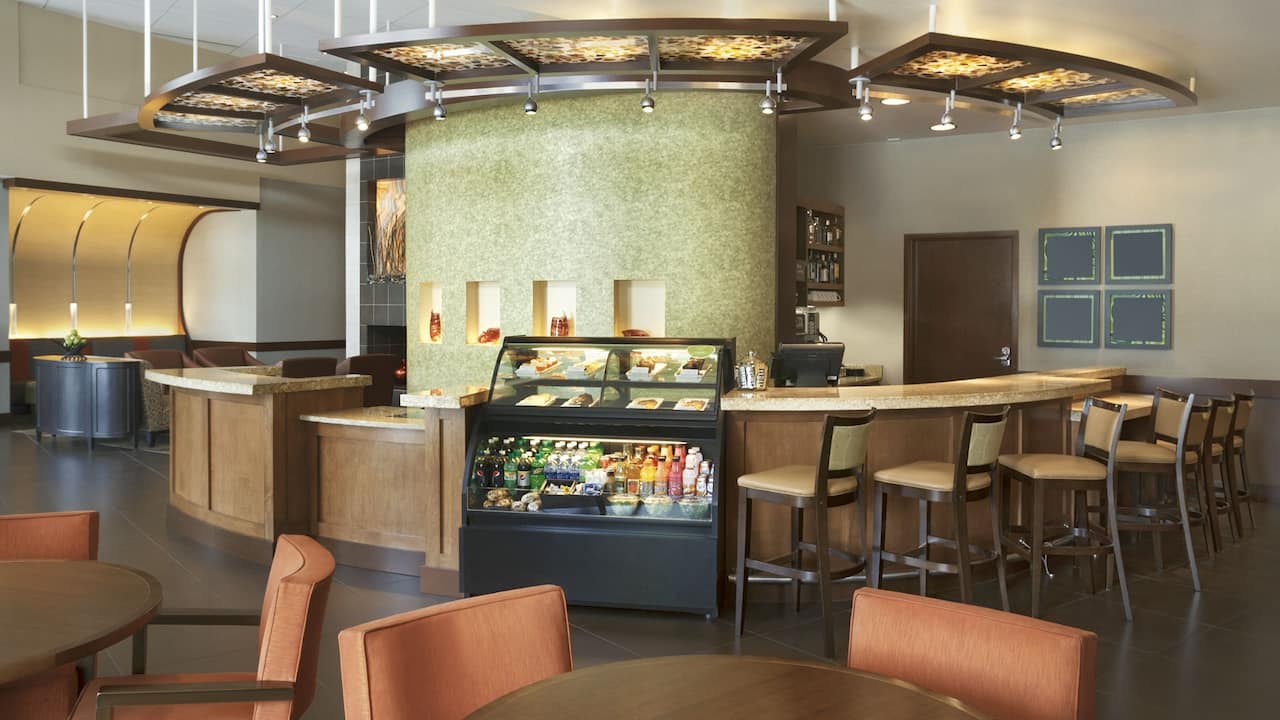 The Hyatt Place at Cascade Station is less than a mile from Portland Airport. It is also only a few minutes from downtown Portland. This hotel has a lot to recommend it. For starters, there's the fantastic 24-hour H Bar. It provides everything from specialized coffee beverages to baked goods. The indoor swimming pool is a wonderful location to unwind and relax. The 24-hour fitness center allows you to work out whenever you choose.
The hotel's rooms are equally spectacular. Aside from the standard amenities, there is also a comfortable big sofa and a mini-fridge. Furthermore, luxurious bedrooms and modern restrooms make your layover quite enjoyable.
Sheraton Portland Airport Hotel
Do you want to grab a few zzzs after a long-haul flight without traveling miles? Then go to the Sheraton, one of the top hotels near Portland International Airport. The sumptuous Sheraton Sweet Sleeper bed is replete with delicate linens, perfect for a snooze. The thick shades and soundproofed windows help you sleep well. Stay here, and you'll be rested and ready for your journey, no matter what time. The rooms also offer trendy ensuite bathrooms, coffeemakers, and comfortable sofas with fantastic views out the windows.
The Sheraton also has an advantageous location. It is on the airport grounds and offers a complimentary shuttle service 24 hours a day, seven days a week. There is a terrific restaurant and bar on the site and 24-hour room service. Or, you might unwind in true resort-style beside the indoor heated pool, complete with a Jacuzzi. Social hour is held in the evenings between Mondays and Wednesdays. You can burn off your vacation calories at the 24-hour fitness facility.
Holiday Inn Portland Airport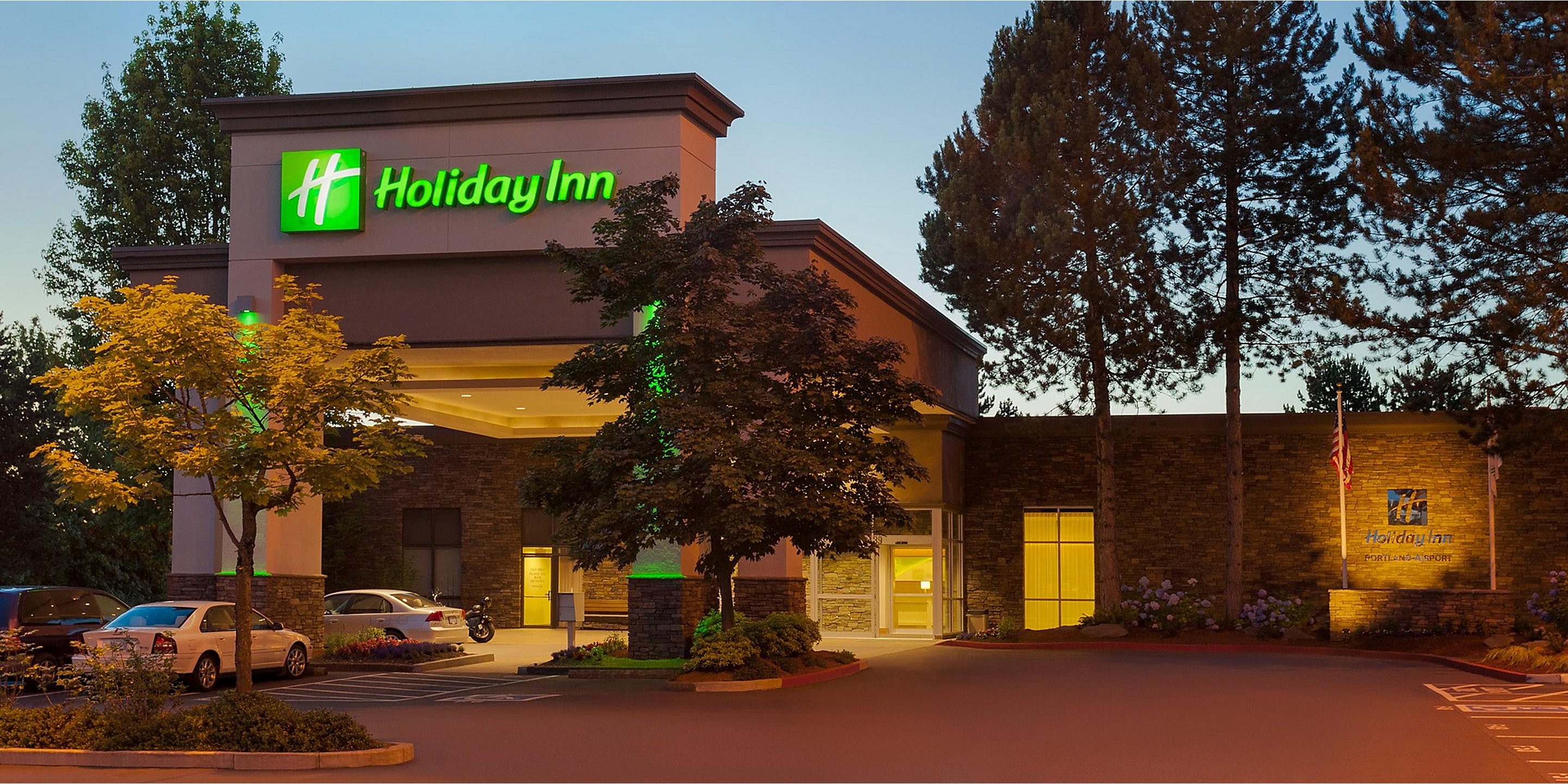 Another good hotel choice near Portland International Airport is the Holiday Inn. It is close to the famous Columbia River Gorge at the Grotto. The compact but lovely hotel has rooms and suites with all you need for a comfortable stay. So expect to find everything from luxurious mattresses and cable TV to microwaves and refrigerators. You also have access to minibars in each room as well as free WiFi.
Despite its low price, the Holiday Inn features several amenities, including a restaurant, a bar, and even a nightclub on the premises! The fitness facility with a jacuzzi and an indoor pool is available if you'd like to be healthy or just relax. The complimentary WiFi, conference rooms, and business center are ideal if you're here for business. The convenience store and gift shop round out the experience.
Aloft Portland Airport at Cascade Station
There are several reasons to enjoy the Aloft Portland Airport Cascade Station. First, it is only a few minutes from the airport and offers a free shuttle service. Second, it's close to some of Portland's top locations. So, if you have the time, you may also tour the city. Finally, it has good modern living possibilities. The hotel's rooms are all distinctive and include various high-tech features. Among the amenities are data-port phones, work desks, mini-fridges, coffeemakers, free WiFi, and LCD TVs. Furthermore, the ensuite bathrooms are sleek and stocked with luxury amenities.
The five-story hotel also has a plethora of amenities. The most notable is the lively and energetic social space. The indoor swimming pool area is likely to soothe you if you need some R&R. It is, in fact, one of the Best Hotel Pools in Portland. You can also exercise in the gym or work in the conference room or business center. The lounge is a terrific place to unwind before going in for a night of restless sleep. A 24-hour front desk and free WiFi complete the amenities.
McMenamin's Kennedy School

What on earth is a school doing on a list of the best hotels near Portland Airport? Well, McMenamin's Kennedy School is no school to start with. It is one of the most unique and unusual hotels near Portland Airport. If you appreciate culture and want a bit of an experience while waiting for your flight, this is the place to stay. What's the best part? The airport is about a 10-minute drive away.
The hotel is in a historic primary school with 57 rooms- 22 completely new rooms in the English Wing. The rooms are large and comfortable, with private bathrooms, towels, and even hairdryers. Although there are no TVs in the rooms, you won't need them at a McMenamins facility. Instead, begin your day with complimentary coffee before relaxing in the heated soaking pool. There's even an on-site theater, free WiFi, a 24-hour front desk, and many pubs and restaurants.
---
Here's more info on top-rated airport parking, the best parking spots in your city, affordable auto insurance, easy auto refinance, and high-quality car washes near you.
---