In September of 2022, Jeep showed off its newest plug-in hybrid car. A Jeep Wrangler Willys 4xe that looks like it came from the past and is the brand's most affordable trim to date.
Jeep Wrangler 4xe is the least expensive plug-in hybrid trim that the company makes. At the top of the line-up is the Jeep Wrangler Rubicon 4xe, followed by the High Altitude 4xe, the Sahara 4xe, and now the Willys 4xe.
Jeep Wrangler 4xe: A Basic Lowdown
The Jeep Wrangler 4xe 2022 is a very good one. This Wrangler is Jeep's first hybrid electric model. Car enthusiasts may wonder how far the Jeep Wrangler Electric can go and if it's better than the conventional Wrangler.
The Jeep Wrangler 4xe is all about being the first open-air SUV on the market that is electric and good for the environment. The 4xe is a plug-in hybrid vehicle (PHEV). Additionally, this means it's a good middle ground. Basically, it is between vehicles that only run on gas and cars that only run on electricity.
Jeep Wrangler 4xe: Specifications
The engine in a Jeep Wrangler 4Xe makes 375 horsepower and 470 lb-ft of torque. The Jeep Wrangler's electric range is about the same as 49 miles per gallon (MPGe).
A plug-in hybrid with an electric range of 49 miles is good. That means that a person driving a Wrangler 4xe can go 49 miles without using any gas. As a plug-in hybrid electric vehicle (PHEV), the Wrangler 4xe can also do well off-road.
A full tank of gas can go as far as 370 miles. This can help ease any worries about the range. Also, using a 240-volt charger takes about 2 hours to charge, but it takes 12 hours when using a 120-volt charger.
When the Wrangler 4xe runs on electric power alone, it is almost silent, which may be a plus for people who like to explore the wild and enjoy a quiet ride.
Is the Jeep Wrangler 4xe purely electric?
This Electric mode is one of three "E Selec" settings that can be changed by pressing buttons to the left of the steering wheel. There is also a "Hybrid" mode that uses gas and electricity but gives more power to the batteries. Also, there is a mode called "eSave," which uses the gasoline engine to move and saves energy from the battery when needed. 
The 17.3-kilowatt-hour lithium-ion battery pack can power the 4xe for 25 miles in full-electric mode.
One more electric feature of the PHEV Wrangler is regenerative braking. Traditional friction brakes and regeneration braking are used when the driver presses the brake pedal to stop or slow down the car.
Price of EV Jeep Wrangler Willys 4xe
The base price of the Willys 4xe is $53,995, not including any tax credits or the $1,595 destination fee. There is a federal tax credit of $7,500 right now to help car buyers pay for the extra cost.
Depending on where you live, there may also be incentives from the state and city to buy an electric car.
Jeep's decision to add another trim level to its Wrangler 4xe plug-in hybrid line-up shows its success. The most popular plug-in hybrid car in both North America and Europe is the Jeep Wrangler 4xe.
Features of New Jeep Wrangler EVs
The Jeep Recon and Wagoneer S will be the first U.S.-made fully electric Jeeps in 2024. Two more will be announced later, and the automaker is moving quickly to add electric versions of its cars.
The buyers will get a four-wheel drive Wrangler with two electric motors, a 400-volt, 17-kilowatt-hour battery pack, a 2.0-liter, four-cylinder engine, and an eight-speed automatic transmission. The engine makes 375 horsepower and 470 lb-ft of torque.
The Willys can be driven hybrid or electric like other Jeep Wrangler 4x4s. The driver can go 21 miles on the battery in all-electric mode alone. In hybrid mode, the car gets about the same mileage as 49 miles per gallon.
The vehicle has Dana 44 axles, 17-inch black-painted alloy wheels, and mud-terrain tires. This factory suspension lift gives it 10.1 inches of ground clearance, LED headlamps, fog lamps, Alpine nine-speaker audio, all-weather floor mats, a rear limited-slip differential, and rock rails.
The Willys are easy to spot because it has stickers and badges on the hood and swing gate. Electric blue tow hooks and "trailed rated" insignia complete the design.
Easy insurance for your Jeep Wrangler 4xe
Even though the Wrangler 4xe features sealed, waterproof high-voltage elements, drivers need enough auto insurance. We at Way.com can make it easier for you to find insurance for you.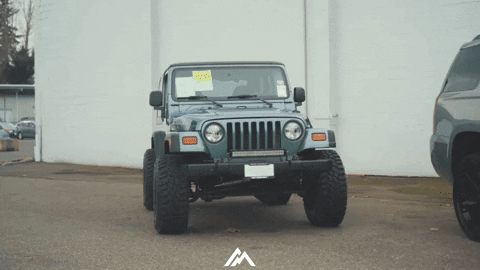 Way.com gets quotes from over 200 of the best insurance companies in seconds. We will then handle your top choice's phone calls, paperwork, and renewals. This is after Way.com has thoroughly compared the best policies from various companies.
---
Here's more info on top-rated airport parking, the best parking spots in your city, affordable auto insurance, easy auto refinance, and high-quality car washes near you.
---