Is your flight delayed, or are you way early to the Airport? Worry not; Terminal 3 has some quality food options, even though the options are limited. From snacks to heavy fusion dishes, Terminal 3 has it all. Discover new options for your taste buds, or stick to your usual. In this LAX guide, we will list out the best LAX Restaurants available to you in Terminal 3. 
LAX Terminal 3 Dining Tip
Planning to spend some time exploring the restaurants in LAX Terminal 3? You must book your LAX parking spot in advance to avoid running short of time.
Where can you find good food at LAX Terminal 3
Terminal 3 is LAX's new food hub. Terminal 3 has all sorts of food for you. Maybe you're in a rush and need some small bites, or if might prefer having a bigger meal. But Terminal 3 has the provision to cater to all sorts of consumers. You can easily find a cafe orrestaurant that satisfies both your cravings and needs. You can stop by the following food spots for a quick bite. 
A/K Boulevard
Source: laxshopdine.com
6:00 am – 12:00 am 
After Security near Gate 31A 
This isn't exactly a food court but instead a place where you can pick up light snacks. This shop has gifts, travel essentials, and souvenirs.  
Jamba Juice
Source: laxshopdine.com
5:00 am – 10:00 pm 
Terminal 3 – After Security Near Gate 33 
Smoothies and juices are the highlights of this place. This is place where you jump in to cool off.
Homeboy Café
Source: laxshopdine.com
5:00 am – 11:00 pm 
Terminal 3 – After Security near Gate 33 
This is one of LA's iconic Grab-and-go sandwiches, along with baked items, is available here.  Homeboy Cafe is a good option for those wanna eat light and travel stress-free.
Alfred Coffee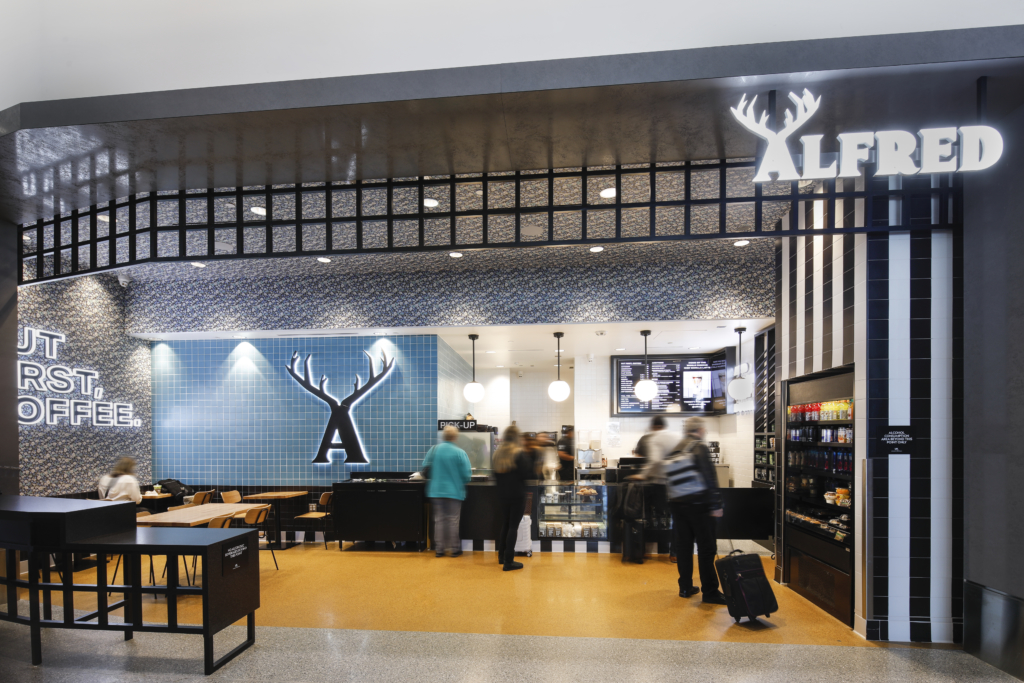 Source: laxshopdine.com
4:00 am – 9:00 pm 
Terminal 3 – After Security near Gate 32 
Hipster Coffee drinks that hit you like coffee injections are an item to try when you're there. Pastries, burritos along with beer and wine are the other available food items there. 
Native
Source: laxshopdine.com
4:00 am – 9:00 pm 
Terminal 3 – After Security near Gate 33A 
LA Chef Nyesha Arrington is the owner of this restaurant. This is the best place to go when you're traveling in numbers because they have room for around 120 people. Asian-influenced dishes like curry cauliflower, grilled Kyokuyo red shrimp, and Korean fried chicken sandwiches are some of the dishes on the menu. 
Tips to make your LAX experience more enjoyable
Most restaurants are likely to have long queues. So choose and order early.

 

Always keep change to avoid hassles with payments

 

Keep your passport and boarding pass with you at all times.

 

Pre-Book your parking spots to save time and money on parking. Avoid last-minute hassles.

 
Way.com provides you affordable LAX parking spots that are more affordable than the onsite parking lots.
Auto super app Way.com combines all the car services you need onto a single app!
Way helps you find best gas discounts, finding EV charging near you, auto insurance, auto refinance, and car washes.  Use the Way App to find the best parking near you!
New Way for Super Savings! Use the Way App for easy access