If you are a new Louisiana resident or if you are not familiar with the Louisiana car registration process, waiting at the Louisiana Office of Motor Vehicles can be a tiring and confusing process. Louisiana car registration process for new and old cars varies, and this article is to give you a clear idea about the process. Read on to know what documents you should have with you and the fees associated with the registration process.
What are the documents required for car registration in Louisiana?
For new car registration
For registering a new car in Louisiana, you need to have with you the following documents: 
A completed vehicle application form (DPSMV 1799)

 

Manufacturer's Statement of Origin (MSO)

 

The odometer disclosure statement, which is both completed and signed

 

UCC-1 form

 

Security agreement if you need to record a lien

 

An itemized invoice, and you must not forget to get it notarized, especially if a trade vehicle or tax credit is shown

 

Your payment details

 
Additional documents required for receiving a license plate
Valid photo identification

 

Liability insurance coverage proof

 
For used car registration
When registering a used car in your name, the documents to be produced are almost the same as those for the new car registration.  
The additional documents that you should have with you are: 
The current title certificate with the properly released lien (if applicable).

 
You should bring all the other documents same as that are required for new car registration.  
For duplicate and replacement registration
For duplicate and replacement registration, if you are applying via mail or in person, you should include the vehicle identification number, vehicle's make and model, insurance proof, and a local fee of $12. If the application is made online, you should include the current plate number, registration sticker's expiration date, vehicle model year, and a local fee of $12 in addition to the online service fee.  
What are the fees associated with Louisiana car registration?
When you register a new car, you will have to pay:
Title fee: $68.50

 

Lien recordation fee: $15 for UCC-1 financing statements or $10.00 for other security agreement documents (if applicable)

 

Handling fee: $8

 

Local fee: $6

 

License plate fee: Varies based on the selling price, weight, and type of the vehicle

 

Sales use tax: Varies based on the country where the registration takes place

 
The table below shows the plate fees and expiration for different types of vehicles: 
Plate

 

Fees

 

Expiration

 

Motor Home

 

$50

 

Two years

 

Motorcycle

 

$12

 

Four years

 

Commercial

 

$10

 

One year

 

Utility Trailer (up to 500 lbs)

 

$12

 

Four years

 

Boat Trailer (up to 1,500 lbs)

 

$25

 

Four years

 

All other Trailers

 

$10

 

$40 

$70 

One year

 

Four years 

Permanent 

Trucks (6,001 lbs. – 10,000 lbs.)

 

$112

 

Four years

 

Trucks (up to 6,000 lbs GVW)

 

$40

 

Four years

 
The license plate fee based on the vehicle value is listed in the table below: 
Vehicle Value

 

Plate fee

 

10000 – 10499

 

$20

 

16500 – 17499

 

$34

 

24500 – 25499

 

$50

 

32500 – 33499

 

$66

 

40500 – 41499

 

$82

 
All the values are not included here, but the fee calculations are made based on the vehicle's selling price. The rate is 0.1% of the vehicle's value, and the license plates are offered for sale in two-year increments. 
How can you do the registration renewal?
You can do the Louisiana vehicle registration renewal online, which OMV has made possible for your comfort and convenience. You might have received Vehicle Registration Renewal Notice in your mail. In that particular notice, there will be a Renewal Identification Number which you should use for the renewal process when done online. You can also use the information available on your current vehicle registration certificate for renewal.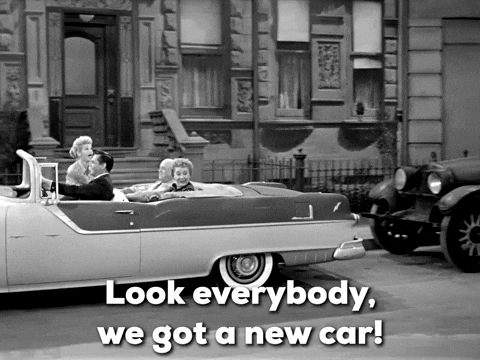 via GIPHY
You should not forget to keep in hand your valid credit card: VISA, MasterCard, Discover, or American Express during your online renewal process.  
If you fail to find the Renewal Identification Number in the notice, it means that you are not eligible to do the renewal online and that you require additional information.  
Get your car insurance from Way.com
If you are a car owner, car insurance is something you cannot avoid. Having the perfect auto insurance is a must for your safety and others. Way.com has over 130 insurance companies from which you can get multiple quotes. You can choose the best auto insurance rates available in Louisiana and thus avoid unwanted money wastage.  
FAQs
What should you do to the old license plate when receiving the special or personalized one?
You should destroy it as it has been canceled.  
Where can the motor vehicle office locations, hours, and directions be found?
You can find the details at https://offices.omv.la.gov/. 
Is Louisiana license plate 0 or O?
Vehicle identification number uses the number '0' and not alpha 'O'.
---
Way.com handles all your car-related needs, which includes finding the best quotes on auto insurance, home insurance, and auto refinance, locating the nearby EV chargers, parking, and car washes, and providing the best gas discounts. Download the Way App to enjoy these benefits directly.

---