Terms like EVs, sustainability, and green future have almost lost their novelty. And companies are placing their bets on the "newness" as it could get them back on track. Even though many companies are competing to get the best EV on the road, Lucid Motors just got it effortlessly. They literally made an entrance with their captivating futuristic designs and got all eyes on them. Read to know more about Lucid Motors' premium EVs and cutting-edge technologies.  
Company Overview
Founded in 2007, Lucid Motors is a California-based automotive company that specializes in electric vehicles. Their goal is to get people to use renewable energy by making the most interesting electric cars that focus on the human experience. The company comprises of a team of experienced executives, including CEO Peter Rawlinson, who previously worked at Tesla as the chief engineer of the Model S. 
Formally known as Atieva, the company is based in Newark, California, near Silicon Valley. When it was known as Atieva, Lucid worked on batteries and electric powertrains for vehicles made by other companies. Later on, the company received over 50 patents in the United States alone for its primary battery technology. The company's decision to rebrand itself to Lucid Motors was made public in October 2016. By then, Lucid Motors has declared intentions to manufacture an electric premium car. 
Lucid Motors is committed to reducing its environmental impact through sustainable production processes and the use of recycled materials. Their electric vehicles are designed to be eco-friendly, with the ability to reduce carbon emissions and improve air quality. 
About Lucid EVs
One of the key features of Lucid's electric vehicles is their use of the in-house developed electric powertrain and battery technology. This technology allows for greater efficiency and performance, with the ability to charge quickly and travel long distances on a single charge. Lucid Motors has two current models of electric vehicles that can possibly dominate the EV automotive industry: Lucid Air and Lucid Gravity.  
Lucid Air
The Lucid Air is a luxury sedan with impressive performance metrics and a sleek and minimalistic design. It is a beast of an EV with up to a 520-mile range and acceleration from 0 to 60 mph in under 2.5 seconds. It has the longest range of any commercially available electric car on a single charge.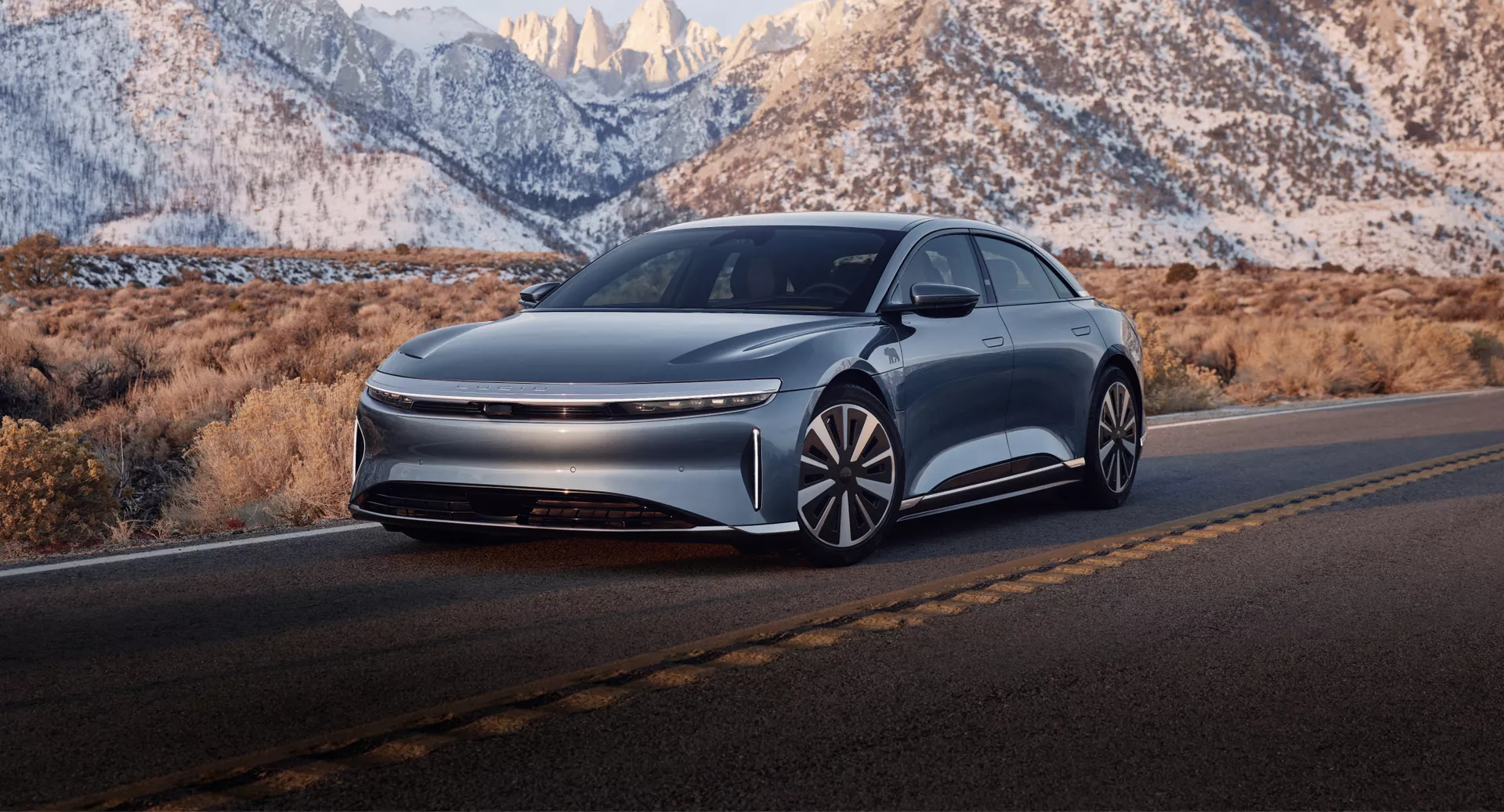 Source: Lucid Motors
The Lucid Air has been recognized by various organizations and has been awarded the 2021 Motor Trend Car of the Year. Lucid Air has raised the bar for electric cars with its innovative blend of efficiency, style, and power. Here are some of the available Lucid Air models: 
Lucid Air Model

 

Price*

 

Dream Edition Range (19″ wheels)

 

$169,000

 

Dream Edition Range (21″ wheels)

 

$169,000

 

Dream Edition Performance (19″ wheels)

 

$169,000

 

Dream Edition Performance (21″ wheels)

 

$169,000

 

Grand Touring (19″ wheels)

 

$139,000

 

Grand Touring (21″ wheels)

 

$139,000

 

Touring

 

$107,400

 

Pure

 

$77,400

 
* Prices might not be accurate as it does not include any taxes, fees, or federal tax rebates 
Lucid Gravity
Lucid Gravity is an electric SUV with similar features to Lucid Air, designed for those who need more space and versatility. Reservations for the Lucid Gravity will open in 2023 and will be on the road by 2024. The SUV has the potential to revolutionize the industry with its unique blend of high-end amenities, powerful performance, and efficient usability. 
Source: Lucid Motors
Lucid Gravity is expected to be quite like Lucid Air in terms of characteristics. Details on the Lucid Gravity are still scant, but the company has promised it will rival the range of the Lucid Air, the longest-ranged electric vehicle now available.  The SUV is lavish in every way, with a roomy cabin and cutting-edge media features. Lucid Motors is ready to make a bigger splash in the electric car industry with the release of the Lucid Gravity, which brings an innovative level of efficiency and power to the SUV range. 
As for future plans, Lucid Motors plans to expand its electric vehicle lineup and production to become a leading electric vehicle manufacturer. They have also formed partnerships with other companies, including LG Chem and Electrify America, to get one step further on sustainable transportation. 
Bottom line
Lucid Motors is an innovative automotive company that can possibly lead the electric vehicle industry. With their cutting-edge technology and commitment to sustainability, they are poised to significantly impact the future of transportation. As individuals and businesses look for more sustainable transportation solutions, Lucid Motors is well-positioned to meet their needs and inspire the adoption of sustainable energy. 
FAQs
Is Lucid better than Tesla?
That is entirely up to you to decide. The quickest EV remains the Tesla Model S Plaid, but Lucid has great intentions to revolutionize the market for high-end electric cars. Additionally, the brand leaves a great first impression. But we'll have to be patient until we get to know what Lucid has to offer. 
How much will a Lucid car cost?
The Pure version of the 2023 Lucid Air, which comes with a single motor and rear-wheel drive, costs around $77,400. The Touring and Grand Touring versions start at $107,400 and $138,000, respectively, while the Sapphire trim, which is the top of the range, costs $249,000 for each model. 
What is the range of Lucid's electric vehicles?
The Lucid Air has a range of up to 520 miles on a single charge, which is currently the longest range of any electric vehicle on the market. Lucid Gravity is expected to have a similar range. 
Where can I buy a Lucid EV?
Lucid Motors sells its vehicles directly to consumers through its website and select retail locations. They also offer test drives and vehicle deliveries in select areas. 
Who owns the Lucid car company?
The CEO of Lucid Motors is Peter Rawlinson owns the company who previously worked at Tesla as the chief engineer of the Model S. 
Will lucid motors survive?
With $4.9 billion in cash on hand, Lucid, which has the support of Saudi Arabia's national wealth fund, should be able to make it at least until the first quarter of 2024. 
How much is a share of Lucid Motors?
Lucid 2022 shares outstanding were 1.693B by 2022.
Way.com, your Auto Super App, offers the best affordable city and airport parking, the cheapest auto insurance and auto refinance, reliable car wash and EV charging near you, cashback on gas, and much more. Sign up and save up to $3000 on your yearly car expenses.