Shaq O'Neal is well-known worldwide for how good he is at basketball. He won 3 Finals MVP awards and 4 NBA titles.  Shaq has invested in more than 50 companies and is very good at growing his money. But he is also known for being easy to get along with and for his love of expensive cars. Most of Shaq's cars are customized and big enough to fit him comfortably. Read to know more about the Shaq car collection.  
1963 Cadillac Eldorado Convertible
Kevauto, CC BY-SA 4.0, via Wikimedia Commons 
Shaq owns a 1963 Cadillac Eldorado, the one Tony Montana drives in Scarface. Ya, exactly that one! It has seats made of tiger fur, and when Michelle Pfeiffer joined Al Pacino on the expensive upholstery, her character said that the car looked like "someone's nightmare." Shaq loves the 1983 movie and bought the car so he can drive it around Orlando. 
1998 Ferrari 355 F1 Spider
Calreyn88, CC BY-SA 4.0, via Wikimedia Commons 
Big Shaq in a mid-engine Ferrari? Well, all it takes is some detailed customization. First, the soft top was removed and replaced with a custom tonneau cover to make what Shaq calls his "forever convertible." The fuel tank, the interior, and the sound system of this car have modifications to Shaq's preferences. The Big Agave had his Shaq-Superman logo embroidered on them. The license plate "Shaq F1" was based on the 355's paddle-shift transmission (F1). 
2001 Chevrolet Express G1500
Via YouTube
Usually, a Chevy Express van doesn't make it to most celebrity car lists, but this one got its quilted leather interior worked by Louis Vuitton. Shaq liked to have this car drive him around for a long time. 
2002 Cadillac Escalade
IFCAR, Public domain, via Wikimedia Commons 
His burgundy-colored Escalade is yet another car with the Shaq-Superman logo. It has been heavily modified with 26-inch wheels and doors that open like scissors. It has eight Audiobahn 12-inch subwoofers and a 5.3-liter V8. So, this one certainly makes an entrance. He bought it after the L.A. Lakers won their third straight championship.  
2006 Mercedes S550 Convertible
Tokumeigakarinoaoshima, CC BY-SA 4.0, via Wikimedia Commons
The four-time NBA champion's size was a big reason why he dominated the league, and it also seems to have affected the car he bought. The Mercedes-Benz S550 Sedan Convertible was changed so that O'Neal could fit it well. The Mercedes has a fabric roof that rolls up and doors that open like a suicide. 
2017 Polaris Slingshot
Cjp24, CC BY-SA 4.0, via Wikimedia Commons 
The "Sling-Shaq" is a three-wheeled, open-air roadster that O'Neal has heavily customized, like almost everything else in his garage. It has four seats and an 18-speaker sound system, like almost everything else in his garage. Made in Alabama, it has no roof or doors and only a small windshield. It has a 2.4-liter, four-cylinder G.M. Ecotec engine with 173bhp and weighs less than 800kg, so it can reach 60mph in less than five seconds. 
2018 Vanderhall Venice Roadster
C mmoney, CC BY-SA 4.0, via Wikimedia Commons 
Shaq bought a Vanderhall Venice when he got the urge to drive a simple three-wheeled car. Jeremy Renner and Jamie Foxx are also owners of homes in Venice. Utah is where it was built. Again, the sports star's chassis was lengthened, but the 1.4-liter turbocharged engine can still give a lively ride even with the extra curb weight and a large payload. 
2018 Vaydor
Michel Curi, CC BY 2.0, via Wikimedia Commons 
The Vaydor is another very strange machine. It is a 2003–2007 Infiniti G35 Coupé with a new shell that makes it impossible to recognize. The Carolina Vaydor body kit came out for the first time in 2013. The Joker drove a Vaydor in the D.C. movie Suicide Squad, which came out in 2016. Even though it has a pricey suit and has lost some weight, it is still powered by the G35's Nissan-built 3.5-liter V6 engine, so it doesn't have supercar performance. Still, it makes The Big Daddy stand out, not that he didn't stand out before. 
2020 Rolls-Royce Cullinan
Tristan Surtel, CC BY-SA 4.0, via Wikimedia Commons 
People think the 2020 Rolls-Royce Cullinan is a luxurious car with a lot of space inside. Shaquille O'Neal owns more than one Rolls-Royce, which shows that he has good taste in cars. This is probably one of the few cars that weren't really changed to fit him. 
2021 Nikola Badger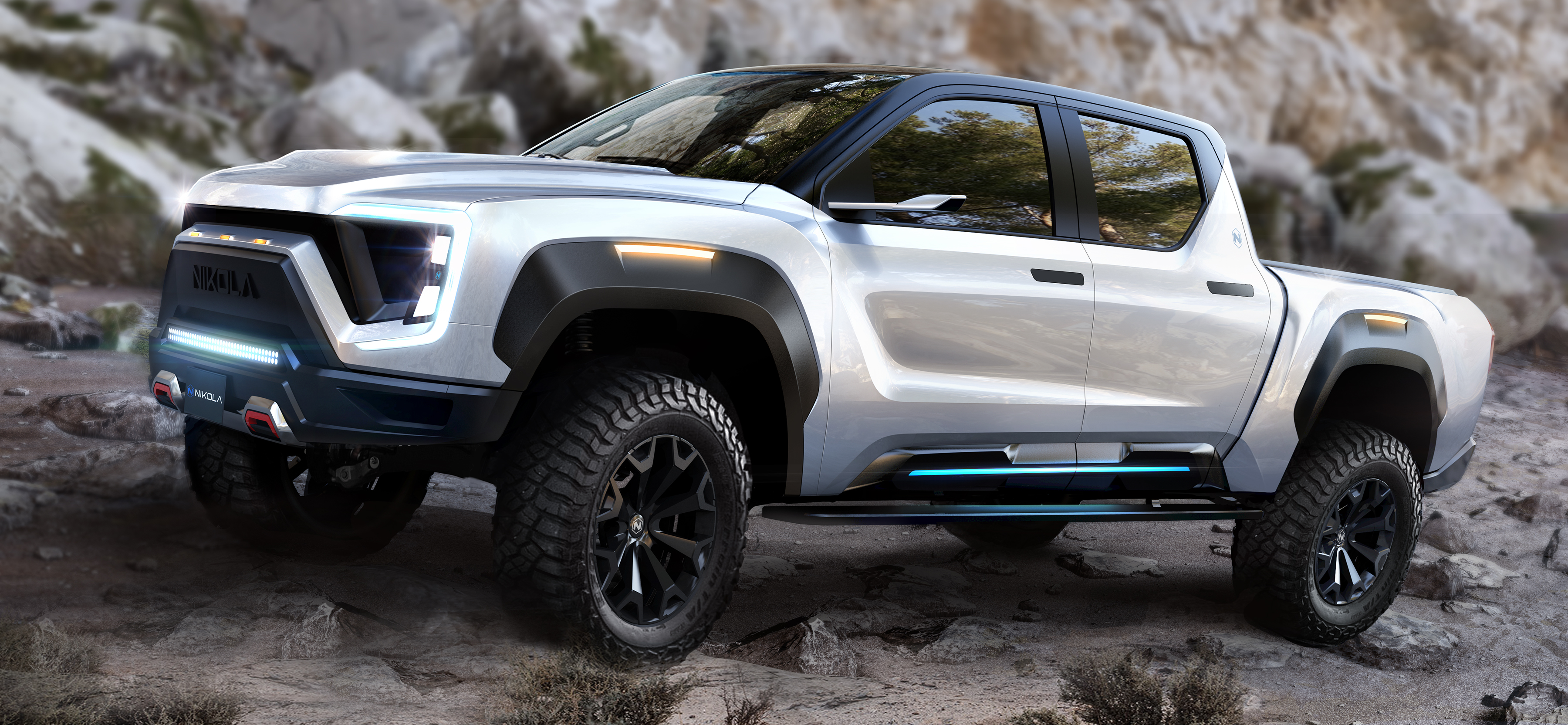 Via Nikola Motors
Shaq, who has been called "The Diesel" and many other names, is about to go electric. He has ordered the strangely named Nikola Badger, a hydrogen fuel cell electric hybrid pickup truck that will be made in Arizona later this year and will go from 0 to 60 mph in 2.9 seconds thanks to its jaw-dropping 906bhp output. Honey Badger might be a better nickname since it has 980lb-ft of torque. We're excited to see how he changes it. 
Lamborghini Gallardo
Greg Gjerdingen from Willmar, USA, CC BY 2.0, via Wikimedia Commons
The Lamborghini Gallardo is a small car that looks cool and is known for being small. But when a famous person like O'Neal shows up, changes are obvious. O'Neal had the car stretched to make it fit, but you wouldn't notice the changes when the car was going so fast. The work was done by Gaffoglio Family Metalcrafters, which specializes in customizing cars and making parts for the aerospace industry. 
Rolls-Royce Phantom Drophead
Bachcell at English Wikipedia, CC BY-SA 3.0, via Wikimedia Commons 
Shaq O'Neal bought himself a real luxury car in 2009 when he was at the top of his game. So, he bought a white Rolls-Royce Phantom Drophead that cost $450,000, making it the most expensive car he owned. But he didn't stop there. His teammate, LeBron James' birthday, was coming up, so he bought two more cars with the same specs and gave one to James. And for the third, he gave the former U.S. President Donald Trump a Rolls-Royce. 
Ford F-650
Summerspop at English Wikipedia, Public domain, via Wikimedia Commons 
Shaq O'Neal's custom Ford F-650 pickup truck has a 6.7-liter turbocharged diesel V8 engine with 725 lb-ft of torque and 300 hp. The engine has got a 6-speed automatic transmission. We don't know how well the heavy-duty Ford pickup truck works. 
Land Rover Range Rover
DeFacto, CC BY-SA 4.0, via Wikimedia Commons 
Shaquille O'Neal likes to give his car a little bit of himself, which is clear in his Range Rover. He put a chrome Superman symbol on the front and made a few other small changes to let people know he was there. The car is very comfortable, which is good for Shaquille O'Neal's body type, and the small changes make it just what he likes. 
Dodge Charger SRT Hellcat
artistmac, CC BY-SA 2.0, via Wikimedia Commons 
Shaq O'Neal gave himself a custom-wrapped red Dodge Charger SRT Hellcat for his 50th birthday. The "Diesel Dog Mafia" logos are on the sides and hood of the custom Charger. He drives on Pirelli P Zero tires and custom alloy wheels with red accents. But there's more. Shaq changed the door hinges so that the doors open up instead of out. In other words, he made them into "scissor doors."
Mercedes-Benz Sprinter Van
OSX, Public domain, via Wikimedia Commons 
Shaq O'Neal bought a Mercedes-Benz Sprinter passenger van after selling his customized 2001 Chevrolet Express G1500 passenger van. Right away, he sent it to Sprinter Vans of America to be changed. His black Mercedes-Benz van had everything taken out of it. The inside has a hardwood floor, custom recline seats, flat screens everywhere, built-in iPads, a minibar, and a high-end sound system. 
Jeep Wrangler
Maarten Van Camp, Public domain, via Wikimedia Commons 
The 3.6-liter V6 engine in Shaq O'Neal's customized Jeep Wrangler Unlimited runs on air. The V6 in the Wrangler makes 285 hp and 260 lb-ft of torque and is paired with a 5-speed automatic transmission. According to data from a third party, the Wrangler can go from 0 to 60 mph in 8.2 seconds and has a top speed of 110 mph. 
2003 Bentley Azure, Arnage, and Continental G.T. 
Remember when you went into a Rolls-Royce dealership on a whim and bought three Bentleys? No, isn't it? But Shaq does.  
Greg Gjerdingen from Willmar, USA, CC BY 2.0, via Wikimedia Commons 
Hatsukari715, Public domain, via Wikimedia Commons 
Ralf Roletschek, CC BY-SA 1.0, via Wikimedia Commons 
*Disclaimer: All images included in the article are not exactly from Shaq's car collection, as some are just representations. The costs specified may vary with the custom modifications and current market prices. 
Car expenses troubling you? Auto super app Way.com to the rescue!

Elevate your car ownership experience with our all-in-one auto super app! Save up to $3000/year, earn cash back, and always get the best deal with our price monitoring feature.

Trust us to find you the best gas  discounts, EV charging near you, auto insurance, auto refinance, and more with our all-in-one app! We'll also help you find and book the best parking and car washes near you.