If you own a Tesla, the Tesla Wall Connector is one of your options for keeping it charged. The third-generation Tesla Wall Connector, released in 2020, was a thorough revamp of prior models. Yes, the new wall charger has a different (and quite gorgeous) appearance, but there are significant improvements under the hood.
The Tesla Wall Connector is one of the simplest methods to ensure that your car is fully charged and ready to go each morning. Consider some of the benefits of using the third-generation Tesla Wall Connector.
No-Hassle Installation
The new wall connector is simple to install and may be placed anywhere in your home. In reality, these wall connectors work with all types of electrical systems in the home. You'll receive the fastest charging if your home's circuit breaker matches the charging capabilities of the Tesla wall connector. However, the wall connectors can also be used with low-amperage circuit breakers.
Quick Charging
The Wall Connector offers Tesla's promise of 44 miles of range per hour of charging. Your Tesla can be charged overnight, and most individuals should be able to acquire the charge they need for their daily commute in much less time. Your Tesla will be waiting for you when you're ready to drive.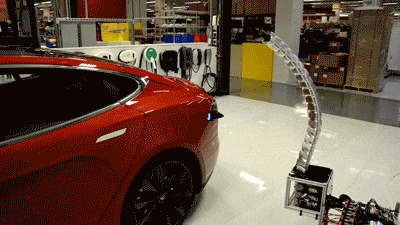 Power Sharing
This feature is perfect for households with limited electricity for numerous circuits but needs to charge multiple EVs simultaneously. This feature of Tesla's third-generation wall connectors enables electricity sharing from a single circuit while still providing enough vehicle charging.
No Changes to Electrical setup at Home
The Tesla Wall Connector takes only a few hours to install and is compatible with all residential electrical systems. If the circuit breaker matches your Tesla's inbuilt charging capacity, you'll get the fastest charging. On the other hand, the Wall Connector works with circuit breakers of lower amperage if your home has atypical power capacities.
Pleasing Aesthetics
You'll appreciate the third-generation Wall Connector if you care about how your garage looks. Its glass-over-white display is undoubtedly remarkable in every manner, and it's smaller than earlier iterations, so it takes up less space on your wall.
Delivers the Charge Amount You Require
Yes, prior Wall Connectors could charge up to 80 amps. However, the third generation can only charge up to 48 amps. This, however, corresponds to the AC charging capacity of the cars, which is restricted to 48 amps. The only people who could require more are the first Model S Tesla owners, which came with two onboard chargers capable of handling 40 amps apiece. 
Even if you traded in your Tesla for a different electric vehicle, no car on the market could accept more than 48 amps, so your new Wall Connector will keep you charged.
Wi-Fi Internet Access
The newer Tesla Wall Connector is also a Wi-Fi-connected smart charger. As with prior models, you can manage the charger with your smartphone instead of manually setting switches. The charger's Wi-Fi connection also allows it to get software upgrades automatically. 
Futuristic, intelligent features are likely to include connecting to your solar power array and your electrical provider's demand response program and integration with Amazon Alexa devices.
Reasonable Pricing
The updated Wall Connector is priced similarly to earlier versions, which is quite competitive. The Tesla Wall Connector is less expensive than some of its competitors, so there's no need to compare prices.
What to Look Out for
One disadvantage is that the cable is shorter. The third-generation wire is just 18 feet long, compared to Tesla's earlier Wall Connectors, which came with a 24-foot cable. 
Tesla cables are fantastic — the thinnest, most flexible cables available with charging stations — but depending on the configuration of your garage (and how many Teslas you're trying to charge), the 6-foot loss may be an issue for some.
Insurance for Tesla through Way.com
Way.com will assist you in getting insurance for your new Tesla. We can assist you in determining the best insurance coverage for your car, which is a critical decision because it is a permanent fixture. 
To get the most out of your car insurance, we help you choose the right amount of coverage. 
---
Here's more info on top-rated airport parking, the best parking spots in your city, the most affordable auto insurance for your car, and top-rated car washes near you.
---