You don't need to sweat it for JFK parking! Sounds unbelievable, but it's true …well, kinda. Parking at John F Kennedy International Airport can be easy with our simple yet comprehensive JFK parking guide. 
About John F Kennedy Airport
Yes, this is the very same airport that hapless Viktor Navorski found himself stuck at in the Steven Spielberg movie, 'The Terminal.' JFK Airport does boast few other claims to fame, though. The John F. Kennedy Airport (referred to as JFK) is one of the airports that serves New York City and the greater New York region.
It is located in Queens, around sixteen miles away from Midtown Manhattan, and is the largest and busiest airport in New York. It is the sixth busiest airport in the USA. On average, JFK handles around 60 million passengers in a year.
There are six terminals at the airport – Terminals 1, 2, 4, 5, 7, and 8. Impressive as all this is, that's not why you're here, is it? So, let's just cut right to it with information on …
Parking at JFK Airport
There are plenty of options for parking at and near JFK Airport. Passengers have six different options for JFK airport parking located onsite. Apart from these, there are quite a few offsite parking lots near JFK Airport. If you are driving down to JFK airport and were wondering where to park your car, please read on.
This guide also tells you about JFK airport parking rates, short-term parking, and long-term parking. We also have the JFK parking map, links to various parking resources, and a few tips on parking at John F Kennedy Airport.
John F. Kennedy Airport parking rates & options
The fee for parking at the JFK airport ranges from $4 for half an hour to $20 for long-term parking at JFK. The complete details of parking options available for drivers at the JFK airport are given here. Also, the pricing for short-term as well as long-term parking is given for your information.
JFK short term parking
The John F. Kennedy Airport provides Hourly and Daily Parking areas near the airport terminals. There are four parking garages – Green, Blue, Yellow, Orange, and Red parking, located near Terminals 1 through 8.
If you pick someone up or drop them off at the airport, then hourly or short-term parking would be ideal. However, if you need to park overnight, you can opt for JFK long-term parking.
The rates for hourly parking are:
Parking lot
Short-term hourly parking
Parking rates
Green, Orange, and Red Parking Garages
For the first 30 minutes
$4
For one hour of parking
$8
For every extra half-an-hour
$4
The maximum rate for a day
$36
Daily Blue & Yellow Garage
For the first 30 minutes
$6
For one hour of parking
$12
For every extra half-an-hour
$6
The maximum rate for a day
$42
JFK long term parking
Lot 9/Economy Lot is the JFK long-term parking lot. It is located on Lefferts Boulevard and Howard Beach, 4 miles west of the airport. It will take you around 8-1o minutes to get from JFK Long Term Parking to the JFK terminals.
Free shuttle services are available from the parking lot to the airport and also the other way round. (More info on JFK long term parking)
The JFK Long term parking rates are:
Parking lot
Long-term parking
Parking rates
Long-Term Lot 9/Economy Lot at Lefferts Boulevard, four miles from Terminals 1 – 8
For one day of parking
$20
For every additional 8 hours after one day
$10
Please note that cash is no longer a payment option in Terminal 5 Yellow, Terminal 7 Orange, Terminal 8 Red, or Long–Term Lot 9/Economy lots.
Free parking at JFK
JFK Airport offers free cell phone lots where people can park for free near the airport entrance. Drivers can wait in the car by parking here until the passengers come to pick up have landed. One hundred twenty-seven such cell phone lots are available.
The driver needs to be available in the car while waiting for the inbound flight. These lots are just 5 minutes from the terminals near the JFK Expressway and the Van Wyck Expressway. There's also a free "Kiss 'n' fly" lot. This lot is at the Lefferts Boulevard exit off the Van Wyck Expressway.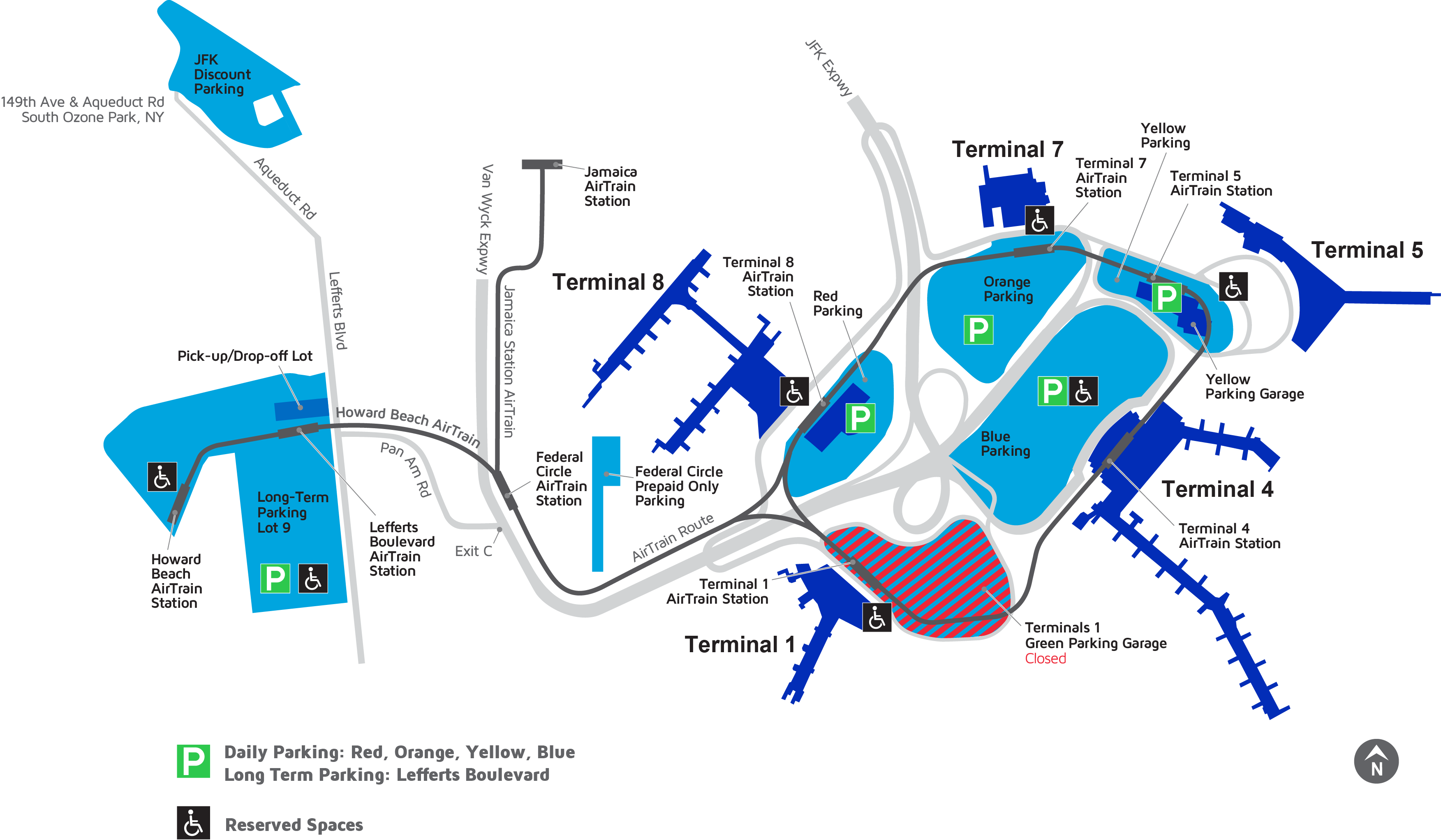 JFK Parking resources, discounts, and coupons
Parking near the John F. Kennedy Airport is not cheap, especially if you are parking for several days. The resources shared here provide valuable information and ideas for finding the best rates, discounts, and coupons to make it more affordable.
JFK Airport Website
This is the official web page of the JFK airport. The site has information about parking at the airport. You can see real-time data on parking availability at each of the short-term and long-term parking lots. All the information you need to know about parking at the airport is available here.
Way.com
Way.com lets you book parking near JFK Airport in advance. Before choosing and booking, you can go through a wide range of parking options, read user reviews, and compare JFK Airport parking rates.
What is the best parking at JFK?
The best parking at JFK is not at JFK but near it! While on-airport parking is convenient, it is also costly. If you don't mind taking a shuttle to your terminal, we recommend one of the many off-site parking sites near the airport. To help you choose, we've shortlisted some of the best lots with easy access to JFK Airport
Parking lots near JFK Airport
There are several parking lots and garages near the airport for those who are willing to park offsite.
ARB is approximately a mile away from the airport and offers a free shuttle service to JFK Airport at regular intervals.
Aardwolf is a private lot that offers secure parking less than a mile from the airport. They have a free shuttle service to the airport. They offer discount rates when you book via Way.com.
This parking garage within 2 miles of the airport offers long-term parking options and shuttle runs. It is a secure lot, and parkers can get a free pick-up and drop at the airport.
SP Plus is a parking lot roughly 2.5 miles from the airport. They offer secure parking at well-maintained lots.
This is a secure parking lot located around 1.4 miles from the airport. Shuttle services are available for free.
This is a 24-hour parking lot that is only 5 minutes from the JFK International airport. This lot also offers a free shuttle service to the airport.
JFK Airport hotel parking options
Park, Stay, and Fly is a unique facility that many hotels offer to those who drive down long distances to airports. Under this scheme, you can arrive at the hotel the night before you have a flight. Check in to the hotel and park your vehicle. Stay there overnight. The next morning, you can use the free shuttle service provided by the hotel to reach the airport. Your vehicle would be safely parked at the hotel. Some of the JFK Airport hotels like Radisson JFK allow you to book your parking on the Way.com website and app.
Where is JFK airport?
JFK airport is located in Queens, New York, roughly 16 miles southeast of Midtown Manhattan in the Jamaica neighborhood.
How do I get to JFK Airport from Manhattan?
While cabs, buses, Ubers, shuttle service, car service, the Long Island Railroad, the subway, and even limos are all viable alternatives for getting from the city to the airport, we'd recommend you drive yourself down (if you own a car). More so, if you have a lot of luggage or are traveling as a large group or with small children.
What terminal is JetBlue at JFK Airport?
JetBlue is at Terminal 5, which is also home to Hawaiian Air, Spirit, and some American Airlines flights.
What terminal is Delta at JFK?
Delta Air Lines is in both Terminal 4 and Terminal 2 at JFK Airport.
Does JFK Terminal 5 have parking?
Yes, it does! The JFK Terminal 5 parking lot is actually called the Yellow Lot.
How much is it to park at JFK Terminal 5?
Parking at the JFK Terminal 5 lot i.e. the Yellow Lot costs $6 for the first thirty minutes, with a daily max rate of $42/day.
Bonus trivia on JFK Airport 

What name was New York's JFK Airport originally known by?

The JFK Airport in New York was originally called Idlewild Airport. It was named so because it displaced the Idlewild Beach Golf Course, a golf course plus luxury accommodation. The popular notion of the time was that the name Idlewild sprung from the fact that the site was wild at the time, and the hotel and park served as a hangout for the idle rich.

However, on Christmas Eve in 1963 (approx. a month after John F Kennedy's tragic assassination), Idlewild Airport was officially renamed John F. Kennedy Airport.
JFK Parking Tips
AirTrain: The AirTrain is a convenient facility offered by JFK airport for passengers who use the parking lots in the airport to park their vehicles. AirTrain takes passengers from the parking lots to the different terminals in the airport. While it is free for use from one terminal to another, $5 is charged for transport from the parking lot to the terminal. You should be able to get an air train once every 4 to 8 minutes.
Short-term parking: You can reserve your parking space by visiting JFK airport's website.  You can use an E-Z Pass if you have one to pay the parking fee. This ensures you can pay quickly and don't have to waste time searching for cash.
Kiss and Fly: The Lefferts Boulevard AirTrain Station has an option whereby you can drop off airport passengers at the station and leave without parking. From the station, they can take a free shuttle to the terminal.
EV Charging: Those using electric vehicles can use the electric vehicle charging facility available in the Yellow parking lot at the ground level. There are no charges for EV charging of vehicles.
Pre-booking: Make sure you book your JFK Airport parking spot ahead if you plan to drive down to the airport. You don't want to get stuck searching for parking. Book ahead, and you won't get caught in last-minute scrambles.
Relevant Searches
---
Check out more blogs on the best parking spots in your city, the most affordable insurance for your car, and top-rated car washes near you.
---