Being an auto enthusiast means you have an expensive hobby. Thanks to all the YouTube and Instagram influencer shenanigans, it is no longer a rich kid's hobby. But hey, it's still expensive. People who have a thing for cars and are good at making content are out there buying expensive cars and some mess with them. But fame comes with a price. Some get views, and some get lawsuits. Then there are some who get both. WhistlinDiesel is one such person. 
Who is WhistlinDiesel?
WhistlinDiesel is a well-known American YouTuber who became famous for videos of dangerous car stunts. Before he became known as WhistlinDiesel on YouTube, his name was Cody Detwiler. 
Cody Detwiler was a regular guy whose family was involved in building and car businesses. This gave Cody the chance to drive and learn a lot about trucks and other cars, which got him interested in cars. But it turned out that he was more interested in something else. 
WhistlinDiesel buys expensive cars and trucks like any other car fanatic. But instead of helping them and using the car, he breaks it. This quirkiness gave him fame. His subscribers grow quickly, and every video he posts gets millions of views. 
WhistlinDiesel started his YouTube career while he was still a teen. He maintains a YouTube channel where he conducts dangerous stunts with a variety of automobiles, including cars. In addition, he purchases extremely costly automobiles with the intent of destroying them. He has over 3.46 million YouTube subscribers, and millions of followers on his Facebook and Instagram feeds.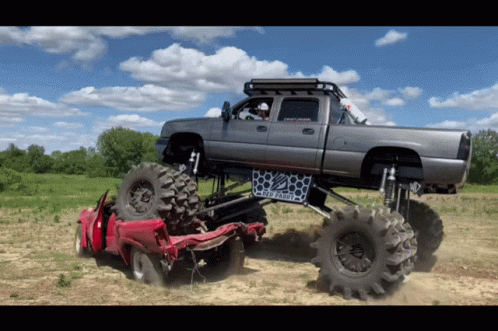 Source: Tenor
In addition to being an advertiser for various goods, he has also partnered with numerous brands. On his channel, he can be seen experimenting with various farming equipment and is an avid truck enthusiast. His channel has received more than 580M views, making him one of the most popular YouTubers of all time. 
What is WhistlinDiesel's net worth?
WhistlinDiesel has a net worth of $5 million as of 2022. His YouTube channel is the primary source of his fortune, with over 3.9 million subscribers. The majority of his stunt-based videos on YouTube have surpassed 10 million views, so you can guess how much income WhistlinDiesel generates there. 
What videos got him to go viral? 
The video that garnered him considerable attention was titled "Fourwheeler with REAPER wheels plowing mud." In this video, he can be seen undertaking a risky operation in which he connects deadly Reapers to a standard Four-Wheeler and transforms it into a Super Tiller. This video captured the attention of millions of YouTube users and quickly became viral. Even more, individuals applauded WhistlinDiesel's inventiveness. This has over 15M views on YouTube currently.
The video captioned "Monster Max Rides in the Ocean (Police, Coast Guard, EPA, and DNR Called)" also went viral. In this video, he undertakes the dangerous task of driving a monster truck in an area with police, coast guard, and other boats. They were extremely surprised when they viewed the footage of him completing this dangerous and difficult activity. Others were really angry with him for engaging in such dangerous behavior. 
WhistlinDiesel's second video went viral in which he experienced a near-death experience after being shot in the forehead. He was observed firing a 50-caliber long rifle at steel plates to determine if the bullets would penetrate. Due to the wrong angle of fire, the bullet was deflected after striking the plate and grazed his forehead, just missing the center of his head. Fortunately, his skull suffered just a minor injury. 
The WhistlinDiesel lawsuit
The YouTuber posted a video of a fight that happened on a Tennessee lake this May. He and his friends were out on the water on jet skis and apparently made a bit of a wake in an area where that wasn't allowed. They stop immediately and head to shore when they realize where they are. Then, an angry man walks up to them, yells, and swears at them for making a wake. WhistlinDiesel seems to try to be nice before making fun of the man's exaggerated response. 
The fight seems to be over, but as WhistlinDiesel and his friends go back out into the water, a police boat comes up to them. The policemen then give WhistlinDiesel and his friend tickets for splashing in the wrong place, and they have to go to court. 
Here is the catch. He invited his fans to their court case with signs against the splash legislation and offered to take photos with as many people as possible. WhistlinDiesel and his pals arrive at court (in a fancy car) on June 1 as they deem the law stupid. 
WhistlinDiesel has hired two lawyers to represent him and his pal as of July 4.  This is his strategy to postpone the one-year jail time he might be getting. WhistlinDiesel, a skilled troll, seems to value justice. We'll see how the WhistlinDiesel lawsuit goes and keep you posted. 
---
Here's more info on top-rated airport parking, the best parking spots in your city, affordable auto insurance, easy Auto refinance, and high-quality car washes near you.
---