If you are left out in the cold by your existing car insurance company, use our car insurance comparison tool to get affordable car insurance quotes.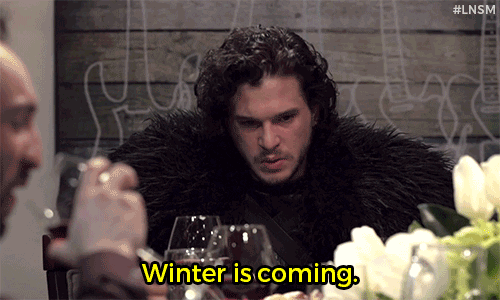 Via GIPHY
"Winter is coming" House Stark's motto "Game of Thrones" foreshadows a chain of events that ended in a whole lot of tragedy for everyone. You don't really want that happening to your car insurance! While the onset of winter is still a good four months away, it does not hurt if you have an idea of winter auto insurance. If you start taking steps towards opting for winter car insurance, we can assure you that you will be better prepared than a Targaryen when the winter finally comes.
Basics of winter car insurance
During the winter months, mother nature begins to show her fickle nature. Logically, you'd want to reduce your driving time if you live in a region with snow, ice, and poor visibility. Whether you're thinking about not driving at all, need auto insurance assistance, or need some winter driving tips, we're here to help. 
Let's take a look at what you should keep in mind when looking for winter car insurance.
Can I put a pause on my car insurance during winter?
Technically, it is not feasible to "pause" your car insurance. This is due to the way your state's vehicle registration laws and insurance work together. The basic car insurance rule in the United States is to register and insure your car to drive lawfully. 
By "pausing" your insurance, you risk having your registration suspended, which could result in a large fine. However, if you're ready to get imaginative, there's some wiggle room.
Storage insurance during winter for your car
Several car insurance companies provide storage coverage. Except for comprehensive coverage, storage coverage will allow you to drop all of your insurance coverage. 
One crucial point to remember: if you change your insurance policy to storage coverage, you are no longer legally permitted to drive your car. Since storage coverage does not provide adequate insurance coverage for your registration, you risk being reported and suspended. 
There are a few things you can do to avoid this. If your state allows it and you qualify, you can file an Affidavit of Non-Use with the DMV. This indicates that your car is not being driven or parked on a public street and that your liability coverage has been revoked. This will eliminate the possibility of registration suspension or cancellation. If your state does not provide an Affidavit of Non-Use, find out if it regularly monitors your registration. If it doesn't, you'll only want to make sure your registration isn't about to expire while your car is "in storage."
You will only have comprehensive coverage if you choose storage coverage. Weather, theft, vandalism, and animal-related damage are the only things your car will be protected against. As a result, it's usually a good idea to keep the vehicle safely parked in a garage or driveway. 
You probably won't use this option if you have a loan or lease on your car.
Lower the level of your insurance
If you cannot use storage coverage, you should think about dropping your physical coverage — collision and comprehensive. Collision and comprehensive insurance account for almost half of a driver's entire insurance premiums. Consider removing these coverages if you'll be putting your vehicle in a garage for a few months.
If you have a loan or lease on the vehicle, you will be unable to do this step.
Coverage level with liability auto insurance: $681 (annual); $63 (monthly)

Coverage level with a $500 deductible: $1434 (annual); $123 (monthly)

Coverage level with a $1000 deductible: $1233 (annual); $111 (monthly)
The monthly difference between full coverage and liability-only insurance is around 50% or 63 dollars. If you decide to go with liability-only coverage, research prices from various car insurance companies to ensure you're getting the most bang for your dollars.
Why should I increase car insurance during winter?
There are a few reasons why you should boost your auto insurance coverage level during the winter. Because bad weather makes driving dangerous, resulting in more accidents.
What is the best winter car insurance coverage?
Comprehensive and collision insurance are two crucial auto insurance coverage alternatives for the winter months. These coverages, as opposed to liability insurance, safeguard your vehicle from property damage. With these alternatives, you would be protected in the event of a crash involving an inanimate object or an animal (comprehensive).
Unless you have a loan or lease, these coverages are not legally needed, but they may be prudent if you reside in an area prone to blizzards or other winter-weather occurrences. If winter weather is approaching and you'd like to add motor insurance coverage, call your insurance company – but do it before winter arrives.
As the storm approaches, car insurance companies may impose binding limits on new lines of business or adjustments to existing lines of business. While this is more common during floods and hurricanes, it can occur during any major weather event. So, if you're concerned about your car's protection from winter weather occurrences, add this coverage before any limits go into effect.
---
Check out our blogs for info on finding top-rated airport parking, the best parking spots in your city, and affordable car washes near you.
---